Mueller Recommends No Jail Time For Michael Flynn
Citing substantial cooperation, Special Counsel Robert Mueller is recommending no jail time for former Trump associate Michael Flynn.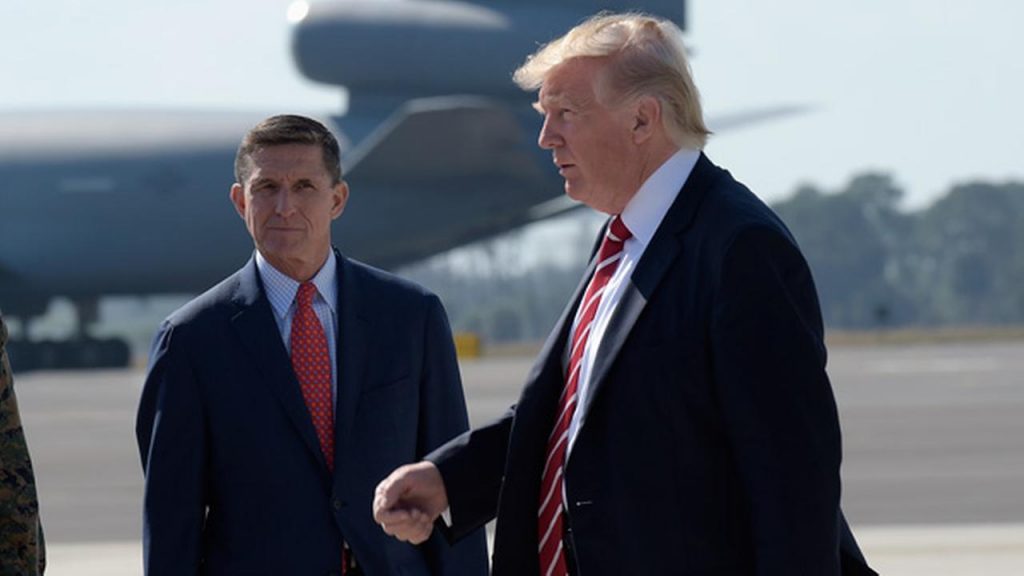 Special Counsel Robert Mueller is recommending no jail time for former Trump campaign adviser and National Security Adviser Michael Flynn, citing what Mueller's office terms substantial cooperation by Flynn with the Special Counsel's investigation into Russian interference in the 2016 election and allegations of collusion between Russian officials and Trump campaign officials:
WASHINGTON — Michael T. Flynn, President Trump's first national security adviser, helped substantially with the special counsel's investigation and should receive little to no prison time for lying to federal investigators, prosecutors said on Tuesday.

Mr. Flynn was a key cooperator who helped the Justice Department with several investigations, prosecutors for the special counsel, Robert S. Mueller III, said. He sat for 19 interviews with Mr. Mueller's office and other prosecutors and handed over documents and communications, they said.

"His early cooperation was particularly valuable because he was one of the few people with long-term and firsthand insight" into the subject of Mr. Mueller's investigation — Russia's election interference and whether any Trump associates conspired, prosecutors wrote in a sentencing recommendation memorandum and an addendum that was heavily blacked out.

In particular, they wrote, he might have prompted others to cooperate with the inquiry. "The defendant's decision to plead guilty and cooperate likely affected the decisions of related firsthand witnesses to be forthcoming," prosecutors said.

They also indicated that Mr. Flynn helped with other investigations without revealing details about them.

Mr. Flynn, who served briefly as the president's national security adviser, is the only White House aide and the first person from the president's inner circle to strike a cooperation deal with the special counsel's office in exchange for a more lenient penalty. He pleaded guilty a year ago to lying to the F.B.I. about conversations he had with the Russian ambassador to the United States at the time, Sergey I. Kislyak.

"The defendant deserves credit for accepting responsibility in a timely fashion and substantially assisting the government," prosecutors wrote.

"The defendant deserves credit for accepting responsibility in a timely fashion and substantially assisting the government," prosecutors wrote.

The cases of some other former Trump aides caught up in the special counsel investigation are also nearing resolution, marking an active week for Mr. Mueller's inquiry. By Friday, Mr. Mueller's prosecutors are due to enumerate how they believe Paul Manafort, Mr. Trump's former campaign chairman, violated a plea agreement and separately to outline the extent of cooperation by Michael D. Cohen, Mr. Trump's longtime lawyer and fixer.

(…)

Prosecutors said Mr. Flynn's more than 33 years of military service — he was a three-star Army general before being fired as the head of the Defense Intelligence Agency in 2014 — should be taken into account when Judge Emmet G. Sullivan of the United States District Court for the District of Columbia sentences him on Dec. 18. But they also noted he should have known better than to lie to the F.B.I. "Senior government leaders should be held to the highest standards," they wrote.

Close observers of Mr. Mueller's investigation had hoped his team might provide revealing details about possible cooperation between Trump associates and Russia, but in typical fashion, the special counsel's office kept its cards closely held.

Though the lack of details suggested that Mr. Mueller's investigation remains active, one of the president's personal lawyers, Rudolph W. Giuliani, seized on it to underscore that Mr. Mueller had yet to prove any Trump associates conspired with Russia's campaign of disruption. "This is what we get for $30 million and two years of an investigation and no evidence of collusion, and we get a process charge?" he said, referring to Mr. Flynn's plea of lying to the F.B.I. and rounding up the estimated costs of the special counsel inquiry.
More from The Washington Post:
Special counsel Robert S. Mueller III on Tuesday recommended that former national security adviser Michael Flynn serve no prison time, citing his "substantial assistance" with several ongoing investigations, according to a new court filing.

Flynn was forced out of his post as national security adviser in February 2017 after the White House said he misled administration officials, including Vice President Pence, about his contacts with Sergey Kislyak, Russia's ambassador to the United States at the time.

Since then, Flynn has been cooperating with Mueller's investigation into Russian interference in the 2016 campaign, and his full account of events has been one of the best-kept secrets in Washington. He is one of five Trump aides who have pleaded guilty in the special counsel probe.

The special counsel's filing Tuesday is the first time prosecutors have described Flynn's assistance since the former national security adviser's guilty plea last year.

But Tuesday's sentencing memo was heavily redacted, continuing to shroud in secrecy the details of what Flynn has told Mueller's team and other prosecutors.

The special counsel wrote that Flynn has provided information for several ongoing investigations — participating in 19 interviews with federal prosecutors and turning over documents and communications.

The filing indicated that Flynn has provided extensive assistance to Mueller, including about matters that were redacted and hidden from public view. It also indicated that he has cooperated with a separate unidentified criminal investigation, the details of which were completely redacted.

Mueller wrote that Flynn had provided "firsthand information about the content and context of interactions between the transition team and Russian government officials," though the details were largely redacted.

Flynn pleaded guilty in December 2017 to one felony count of making a false statement, despite a longer list of charges he could have faced. Prosecutors said last year they would likely seek a prison sentence between zero and six months.

On Tuesday, the special counsel's office said that based on Flynn's assistance, the government was recommending a sentence on the low end of that range, "including a sentence that does not impose a term of incarceration."

Mueller wrote that Flynn's guilty plea "likely affected the decisions of related firsthand witnesses to be forthcoming with the SCO and cooperate."

And the special counsel noted that Flynn's "early cooperation was particularly valuable because he was one of the few people with long-term and firsthand insight regarding events and issues under investigation by the SCO."

(…)

Mueller will have an opportunity to lay out additional pieces of the evidence he has been gathering later this week. On Friday, prosecutors with the special counsel's office are scheduled to file a letter to the judge who will sentence Michael Cohen, the president's former attorney. The letter will outline additional details of Cohen's cooperation with Mueller's office.

Also Friday, Mueller's team will submit a filing to a judge in Washington describing ways that Trump's former campaign chairman, Paul Manafort, lied to prosecutors after pleading guilty in September and promising to cooperate. Prosecutors have said that Manafort breached his agreement by continuing to be dishonest in meetings with prosecutors.
From the beginning, it was clear that Flynn was the focus of at least part of Mueller's investigation due to factors that are completely separate from the Russia investigation itself. Long before he started working for Trump on the campaign and at the White House, Flynn had spent a good part of his post-military career working as a lobbyist and part of that work included lobbying on behalf of foreign governments and foreign business interests, including in nations such as Russia and Turkey. Under Federal law, for foreign governments are required to disclose such arrangements on specific legal documents, and Flynn also would have been required to disclose such lobbying on any relevant security clearance application for a position in the Trump Administration. As was the case with former Trump campaign manager Paul Manafort, Flynn failed to report much of his foreign lobbying as required by law and did not do so until his failure to do so came to light. Flynn's son, Michael T. Flynn Jr, was also involved in many of these foreign lobbying jobs and similarly failed to properly disclose them These are serious transgressions that could expose Flynn and his son to substantial criminal liability. The fact that they are not being charged with anything in regard to these failings is a strong indication that Flynn has been given a very generous deal in exchange for his cooperation.
In addition to his failure to disclose his foreign lobbying, and more pertinent to today's developments is the fact that Flynn lied to campaign officials and to Vice-President Pence regarding his contacts with the Russian Ambassador to the United States. This led to his departure as National Security Adviser only two weeks into the Administration. It was shortly after this, course, that President Trump asked F.B.I. Director James Comey if he could end the investigation of former Trump National Security Adviser Michael Flynn and later when he fired Comey abruptly just days after he had testified about the investigation into Russia and the Trump campaign before a Senate committee. As we know now, Trump later openly admitted that he took that later action specifically because of the Russia investigation. We now know that Flynn also lied regarding his meetings with Russian Ambassador Kislyak to agents of the F.B.I. and these lies occurred on January 24, 2017, just four days after President Trump's Inauguration at a time when Flynn was already serving as head of the National Security Council inside the White House. This is the closest that Mueller's investigation has gotten to the President himself and it suggests quite strongly that there's much more to come. In addition to all of this, Flynn was one of Trump's closest associates throughout the campaign, traveling with him on the campaign plane, participating in campaign rallies across the country, and generally being one of the few people outside of the Trump family who was close to the President throughout the campaign.
It was just over a year ago that Flynn pled guilty to a single charge of lying to the F.B.I. regarding his meetings with the Russian Ambassador and, for the most part, we have not heard much about what the substance of his cooperation might be. For that reason, many people were looking forward to the release of this sentencing memorandum in the hope that it might reveal something about what Mueller knows or what direction his investigation is heading at this point. Several legal experts warned, though, that those hopes would likely be disappointed since these reports are often not replete with  details and that when they are the documents released to the public will be heavily redacted so as not to reveal things to potential targets of the investigation what the prosecution's strategy might be at the moment.
This is the fact with the documents that Mueller's office released late yesterday, but even with those redactions, it seems apparent that Flynn's cooperation with Mueller has been substantial. The first indication of this is the revelation that Flynn met with Mueller's investigation a total of nineteen times over the course of the past year. As several legal analysts and former prosecutors have noted, this is not typical for cooperating witnesses unless they have significant evidence to provide to investigators and are being particularly useful. Additionally, while the language in the memorandum and addendum is vague, it appears that there is a criminal investigation outside of the one being conducted by the Special Counsel's office that Flynn has also been providing "substantial assistance" to over the course of the year. There is no real indication of what that investigation could be, but the most likely candidate would seem to be the ongoing investigations in the Southern District of New York related to Michael Cohen, Donald Trump, and the efforts to silence women such as Stormy Daniels and Karen McDougal during the final weeks of the 2016 campaign. Alternatively, it could be something entirely unrelated to that investigation. Finally, the best indication of Flynn's usefulness and relative cooperation with the Mueller team is the fact that they are recommending that he not serve any jail time at all. This recommendation is usually reserved for cooperating witnesses who have been unusually helpful to prosecutors. While the sentencing Judge is not obligated to abide by this recommendation, they often do. In any case, it's likely that Flynn will get a minimal sentence at best.
Here's the Mueller team's Sentencing Memorandum:
United States v. Michael Fl… by on Scribd
And the (redacted) Appendix:
United States v. Michael Fl… by on Scribd