Trump Team Knew Flynn Was Under Investigation Before Naming Him National Security Adviser
The Trump White House knew Michael Flynn was under investigation and named him National Security Adviser anyway.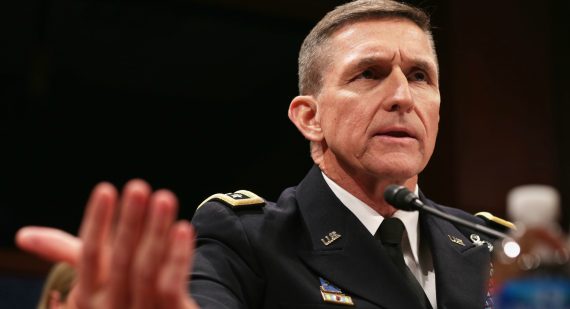 The New York Times is reporting that the Trump transition team knew that retired Lt. General Michael Flynn was under investigation prior to naming him as Trump's choice for National Security Adviser:
WASHINGTON — Michael T. Flynn told President Trump's transition team weeks before the inauguration that he was under federal investigation for secretly working as a paid lobbyist for Turkey during the campaign, according to two people familiar with the case.

Despite this warning, which came about a month after the Justice Department notified Mr. Flynn of the inquiry, Mr. Trump made Mr. Flynn his national security adviser. The job gave Mr. Flynn access to the president and nearly every secret held by American intelligence agencies.

Mr. Flynn's disclosure, on Jan. 4, was first made to the transition team's chief lawyer, Donald F. McGahn II, who is now the White House counsel. That conversation, and another one two days later between Mr. Flynn's lawyer and transition lawyers, shows that the Trump team knew about the investigation of Mr. Flynn far earlier than has been previously reported.

His legal issues have been a problem for the White House from the beginning and are at the center of a growing political crisis for Mr. Trump. Mr. Flynn, who was fired after 24 days in the job, was initially kept on even after the acting attorney general, Sally Q. Yates, warned the White House that he might be subject to blackmail by the Russians for misleading Vice President Mike Pence about the nature of conversations he had with the Russian ambassador to Washington.

After Mr. Flynn's dismissal, Mr. Trump tried to get James B. Comey, the F.B.I. director, to drop the investigation — an act that some legal experts say is grounds for an investigation of Mr. Trump for possible obstruction of justice. He fired Mr. Comey on May 9.

The White House declined to comment on whether officials there had known about Mr. Flynn's legal troubles before the inauguration.

Mr. Flynn, a retired general, is one of a handful of Trump associates under scrutiny in intertwined federal investigations into their financial links to foreign governments and whether any of them helped Russia interfere in the presidential election.

In congressional testimony, the acting F.B.I. director, Andrew G. McCabe, has confirmed the existence of a "highly significant" investigation into possible collusion between Mr. Trump's associates and Russian operatives to sway the presidential election. The pace of the investigations has intensified in recent weeks, with a veteran espionage prosecutor, Brandon Van Grack, now leading a grand jury inquiry in Northern Virginia that is scrutinizing Mr. Flynn's foreign lobbying and has begun issuing subpoenas to businesses that worked with Mr. Flynn and his associates.

The New York Times has reviewed one of the subpoenas. It demands all "records, research, contracts, bank records, communications" and other documents related to work with Mr. Flynn and the Flynn Intel Group, the business he set up after he was forced out as chief of the Defense Intelligence Agency in 2014.

The subpoena also asks for similar records about Ekim Alptekin, a Turkish businessman who is close to President Recep Tayyip Erdogan of Turkey and is chairman of the Turkish-American Business Council. There is no indication that Mr. Alptekin is under investigation.

Signed by Dana J. Boente, the United States attorney for the Eastern District of Virginia, the subpoena instructs the recipient to direct any questions about its contents to Mr. Van Grack.

(…)

Trump campaign officials first became aware of a problem with Mr. Flynn's business dealings in early November. On Nov. 8, the day of the election, Mr. Flynn wrote an op-ed in The Hill that advocated improved relations between Turkey and the United States and called Mr. Gulen "a shady Islamic mullah."

"If he were in reality a moderate, he would not be in exile, nor would he excite the animus of Recep Tayyip Erdogan and his government," the op-ed said.

Days later, after an article in The Daily Caller revealed that the Flynn Intel Group had a contract with Inovo, a Trump campaign lawyer held a conference call with members of the Flynn Intel Group, according to one person with knowledge of the call. The lawyer, William McGinley, was seeking more information about the nature of the group's foreign work and wanted to know whether Mr. Flynn had been paid for the op-ed.

Mr. McGinley now works in the White House as cabinet secretary and deputy assistant to the president.

The Justice Department also took notice. The op-ed in The Hill raised suspicions that Mr. Flynn was working as a foreign agent, and in a letter dated Nov. 30, the Justice Department notified Mr. Flynn that it was scrutinizing his lobbying work.

Mr. Flynn hired a lawyer a few weeks later. By Jan. 4, the day Mr. Flynn informed Mr. McGahn of the inquiry, the Justice Department was investigating the matter.

Mr. Kelner then followed up with another call to the Trump transition's legal team. He ended up leaving a message, identifying himself as Mr. Flynn's lawyer. According to a person familiar with the case, Mr. Kelner did not get a call back until two days later, on Jan. 6.
Leaving aside all of the questions about potential Russian interference in the election and the extent of contacts between Trump advisers such as Flynn and Russia investigation, this report raises mostly questions about the competence of the Trump transition team and the White House in general. Apparently, the notifications that Flynn and his lawyer sent to the Trump transition team were either consciously ignored by the people who received them, that they were not properly communicated up the chain of command, or that they were known by everyone, including Trump himself, and basically brushed aside as inconsequential. As a result of this Flynn was appointed to a position that gave him access to the innermost workings of the national security establishment as well as the nation's top secrets.
This news, of course, comes on top of the fact that we already knew that it was within a week or so after Inauguration Day that the Trump Administration was notified by then Acting Attorney General Sally Yates that Flynn had lied to the transition team and to Vice-President Mike Pence regarding his contacts with Russian officials after the 2016 elections. It wasn't long after this that Yates was fired by Trump for her refusal to defend his original Muslim travel ban Executive Order in Court. Flynn, meanwhile, wasn't dismissed until more than two weeks after Yates had advised the White House of his misrepresentations, and it was the day after that happened that Trump allegedly asked former F.B.I Director James Comey to drop the Flynn investigation in a conversation that many have characterized as a possible attempt to obstruct justice. Comey, of course, was himself fired by Trump earlier this month just days after he confirmed to the Senate Judiciary Committee that the Bureau was investigating Russian interference in the election and contacts between the Trump campaign and the Russian officians during the campaign. Meanwhile, Trump has continued to defend Flynn notwithstanding the fact that he had left the Administration under a cloud.  At the very least, all of this raises questions about the competence of the transition team and the people around Trump in the White House, as well about Trump himself to the extent that he apparently still sought to intervene on Flynn's behalf even after having fired him for lying.
All of this raises questions regarding competence inside the transition team and the White House, as well as about the extent to which Flynn was able to influence policy during his time as Trump's principal foreign policy adviser. On the transition team side, it's worth noting that this effort was thrown into chaos in mid-December when Trump decided for reasons that have yet to be fully explained to push aside New Jersey Governor Chris Christie, who he had named to head the transition team after the election, and hand the entire transition effort over to Vice-President-Elect Pence, who was given less than a month to pull together a transition that would happen within barely a month after he took over the process. In the process, it has been reported by multiple sources that much of the work that Christie and his team had done to vet potential appointments was either ignored, lost, or tossed aside, meaning that the Trump team had to start from scratch in mid-December on a process that needed to be in place by January 20th. That disorganization has apparently continued into the early days of the Administration and continues to impact the functioning of the White House. Whether this is the explanation for why Flynn was ultimately appointed to the position he held for just 24 days despite the fact that the Administration was told that he was under investigation by the Justice Department, or why he was appointed to that position despite the fact that everyone who needed to know was or should have been aware of the investigation, is a complete unknown at this point.
In any event, these latest disclosures and other information that has become public since Flynn's dismissal from the White House make clear that Flynn is likely one of the chief focuses of the ongoing investigation. The interesting question, of course, is whether Flynn may have other information regarding contact between Trump associates and Russian officials that Justice Department investigators and the F.B.I. might be interested in to the point where it could be possible that newly appointed Special Counsel Robert Mueller might be interested in making a deal with him to get to a target higher up the chain of command. Already, it seems clear that there's strong evidence that Flynn broke several laws with respect to his representation of foreign governments both before and during his time in Trump's inner circle, and the penalties for violating the pertinent laws in this area are serious and broad-ranging, including both substantial fines and time in prison if convicted.
All of this means that Mueller and his team potentially have a huge bargaining chip to hold over Flynn's head that could prove important to the rest of the investigation. This could include a deal that includes guilty pleas in exchange for a more lenient sentence and Flynn's full cooperation with the investigation or any subsequent prosecution, an outcome that seems more likely at this point than the idea that Flynn might be granted immunity. It's far too early to say, but that would certainly be something to keep an eye out for. In any case, as James Joyner said this morning, this process is just beginning. Between Mueller's investigation and what seem like inevitable Congressional investigations, this is likely to hang over the Trump Administration like a dark cloud for some time to come.