Our Long National Nightmare is Just Beginning
In the immortal words of Warren Zevon, "Send lawyers, gun, and money. The shit has hit the fan."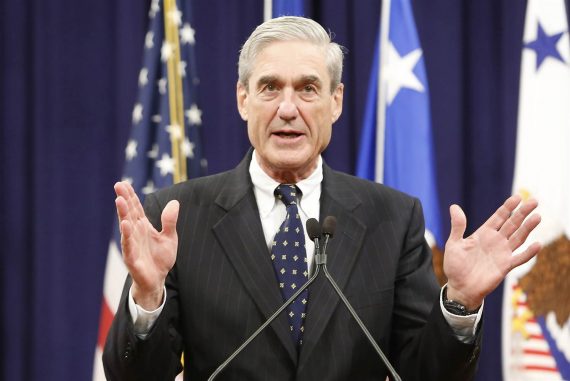 In the immortal words of Warren Zevon, "Send lawyers, gun, and money. The shit has hit the fan."
Less than four months into the Trump administration—it seems more like four years—we have a special counsel investigating ties between key officials, quite probably including the president himself, and a hostile foreign power. Devlin Barrett, Sari Horwitz and Matt Zapotosky for WaPo:
The Justice Department appointed a special counsel Wednesday to investigate possible coordination between President Trump's associates and Russian officials — a clear signal to the White House that federal investigators will aggressively pursue the matter despite the president's insistence that there was no "collusion" with the Kremlin.

Robert S. Mueller III, a former prosecutor who served as the FBI director from 2001 to 2013, has agreed to take over the investigation as a special counsel, Deputy Attorney General Rod J. Rosenstein announced. The move marks a concession by the Trump administration to Democratic demands for the investigation to be run independently of the Justice Department. Calls for a special counsel intensified after Trump fired FBI Director James B. Comey last week.

"In my capacity as acting attorney general I determined that it is in the public interest for me to exercise my authority and appoint a special counsel to assume responsibility for this matter," Rosenstein said in a statement. "My decision is not a finding that crimes have been committed or that any prosecution is warranted. I have made no such determination. What I have determined is that based upon the unique circumstances the public interest requires me to place this investigation under the authority of a person who exercises a degree of independence from the normal chain of command."

Mueller, often described by those who worked for him as a stern and press-averse disciplinarian, issued a characteristically terse statement: "I accept this responsibility and will discharge it to the best of my ability."
This is, as Philip Shenen writes for POLITICO, Trump's worst nightmare come true.  This naturally brings to mind Gerald Ford's line when he took over the presidency from Richard Nixon after the Watergate scandal: "Our long national nightmare is over." Unless Trump follows Nixon's example and tenders his resignation, this move will likely prolong this particular bad dream.
Under terms of his appointment by Deputy Attorney General Rod Rosenstein, Mueller will have wide powers to investigate "any links and/or coordination between the Russian government and individuals associated with the campaign of President Donald Trump" and—beyond that—"any matters" that arise from the investigation, including perjury and obstruction of justice.

The wide scope suggests an inquiry that is almost certain to last for years, given the history of these sorts of investigations, and will have an unpredictable impact on near year's congressional midterm elections and the early jockeying in the 2020 presidential campaign. There are likely to be strains between Mueller's inquiry and those being conducted on Capitol Hill, especially if congressional investigators want to give immunity to targets of Mueller's investigation in exchange for their testimony, which would complicate the former FBI director hopes of ever obtaining criminal convictions.

Mueller's selection was widely welcomed. "By reputation alone, I think he's an excellent choice," said Carol Elder Bruce, a Washington lawyer and former federal prosecutor. She said that Mueller, given his broad management experience at the FBI and from his previous career as a Justice Department prosecutor, would know where to turn to build a staff and organize an investigation in a hurry. "It won't take him long to get organized," she said. And indeed, Mueller is already bringing several staffers with him from WilmerHale, the law firm where he was working before resigning to take the special counsel job.
Given the dizzying number of scandals and brouhahas surrounding this team since it took office—have I mentioned it's been less than four months?—the appointment of a special counsel was perhaps inevitable. Having lived through the shit shows of Watergate, Iran-Contra, and Whitewater/Lewinski—the latter two since coming of age politically—I've dreaded the possibility. The nature of the endeavor is a massive, drawn-out fishing expedition with no real boundaries. The Iran-Contra investigation went on forever, most infamously including an indictment of key officials and damning allegations about George Bush's conduct as vice president on the eve of his bid to be re-elected president—some six years later. And even those of us who thought Bill Clinton was rightly impeached over his perjury in the Lewinski matter had misgivings about the way Ken Starr's investigation unfolded.
Alas, given the firing of Comey, an Attorney General who is himself under suspicion, and a Republican Congress that seems content to put the short-term interests of their party over those of their country, there were no good options.
The gang at Lawfare echo the widespread praise for the selection of Mueller in particular and point out changes in authorities since the last go-round:
It is also worth noting that the office into which Mueller steps is different from the office occupied by independent counsels like Kenneth Starr and Lawrence Walsh. Per regulations issued by the Attorney General in 1999, when the independent counsel statute lapsed, the Attorney General may appoint a special counsel from outside the Justice Department to conduct investigations of certain sensitive matters, such as those that present a conflict of interest for Department personnel or in "other extraordinary circumstances," where in light of these circumstances "it would be in the public interest…" Note that these special counsels are not just appointed by the Attorney General—or, in this case, the Deputy Attorney General who is acting in place of the recused Jeff Sessions—at his discretion but that they also, to some extent, answer to him. For example, the Attorney General can request "an explanation for any investigative or prosecutorial step" and may, with notice to Congress, countermand him. So unlike the independent counsels of old, Mueller will not be entirely separate from the Justice Department—for better or for worse.

In Mueller's case, that distinction is less of a concern than it would be for many other appointees. Mueller is of sufficient stature that any effort to rein him in would likely provoke an immediate scandal if he were to go public, and that means his threat of resignation is a very potent weapon. He also has the kind of experience that ensures he will not be shy when it comes to construing the limits of his jurisdiction. He arguably does not necessarily need the kind of statutory guarantees of independence that the old statute offered; in some respects Mueller is kind of his own guarantee.
They go into some detail about related matters and the differences between the investigation that Comey was conducting and the ostensible scope of Mueller's remit, concluding that it "should allow Mueller to take on whatever matters come up and expand his jurisdiction within reason to include new developments in what appears in from the press to be a sprawling morass of matters. It is certainly capacious enough to include any allegations of obstruction of the investigation that Mueller might want to look into."  Which, to my lay thinking, seems not meaningfully different from the rules Lawrence Walsh and Ken Starr worked under.
And, as previously noted, this is unlikely to wrap up anytime soon. So they re-up their call that some other investigative body be empaneled:
So should we all just be satisfied the Trump-Russia affair is in good hands and wait for Bob Mueller to let us know whether there's a problem? Hardly.

It is important to recognize that the matter of a special counsel is largely distinct from the questions related to congressional investigations, and having a special prosecutor does not resolve the question of whether we need a select committee or some kind of independent commission, in addition to the investigation already ongoing in Congress.
I wouldn't hold my breath on that score.