Robert Mueller Underwhelms, But Still Hits Important Points
Robert Mueller didn't provide a smoking gun yesterday, but the President and his supporters are wrong to claim that the hearing vindicated the President.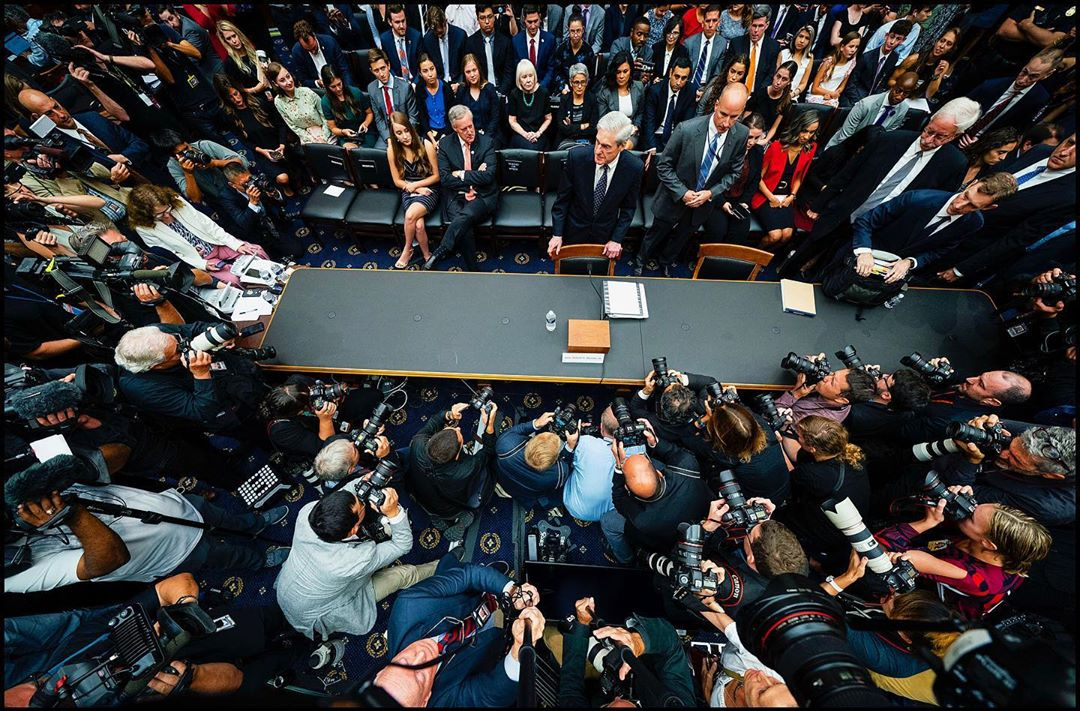 Anyone expecting yesterday's testimony by former Special Counsel Robert Mueller to lead be explosive or to lead to revelations that would provide a "smoking gun" against the President or otherwise tip the balance of opinion on Capitol Hill and around the country in favor of impeachment was disappointed. For the most part, the former F.B.I. Director's testimony was exactly what Mueller said it would be at his first and only press statement when he closed his office in May. He largely stuck to the four corners of his report, refused to answer most questions that went outside his jurisdiction or which might relate to ongoing investigations by others in the Department of Justice, and gave as concise answers as he could to the questions that were being asked.
That being said, after five hours of testimony the core findings of the Mueller Report, all of which raise serious doubts about the President's campaign and his attempts to undermine the Russia investigation:
WASHINGTON — Robert S. Mueller III warned lawmakers on Wednesday that Russia was again trying to sabotage American democracy before next year's presidential election, defended his investigation's conclusions about Moscow's sweeping interference campaign in 2016 and publicly rejected President Trump's criticism that he had conducted a "witch hunt."

The partisan war over Mr. Mueller's inquiry reached a heated climax during nearly seven hours of his long-awaited testimony before two congressional committees. Lawmakers hunted for viral sound bites and tried to score political points, but Mr. Mueller consistently refused to accommodate them, returning over and over in a sometimes halting delivery to his damning and voluminous report.

Mr. Mueller remained a spectral presence in Washington over the past two years as the president and his allies subjected the special counsel and his team of lawyers to withering attacks. Speaking in detail for the first time about his conclusions produced occasionally dramatic moments in which he ventured beyond his report to offer insights about Mr. Trump's behavior.

When asked whether Mr. Trump "wasn't always being truthful" in his written answers to the special counsel's questions, Mr. Mueller responded, "I would say generally." He called Mr. Trump's praise of WikiLeaks during the 2016 campaign "problematic" and said it "gave a boost to what is and should be illegal activity."

He said that he and his team chose not to subpoena Mr. Trump out of concern that a battle over a presidential interview might needlessly prolong the investigation, and said that Mr. Trump could be charged with obstruction of justice after he leaves office.

Mr. Mueller also acknowledged that his investigators had explicitly declined to exonerate the president's efforts to impede the inquiry. "The finding indicates that the president was not exculpated for the acts that he allegedly committed," Mr. Mueller said.

Democratic lawmakers had hoped that Mr. Mueller's nationally televised testimony would provide a yearslong saga with a dramatic culmination: the special counsel translating the dense jargon of his 448-page report into a bleak portrait of the Russian interference operation and the president's behavior since winning the election. The testimony would, in their minds, make the report both more authoritative and more vivid for Americans who had skipped reading it.

Some television pundits built up the drama by comparing Mr. Mueller's appearance to some of the most galvanizing moments of the Watergate era.

For the most part, Mr. Mueller did not play along. He gave clipped answers to lengthy questions and forced lawmakers to give their own dramatic readings from his report rather than reciting the conclusions himself. He sometimes gave a forceful defense of his investigation and his team in the face of the Republican fusillade, but his answers were at times faltering. Throughout, he was careful to avoid straying from his report's conclusions.

Mr. Trump has spent months characterizing the special counsel's report as a "total exoneration," though Mr. Mueller was careful to state that he and his team had drawn no such conclusion. The report, released in April, laid bare that Mr. Trump was elected with the help of a foreign power, and on Wednesday, Mr. Mueller was most impassioned when describing the contours of the Russian sabotage playbook.

"They're doing it as we sit here," he said of Russia's continual interference in American elections.

Looming over the hearing was the question of whether Mr. Mueller's testimony might shift the ground in Congress and propel more lawmakers to push for Mr. Trump's impeachment. Only one new call for impeachment hearings emerged by late Wednesday, from Representative Lori Trahan, Democrat of Massachusetts, and lawmakers will soon depart Washington for a summer recess.

(…)

The questioning at the hearings reflected a bitter philosophical divide, both on the committees and in the country as a whole: whether it was Mr. Trump or those investigating him who committed crimes. Throughout the day, the Democrats hit the high points from Mr. Mueller's report: the June 2016 Trump Tower meeting, the efforts by Mr. Trump to fire Mr. Mueller, the talks between Michael T. Flynn and a Russian ambassador about Obama-era sanctions, the strategy by President Vladimir V. Putin of Russia to sow chaos before the election.

The Mueller report cataloged numerous meetings between Mr. Trump's advisers and Russians seeking to influence the campaign and the presidential transition team — encounters set up in pursuit of business deals, policy initiatives and political dirt about Hillary Clinton, Mr. Trump's 2016 Democratic opponent.

Mr. Mueller concluded that there was "insufficient evidence" to determine that the president or his aides had engaged in a criminal conspiracy with the Russians, even though the Trump campaign welcomed the Kremlin sabotage effort and "expected it would benefit electorally" from the hackings and leaks of Democratic emails.

On Wednesday, Mr. Mueller was asked about the Trump Tower meeting, WikiLeaks and the decision by Paul Manafort, the former Trump campaign chairman, to share campaign information with a Russian oligarch, and whether such episodes were becoming typical for political campaigns.

"I hope this is not the new normal," Mr. Mueller said, "but I fear it is."

Republicans tried to flip the lens, peppering Mr. Mueller with questions about what they have long argued, with little evidence: that the F.B.I. opened a politically motivated investigation in 2016 with the aim of preventing Mr. Trump from becoming president.

They focused on the research firm that commissioned the dossier by Christopher Steele, a former British intelligence officer. They focused on Joseph Mifsud, a Maltese academic identified by the special counsel as linked to Russian intelligence, and advanced unsubstantiated claims that Mr. Mifsud was actually under the sway of Western spy services.
Mr. Mueller mostly deflected those questions, saying the origins of the F.B.I. inquiry predated his time as special counsel and were outside his purview.

The Washington Post has more, including some observations about what all of this means going forward:
yRobert S. Mueller III spent more than two years ignoring taunts — tweeted and barked — from President Trump.

But on Wednesday, over the course of six hours, two hearings and in his own understated — and at times juddering — way, the former special counsel finally responded to the president, firmly pushing back on the months-long public relations offensive the president and his team waged to undermine Mueller and his investigators.

Testifying before Congress, he agreed with the assertion from House Intelligence Committee Chairman Adam B. Schiff (D-Calif.) that seeking campaign assistance from a foreign power is "unpatriotic" and "wrong." He also said he found Trump's praise of WikiLeaks to be "problematic," noting Trump's pro-WikiLeaks statements give "some hope or some boost to what is and should be illegal activity."

Mueller clarified that his investigation and 448-page, redacted report did not, in fact, "totally exonerate" the president — contrary to Trump's repeated claims — nor did it say there was no obstruction.


"The president was not exculpated for the acts that he allegedly committed," Mueller said.

Mueller also defended his investigators, becoming increasingly animated as he said his main hiring criteria was people who could "do the job quickly and seriously and with integrity." He agreed that it was "generally" true that the Trump campaign built its messaging strategy around stolen documents, lied to cover it up and that the president's written answers to Mueller's team were not always truthful, either. And he dismissed Trump's frequent claims that Russian interference in the 2016 presidential election was a "hoax," while also rejecting the president's charge that his investigation was a "witch hunt."


"It is not a witch hunt," he said.

Mueller's appearance Wednesday on Capitol Hill was hard-fought, painstakingly negotiated and highly anticipated. But, ultimately, his turn as a reluctant and at times uncomfortable witness seemed unlikely to change the political dynamic. Both Democrats and Republicans had largely made up their minds, and the hearings simply allowed them to burrow further into their already entrenched camps.

Even Democrats who favor impeachment acknowledged that Mueller's performance did not provide the made-for-TV moment for which they had hoped.

"I don't see it as a seminal moment in time. I really do not," said Rep. Al Green (D-Tex.), who last week forced a House vote on whether to consider impeaching the president.

Despite Mueller's pushback against the president and his defense of his own investigation, the testimony may even undercut the party's push for impeachment and hand Trump and Republicans a new talking point in trying to discredit the two-year probe.

Trump, who spent nearly the entire day watching and tweeting about the cable news spectacle — he did not leave his residence until the afternoon, a senior White House official said — weighed in on the South Lawn on Wednesday afternoon, criticizing Mueller and the Democrats.

Mueller, the president said, did a "horrible job," both in his public testimony and extensive report. "I don't think there's anybody that would say he did well," Trump added.

He also claimed Mueller's investigation was a "phony cloud" and argued that the Democrats had further hampered their own political interests by calling on Mueller to testify.

"I think they hurt themselves very badly for 2020," Trump said, shortly before departing to a fundraiser in West Virginia. "The Democrats lost so big today."

Democratic leaders had warned their committee members that Mueller might not live up to the hype — one of the main reasons some lawmakers tried to downplay expectations heading into the hearing. But even skeptics did not expect Mueller to so fully refuse to elaborate on any of the details in his report.

"They thought they were going to be able to turn this hearing into a prolonged anti-Trump TV ad, and all they ended up getting was a very 'low-energy' witness and a whole lot of disappointment," said Andy Surabian, a Republican strategist and former Trump White House official.


Even some pro-impeachment Democrats agreed that Mueller did little to help them make their case to the American public that Trump needs to be ousted from office.

Sen. Jon Tester (D-Mont.) said that although he supported House Democrats on opening impeachment proceedings to gather more information, he was not sure that the hearing "changed the landscape" to move in that direction.

"I'm not sure impeachment is the right direction to go, but it's really in the House's hands, because it's not going to go anywhere over here," Tester said, referring to the Republican-controlled Senate.

Perhaps the bigger problem for the Democratic Party, however, was that Mueller appeared confused at times, stumbling over his answers and frequently imploring his questioners to repeat their queries.

His sometimes halting performance led Republicans to suggest that Mueller was either unfamiliar with the report or — worse — not as mentally sharp as he should be leading such a sweeping investigation of a sitting president.

Mueller, who testified before the House Judiciary Committee in the morning, appeared more forceful and prepared during his testimony before the House Intelligence Committee on Wednesday afternoon.

Yet Trump allies immediately started questioning the findings of the Mueller report, with some even mocking the Vietnam War veteran, who received a Purple Heart and led law enforcement in the days after the Sept. 11, 2001, terrorist attacks.

Rudolph W. Giuliani, Trump's lawyer, said that although he would have preferred that Mueller not publicly testify at all, "it was a great morning for the president."

Giuliani described Mueller as "a pathetic witness, stumbling, bumbling," before briefly imitating the "ahhs" and "umms" that peppered his appearance, especially the first session. "It's not going to move any needles," Giuliani said. "If anything, it's going to hurt the Democrats a little bit."

White House press secretary Stephanie Grisham also offered a scathing assessment of the proceedings during a break between the hearings.

"The last three hours have been an epic embarrassment for the Democrats," Grisham said in an email statement she repeated on Twitter. "Expect more of the same in the second half."
l
Moving beyond the optics of Mueller's appearance yesterday, the substance was by no means good for the President. On both the issue of collusion between the Trump campaign and the potential for obstruction of justice on the President's part, Mueller directly contradicted the claims of the President, the Attorney General, and the President's supporters on Capitol Hill and elsewhere, Mueller made clear that his report did not exonerate the President.
As far as collusion goes, Mueller reiterated the conclusion of his report that, while there was not sufficient evidence of collusion, there were dozens of contacts between the Trump campaign and people associated with Russia that at least raise the possibility that there was some sort of coordination between the campaign and the actions that Russia was taking to intervene in the election. This is most apparent in the case of the coordination that seemed to exist between the campaign and Wikileaks, which served as the means by which Russia leaked the information its agents had obtained from DNC emails and other sources to the wider world.
The best example of this can be seen in the many times during the course of the campaign during which it appeared as if the President himself had advance knowledge of future Wikileaks dumps. Though not proven, it is believed that this information came from Roger Stone, who was originally part of Trump's campaign team and appeared to remain as an informal adviser even after supposedly being dismissed from the campaign. Other evidence of potential collusion, of course, include the June 9, 2016 meeting at Trump Tower between the President's son, his campaign manager, and his son-in-law and Russians who claimed to have "dirt" on Hillary Clinton obtained by the Russian government. Finally, there is the fact that Trump campaign manager made internal polling data available to a Ukranian oligarch known to have close ties to Moscow. While these elements prove that there was collusion, coordination, or a conspiracy, they do raise the serious likelihood that there was. Additionally, while this evidence may have been insufficient to prove conspiracy beyond a reasonable doubt in a criminal court it is nonetheless certainly sufficient enough to provide the basis for opening an impeachment inquiry against the President.
On the issue of obstruction of justice, Mueller's response was as clear as what is contained in his report and what he said in his press appearance in May. In his testimony, Mueller made clear that the President and his supporters were wrong to assert that the investigation had cleared him on this ground as well. The second volume of the report, which covered the obstruction of justice side of the investigation did not directly clear the President or any other Administration official of obstructing justice. Indeed, as Mueller said in his May press appearance, " "If we had confidence after a thorough investigation of the facts that the president clearly did not commit obstruction of justice, we would so state," Mr. Mueller and his investigators wrote. "Based on the facts and the applicable legal standards, however, we are unable to reach that judgment." That, of course, leads to the logical conclusion that if Trump were not currently President, he most likely would have been indicted by the Special Counsel. Mueller did not come right out and say this yesterday, of course, but he did say that the existing guidelines in the Justice Department barred him from indicting the President and that the President could be indicted for obstruction after he left office provided that the applicable statute of limitations had not expired. This is another truth that Democrats can either take up and run with or do nothing about.
In the end, it's unlikely that Mueller's testimony will have moved the needle of public opinion significantly on either the Russia investigation itself or the question of impeachment. I say this because Mueller's professorial delivery and demeanor is unlikely to have made a huge impact on a public that has only been following this story tangentially and because the public seems to be decidedly disinterested in impeachment at this time. Whether that changes over time remains to be seen. As we get closer to the election, though, I suspect that it won't.
Update: James Joyner offers his own perspective on the hearing yesterday, to which I added this in the comment thread:
As I stated in my own post this morning, anyone expecting Mueller to go beyond the four corners of his report or to provide a smoking gun beyond what the report actually said was expecting something that Mueller had already said he wouldn't deliver. It's obvious to me the Mueller didn't really want to testify yesterday, and would have preferred to let the report speaks for itself, but he nonetheless made clear that there are serious issues arising out of the 2016 election dealing with both the issue of foreign interference in the election and Trump's potential culpability on the issues of collusion/conspiracy and obstruction of justice.

Yes, the so-called "optics" of the hearings are such that it's unlikely anyone's mind will be changed, but the fact that people like Chuck Todd are spending more time talking about optics than about substance is a good part of what's wrong with our political and media culture. Nothing Mueller said yesterday did anything to undermine what his report says, and that report is quite damning, Where we go from here is uncertain, but the fact that there's more of a focus on the question of whether or not Mueller "looked" or performed well on television is precisely what's wrong with politics today. And goes a long way toward explaining why Trump won in 2016 and why he might win again in 2020.
I agree that someone just watching yesterday for the optics of how Mueller came across would probably have walked away with a somewhat negative impression of Mueller. On substance, though, he absolutely delivered exactly what he told us he was going to deliver. Whether anything comes out of it is up to Congress and, ultimately, the American people.