Trump's Former National Security Adviser Seeks Immunity Deal
Lt. General Michael Flynn wants immunity before he agrees to testify before Congress. This could be significant, or it could mean nothing at all.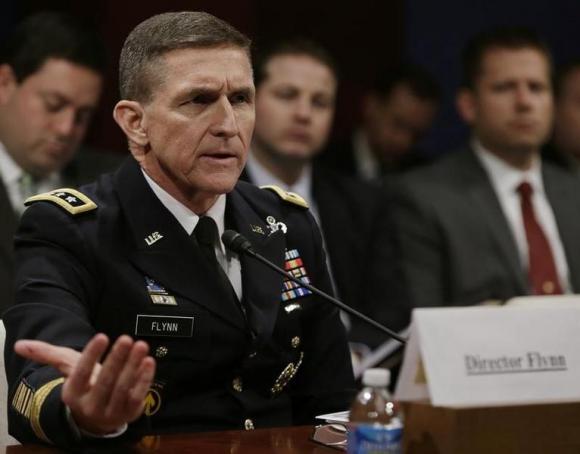 Lt. General Michael Flynn, Donald Trump's former National Security Adviser who was dismissed after it was revealed he had lied to the transition team and to Vice-President Mike Pence about his contacts with the Russian Ambassador, is reportedly seeking an immunity agreement before agreeing to testify before Congressional committees investigating Russian efforts to influence the election and the Trump campaign's relationship with Russia:
WASHINGTON — Michael T. Flynn, the former national security adviser, has offered to be interviewed by House and Senate investigators who are examining the Trump campaign's ties to Russia in exchange for immunity from prosecution, according to his lawyer and a congressional official.

But the congressional official said investigators were unwilling to broker a deal with Mr. Flynn — who resigned last month for misleading White House officials about his contacts with Russia's ambassador to the United States — until they are further along in their inquiries and they better understand what information Mr. Flynn might offer as part of a deal.

In a statement on Thursday evening, Mr. Flynn's lawyer confirmed discussions with the House and Senate intelligence committees about possible testimony by his client. The lawyer, Robert Kelner, did not provide specifics about the terms under which Mr. Flynn would testify, but said that "no reasonable person, who has the benefit of advice from counsel, would submit to questioning in such a highly politicized, witch-hunt environment without assurances against unfair prosecution."

"General Flynn certainly has a story to tell, and he very much wants to tell it, should circumstances permit," the statement said.

The Wall Street Journal reported Mr. Flynn's offer to testify.

The F.B.I. is investigating whether any of President Trump's advisers colluded with the Russian government in its efforts to disrupt the 2016 presidential election. An immunity deal would make it extraordinarily difficult for the Justice Department to prosecute Mr. Flynn.

It is unclear whether any of Mr. Trump's other former advisers have asked for immunity from the congressional committees.

It is common for witnesses to demand immunity in exchange for their testimony to ensure that their words cannot be used to prosecute them. Under federal law, Congress can grant witnesses immunity for their testimony, but lawmakers normally do so only after consulting with prosecutors.

Congress normally avoids doing anything that could disrupt a federal investigation. Federal law allows the Justice Department to delay a congressional immunity deal but not block it outright.

"At this early stage, I wouldn't read anything into this request beyond smart lawyering," said Mark Zaid, a Washington lawyer who specializes in national security cases. "In such a politically charged, high-profile national security case, I couldn't imagine not first asking for immunity."

"I would suspect both Congress and the F.B.I. will first generate additional evidence from smaller players before deciding to immunize General Flynn," Mr. Zaid said.
The news of this request from Flynn's attorney, which can be seen in the letter released on the letterhead of Covington & Burling, a top Washington D.C. law firm, dropped late yesterday afternoon and quickly became the subject of speculation and comment on all three cable news networks. While Flynn's attorney doesn't formally use the word 'immunity' in his letter, it's clear that this is what they are aiming for, with the added implication that Flynn may choose to invoke his rights under the Fifth Amendment if not granted immunity. One thing the lawyer does say in the letter is that Flynn has "a story" to tell and that they were seeking assurances against "unfair prosecution." Naturally, much of this led to speculation on the part of pundits and legal analysts, the last of whom should know better given their legal training, that Flynn was either guilty of something or that he had information that would implicate someone higher up in the Administration than he in some kind of criminal activity. While it's possible that either one of these could be true, it's far too early in the process to tell and rather irresponsible to draw conclusions from the fact that Flynn is seeking immunity before voluntarily putting himself before a likely hostile panel of Senators and Congressmen.
As we already know, there is already an ongoing criminal investigation of both Russian intervention in the election and the Trump campaign's contact(s) with Russia, and it's more likely than not that Lt. General Flynn is one of the people that investigators are looking into regarding both issues, it should not come as a surprise that Flynn's lawyer is seeking an immunity deal for his client. First of all, given the fact that there is an ongoing criminal investigation regarding all of this it would be foolish for anyone who is a potential target to testify before Congress without immunity. If immunity isn't granted, then it would be foolish for him or her to testify at all instead of invoking the Fifth Amendment right against self-incrimination. This is especially true given the fact that Flynn is clearly in the center of whatever it is that is going on here. Additionally, there have been reports that Flynn and his company engaged in lobbying on behalf of a foreign government without properly registering with the Federal Government as required by law. Because of all of this, any testimony that Flynn gives without an immunity agreement could potentially be used against him as part of the wider criminal investigation. Additionally, as people ranging from Scooter Libby to Martha Stewart have learned, giving inconsistent testimony could be a basis for criminal charges totally unrelated to the underlying case. Given all of this, seeking an immunity deal is something that any competent attorney representing a similarly situated client would do, and if no such deal is possible then the only rational thing for the client to do would be to invoke their rights under the Fifth Amendment rather than risk having their Congressional testimony used to aid an investigation or, even worse, used as evidence in any future attempted criminal prosecution.
Second, the fact that someone is seeking immunity or chooses to invoke the Fifth Amendment should never be taken or assumed to be evidence of guilt. As I've argued before, the right against self-incrimination is among the most important guarantees contained in the Bill of Rights and no person should be compelled to give testimony that could potentially incriminate them. Additionally, a lawyer who didn't advise their client that they should either seek immunity or invoke their rights under the Fifth Amendment in the situation that Flynn faces would be guilty of serious malpractice. Despite the breathless headlines, what Flynn's attorney is doing here is standard good lawyering. Whether the relevant committee(s) choose to grant some form of immunity will ultimately be up to them, but they clearly won't get Flynn's cooperation without taking his legal rights into account, and that's exactly how the legal system is supposed to work.
Third, it's still possible there's nothing to all of this. I suppose it is natural for people to engage in speculation about what "story" Flynn might have to tell in exchange for immunity. Indeed, committee members and investigators at the Justice Department will most likely insist upon some kind of off the record proffer of Flynn's expected testimony before agreeing to any immunity deal. Additionally, it's only natural for people outside the investigation to ponder what various developments might mean and there is some logic to the idea that Flynn may be seeking a deal to avoid prosecution in exchange for him giving information on a "bigger fish" in the Trump Administration involved in contact with the Russians before and after the Presidential Election. At the same time, though, all of that is speculation best left to the talking heads on cable news. The news that Flynn is seeking immunity could mean something important and dangerous for the Trump Administration, or it could mean nothing at all. We just don't have enough information to know which, and that's why this matter needs to be investigated fully.
On a final note, it is worth noting that there's no small degree or irony and hypocrisy in Flynn seeking immunity at this time. During the Presidential campaign, when he was giving speeches and acting as a surrogate for the campaign, Flynn noted that several people who had been questioned in connection with the then-ongoing investigation into Hillary Clinton's use of a private email server were given immunity in advance of their testimony and stated that "When you are given immunity, that means that you've probably committed a crime." President Trump said pretty much the same thing last October:
ATTN: @HillaryClinton – Why did five of your staffers need FBI IMMUNITY?! #BigLeagueTruth #Debates

— Donald J. Trump (@realDonaldTrump) October 10, 2016
With this morning's report of Flynn's request for immunity, though, Trump seems to have changed his mind:
Mike Flynn should ask for immunity in that this is a witch hunt (excuse for big election loss), by media & Dems, of historic proportion!

— Donald J. Trump (@realDonaldTrump) March 31, 2017
One wonders if Trump even recognizes his own hypocrisy.