Invoking The Fifth Amendment Is Not Evidence Of Wrongdoing
A top IRS official will reportedly invoke her 5th Amendment rights rather than testify before Congress tomorrow.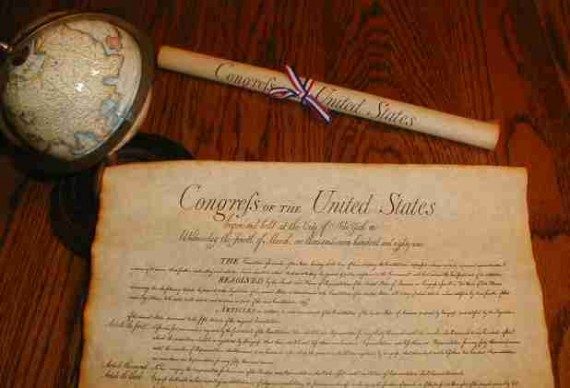 Rather than testifying tomorrow regarding the ongoing IRS scandal, at least one of the officials who had knowledge of what was going on will be invoking their rights under the Fifth Amendment:
Embattled IRS official Lois Lerner will invoke her Fifth Amendment right not to incriminate herself when she appears before the House Oversight Committee on Wednesday.

In a letter to Oversight Chairman Darrell Issa (R-Calif.), Lerner's attorney William W. Taylor III cites the Justice Department's criminal investigation into the issue of whether the IRS singled out tea party and other conservative groups for extra scrutiny.

Lerner will be the first person involved with the IRS scandal to publicly invoke the Fifth Amendment.

"Just when you think things can't get any stranger around here, they take a twist," Sen. John Cornyn (R-Texas) told POLITICO, adding, "this is a very serious matter."

Taylor's letter requests that Lerner be excused from testifying, but Issa has issued a subpoena to compel her appearance.

"Requiring her to appear at the hearing merely to assert her Fifth Amendment privilege would have no purpose other than to embarrass or burden her," Taylor wrote.

Lerner oversaw the IRS nonprofit department and Issa has accused her of lying to Congress about her knowledge of the investigation into whether the agency targeted conservative groups.

Sen. Orrin Hatch said Lerner's decision shows she is "afraid" to face Congress and account for her actions.
I'm seeing similar reactions from people on the right on Twitter and Facebook, as well as plenty of people claiming that this is somehow going to be a political embarrassment for the Obama Administration. In reality, of course, there's nothing surprising about Lerner's decision here.
Before he testified before Congress last week, Attorney General Eric Holder announced that the Federal Bureau of Investigation and had opened a criminal investigation into the matters that were going on in the IRS's Cincinnati office, and elsewhere, between 2010 and 2012. Unlike the outgoing Acting IRS Commissioner who testified last week, Lerner was close enough to what was going on to, potentially, be a target of that investigation. Additionally, Lerner had apparently testified before Congress regarding claims of targeting by Tea Party groups long before this story ever broke, and some members of Congress have suggested that she committed perjury when she did so. Finally, any testimony she gives now that conflicts even in the slightest from what she testified to before could subject her to claims of perjury. Lying to Congress is a crime that people do get charged with, just ask Roger Clemens, who went through two trials before being acquitted on perjury charges last year. Given all of this, and the lack of any testimonial immunity grant from Congress, it's obvious that Lerner's attorney would have strongly recommended that she invoke her Fifth Amendment rights.
This isn't new, of course. Last year, when Congress was investigating the collapse of MF Global, led by former Democratic Senator and Governor Jon Corzine, several former MF Global executives invoked their rights under the Fifth Amendment. Given that the company was the subject of multiple negotiations related to its collapse, this wasn't a surprise. However, since we were in the middle of the political season, it quickly became the subject of a Republican National Committee ad. As I said at the time, there was something rather ironic about a political party that claims to respect the Constitution using the fact that someone exercised their rights under the Constitution as a political weapon:
I've got to say that I find something particularly offensive about this ad and the suggestion it makes that there's something wrong with asserting one's right to remain silent. For a party that claims to respect the Constitution, it strikes me as hypocritical to then turn around and insinuate, as this ad clearly does, that there's something wrong with someone asserting their Constitutional rights. If you truly respect the Constitution, that means respecting all of the Constitution including the part that allows someone to refuse to answer questions under oath from a Congressional Committee that, in addition to having an oversight role, also clearly has a political agenda. Sadly, it's the kind of implication that is likely to play well in the hustings because one generally finds the public reaction to the privilege against self-incrimination to end with the thought "well, if they didn't have anything to hide they wouldn't plead the Fifth."
The Supreme Court answered that question back in 1956 in a case called Slochower v . Board of Higher Education of New York City:
At the outset, we must condemn the practice of imputing a sinister meaning to the exercise of a person's constitutional right under the Fifth Amendment. The right of an accused person to refuse to testify, which had been in England merely a rule of evidence, was so important to our forefathers that they raised it to the dignity of a constitutional enactment, and it has been recognized as "one of the most valuable prerogatives of the citizen." Brown v. Walker, 161 U.S. 591, 610. We have reaffirmed our faith in this principle recently in Quinn v. United States, 349 U.S. 155. In Ullmann v. United States, 350 U.S. 422, decided last month, we scored the assumption that those who claim this privilege are either criminals or perjurers. The privilege against self-incrimination would be reduced to a hollow mockery if its exercise could be taken as equivalent either to a confession of guilt or a conclusive presumption of perjury. As we pointed out in Ullmann, a witness may have a reasonable fear of prosecution and yet be innocent of any wrongdoing. The privilege serves to protect the innocent who otherwise migh be ensnared by ambiguous circumstances. See Griswold, The Fifth Amendment Today (1955).
As things stand right now, I have no idea what Ms. Lerner's culpability in this matter might be, or indeed whether there were any crimes actually committed at all. That's what an investigation is for. At the same time, it is Congress's job to find out what happened, and why, both as part of its role as the oversight body of Executive agencies like the IRS and to determine whether changes to the law to prevent this from happening again might be necessary. That process will go forward. At the same time, though, people like Ms. Lerner are entitled to the same Constitutional protections that everyone else is, and it's improper to assume wrongdoing just because they choose to exercise those rights.