House Committee Claims Lois Lerner Waived Her Fifth Amendment Rights
Lois Lerner is likely headed back to Congress over the largely phony charge that she waived her Fifth Amendment rights.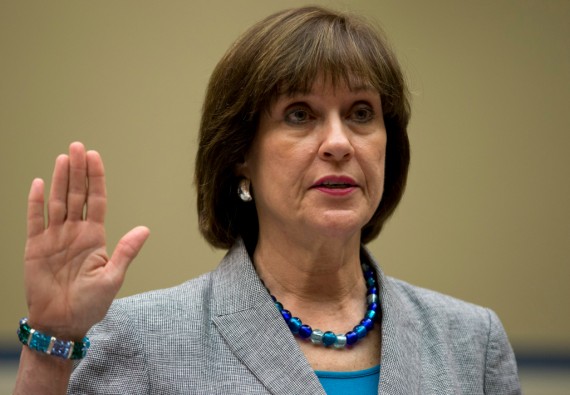 When she appeared before the House Government Oversight Committee at the end of last month, IRS employee Lois Lerner, who has since been put on administrative leave, invoked her right not to testify under the Fifth Amendment. Before she did so, however, Lerner read a brief statement into the record in which contended that she had done nothing wrong. At the time, several members of the Committee contended that, in making that statement, Lerner had waived her Fifth Amendment rights however Committee Chairman Darrell Issa allowed her to leave rather than having to stay and invoke her rights each time she's asked a question.  Today, though, the committee voted, in a strict party line vote, that Lerner had indeed waived her rights and that she should be compelled to once again appear before the committee:
The House Oversight and Government Reform Committee voted 22-17 on Friday that embattled IRS official Lois Lerner waived her Fifth Amendment rights during a hearing last month on the agency's tea party targeting scandal.

The party-line vote paves the way for the committee to bring Lerner back to Congress and force her to answer questions from lawmakers.

The resolution before the committee said that by reading an opening statement proclaiming her innocence at the outset of a May 22 hearing, Lerner — who led the IRS division that allegedly singled out tea party groups applying for a tax exemption — relinquished her constitutional right to avoid self-incrimination.

"I believe Lois Lerner waived her Fifth Amendment protection," House Oversight Chairman Darrell Issa (R-Calif.) said before the committee vote. "She made four specific denials. Those denials are at the core of the committee's investigation into this matter."

The committee hasn't yet scheduled a date to recall Lerner.

Oversight Republican staff told POLITICO they're open to pitches from Lerner's lawyer about how she might want to testify, including the idea of granting her partial immunity that would allow her to answer questions without fear that her testimony could be used against her in court.

William W. Taylor III, Lerner's attorney, said no decisions have been made about Lerner's next steps because Issa hasn't contacted them yet.

(…)

Democrats denied that Lerner waived her rights and criticized Issa for deciding that a congressional committee has authority to strip constitutional privileges from a U.S. citizen.

"I agree that she has information that is relevant to the committee's investigation," said Maryland Rep. Elijah Cummings, the panel's top Democrat. "But we must respect the constitutional rights of every witness who comes before the committee."

The panel rejected an amendment from Del. Eleanor Holmes Norton (D-D.C.) that would have instructed the committee to hold a hearing on the legal matter in question and recall Lerner's attorney to hear his side of the dispute.

Issa dismissed calls for an additional hearing, repeatedly reminding Democrats that 37 days have lapsed since Lerner first appeared before the panel and that he consulted the House counsel for advice on the matter.

Rep. Gerry Connolly (D-Va.) said the committee was establishing a dangerous precedent.

"If we do this today, every American citizen is at risk who is ever summoned to this committee," he said. "It could be construed that by insisting that she appear under subpoena … it constituted entrapment."
Most likely, of course, Lerner will simply restate her invocation of the Fifth Amendment each time she is asked a question at any such hearing, at which point it would be up to the committee to seek a ruling from a Federal Judge on the question of whether or not she actually did waive her rights at that May hearing. The alternative, as the article suggests is that committee reaches some kind of agreement with Lerner and her attorney that gives her immunity as to anything that she testifies to at any further hearings so that the testimony could not be used against her in Court, or the committee could decide to grant her immunity on its own without any negotiation with Lerner's camp. If she refused to testify after being granted immunity, of course, she would be potentially subject to a charge of being in contempt of Congress. My guess, though, is that she'd cooperate under those circumstances because there would be no reason not to.
As for the merits of the committee majority's claim that Lerner waived her rights, I partly addressed that issue on the day of the hearing when this first came up and then again the next day:
For one thing, if Lerner is indeed brought back before the committee without a grant of immunity, and indeed all of this could just be public posturing as the parties negotiate an immunity agreement behind the scenes, then she is obviously going to continue to assert her Fifth Amendment rights regardless of whatever position Issa or any of the other members of the committee have to say about it. This means that the committee will have two choices, either they let it slide or they vote to hold her in contempt. If they go that route, then the House as a whole will also have to hold her in contempt, at which point the matter would be referred to the Justice Department. Even assuming that the Justice department agrees to prosecute, they're going to have to convince a Federal Judge that Lerner has in fact waived her rights. I would submit that's going to be difficult.

(…)

Given that it's an open question, it seems highly unlikely to me that a Federal Judge is going to rule that Lerner waived her Fifth Amendment rights in any respect by making a brief, entirely generalized, statement to a Congressional Committee at a hearing to which she was subpoenaed before formally invoking her Fifth Amendment rights. Admittedly, it would have been preferable for her to remain silent altogether, but it doesn't seem to me that what she did comes even close to being sufficient to constitute a waiver.
There's further discussion at the link, including a discussion of a recent Supreme Court case that may be relevant to the question of what actually constitutes a statement for 5th Amendment purposes, but the basic point remains the same. Absent something extraordinary, it strikes me as highly unlikely that a Federal Judge is going to hold that a brief, mostly innocuous, opening statement by a witness appearing before a Congressional Committee under subpoena will be found to have waived their Constitutional rights. For the most part, then, I'd suggest that this a political move on the part of the Committee. Bringing Lerner back without an agreement on immunity will allow them to ask her question after question and force her to repeatedly invoke the 5th Amendment, something that the GOP will no doubt cynically exploit for the purpose of commercials and web videos.  In terms of actually accomplishing anything, it will be mostly a waste of time.