Further Thoughts On The Fifth Amendment And Lois Lerner's Supposed Waiver Of Privilege
Darrell Issa's Committee seems headed for a battle over the Fifth Amendment.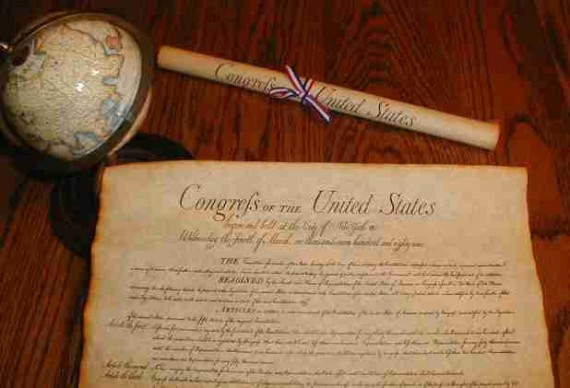 There have been new developments regarding the testimony of IRS employee Lois Lerner, who asserted the protections of the Fifth Amendment when she was called to testify before the House Government Oversight Committee yesterday. Today, Chairman Darrell Issa said that he intends to recall her to testify before the committee despite the fact that she has invoked her right not to testify pursuant to the Fifth Amendment:
WASHINGTON (Reuters) - Republican Representative Darrell Issasaid on Thursday he will call Internal Revenue Service official Lois Lerner back to testify before his committee on the IRS-Tea Partyscandal after she asserted her constitutional right not to answer questions.

"We are obligated to bring Lerner back because she did not properly take the Fifth (Amendment)," Issa said.

"She clearly chose to make her statements and then not open herself up to even any questioning as to the statement she made," said Issa, chairman of the House Oversight and Government Reform Committee.
I addressed the issue of whether Lerner had waived her testimony yesterday, and while there has been some legal commentary since then from others arguing that her opening statement may indeed have constituted at least a partial waiver of her rights,  it strikes me unlikely that this is going to go anywhere. For one thing, if Lerner is indeed brought back before the committee without a grant of immunity, and indeed all of this could just be public posturing as the parties negotiate an immunity agreement behind the scenes, then she is obviously going to continue to assert her Fifth Amendment rights regardless of whatever position Issa or any of the other members of the committee have to say about it. This means that the committee will have two choices, either they let it slide or they vote to hold her in contempt. If they go that route, then the House as a whole will also have to hold her in contempt, at which point the matter would be referred to the Justice Department. Even assuming that the Justice department agrees to prosecute, they're going to have to convince a Federal Judge that Lerner has in fact waived her rights. I would submit that's going to be difficult.
Orin Kerr examined the issue in a post at The Volokh Conspiracy last night:
The tricky part is how to characterize Lerner's testimony before she invoked the Fifth Amendment. On one hand, if you say that Lerner merely expressed her view that she is innocent but did not actually testify as to any facts, then you could say she did not waive her rights with her statement. Questioning would not be about the details of facts she already testified to, but rather would require her testimony on a subject she declined to testify about. On the other hand, if you say that Lerner's reciting the allegations and then denying them effectively testified about the allegations, then you could say that she did testify and did waive her rights. From that perspective, she already testified about "the subject" by saying that she did not violate any IRS rules or submit false testimony, and further questioning would be about the details of why she thinks that.

I'm not enough of a Fifth Amendment nerd to have strong views on which side is right. So I posed the question earlier today (based on press reports of what Lerner said, not the full transcript) to a listserv of criminal procedure professors that includes some serious Fifth Amendment experts. Opinions were somewhat mixed, but I think it's fair to say that the bulk of responders thought that Lerner had not actually testified because she gave no statements about the facts of what happened. If that view is right, Lerner successfully invoked her Fifth Amendment rights and cannot be called again. But this was not a unanimous view, it was not based on the full transcript, and there are no cases that seem to be directly on point. So it's at least a somewhat open question.
Given that it's an open question, it seems highly unlikely to me that a Federal Judge is going to rule that Lerner waived her Fifth Amendment rights in any respect by making a brief, entirely generalized, statement to a Congressional Committee at a hearing to which she was subpoenaed before formally invoking her Fifth Amendment rights. Admittedly, it would have been preferable for her to remain silent altogether, but it doesn't seem to me that what she did comes even close to being sufficient to constitute a waiver.
One possible clue to where the courts might be on this issue can be found in a short unanimous opinion from the Supreme Court in a case called Ohio v. Reiner 532 U.S. 71 (2001). In that case, Reiner was charged with involuntary manslaughter in the death of his infant son from what the prosecution contended was "shaken baby syndrome." At trial, Susan Batt, the child's babysitter refused to testify relying on her rights under the Fifth Amendment and was granted immunity under applicable Ohio law. Batt then went on to testify that she had only asserted the privilege on advice of counsel and went on to maintain her innocence. The Supreme Court of Ohio reversed Reiner's conviction on the ground that Batt had no valid Fifth Amendment right because her testimony could not have incriminated her. The Supreme Court of the United States reversed that decision, and in the process made a point about the Fifth Amendment privilege that strikes me as being especially applicable to the situation we're presented with here:
We have held that the privilege's protection extends only to witnesses who have "reasonable cause to apprehend danger from a direct answer." Id., at 486. That inquiry is for the court; the witness' assertion does not by itself establish the risk of incrimination. Ibid. A danger of "imaginary and unsubstantial character" will not suffice. Mason v. United States,244 U.S. 362, 366 (1917). But we have never held, as the Supreme Court of Ohio did, that the privilege is unavailable to those who claim innocence. To the contrary, we have emphasized that one of the Fifth Amendment's "basic functions … is to protect innocent men … 'who otherwise might be ensnared by ambiguous circumstances.' " Grunewald v. United States, 353 U.S. 391, 421 (1957) (quoting Slochower v. Board of Higher Ed. of New York City, 350 U.S. 551, 557—558 (1956)) (emphasis in original). In Grunewald, we recognized that truthful responses of an innocent witness, as well as those of a wrongdoer, may provide the government with incriminating evidence from the speaker's own mouth. 353 U.S., at 421—422.

The Supreme Court of Ohio's determination that Batt did not have a valid Fifth Amendment privilege because she denied any involvement in the abuse of the children clearly conflicts with Hoffman and Grunewald. Batt had "reasonable cause" to apprehend danger from her answers if questioned at respondent's trial. Hoffman, supra, at 486. Batt spent extended periods of time alone with Alex and his brother in the weeks immediately preceding discovery of their injuries. She was with Alex within the potential time frame of the fatal trauma. The defense's theory of the case was that Batt, not respondent, was responsible for Alex's death and his brother's uncharged injuries. In this setting, it was reasonable for Batt to fear that answers to possible questions might tend to incriminate her. Batt therefore had a valid Fifth Amendment privilege against self-incrimination.
In the case before us, all we have from Lerner is, as I said, a generic opening statement.
While the Reiner case is admittedly not fully on point, and it doesn't entirely address some of the arguments that those arguing in favor of waiver have made, however, it does raise an important point that may end up being relevant here. In the end, all that Lerner's statement constitutes is a declaration of her own innocence. Given that, the Reiner Court's holding that the Fifth Amendment privilege still applies to people who claim to be innocent strongly suggests that she did not waive her rights merely be making a statement in which she states that she is innocent.. Indeed, to the extent there is any doubt on this issue I would expect that a judge is going to err on the side of protecting her rights at this stage, especially given the fact that this is a Congressional hearing and not a Grand Jury proceeding or criminal trial and the fact that there is an ongoing FBI investigation of this matter of which Lerner is likely to be, at the very least, a person of interest. A finding that Lerner waived her rights in this Committee hearing would, potentially, prejudice her ability to assert those rights in a law enforcement interrogation.
There will be more to come on this I am sure, but I submit that the default rule of erring on the side of liberty is one that people examining the issue would do well to apply.