House Committee Ignores Fifth Amendment, Holds Lois Lerner In Contempt
Despite the fact that she asserted her right against self-incrimination, a House Committee has voted to hold Lois Lerner in contempt for refusing to testify.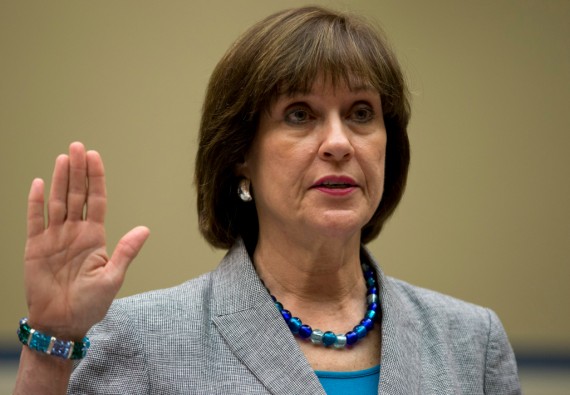 As expected, the House Government Oversight Committee voted this morning to hold Lois Lerner, the IRS employee who was in charge of the office at the center of the political targeting allegations first revealed last year, in contempt of Congress for refusing to respond to the committee's questions, setting up an inevitable Court challenge over whether or not Lerner waived her rights when she testified last year:
WASHINGTON — A House committee voted on Thursday to hold a former Internal Revenue Service official in contempt for refusing to answer its questions about her role in holding up applications for tax exemption from conservative political groups before the last election.

The official, Lois Lerner, faced the same panel, the Oversight and Government Reform Committee, last year and made a statement denying any wrongdoing. Then she refused to answer questions, invoking her Fifth Amendment right to not incriminate herself.

Republicans were outraged, asserting that Ms. Lerner had effectively waived her Fifth Amendment right by commenting on the accusations against her in her statement and in other settings, including under questioning from the Justice Department.

The committee determined last year, in a party-line vote, that Ms. Lerner had indeed waived her right to not testify. On Thursday, it voted 21-12 to hold her in contempt and refer the matter to the full House of Representatives.

We are not surprised by today's partisan contempt vote," Ms. Lerner's lawyer, William W. Taylor III, said in a written statement. "The notion that the majority is engaged in objective oversight or fact-finding is pure fiction."

Mr. Taylor added: "Ms. Lerner did not waive her Fifth Amendment rights by proclaiming her innocence. There is not a court in this country that will hold Ms. Lerner in contempt of Congress."

Representative John J. Duncan Jr., a Republican member of the committee from Tennessee and a former judge, said Thursday that Ms. Lerner could not be allowed to make a statement asserting her innocence and then invoke her Fifth Amendment right.

"If that was possible, every person, every defendant in any proceeding in this country would do that," Mr. Duncan said. "They'd come in and testify and then plead the Fifth so they couldn't be questioned, so they couldn't be cross-examined, so that they couldn't be held accountable."

"To allow this," Mr. Duncan said, "makes a mockery of our system."

Democrats accused Republican members of making a mockery of a citizen's constitutional rights. Representative Elijah E. Cummings of Maryland, the ranking Democrat on the committee, compared the committee's chairman, Representative Darrell Issa of California, to Joseph R. McCarthy, the Republican senator who used his subpoena power to accuse citizens of Communist sympathies in the 1950s.

"I cannot cast a vote that would place me on the same page of the history books as Senator Joseph McCarthy or the House Un-American Activities Committee," Mr. Cummings said.
I've already discussed the legal issues surrounding the claim that Lerner waived her Fifth Amendment privilege before, here and here, and California attorney Ken White discussed the issue last week at his blog Popehat:
In short, it is not perfectly clear that Lois Lerner waived her Fifth Amendment rights by making an exculpatory and self-serving opening statement. The factors in favor of waiver are (1) that she made the statement purely voluntarily and gratuitously, and (2) that it was on the same subject matter of the questioning she would be facing. The factors against waiver are (1) that she was compelled to appear and (2) the statement did not admit any incriminating facts. At a minimum, in my view it was reckless for her to make an opening statement if her genuine aim was to protect her Fifth Amendment rights, given the uncertainty of the law.
When the issue is this close, it strikes me that one ought to err on the side of the rights of the individual and uphold the assertion of the right against self-incrimination in this case. To fail to do so would do far more harm to the rights of individuals who might find themselves in Lerner's position in the future than it would benefit the prosecution of "justice," a term I'm using rather loosely here if only because it's obvious that the committee is being guided by partisan political passions rather than any desire to see justice done. If the reverse were the case, then they would be content to allow the ongoing Justice Department investigation run its course and accept whatever decision is ultimately made even it means that no criminal charges are brought against her. Of course, that won't happen.
The next steps in this process are fairly simple. Just as happened when this same committee cited Attorney General Eric Holder for contempt over disputes regarding documents subpoenaed during the course of the investigation into the "Fast & Furious" matter, the contempt vote here must next proceed to the full House. As with the Holder vote, one expects that the contempt citation here will be approved on a party line vote. From there, the standard procedure would be for the House to refer the matter to the Justice Department for prosecution and if, as seems likely, the Justice Department declines to prosecute Lerner for contempt, the House could decide to proceed on its own in the U.S. District Court for the District of Columbia on a civil contempt charge. This is what happened in the Holder matter, and that contempt action remains pending in Federal Court, where it's likely to stay until Holder leaves office. Theoretically, the House could decide to skip the referral to the Justice Department and order the House Sargent-At-Arms to have Lerner arrested and held in Congressional Jail (and yes, there is a jail at the U.S. Capitol Building). This has rarely happened over the course of the past 200+ years, however, and it seems unlikely it would happen in this case. If it did, though, one expects that Lerner's attorney would immediately seek relief in Federal Court, thus putting the matter before a Federal Judge in any case.
As I've noted before, if the House Republicans really want to hear from Lerner, then they could direct the Committee to grant her immunity, and her attorney has already stated that she would testify if granted immunity. There have been some indications that negotiations have taken place between the House Committee and Lerner's attorney on the immunity issue over the past months, but no deal has been reached yet. It's possible that all of these maneuvers by the committee are just to gain leverage in those negotiations. If not, though, then we may all be getting an object lesson in the value of the Fifth Amendment in the very near future.