What's More Important To the House GOP, The Constitution Or A Partisan Political Scandal?
Fifth Amendment? They don't need no Fifth Amendment, apparently.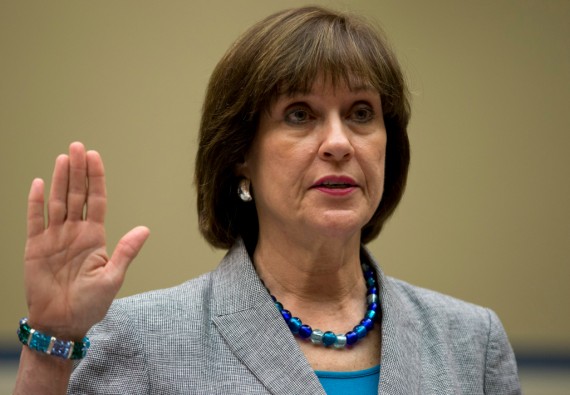 The House Government Oversight Committee will reportedly consider next week whether to hold Lois Lerner, who headed the office at the center of the targeting investigation that has been going on for nearly a year now, in contempt of Congress for refusing to testify before the Committee:
(CNN) – The House Oversight Committee plans to vote next Thursday on whether to hold a former Internal Revenue Service official in contempt of Congress for refusing to testify about the agency's alleged targeting of conservative groups seeking tax-exempt status, its chairman, U.S. Rep. Darrell Issa, said.

The official is Lois Lerner, the former IRS director of tax-exempt organizations, Lerner retired last year after being placed on administrative leave by the IRS after she said the IRS applied extra scrutiny to both conservative and liberal political groups seeking tax-exempt status between 2010 and 2012.

"Documents and testimony point to Lois Lerner as a senior IRS official responsible for conduct that deprived Americans of their rights to free speech and equal protection under our laws," said Issa. "Americans expect accountability and want Congress to do all it can to gather relevant evidence about what occurred and who was responsible so that this never happens again.
As you will probably recall, Lerner refused to answer questions pursuant to the right against self-incrimination set forth in the Fifth Amendment when she was first brought before the Committee in May, and then again when the Committee recalled her just last month. At the time of her initial appearance before the committee last year, Lerner read a rather generic opening statement in which she denied that she had done anything wrong without speaking directly about any of the allegations regarding the targeting issue. When that happened, several Republican members of the committee asserted that she had waived her rights under the Fifth Amendment, an argument that most legal scholars have rejected. For her part, Lerner has made clear through her attorney that she would be willing to testify before the committee if she were granted immunity but there has been no movement in that direction, at least not in public.
Given the partisan makeup of the committee, it seems a foregone conclusion that Lerner will indeed be held in contempt next week. From there, the matter would go to the full House, which would have to vote to hold her in contempt of the House of Representatives in the same manner that they did with Attorney General Eric Holder in connection with a dispute regarding documents subpoenaed during the investigation of the "Fast & Furious" operation. At that point, the House would need to instruct its counsel to take the matter to a Federal Judge in the District of Columbia to rule on the matter. In theory, the House could direct the Sargent-At-Arms to arrest Lerner and put in her in jail under the House's own authority but that's a tactic that hasn't been used in a long time and it seems highly unlikely that the GOP leadership would take that route.
Whatever procedure the House follows, though, eventually there would have to be a ruling on whether or not Lerner did indeed waive her Fifth Amendment rights. As I stated last year, it's not very plausible that any Federal Judge is going to rule that Lerner's brief statement to a Congressional Committee that she was before due to a subpoena constituted a waiver of her rights against self-incrimination:
Given that it's an open question, it seems highly unlikely to me that a Federal Judge is going to rule that Lerner waived her Fifth Amendment rights in any respect by making a brief, entirely generalized, statement to a Congressional Committee at a hearing to which she was subpoenaed before formally invoking her Fifth Amendment rights. Admittedly, it would have been preferable for her to remain silent altogether, but it doesn't seem to me that what she did comes even close to being sufficient to constitute a waiver.

One possible clue to where the courts might be on this issue can be found in a short unanimous opinion from the Supreme Court in a case called Ohio v. Reiner 532 U.S. 71 (2001). In that case, Reiner was charged with involuntary manslaughter in the death of his infant son from what the prosecution contended was "shaken baby syndrome." At trial, Susan Batt, the child's babysitter refused to testify relying on her rights under the Fifth Amendment and was granted immunity under applicable Ohio law. Batt then went on to testify that she had only asserted the privilege on advice of counsel and went on to maintain her innocence. The Supreme Court of Ohio reversed Reiner's conviction on the ground that Batt had no valid Fifth Amendment right because her testimony could not have incriminated her. The Supreme Court of the United States reversed that decision, and in the process made a point about the Fifth Amendment privilege that strikes me as being especially applicable to the situation we're presented with here:

We have held that the privilege's protection extends only to witnesses who have "reasonable cause to apprehend danger from a direct answer." Id., at 486. That inquiry is for the court; the witness' assertion does not by itself establish the risk of incrimination. Ibid. A danger of "imaginary and unsubstantial character" will not suffice. Mason v. United States,244 U.S. 362, 366 (1917). But we have never held, as the Supreme Court of Ohio did, that the privilege is unavailable to those who claim innocence. To the contrary, we have emphasized that one of the Fifth Amendment's "basic functions … is to protect innocent men … 'who otherwise might be ensnared by ambiguous circumstances.' " Grunewald v. United States, 353 U.S. 391, 421 (1957) (quoting Slochower v. Board of Higher Ed. of New York City, 350 U.S. 551, 557—558 (1956)) (emphasis in original). In Grunewald, we recognized that truthful responses of an innocent witness, as well as those of a wrongdoer, may provide the government with incriminating evidence from the speaker's own mouth. 353 U.S., at 421—422.

The Supreme Court of Ohio's determination that Batt did not have a valid Fifth Amendment privilege because she denied any involvement in the abuse of the children clearly conflicts with Hoffman and Grunewald. Batt had "reasonable cause" to apprehend danger from her answers if questioned at respondent's trial. Hoffman, supra, at 486. Batt spent extended periods of time alone with Alex and his brother in the weeks immediately preceding discovery of their injuries. She was with Alex within the potential time frame of the fatal trauma. The defense's theory of the case was that Batt, not respondent, was responsible for Alex's death and his brother's uncharged injuries. In this setting, it was reasonable for Batt to fear that answers to possible questions might tend to incriminate her. Batt therefore had a valid Fifth Amendment privilege against self-incrimination.
The Reiner case isn't completely on point, of course, but it does demonstrate the importance that even a relatively conservative Supreme Court places on the right against self-incrimination, thanks in no small part to the case law that has developed on that year over the past sixty years or so. In the end, this may all be part of a game between the committee and Lerner's counsel that will ultimately be resolved with an immunity deal of some kind, in which case any legal proceedings in this matter would come to an abrupt end when a deal is reached. At the very least, though, I suppose that if the House does move forward on this issue, it will serve as an object lesson in the importance of the Fifth Amendment. The irony that the party which claims to be all about standing up for the Constitution would be the one attempting to deny someone their Constitutional rights is one, I hope, that won't be lost on anyone.