Henry Kissinger's Annoying Habit of Being Right
Benjamin Wallace-Wells wonders with some irritation "Why Henry Kissinger Never Goes Away."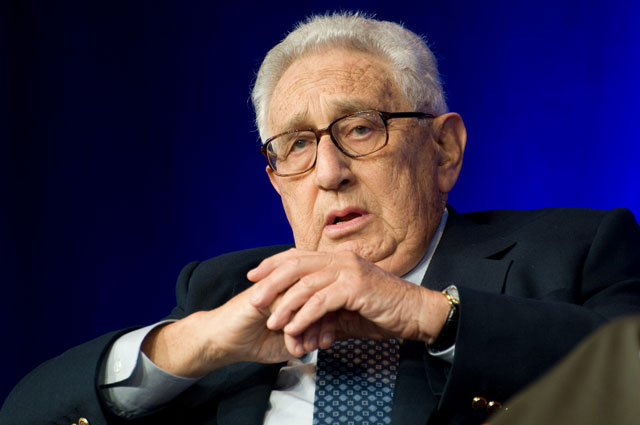 Benjamin Wallace-Wells wonders with some irritation "Why Henry Kissinger Never Goes Away."
Kissinger keeps coming around, a component part of any international crisis, with all of the leaden predictability of a chorus in a Billy Joel song. He has a profile that other former secretaries of state like Warren Christopher or George Shultz, men not regularly accused of mass murder, could never approach. His cynicism is so undeviating, it is a kind of metronomic background against which the rest of the foreign policy debate plays. Whether he is writing about Ukraine in the Washington Post, or the Arab Spring in the International Herald Tribune, or talking about Syria's chemical weapons on Face the Nation, Kissinger will caution against the rashness of humanitarian intervention and admonish the White House to avoid disrupting the international order. People — the experience of those suffering or prospering under a regime or hoping to change it, the orientation of those in power — will barely be discussed at all.

Kissinger has managed to build a public position so unassailable that when new, credible evidence emerges suggesting his complicity in mass slaughter it does not change his public image at all. This fall, the Princeton historian Gary Bass persuasively demonstrated that Kissinger and Nixon had willfully turned a blind eye to alarmed diplomatic cables documenting that their ally, the Pakistani General Yahya Khan, was massacring hundreds of thousands of his citizens agitating for independence in East Bengal. There is something truly amazing about that. But the week Bass's book was published, Kissinger appeared on Face the Nation to discuss the crisis in Syria. No one asked him about his role in the Bengali slaughter. It was part of the background scenery, just more Kissinger theater.
Presumably, that's because the show hosts correctly presume most of their audience to be more interested in crises unfolding at the moment than in what may or may not have happened four decades ago. And Kissinger's reputation as a strategic thinker continues to shine so brightly, perhaps, because he continues to be right much more often than he's wrong.
Take, for example, his "cynicism" vis-a-vis the Arab Spring linked above. Writing in April 2012, Kissinger cautioned,
The Arab Spring is widely presented as a regional, youth-led revolution on behalf of liberal democratic principles. Yet Libya is not ruled by such forces; it hardly continues as a state. Nor is Egypt, whose electoral majority is overwhelmingly Islamist; nor do democrats seem to predominate in the Syrian opposition. The Arab League consensus on Syria is not shaped by countries previously distinguished by the practice or advocacy of democracy. Rather it reflects, in large part, the millennium-old conflict between Shia and Sunni and an attempt to reclaim Sunni dominance from a Shiite minority. It is also precisely why so many minority groups like Druzes, Kurds and Christians are uneasy about regime change in Syria.

The confluence of many disparate grievances avowing general slogans is not yet a democratic outcome. The more sweeping the destruction of the existing order, the more difficult the establishment of domestic authority is likely to prove, and the more likely is the resort to force or to impose a universal ideology. And the more fragmented the society grows, the greater the temptation to foster unity by appeals to a vision of a merged nationalism and Islamism targeting Western values or social goals.

We must take care lest revolutions turn, for the outside world, into a transitory Internet experience – watched intently for a few key moments, then tuned out once the main event is deemed to be done. The revolution will have to be judged by its outcome, not its proclamations.
That may be "cynical" and hard-hearted and unsentimental. It also happens to be spectacularly prescient.
And, oddly, Wallace-Wells' fundamental critique of Kissinger isn't that he counseled some policies during his tenure as Richard Nixon's chief foreign policy advisor that can be painted as heinous, if not criminal. No, it's precisely Kissinger's lack of sentimentality that bothers him.
Fame is always bankable, even fame of the most heinous kind. But I think Kissinger's strange place in the culture has a more specific cause. Our tendency in the public debate is to discuss foreign policy in bizarrely abstract terms — we talk ceaselessly about the tension between the "realist" and "idealist" positions on a crisis (even though every modern American endeavor, foreign policy or not, has components of both) as if the particular human experiences overseas mattered quite little, as if foreign affairs could be understood in terms as general and cleanly theoretical as those of economics. This is a useful shorthand, insofar as it allows you to have an opinion on how the White House should act without knowing much about the country in which it will be acting.
But it has a couple of nasty side effects. One is to subtly dehumanize people who happen to live in other countries, much as Kissinger himself does, by turning the discussion of events actually happening in the world — revolutions, famine, massacres — into a kind of internal test of character and leadership: What are the president's most fundamental commitments? Is he an idealist or a realist? Another is to elevate the most ideologically rigid foreign policy thinkers to a permanent place in the debate. Kissinger is one; the error-prone neo-imperialist reporter Robert Kaplan, who has a long and absurd piece in The Atlantic this month, is another. In a perverse way, accruing evidence of Kissinger's amorality, like the Bengali episode, only serves to strengthen his standing as the avatar of the relentlessly cynical American perspective on the rest of the world. In this, his credentials are impeccable. At least we know where he stands.
The problem with all that is that Kissinger is by no means a man of abstract notions of world politics; rather, he's a pragmatic policy analyst who's had to actually make hundreds of really tough calls in that arena and live with the consequences. Nor is he a man lacking in ideals. Recall that he's a Jew whose family was forced to flee Nazi Germany when he was a teenager; he's hardly neutral on the question of whether democracy is better than totalitarianism.
Back in January 2009, just four days before Barack Obama would assume the presidency, Kissinger delivered the annual Makins Lecture at the Atlantic Council, which was then my employer. He noted then that, while it was "impossible" for a man with his personal experience to not be rooting for our ambitious goals in Afghanistan, he couldn't see how we could realistically achieve them.  Why?
Our stated objective, as Kissinger sees it,  is a democratic state — in the fullest sense of the term, including equal rights for women and religious tolerance — that is centrally governed.   He believes we "need to examine whether this is a conceivable objective."

Not only is our goal the achievement of something that has never existed in that territory but, to the extent that it's plausible nobody seriously thinks it possible in less than twenty years.  Given that public opinion in most members of the coalition has already turned against the mission, Kissinger is highly skeptical that we can bring to bear sufficient resources to get the job done, much less sustain it for the necessary timeframe.

If, after careful reassessment, we decide that we don't have the staying power and other necessary capabilities to achieve the goal, then we "need a different strategy."   He suggests that it will likely be one "designed to prevent what we fear most: the return of a terrorist state."

It should be noted that Kissigner is very much in favor of achieving our stated objective.  As an American and an immigrant, he says it is "impossible" not to believe in democracy and the power of its ideology.  But, alas, we must recognize the difference between our preferences and the national interest. Failure to align one's policy goals to what is actually possible isn't "idealism" but a recipe for failure.
Had President Obama taken Kissinger's advice, rather than doubling down on the Afghan mission with the "Surge," some 1600 American soldiers and Marines might still be alive. Wishes for a world that's more perfect than the one we inhabit are laudatory. But crafting policy on the premise that said world actually exists is an abdication of responsibility.