Kissinger Wanted To Bomb Cuba
Newly released documents reveal that Henry Kissinger wanted to attack Cuba in the mid-1970s.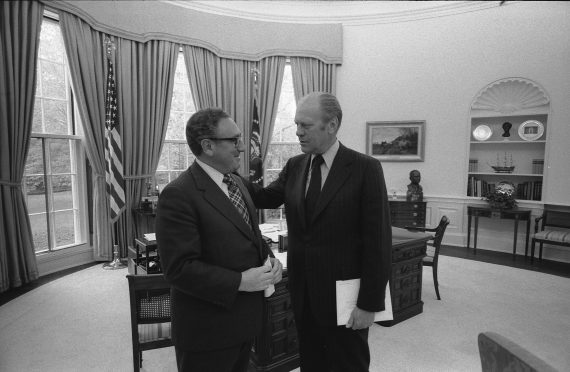 The New York Times reports that a new set of documents released by former President Ford's Presidential Library reveals that Henry Kissinger, then Ford's Secretary of State and National Security Adviser, drew up secret plans to attack Cuba in the middle of the Cold War:
MIAMI — Nearly 40 years ago, Secretary of State Henry A. Kissinger mapped out secret contingency plans to launch airstrikes against Havana and "smash Cuba," newly disclosed government documents show.

Mr. Kissinger was so irked by Cuba's military incursion into Angola that in 1976 he convened a top-secret group of senior officials to work out possible retaliatory measures in case Cuba deployed forces to other African nations, according to documents declassified by the Gerald R. Ford Presidential Library at the request of the National Security Archive, a research group.

The officials outlined plans to strike ports and military installations in Cuba and to send Marine battalions to the United States Navy base at Guantánamo Bay to "clobber" the Cubans, as Mr. Kissinger put it, according to the records. Mr. Kissinger, the documents show, worried that the United States would look weak if it did not stand up to a country of just eight million people.

"I think sooner or later we are going to have to crack the Cubans," Mr. Kissinger told President Ford at a meeting in the Oval Office in 1976, according to a transcript.

The documents are being posted online and published in "Back Channel to Cuba," a new book written by the longtime Cuba experts William M. LeoGrande, a professor of government at American University, and Peter Kornbluh, the director of the archive's Cuba Documentation Project.

The previously undisclosed blueprint to strike Cuba highlights the tumultuous nature of American-Cuban relations, which soured badly after the 1959 revolution that brought Fidel Castro to power.

Mr. Kissinger, who was secretary of state from 1973 to 1977, had previously planned an underground effort to improve relations with Havana. But in late 1975, Mr. Castro sent troops to Angola to help the newly independent nation fend off attacks from South Africa and right-wing guerrillas.

That move infuriated Mr. Kissinger, who was incensed that Mr. Castro had passed up a chance to normalize relations with the United States in favor of pursuing his own foreign policy agenda, Mr. Kornbluh said.

"Nobody has known that at the very end of a really remarkable effort to normalize relations, Kissinger, the global chessboard player, was insulted that a small country would ruin his plans for Africa and was essentially prepared to bring the imperial force of the United States on Fidel Castro's head," Mr. Kornbluh said.

"You can see in the conversation with Gerald Ford that he is extremely apoplectic," Mr. Kornbluh said, adding that Mr. Kissinger used "language about doing harm to Cuba that is pretty quintessentially aggressive."

The plans suggest that Mr. Kissinger was prepared after the 1976 presidential election to recommend an attack on Cuba, but the idea went nowhere because Jimmy Carter won the election, Mr. LeoGrande said.

"These were not plans to put up on a shelf," Mr. LeoGrande said. "Kissinger is so angry at Castro sending troops to Angola at a moment when he was holding out his hand for normalization that he really wants to, as he said, 'clobber the pipsqueak.' "
Quite obviously, an American attack on Cuba would have had serious implications for the Cold War. The Soviets would have felt compelled to respond in some way to aggression against what was arguably at the time their most important ally outside of Eastern Europe and, while they might not have been able to relieve the Cubans in time to allow them to hold off what would have been a vastly superior American force, it seems certain that they would have found some way to respond. Most likely, that would have manifested itself by acting someplace in Europe in a way that would have raised tensions between the two nuclear superpowers even more immensely. West Berlin would have been the most obvious target. I don't think it's an understatement then that, had something resembling Kissinger's plan been carried out it would have raised tensions between the United States and the Soviet Union to levels unseen since the Cuban Missile Crisis and, given how other events in the world were playing out in the mid-1970s, it's not hard to see how the situation could have spiraled out of control.
Another consideration to factor into any evaluation of these documents is the state of the country at the time, Kissinger was drawing up these plans of his just as the Vietnam War was coming the its ignominious end with the fall of Saigon. Even though the U.S. had withdrawn several years later, the final fall of the ally we had been fighting to defend was quite a blow. More importantly, it's not even clear how prepared the military would have been for an extended campaign in Cuba just three years after the end of a long and grueling war that had a significant impact on morale. Additionally, anti-war sentiment was still quite high in the country at the time and likely would have been reignited by what would have been, by and large, an unprovoked attack by the United States. Finally, given the fact that the economy was not exactly healthy in the mid-70s one has to wonder how a public that was already weary from nearly a decade of war in Vietnam would have reacted to something like this.
All that being said, I'm not sure that this story is as big a bombshell as the Times report makes it out to be. For one thing, there are contingent military plans drawn up for a wide variety of scenarios all the time, and this seems to have been especially true during the Cold War. On some level, I would have been surprised if there wasn't a plan to attack Cuba sitting in a drawer somewhere during that time notwithstanding the fact that experiences like the Bay of Pigs and the Cuban Missile Crisis had sworn every subsequent American President off the idea of directly attacking the Castro regime. The fact that a plan was drawn up doesn't mean that it would have ever been executed even if Ford had won the election in 1976, which, of course, he almost did. Indeed, there doesn't appear to be any indication in these newly released documents that Ford had ever signed off on any of Kissinger's ideas or given him the go ahead to do draw plans of any kind up. Ultimately, of course, the go ahead for any plan like this would have had to come from the President and, given the fact that such a plan would have raised Cold War tensions to unacceptably dangerous levels and that it's not even clear that the nation or the military would have been prepared for or supported something like this, I seriously doubt that President Ford would have been the one to make a decision that could have potentially started World War III.