Lois Lerner Will Testify If Granted Immunity
Not surprisingly, Lois Lerner's attorney is saying his client will only testify under a grant of immunity.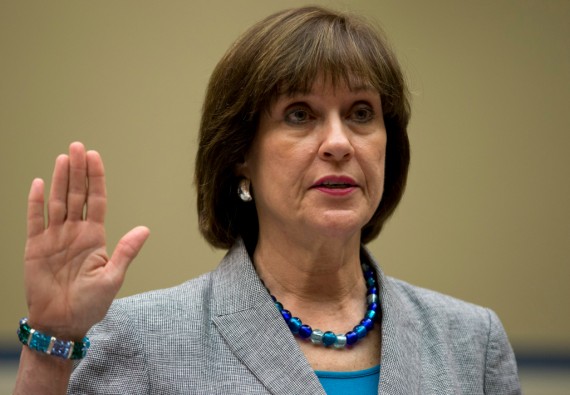 Politico is reporting that the attorney for Lois Lerner, the currently suspended IRS employee who asserted her Fifth Amendment rights last month only to have the House Government Oversight Committee claim that she had waived those rights, is saying that his client will only testify before the committee if granted immunity:
Embattled IRS official Lois Lerner will not testify before the House Oversight and Government Reform Committee unless she's given immunity from prosecution, her lawyer told POLITICO Tuesday.

"They can obtain her testimony tomorrow by doing it the easy way … immunity," William W. Taylor III said in a phone interview. "That's the way to resolve all of this."

The comments reflect the hard-line approach Lerner, the former head of the IRS division that scrutinized conservative groups, and her legal team are taking in defending her role in the agency's scandal.

Taylor, a founding partner of Zuckerman Spaeder LLP, is even shrugging off the possibility that the full House might vote to hold Lerner in contempt.

"None of this matters," he said. "I mean, nobody likes to be held in contempt of Congress, of course, but the real question is one that we're fairly confident about, and I don't think any district judge in the country would hold that she waived."

(…)

If Lerner is held in contempt, Taylor notes that a federal judge will have the final say about whether she waived her constitutional protection. That's because criminal contempt charges go to the U.S. attorney for the District of Columbia for potential prosecution.

The Oversight committee, chaired by Rep. Darrell Issa (R-Calif.), could initiate civil proceedings against Lerner on its own initiative.

But such an option would delay Lerner's testimony for months, if not longer, lessening her value to the panel's IRS probe.

Even if Lerner is found in the wrong, she'll simply testify and it won't be a huge deal, Taylor says.

"If the court finds that she didn't waive, then it's over, and if the court finds that she did and orders her to testify, then she goes to testify," Taylor said, later, adding that there is "no danger under any circumstances of her going to jail."
At least one former Congressional legal aide agrees with Taylor:
Robert Walker, former chief counsel for both the House and Senate ethics committees, agreed with Taylor's assertion that Lerner didn't waive her rights.

"The question of whether in this setting, in a congressional hearing where the witness has been forced to testify, I think the weight of the authorities indicates there is some leeway for the witness to make some statement — some very general statement, provided it doesn't get into specific facts — there is some leeway for a witness to do that before they can be said to have waived their Fifth Amendment privilege," Walker said.

In a 1958 Supreme Court case on the Fifth Amendment, the high court noted that the defendant "relies on decisions holding that witnesses in civil proceedings and before congressional committees do not waive the [Fifth Amendment] privilege by denials and partial disclosures, but only by testimony that itself incriminates."

And witnesses in previous hearings — for instance, in hearings on organized crime in the 1950s — have issued broad statements denying any wrongdoing, while then asserting their Fifth Amendment rights, a move later upheld by a federal court, according to legal records and press reports.
As there are with many legal questions, there are differing opinions on whether or not Lerner may have waived her rights and what her ultimate legal risks might actually be if she refuses to cooperate with the committee without a grant of immunity. However, I think Taylor has the better here. More importantly, as I've said repeatedly since this controversy started, the committee to resolve this matter easily by granting Lerner immunity so that she would be effectively compelled to testify. Such immunity need not be of the type that would grant her immunity from all prosecution and, indeed, it would be unwise to grant that type of full immunity for the sole purpose of testifying at one committee hearing. They don't need to go that far, however. The committee could grant a form of immunity known as "transactional use immunity," which essentially means that nothing she testifies to before the committee could be used against her in a future criminal investigation or prosecution. There would be no bar, however, to a prosecution based on independently acquired facts as long as there is sufficient evidence to support such a prosecution. It's true that such a prosecution would not be easy, something the Independent Counsel who prosecuted Oliver North discovered when North's convictions were overturned because the Court could not determine that the evidence used at trial was acquired independent of North's immunized testimony. Nonetheless, if Congress truly wants Lerner's testimony
Ed Morrissey comments:
No prosecutor would make an immunity offer without first getting a proffer on what the witness has to disclose. Few witnesses or their attorneys would demand immunity without having something to tell, either, and without that "something" pointing at bigger fish to fry than themselves.
I tend to disagree. As I noted when this all started, the fact that Lerner was invoking the Fifth Amendment doesn't necessarily mean that she committed some kind of criminal wrongdoing, or that what she knows would be evidence of criminal wrongdoing by others. Instead, it was a decision by her and her attorney to protect her rights by refusing to subject her to the wide open questioning of a Congressional Committee without the protection of a grant of immunity. We've seen many cases in the recent past where people who turned out to be completely innocent have been prosecuted because of things they said, or based on flimsy evidence. Indeed, back in 1956, the Supreme Court recognized that the Fifth Amendment existed, in large part, to protect people in that very situation:
At the outset, we must condemn the practice of imputing a sinister meaning to the exercise of a person's constitutional right under the Fifth Amendment. The right of an accused person to refuse to testify, which had been in England merely a rule of evidence, was so important to our forefathers that they raised it to the dignity of a constitutional enactment, and it has been recognized as "one of the most valuable prerogatives of the citizen." Brown v. Walker, 161 U.S. 591, 610. We have reaffirmed our faith in this principle recently in Quinn v. United States, 349 U.S. 155. In Ullmann v. United States, 350 U.S. 422, decided last month, we scored the assumption that those who claim this privilege are either criminals or perjurers. The privilege against self-incrimination would be reduced to a hollow mockery if its exercise could be taken as equivalent either to a confession of guilt or a conclusive presumption of perjury. As we pointed out in Ullmann, a witness may have a reasonable fear of prosecution and yet be innocent of any wrongdoing. The privilege serves to protect the innocent who otherwise might be ensnared by ambiguous circumstances. See Griswold, The Fifth Amendment Today (1955).
Lerner's attorney did the right thing in advising her to invoke the Fifth Amendment last month. He's doing the right thing in telling the committee that only a grant of immunity will get her voluntary testimony today. The ball is now in the committee's court.