FBI Director Contradicts Trump On Wiretap Claims, Confirms Investigation Of Campaign
Two big admissions from the Director of the F.B.I. today are likely to lead to real political headaches for the Trump Administration.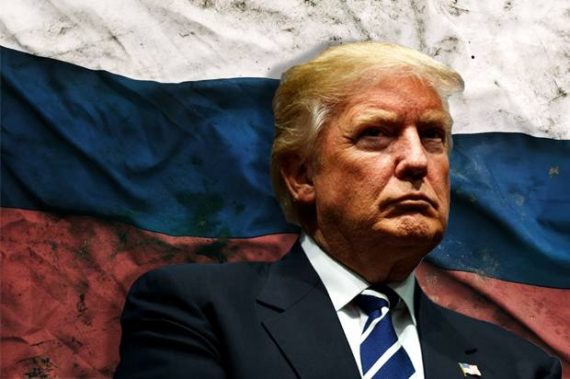 In testimony this morning before the House Intelligence Committee, F.B.I. Director James Comey stated that there was no evidence that the bureau has uncovered indicating any wiretapping of Trump Tower, and appeared to confirm that there was an ongoing Bureau investigation of Russian interference in the 2016 election and contacts between Russia and members of President Trump's campaign for President:
FBI Director James B. Comey on Monday said there is "no information" that supports President Trump's claims that his predecessor ordered surveillance of Trump Tower during the election campaign.

"I have no information that supports those tweets," said Comey, testifying at the House Intelligence Committee's first public hearing on Russian interference in the 2016 campaign. "We have looked carefully inside the FBI," and agents found nothing to support those claims, he said.

The hearing comes amid the controversy fired up by Trump more than two weeks ago when he tweeted, without providing evidence, that President Barack Obama had ordered his phones tapped at Trump Tower.

Under questioning from the top Democrat on the panel, Rep. Adam Schiff (Calif.), Comey said no president could order such surveillance. He added that the Justice Department had asked him to also tell the committee that that agency has no such information, either.

Comey also acknowledged the existence of a counterintelligence investigation into the Russian government's efforts to interfere in the 2016 election, and said that probe extends to the nature of any links between Trump campaign associates and the Russian government.

Comey said the investigation is also exploring whether there was any coordination between the campaign and the Kremlin, and "whether any crimes were committed."

The acknowledgment was an unusual move, given that the FBI's practice is not to confirm the existence of ongoing investigations. "But in unusual circumstances, where it is in the public interest," Comey said, "it may be appropriate to do so."

Comey said he had been authorized by the Justice Department to confirm the wide-ranging probe's existence.

He spoke at the intelligence committee hearing along with National Security Agency head Michael S. Rogers.

Trump and the committee's Republicans seemed most exercised by leaks to the media. Information shared with the press have resulted in a series of stories over the last month and a half about contacts Trump administration officials or close associates had with Russian officials.

One story in particular that apparently upset the Republicans was a Feb. 9 piece by The Washington Post reporting that Trump's national security advisor, Michael Flynn, discussed the subject of sanctions with the Russian ambassador, Sergey Kislyak, in the month before Trump took office. The Post reported that the discussions were monitored under routine, court-approved monitoring of Kislyak's calls. Flynn, who had denied to Vice President Pence that he had spoken about sanctions, was forced to resign.

Just hours before the start of the hearing, Trump posted a series of tweets claiming Democrats "made up" the allegations of Russian contacts in an attempt to discredit the GOP during the presidential campaign. Trump also urged federal investigators to shift their focus to probe disclosures of classified material.

"The real story that Congress, the FBI and all others should be looking into is the leaking of Classified information," Trump wrote early Monday. "Must find leaker now!"

(…)

Comey did confirm that the NSA, CIA, FBI, main Justice Department and others – including personnel in the White House in some situations – could have access to unmasked names of U.S. persons.

But he stressed that only the collecting agency can unmask the identities of people. Others with whom the information is shared "can ask the collectors to unmask," he said – but can't do it on their own.

The FBI probe combines an investigation into hacking operations by Russian spy agencies with efforts to understand how the Kremlin sought to manipulate public opinion and influence the election's outcome

In January, the intelligence community released a report concluding that Russian President Vladi­mir Putin wanted to not only undermine the legitimacy of the election process but also harm the campaign of Hillary Clinton and boost Trump's chances of winning.

(…)

On Friday, the Justice Department delivered documents to the committee in response to a request for copies of intelligence and criminal wiretap orders and applications. Nunes, speaking Sunday, said the material provided "no evidence of collusion" to sway the election toward Trump and repeated previous statements that there is no credible proof of any active coordination.

But Schiff, also speaking Sunday, said there was "circumstantial evidence of collusion" at the outset of the congressional investigations into purported Russian election meddling, as well as "direct evidence" that Trump campaign figures sought to deceive the public about their interactions with Russian figures.
There are two big news items that come out of Comey's testimony today, of course.
The first, and arguably most significant, piece of news that Comey has made today is his acknowledgment that there is indeed a pending criminal investigation being conducted by the Bureau into both Russian attempts to influence the 2016 election and regarding contacts between certain persons associated with the Trump campaign and/or transition team and Russian officials that appears to include contacts that stretch back over several years leading up to 2016. While Comey would not comment on the identity of any individuals who may be the target of such an investigation, their identities are not difficult to figure out based on what we already know. Prior news reports, for example, have indicated that Paul Manafort, who had served as Trump's campaign manager up until being replaced by Kellyanne Conway in August 2016, is known to have had a long history of business and other dealings with Russian business officials with known government ties and with government officials in Ukraine who were part of the pro-Russian regime that was deposed amid protests in 2014. The same is true of retired Lt. General Mike Flynn, Trump's first National Security Adviser who was forced to resign when it was revealed that he had lied to the transition team and Vice-President-Elect Trump regarding contacts with Russia's Ambassador to the United States. Additionally, Carter Page, who served in an advisory role on the campaign for a time before leaving has also been documented to have had relationships with Russian oligarchs linked to Vladimir Putin. Finally, Roger Stone, who served as an adviser to Trump and the campaign on both a formal and informal basis is believed to have had some business ties to Russia and has been reported to have had known contact with a hacker in Europe believed to have been part of the group that hacked into the computers of the Democratic National Committee and Anthony Podesta, Hillary Clinton's campaign manager during last year's Presidential campaign. There could be other individuals being investigated, including the President himself, but just based on the reports we are aware of, it's likely that these four individuals have at least been looked into.
As Comey stressed during his testimony, the fact that there is an ongoing investigation doesn't necessarily mean that a crime was committed, of course, and it certainly doesn't mean that these four individuals have actually committed any crimes. Under the law, they and anyone else who might be the focus of an investigation is entitled to the same presumptions of innocence that any other American is entitled to. What will be interesting to see, though, is how the individuals who may have something at stake in this investigation will react if and when they are subpoenaed to appear before Congress, which will no doubt occur as the Congressional investigation continues. The wisest course of action, of course, would be for them to exercise their rights under the Fifth Amendment to decline to testify given that anything they say before Congress could be used against them by the F.B.I. or another law enforcement agency could use against them, as part of proving a case in chief or indict them for perjury if they testify falsely and that falsehood can be proven beyond a reasonable doubt as required by Federal law. As I've noted before, if and when that happens, and I suspect it will with respect to one or more of these individuals simply because that would be the smartest advice their attorney could give him, we need to be careful about not jumping to conclusions since exercising one's rights under the Constitution is not, and never should be taken to be, evidence of guilt or innocence.
In addition to confirming the fact that there is an investigation of Russian influence in the election and contacts between Russians and members of the Trump campaign, Comey also made news by directly contradicting the assertion by the President of the United States (in two tweets on March 4th) that his campaign was "wiretapped" by President Obama during the height of the campaign, This is somewhat anti-climactic, of course, given the fact that there have been numerous reported denials from the American intelligence and law enforcement communities, and from intelligence officials in the United Kingdom, who had been accused of playing a role in the surveillance by Fox News contributor Judge Andrew Napolitano. Both the GCHQ itself and Fox News strongly disputed Napolitano's apparently baseless claims, but the Trump Administration continues to repeat them as if they are fact. Whether the Administration backs down from defending these remarks going forward given Comey's testimony will be interesting to see to say the very least.
Obviously, none of this is good news for the Trump Administration. The fact that Comey has essentially said the President was at the very least inaccurate in his claims about the claimed wiretapping of Trump Tower is certainly embarrassing and, ordinarily, would ordinarily lead an Administration to get the issue behind them as soon as possible by retracting the claim and apologizing to former President Obama. This is not any ordinary Administration, though, as the fact that they have vigorously defended the President's tweets despite the fact that the available evidence was clearly contradicting what he had said. Beyond that, though, the real problem for the Administration is likely to be the revelation that the F.B.I. is investigating people who have been close to the President in the past could be a source of problems for some time to come. First of all, of course, there's the fact that the known existence of such an investigation is likely to hang like a cloud over the Administration going to forward and will call into question whatever policy initiatives are undertaken that involve Russia in some way. Second, the confirmation is likely to spur Congressmen and Senators to their own investigations, along with the requisite public hearings that could reveal information regarding past dealings with Russia that Trump would prefer not become public. Finally, as we've seen so often in the past, investigations such as this tend to have an impact on even the most popular Presidents for several years. Given the fact that Trump has started his Presidency in a far weaker political position than most of his predecessors over the past sixty years, this could have a real impact on the ability of the White House to get anything done in Washington.
Stay tuned, because this story clearly isn't over.