Who Does The Bill Of Rights Protect? All Of Us
It's a mistake to think of the Bill of Rights as only protecting people who are "innocent" or "guilty." It exists to protect all of us.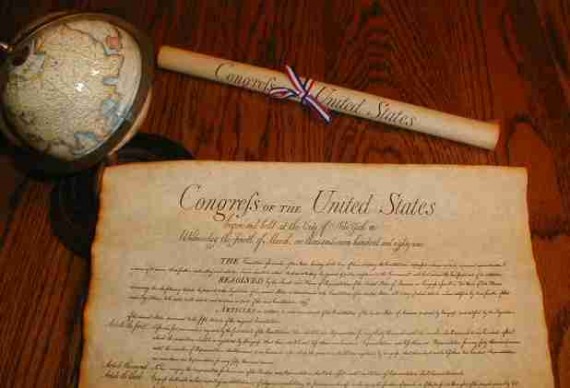 Responding in part to one of my posts regarding Lois Lerner's decision to invoke her rights under the Fifth Amendment in last week's hearing before the House  Government Oversight Committee, Jazz Shaw raises this point:
The fifth amendment – and the Bill of Rights in general – serve an important function and the Founders were wise to provide these protections. They wanted to make sure that the individual who was innocent could not be railroaded by the massive power of the government. They also serve to reaffirm the fact that the government needs to make its case beyond a reasonable doubt before a jury of your peers if you are accused of something. You need not say a word in court, and may choose to remain mute and force them to prove that you are guilty. But what if you are guilty? Or what if you are not personally guilty but have knowledge which would help lead to the truth and resolution of a possible crime? Are you under no obligation to help?

In short, have we arrived at the point where the Bill of Rights is less about protecting the innocent than it is about making sure the guilty have the best chance of going free, providing they can afford a slick enough attorney? This entire situation with Ms. Lerner makes no sense to me at this point, and it really seems like the fifth amendment is being turned on its head.
First of all, it's important to note that Lois Lerner isn't, at this moment, guilty of anything. She hasn't been charged with a crime, and she certainly hasn't been convicted of one. Indeed, right now we cannot even say with certainty that there will be sufficient evidence developed by the FBI's criminal investigation to charge her, or anyone else, with a crime in connection with what happened at the Internal Revenue Service. For that reason, I think it's dangerous, and factually incorrect, to categorize the debate over the Fifth Amendment and Lerner's use of it in terms of "guilty" vs. "innocent" people. People can make judgments about whether or not they think Lois Lerner did anything wrong, they can even call her a criminal if they want, but the truth of the matter is that she's as innocent as any one of us is at this point. So, even if you accept the argument that the Fifth Amendment exists primarily to protect the innocent, then the argument that it exists to protect Lois Lerner as well as you and me flows naturally from that. To argue otherwise is to assume that anytime anyone invokes their rights under the Fifth Amendment it is evidence that they must be guilty, and if the Amendment only protects the innocent, it obviously wasn't intended to protect them.
More importantly, though, I think it's a mistake to say that the protections of the 5th Amendment, or to broaden the argument any of the protections granted to actual and potential criminal defendants under the 4th, 6th, and 7th Amendments as well, were primarily designed to protect the innocent. On a superficial level, that simply isn't supported by the text of the Amendments themselves, which apply to everyone in all situations. Indeed, the 5th Amendment's right against self-incrimination doesn't require that there actually be a pending criminal case or investigation, or that the testimony in question take place in a court proceeding connected with criminal charges. As long as their is a possibility that what someone says in a public forum, be it a criminal investigation or a deposition during the course of a civil trial, could potentially used to bring charges against them and prosecute them for a crime then the person being questioned has the right to invoke their rights under the Amendment.  It's not a question of being "guilty" or "innocent," it's that the Amendment exists to protect individuals from the state compelling them to testify in any situation, including a Congressional Committee hearing.
Finally, I'd note that it's just as important that "guilty" people have the protections of the Fifth Amendment, along with the others that are supposed to restrain the power of the state during the course of a criminal investigation and trial as it is that someone who is "innocent" have those protections.  In our criminal justice system, the prosecution and the police walk into court with tremendous advantages over the average criminal defendant. They have more money,they have access to all kinds of expert witnesses, when the police are questioning someone they can lie with impunity in an effort to trick them into making confessions, and through it all they have the imprimatur of the state behind them. The 4th through 8th Amendments exist to protect the individual charged with a crime, who is we should remember innocent until proven guilty beyond a reasonable doubt, from the overwhelming power of the state, and that's true whether one is "guilty" or "innocent" on some metaphysical level.
So, the answer to the question "who does the Bill of Rights protect?" is, all of us. And that's exactly how they were designed to work.