IRS Says It Lost Two Years Worth Of Lois Lerner's E-Mail
All of a sudden, the IRS announced it doesn't have communications records it once claimed it did have.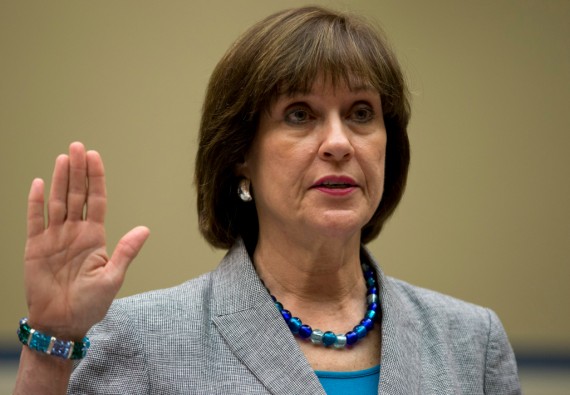 The Internal Revenue Service is now claiming that it has lost nearly two years worth of e-mail sent and received by Lois Lerner, the woman who remains at the center of the various probes into alleged targeting of conservative groups by the agency:
WASHINGTON—The Internal Revenue Service said a former official's 2011 computer crash significantly hampered its efforts to dig up correspondence requested as part of a congressional review of the agency's treatment of conservative groups.

The IRS said it is providing more emails to lawmakers and is doing its best to reconstruct correspondence from the former executive, Lois Lerner, who retired as the controversy unfolded last year. Its effort, which has included searching email of other senders and recipients, resulted in an additional 24,000 emails that are being provided to lawmakers, the agency said in a summary of its actions.

House Republicans investigating the IRS controversy reacted unhappily to the news of Ms. Lerner's computer crash.

"The fact that I am just learning about this, over a year into the investigation, is completely unacceptable and now calls into question the credibility of the IRS's response to congressional inquiries," House Ways and Means Committee Chairman Dave Camp (R., Mich.) said. "There needs to be an immediate investigation and forensic audit by the Justice Department as well as the inspector general."

Mr. Camp said the IRS couldn't provide Lerner emails to and from people outside the agency, "conveniently" feeding the impression she "acted alone." He called for an administration-wide search for her emails. House Oversight and Government Reform Chairman Darrell Issa (R., Calif.) said, "If there wasn't nefarious conduct that went much higher than Lois Lerner in the IRS targeting scandal, why are they playing these games?"

Ms. Lerner herself unsuccessfully tried to get agency technicians to reconstruct her hard drive at the time it crashed, the IRS said.

(…)

In a statement, the IRS said that it has made "unprecedented efforts" to comply with congressional demands for documents and information concerning the targeting. The effort has involved more than 250 IRS employees working more than 120,000 hours at a cost of almost $10 million.

Counting information already provided, "investigators have—or will soon have—a total of 67,000 emails sent or received by Ms. Lerner," the IRS said.

The agency added that it is working with Congress and "has remained focused on being thorough and responding as quickly as possible to the wide-ranging requests from Congress while taking steps to protect underlying taxpayer information."
House Ways And Means Committee Chairman David Camp released a statement late yesterday after the announcement was made:
Washington, DC – Today, Ways and Means Committee Chairman Dave Camp (R-MI) issued the following statement regarding the Internal Revenue Service informing the Committee that they have lost Lois Lerner emails from a period of January 2009 – April 2011.  Due to a supposed computer crash, the agency only has Lerner emails to and from other IRS employees during this time frame.  The IRS claims it cannot produce emails written only to or from Lerner and outside agencies or groups, such as the White House, Treasury, Department of Justice, FEC, or Democrat offices. 

"The fact that I am just learning about this, over a year into the investigation, is completely unacceptable and now calls into question the credibility of the IRS's response to Congressional inquiries.  There needs to be an immediate investigation and forensic audit by Department of Justice as well as the Inspector General.  

"Just a short time ago, Commissioner Koskinen promised to produce all Lerner documents.  It appears now that was an empty promise.  Frankly, these are the critical years of the targeting of conservative groups that could explain who knew what when, and what, if any, coordination there was between agencies.  Instead, because of this loss of documents, we are conveniently left to believe that Lois Lerner acted alone.  This failure of the IRS requires the White House, which promised to get to the bottom of this, to do an Administration-wide search and production of any emails to or from Lois Lerner.  The Administration has repeatedly referred us back to the IRS for production of materials.  It is clear that is wholly insufficient when it comes to determining the full scope of the violation of taxpayer rights."

Oversight Subcommittee Chairman Charles Boustany Jr., M.D. (R-LA) added, "In the course of the Committee's investigation, the Administration repeatedly claimed we were getting access to all relevant IRS documents. Only now – thirteen months into the investigation – the IRS reveals that key emails from the time of the targeting have been lost.  And they bury that fact deep in an unrelated letter on a Friday afternoon.  In that same letter, they urge Congress to end the investigations into IRS wrongdoing. This is not the transparency promised to the American people.  If there is no smidgeon of corruption what is the Administration hiding?"
The reaction to this news from the right isn't all that surprising, with several bloggers making reference to the infamous 18 1/2 minute gap in the Nixon Oval Office tapes that played a central role in the Watergate scandal. The implication, obviously, being that the loss of the emails is just a little too convenient and that, potentially we're looking at the destruction of evidence pointing toward communication between Lerner and other outside groups regarding the evaluation of 501(c)(4) applications from conservative organizations. National Journal's Ron Fournier goes so far as to suggest that this latest incident justifies the appointment of a special prosecutor from outside the Justice Department to investigate but the overall accusations of political targeting and this latest incident.
The reaction strikes me as being fairly reasonable when taken in the context of the investigation. IRS officials from the Commissioner on down had previously told the committees investigating this matter that they had all of Lerner's emails and that they would be produced as soon as they could be made available. Indeed, that's an assurance that was made on several points over the course of the past year. A sudden announcement that some unknown portion of these communications have been mysteriously "lost" is obviously going to raise suspicion and even if those suspicions prove to be unfounded, they do raise several legitimate concerns. For example, Federal recordkeeping laws require government agencies such as the IRS to maintain copies of all communications, including electronic communications, for a certain person of time. One part of those laws prohibits official business from being conducted in a manner so as to avoid standard backup and storage systems, which would mean that Lerner should not have been communicating with outside groups about IRS business on her personal computer unless those communications were being backed up along with all other communications. Indeed, politicians at several levels of government and in both parties have gotten into trouble when it was discovered that their staff was using non-government email to communicate about government business. If that's a common occurrence at the IRS, then it's a problem that reaches beyond Lois Lerner because it makes it harder for Congress to conduct its necessary oversight functions.
It's more likely that the explanation for this latest episode has more to do with bureaucratic incompetence than nefarious motives, of course, but that doesn't mean it wouldn't be justified to think that this sudden loss of records is just a little too coincidental. If nothing else, another avenue of investigation has been opened.