F.B.I. To Congress: Never Mind
F.B.I. Director Comey tells Congress that it's investigation into new emails revealed no information to change its conclusions about Hillary Clinton and her email server.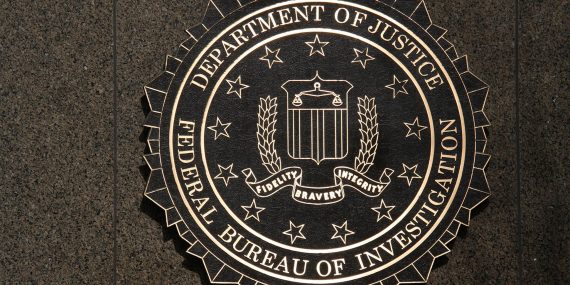 On October 28th, F.B.I. Director James Comey sent a letter to Congress informing the Chairmen of several relevant committees that the Bureau was examining certain email that had been uncovered in the course of an unspecified investigation that appeared to be related to their previous investigation of Hillary Clinton's use of a private email server while serving of Secretary of State required the Bureau to reopen the email investigation to determine if this new email was related to the server, whether they contained any classified information, and whether they warranted reopening the investigation itself. Soon after the release of this letter, it became apparent that the unspecified investigation in question was related to former Congressman Anthony Weiner and his alleged sexting with an underage girl and that there was a device discovered during the course of that investigation that may have had email related to Weiner's wife Huma Abedin and her communications with Hillary Clinton while she was Secretary of State. The immediate impact of the revelation was to completely upend the race and provide significant ammunition to Donald Trump and the Republicans at a point when the polls were already closing. Today, Comey sent another letter to Congress informing them that the investigation of the new email revealed nothing that changed the Bureau's initial conclusion in July that no charges should be brought against Clinton or anyone else in connection with the server:
The F.B.I. informed Congress on Sunday that it has not changed its conclusions about Hillary Clinton's use of a private email server as secretary of state, removing a dark cloud that has been hanging over her campaign two days before Election Day.

James B. Comey, the F.B.I. director, said in a letter to members of Congress that "based on our review, we have not changed our conclusions that we expressed in July with respect to Secretary Clinton."

The news that the bureau was looking at emails that it found on a computer used by a top aide to Mrs. Clinton, Huma Abedin, rocked the presidential race last month and provided a new opening for Donald J. Trump.

Brian Fallon, a spokesman for Mrs. Clinton, said in a post on Twitter that the campaign was always confident that she would be cleared of any wrongdoing.

"We were always confident nothing would cause the July decision to be revisited," Mr. Fallon said. "Now Director Comey has confirmed it."

Mr. Comey said in the letter that the bureau has reviewed all communications that were to or from Mrs. Clinton while she was secretary of state since he sent his last letter on Oct. 28.

In July, Mr. Comey said that although Mrs. Clinton and her aides were "extremely careless," there was no evidence of intentional mishandling of classified information.

n the immediate term, the letter removes a cloud that has hung over the Clinton campaign since Mr. Comey announced his agents were reviewing new emails that might be related to an investigation into Mrs. Clinton that ended in July. But Mr. Comey's move is sure to raise new questions from Democrats. Most important: Why did Mr. Comey raise the specter of wrongdoing before agents had even read the emails, especially since it only took days to determine they were not significant?

The Clinton campaign welcomed the news.

"We have seen Director Comey's latest letter to the Hill," said Jennifer Palmieri, a spokeswoman for the campaign. "We are glad to see he has found — as we were confident he would — that he has confirmed the conclusions he reached in July and we're glad this matter is resolved."
More from The Washington Post:
FBI Director James B. Comey notified key members of Congress Sunday afternoon that after reviewing all of the newly discovered Hillary Clinton emails the agency stands by its original findings against recommending charges.

Comey wrote that investigators had worked "around the clock" to review all the emails found on a device used by former congressman Anthony Weiner that had been sent to or from Clinton and that "we have not changed our conclusions expressed in July."

The conclusion from Comey provided one last twist to the 2016 presidential campaign and came just two days before Clinton will face Republican Donald Trump on Election Day.

Comey had upended the campaign just over a week ago, when he alerted Congress that new emails had been located that were related to Clinton's use of a private server as secretary of state.

The emails came from a laptop owned by Weiner, the estranged husband of top Clinton aide Huma Abedin, and had been seized by the FBI on Oct. 3 as part of an investigation into lewd text messages Weiner is alleged to have sent to a 15-year-old girl.

Comey had come under fire for inserting the FBI into the campaign's final days with the announcement. Department of Justice policy discourages the agency from taking steps in days before an election, to avoid the perception that the FBI is trying to the influence the outcome of the vote.
Or, as Emily Litella put it:
There's little doubt that this is a major development in both the email investigation and the election. With respect to the first, it reinforces the idea that, while Clinton was extremely careless in the manner in which she dealt with classified information in particular and her communications practices in general there was nothing that occurred in connection with the server that warranted bringing charges against Clinton for mishandling classified information or any other charges. According to initial reports, it quickly became apparent that the email that the Bureau had uncovered were either duplicates or dealt with unclassified matters, and although it's unclear how they ended up on a laptop that primarily belonged to Anthony Weiner was unclear, it was clear that they did not warrant any further investigation on the part of the Bureau and certain didn't warrant any change in the conclusion that there was not sufficient evidence upon which to bring charges against Clinton or any of her aides.
Comey's Sunday letter comes after a week of controversy in which Comey was criticized for what appeared to many to be placing the F.B.I. in the middle of an election in direct violation of policy and practice in the past. At the time, I personally felt that Comey's decision to send the letter was understandable given the fact that he had previously testified under oath to Congress that the Bureau had reviewed all of the relevant email   before reaching the conclusion that he announced back in July and that he was under a legal and ethical obligation to inform Congress if facts and circumstances changed in a manner that made previous testimony potentially untrue. In this case, the Weiner investigation had revealed that there were new emails that could be relevant to the Clinton investigation. If it became known that this was the case and Comey had not informed Congress and supplemented his testimony then he could have faced potential perjury or contempt charges for keeping Congress in the dark. Similarly, he sent the letter today for the same reason, to supplement his testimony. The fact that it came so close to a Presidential election is admittedly problematic, but these rules exist for a reason. At the same time, though, Comey is likely to face significant criticism for the way in which he has handled this matter that will likely lead to Congressional hearings and, potentially, a new F.B.I. Director to go along with a new President.
The big question, of course, is what impact this new will have on the election. With less than forty-eight hours left before people start going to the polls, it's unclear how quickly a story like this will sink in with voters and what impact it may have on any voters who were likely to change their mind about Clinton based on the news regarding new email having been discovered, which admittedly may have been a very small group of voters to begin with. Beyond a doubt, though, this is good news for Clinton because it takes away a major talking point from Trump and his surrogates, who have been talking about this issue virtually non-stop on the campaign trail for the past week. To be honest, voters already inclined to vote for Trump are unlikely to be impacted very much by this news in any case, they will believe what they are already inclined to believe. The voters for whom this might make a difference are voters on the margin in states like North Carolina, Pennsylvania, Ohio, Florida, and Michigan. Given how close those states are, that could make a difference when it comes to turnout even if it doesn't directly change anyone's mind. At the very least, we can say that this is good news for the Clinton campaign heading into the final hours of the campaign.
Here is Director Comey's Letter:
James Comey Letter 11-6-2016 by Doug Mataconis on Scribd