Weiner Admits Messaging with 17-Year-Old Girl
Where's the line when a public figure interacts with a teenage fan?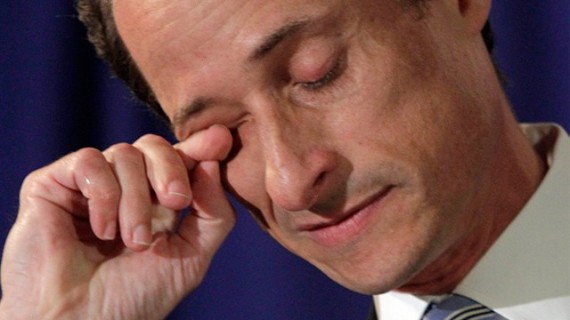 I ran into Ace last evening at one of those cocktail parties the we frequent* and he dropped an interesting bombshell: Weinergate had just gotten ugly, as Rep. Anthony Weiner had apparently been caught messaging with a 17-year-old girl and police were investigating. It's a story he'd help break, so there was a certain amount of relief in having been right.
Knowing Weiner's proclivities for sexual banter and genitalia photos, a series of questions immediately came to mind: Was it true? Were the messages in fact sexual? Did he know she was 17? Did it legally matter if he knew? Should it matter?
Yes, it's true. Fox ("Exclusive: Police Investigate Weiner's Messages to Teenage Girl in Delaware"):
Police here are investigating direct online communications between New York Rep. Anthony Weiner and a 17-year-old girl and are looking for any other young women who may be involved, though the nature of the communications wasn't immediately clear.

The police probe comes as Weiner, who is married, fends off calls from both sides of the aisle in Congress for him to quit after he admitted to lying about his inappropriate online and phone communications with a half dozen women.

Weiner's interactions with the Delaware girl "were neither explicit nor indecent," Weiner spokeswoman Risa Heller said Friday night.

Two officers from the New Castle County Police Department arrived at the high school junior's home around 4:30 p.m. Friday when FoxNews.com was inside speaking with a family member. The Delaware cops asked FoxNews.com to step outside so they could speak with the 17-year-old's mother in private. While FoxNews.com was walking down the driveway, the daughter was walking up.

The girl, whose name is being withheld because she is a minor, told FoxNews.com, "I'm doing OK."

The police left the home after about 30 minutes, followed by the daughter and mother, who left in a separate car. It was not clear if the mother and daughter were going to continue the conversation with police at another location.

Sources close the student said the girl followed Weiner on Twitter after seeing him speak during a school trip to Washington on April 1. Weiner, after signing on to follow the girl's Twitter feed, direct-messaged the girl on April 13, the sources said, though it is not clear what other communication the two may have had between or after those dates. Weiner no longer follows the girl on Twitter.
Weiner has personally confirmed the he sent texts but denies they were in appropriate. Politico ("Anthony Weiner admits contact with girl, 17"):
Weiner confirmed the communications late in the day, but denied that anything inappropriate took place.

[…]

A Weiner spokeswoman emailed a statement in response to the reports that confirmed his contact with the girl, but denied anything was amiss. "According to Congressman Weiner, his communications with this person were neither explicit nor indecent," said the statement.

[…]

Depending on the nature of their exchanges, it could be the most substantively serious issue to surface about Weiner after a week in which he admitted to sending lewd photos to six women he engaged with on the internet.

Weiner said on Monday that as far as he knew all the women were adults, and that they gave their ages that way. However, there was no immediate information available that contradicted Weiner's denial about anything appropriate in his communications.
Certainly, Congressmen have corresponded to young constituents in the past. Twitter makes it easier and more personal. But, again, Weiner's history with these things lends suspicion. And it's odd, indeed, for a statement from the Congressman's office to add the qualifier "According to Congressman Weiner." Why not just say: "Congressman Weiner's communications with this person were neither explicit nor indecent"? That would be more definitive.
Additionally, as a NYT report ("Weiner Confirms He Sent Private Messages to Girl, 17") notes, the staff didn't release the messages themselves. That's rather odd. Then again, the same report would seem to vindicate Weiner:
A member of the girl's family who spoke on the condition of anonymity to protect her identity characterized the messages as "harmless" but expressed concern that Mr. Weiner had communicated privately with the teenager, a high school junior.

The family was aware that there had been exchanges between Mr. Weiner and the girl but assumed that all of their conversations had taken place on a public Twitter feed. Then a scandal erupted last month over a photo Mr. Weiner sent of himself in his underwear to a college student.

Last week, Mr. Weiner acknowledged that he had sent other explicit photos and messages to at least six women he met over social media.

The family member said: "I am angry. This is surreal and unbelievable. It is absolutely crazy. We are just regular people who go to baseball games and basketball games, as ordinary and plain as can be."

In the past few days, the girl and her family have become subjects of intense interest in the news media. On Friday, the local police arrived at their home and asked the girl and her mother to bring the girl's phone and computer to the police station so they could be checked to make sure no crime had occurred.

The family member said the family complied, and did not expect any further action to be taken.
So, the family knew about the messages. There were only five of them. They acknowledge that the messages were "harmless." But, because Weiner has subsequently been revealed to be a pervert, they're retroactively angry?
Indeed, reading further into the story, it's clear that the girl had something of a crush on Weiner and was excited to be talking to a Congressman:
The girl's contact with Mr. Weiner started in early April, after her trip to Washington. The congressman spoke to her school group, and she began following him on Twitter, posting a public message saying how much she liked his speech.

Two days later, Mr. Weiner began following her on Twitter. On her profile, she says she aspires to be president. In a private message he sent to her, he said: "How hip am I talking to a future president."

Delighted that she had heard directly from a congressman, the girl wrote a public post on her Twitter feed: "talking to Rep Weiner from New York right now! is my life real?"

At the time, a group of conservatives was monitoring Mr. Weiner's Twitter activity, after noticing that he was sending messages to a pornographic star from Tennessee.

When members of the group saw the girl's post, suggesting she was engaging in a private conversation with Mr. Weiner, they alerted the congressman that they were watching him. "@RepWeiner new pal is a high school girl. First porn actresses now little girls. Weird."

According to the girl's family member, people in the group also copied the girl on some of the messages they sent to him, so she sent Mr. Weiner a private message telling him that she felt she was being harassed. He apologized to her in a private message, and removed her from the list of people he followed on Twitter.

About a month later, Mr. Weiner sent out a public message saying he wanted to attract more followers on Twitter and offered to follow people on his account if they wanted him to.

The girl responded to the appeal and posted a public message to him: "Don't forget me. I used to follow you." On May 16, he began following the girl again, and over the next 10 days they had three private message exchanges, the family member said.

One was about baseball. In another, he replied to a question she had about legislation by jokingly asking for her advice, the family member said. His third message to her was in response to a link she posted to a YouTube video of his giving a speech, with the message: "My true love."
Regardless, Ace makes the case that this is still a very big deal.
I think by focusing on the unlikely charge, and wishing it to be true, that tends to diminish the other one.

Like, right now, Weiner's sort of in a relatively good position if he can say "Well at least I didn't sext a minor."

Then that makes what he did do — which is incredibly, expulsion-level inappropriate — seem like it's no big deal.

But it is. I spent a lot of words trying to make this case: That even if he restrained himself enough to cross no criminal lines, the question must still be asked, "Then why is he bantering with children who have a romantic or even sexual interest in him in private, parents-don't-know DMs?"

[…]

This girl's parents assumed that all of her communications with Weiner were occurring publicly.

Why did they assume that?

Because it is the natural assumption of almost everyone that to contact a smitten, lovesick 17 year old via private, I-think-we're-alone-now DM is blazingly, incandescently inappropriate.

What's his defense here? "I was just getting off on the idea this 17 year old girl loved me so much, but I never actually suggested anything sexual"?

Now, obviously, if this were a movie, and you wanted the dramatic ending, you'd write the ending where he does do something criminal.

But getting fixated on that Hollywood ending — which was always fairly low probability, and seems even less likely now — distracts from just how inappropriate this is.

Okay, he didn't sext her. So he did nothing wrong?

I don't think so. Like most other men in the world, I keep a decent distance from underage girls. Even your parents' old rule — the door must be cracked open at least six inches — isn't nearly enough.

Why doesn't Weiner? What does he find so compelling about these young, attractive, starstruck, lovestruck girls that he has to communicate with them privately?

As I suggested before, I think because he's getting off on it. He doesn't have to actually do the deed to enjoy the thrill. Just knowing he's got a cute girl here who's in love with him… well, that's pretty thrilling.

Particularly if you're an insecure narcissist like Weiner, needing constant affirmation and validation.

[…]

I don't take their word for it that they're "harmless," because I actually do suspect Weiner of speaking in a manner I would consider a violation — too flirty, too familiar, too friendly, as if he's just a friend of hers in high school. Adults are not supposed to confuse the situation by acting like other kids. Tends to cause…. misunderstandings.
I agree completely with all of that, except for perhaps the amateur psychological analysis. I don't pretend to understand why Weiner acted the way he did, either with this girl or in his more lewd interactions with the college age girls. Certainly, I'd be creeped out if a teenager were publishing this kind of thing about me online and would take extra special care to be professional in my dealings with her to avoid giving any encouragement.
Still, it honestly doesn't strike me that Weiner did anything more wrong than display very modestly poor judgment in this particular case. There are all manner of things that offend my own sensibilities and that I wouldn't do personally that I'm loathe to harshly condemn others for doing.
One theme that I've returned to again and again over the years is how dumb people are about online communications. I don't understand why people post compromising photographs of themselves on Facebook, for example. Or choose email addresses like hornybitch69 and then use them to fill out job applications or as their contact information for college courses. I've written something like 50,000 blog posts and 25,000 Tweets; in each instance, I've been at least vaguely aware that my reputation is at stake. Then again, it's never occurred to me to photograph my private parts.
_____________
*Well, there was alcohol available, anyway. And I've never actually run into him before except at CPAC. Also, there were few liberal elites in attendance, just us cloth coat Republicans.