Anthony Weiner Apologizes For "Inappropriate Relationships," Will Not Resign
After a week of denial, New York Congressman Anthony Weiner admitted today that he had engaged in online relationships with several women.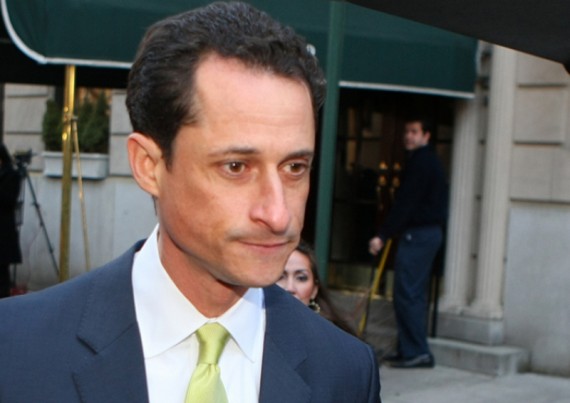 After a bizarre start that included Andrew Brietbart hijacking the podium for fifteen minutes to answer reporters questions and demand an apologies from those who had accused him of fabricating stories, New York Congressman Anthony Weiner spoke to the press and admitted to several "inappropriate" relationships:
Rep. Anthony Weiner of New York apologized Monday for falsely claiming that his Twitter account had been hacked, after a lewd photo showed up over Memorial Day weekend. He admitted to having engaging in "several inappropriate relationships" with women he met online, but said he was not resigning.
So there you have it. Breibart and his cohorts apparently have more photos that will likely be released over the coming days, but Weiner admitting to a series of relationships would seem to sort of blunt the impact of those statements, and if he doesn't want to resign there's really nothing else that can be done here. The voters of New York's 9th District, who re-elected him with a 20% margin in November 2010, will have their say in November 2012.
Now, can we go back to talking about something important?
Update: Further details from Politico:
A tearful Rep. Anthony Weiner admitted Monday that he sent lewd photographs and sexually suggestive messages to at least a half dozen women he's met online over the last several years – including while he was married – but will not resign from office.

"I am deeply regretting what I have done, and I am not resigning," the New York Democrat told reporters in an extraordinary press conference in Manhattan on Monday afternoon. "I am deeply sorry for the pain this has caused Huma, my wife, and my family."

Weiner fessed up that he sent the crotch-shot photo of himself that was accidentally posted on Twitter at the end of May "as part of a joke to a woman in Seattle" and decided to claim he had been hacked after he realized the photo had been made public.

Sticking to the made up hacking story for days was "a hugely regrettable mistake," Weiner said, and he is "so sorry" to have disrupted the Seattle woman's life.

During the emotional press conference, Weiner said he was "embarrassed" that the photo became public and "didn't want it to lead to other embarrassing things," so he chose to "try to tell lies" to the press and public to get out of the situation.

Weiner said he spoke briefly to House Minority Leader Nancy Pelosi (D-Calif.) before taking the podium. "She said to be truthful and to say what you know and was thankful that I was doing that today," he said.

The New York Democrat said that he does not believe that he's violated House rules or his oath of office and insisted that he didn't use any government resources to conduct the on-line relationships with various women.

Again and again as he spoke to reporters, Weiner apologized to his wife, an aide to Hillary Clinton, whom he married just under a year ago. Abedin was not in the room as Weiner addressed the media, and the congressman would not say where she was.

Weiner, who insisted he never had sex with or even met any of the women he talked to online, said the couple had every intention of staying together.
At some point during the press conference, the questions shifted from the facts of the allegations and the politics to the details of Weiner's marriage. At that point it went from mildly amusing to sad and pathetic. It's time for the press to drop this story (they won't, of course).
Update II: Here's the video:
Visit msnbc.com for breaking news, world news, and news about the economy
Update III: House Majority Minority Leader Pelosi is calling for an Ethics Committee investigation of this matter:
use Democratic Leader Nancy Pelosi called Monday for an ethics committee investigation of Rep. Anthony Weiner to determine if government resources were used or House rules were violated in Weiner's online relationships with women through social networking sites such as Twitter and Facebook.
Weiner better have pretty much come clean today, because if there's anything out there that he hasn't admitted to then he may be toast if only because his own party will abandon him. At the very least, I've got to think that Weiner's presumed candidacy for Mayor of New York in 2013 has taken a major hit.