Michael Flynn, Trump's National Security Adviser, Under Fire For Lying About Contacts With Russia
Could National Security Adviser Michael Flynn be the first to go under Trump?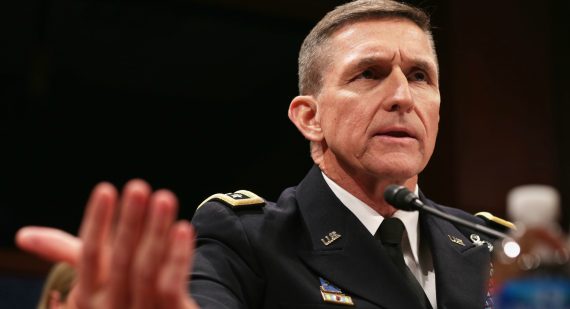 Michael Flynn, President Trump's National Security Adviser, is coming under increasing fire for his contacts with Russia prior to taking office and, apparently, lying about it not only to the press but also to the rest of the Trump Administration:
White House national security adviser Michael Flynn is under increasing political pressure and risks losing the confidence of some colleagues following reports that he misled senior administration officials about his discussion of sanctions with a Russian envoy shortly before President Trump took office.

As White House aides scramble to get their stories straight about the exact nature of those communications and as Democrats call for Flynn's security clearance to be suspended or revoked, neither Trump nor his advisers have publicly defended Flynn or stated unequivocally that he has the president's confidence.

Privately, some administration officials said that Flynn's position has weakened and support for him has eroded largely because of a belief that he was disingenuous about Russia and therefore could not be fully trusted going forward.

"The knives are out for Flynn," said one administration official who, like others interviewed for this report, spoke on the condition of anonymity in order to speak candidly.

On Sunday, the top White House aide dispatched to represent the administration on the political talk shows pointedly declined to defend Flynn.

Asked on NBC's "Meet the Press" whether the president had confidence in Flynn, senior policy adviser Stephen Miller said he did not know.

"It's not for me to tell you what's in the president's mind," Miller told moderator Chuck Todd. He added that his colleagues at the White House "did not give me anything to say" about Flynn.

When ABC News anchor George Stephanopoulos asked Miller about Flynn's interactions with Sergey Kislyak, Russia's ambassador to the United States, Miller said, "I don't have any news to make . . . today on this point."

The Washington Post revealed last week that Flynn and Kislyak had discussed U.S. sanctions against Russia in the month before Trump's inauguration.

The Post's finding, confirmed by nine current and former U.S. officials, contrasted with the assurances made publicly by Vice President Pence and other top administration officials that Flynn never talked about sanctions with Russian officials.

Based on Flynn's private assurances, Pence, White House Chief of Staff Reince Priebus and White House press secretary Sean Spicer stated publicly that Flynn never discussed sanctions with Kislyak.

Pence spoke to Flynn twice on Friday — once face to face and once by telephone, according to an administration official who declined to characterize the contents of those discussions.

"Flynn is running out of friends, no question," a different administration official said. "The broad consensus in the White House is that he lied. The vice president feels like he lied. In a position that needs to be no drama, it's nonstop drama. I would be very surprised if he lasts much longer."

New Jersey Gov. Chris Christie (R), an informal adviser to Trump, called on Flynn to "clear up" what happened with Trump and Pence, but he stopped short of accusing him of wrongdoing.

"I think that's the obligation of General Flynn, his national security adviser, to have those type of candid conversations with the president and the vice president," Christie said on CNN. "And then they will act as they see fit, given all the circumstances."

Over the weekend at Trump's Mar-a-Lago Club in Palm Beach, Fla., the president privately voiced frustration with Flynn and the political baggage he is hanging on the White House, according to two people familiar with his comments.

Spicer denied that Trump criticized Flynn to anyone at the club and called assertions to the contrary "fake news."

(…)

Democratic leaders have called for investigations into the Flynn's contact with Russian officials and for Trump to suspend and revoke Flynn's security clearance.

"President Trump's kowtowing to Vladimir Putin is endangering our national security and emboldening a dangerous tyrant," House Minority Leader Nancy Pelosi (D-Calif.) said Saturday.

Rep. Elijah E. Cummings (Md.), the top Democrat on the House Committee on Oversight and Government Reform, said Sunday on ABC News that suspending Flynn's clearance would be "an appropriate action."

Trump has not yet issued a comment about Flynn, either on Twitter or in one of his brief appearances before journalists over the weekend. Aboard Air Force One on Friday, reporters asked Trump about The Post's report on Flynn's discussion of sanctions and the president claimed he did not know about it, even though it had by then become a major story across cable news.

"I don't know about that. I haven't seen it," Trump said during a flight to Florida from Washington. "What report is that? I haven't seen that. I'll look into that."
While Flynn has reportedly insisted privately that he isn't going anywhere and that he's confident that he continues to have the support of the President, In the end, that may yet prove to be correct but his future is far from certain and it seems clear that this issue regarding Flynn's contact with the Russians in the weeks and months prior to Trump taking office three weeks ago will continue to be a thorn in the side of the Administration for the foreseeable future. As it stands, if it is true that Flynn discussed the future of American sanctions against Russia related to Ukraine and the possibility of a deal to bring them to an end, then there is a potential that Flynn violated Federal laws including the Logan Act, a law that has been part of the United States Code for 218 years that forbids private citizens from negotiating with representatives of a foreign governments that have an ongoing dispute with the United States. A violation of the act is classified as a felony under Federal law and could result in jail time if convicted. While there has been a long history of private citizens being accused of violating the act, there has only been one person indicted for violating the act, and that happened in 1803. The main danger for Flynn, though, isn't so much whether or not he will be indicted for violating a long-standing law, but whether he will become the first member of the already embattled Trump Administration to be shown the door.
In an ordinary Presidential Administration, Flynn's future would indeed be precarious and we'd be talking about his dismissal as a matter of "when" rather than "if." The main reason for this isn't just because of his apparent violation of the law and effort to undermine American foreign policy during the transition period, but also because of what happened afterward. When questions were raised about exactly what Flynn talked about with the Russian Ambassador, he reportedly insisted to White House officials that the phone call was nothing more than an exchange of Christmas greetings, an expression of sympathy over a plane crash that had killed members of a Russian military band, and a brief cordial conversation between two men who would obviously be working closely together over the coming years. Were this true, then there wouldn't be anything wrong with what Flynn did, and when questioned about it transition officials and Vice-President Mike Pence both repeated what Flynn said. If it's true that Flynn lied to transition officials and the then Vice-President-Elect, then that would appear to require Flynn being dismissed given the fact that his apparent misrepresentations led to Trump's advisers and the incoming Vice-President unknowingly lie to the media. After all, it's hard to see how Flynn can work alongside other members of the Administration such as the Secretaries of State and Defense if he's on record as having acted improperly before even taking office and then putting important Administration officials on the spot by lying to them about it.
This is no ordinary Administration, though, so it's hard to say exactly what Flynn's future might be. Given Trump's mercurial personality and a management style that seems from afar to be haphazard at best, it's hard to say how he's reacting to this. Additionally, much likely depends on what those closest to him, such as Steve Bannon and Reince Priebus, are saying to him and whose advice he decides to follow. Keeping Flynn would seem to be the worst decision he could make under the circumstances, for example, but as we've already seen that Trump seems inclined to lean in the direction of the least desirable outcome even when it seems politically suicidal.