Comey Firing Driven By Trump's Frustration Over Russia Investigation
Evidence continues to mount that the Russia investigation was the real motivation for President Trump's decision to fire James Comey.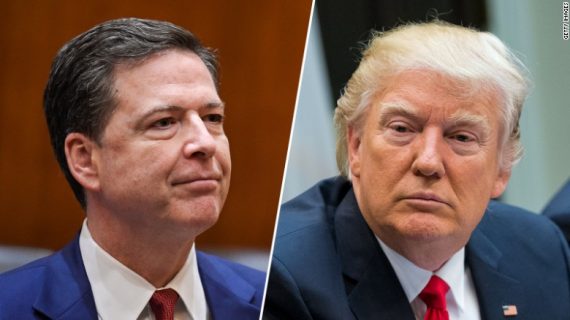 As I noted yesterday, in the immediate aftermath of the President's surprise Tuesday afternoon decision to fire F.B.I. Director James Comey, it has become rather apparent that there is a wide gap between the official White House and Justice Department explanations for why Comey was fired and what really motivated that firing. By the official account, Comey was fired because of long-standing doubts about her performance that dated back to his July 2016 press conference announcing that the investigation into Hillary Clinton's email server would be closed without prosecution and then his subsequent letter in October, just over a week before Election Day, that the investigation was being reopened due to the discovery of new emails on a laptop shared by Clinton aide Huma Abedin and her husband Anthony Weiner, who had come to the Bureau's attention due to allegations that he had been engaged in an online exchange of a sexual nature with an underage girl that allegedly include Weiner sending her explicit photographs of himself. As has become clear since Tuesday afternoon, though, it is clear that there was much more to the story than this.  As reporters dig further into the truth, it's becoming more and more apparent that it was President Trump's building frustration over the fact that he cannot make the allegations regarding Russian interference in the 2016 election and contacts between Trump associates and Russian officials go away, and that this is what made up the primary motivation for his decision to fire Comey, with the official story being little more than an effort to come up with a post hoc justification for a decision that the President had already made.
The latest bits of evidence in this regard comes from a team of reporters at The Washington Post that reports on the behind the scenes events that led to the decision to fire Comey, and lends credence to the idea that it was the Russia investigation, not the purported reasoning in the memorandum prepared by Deputy Attorney Rod Rosenstein that focused on Comey's actions in July 2016 regarding the investigation into Hillary Clinton's use of a private email server:
Every time FBI Director James B. Comey appeared in public, an ever-watchful President Trump grew increasingly agitated that the topic was the one that he was most desperate to avoid: Russia.

Trump had long questioned Comey's loyalty and judgment, and was infuriated by what he viewed as the director's lack of action in recent weeks on leaks from within the federal government. By last weekend, he had made up his mind: Comey had to go.

At his golf course in Bedminster, N.J., Trump groused over Comey's latest congressional testimony, which he thought was "strange," and grew impatient with what he viewed as his sanctimony, according to White House officials. Comey, Trump figured, was using the Russia probe to become a martyr.

Back at work Monday morning in Washington, Trump told Vice President Pence and several senior aides — Reince Priebus, Stephen K. Bannon and Donald McGahn, among others — that he was ready to move on Comey. First, though, he wanted to talk with Attorney General Jeff Sessions, his trusted confidant, and Deputy Attorney General Rod J. Rosenstein, to whom Comey reported directly. Trump summoned the two of them to the White House for a meeting, according to a person close to the White House.

The president already had decided to fire Comey, according to this person. But in the meeting, several White House officials said Trump gave Sessions and Rosenstein a directive: to explain in writing the case against Comey.

The pair quickly fulfilled the boss's orders, and the next day Trump fired Comey — a breathtaking move that thrust a White House already accustomed to chaos into a new level of tumult, one that has legal as well as political consequences.

(…)

In the weeks leading up to Comey's firing, Trump administration officials had repeatedly urged the FBI to more aggressively pursue leak investigations, according to people familiar with the discussions. Administration officials sometimes sought to push the FBI to prioritize leak probes over the Russia interference case, and at other times urged the bureau to investigate disclosures of information that was not classified or highly sensitive and therefore did not constitute crimes, these people said.

Over time, administration officials grew increasingly dissatisfied with the FBI's actions on that front. Comey's appearances at congressional hearings caused even more tension between the White House and FBI, as Trump administration officials were angered that the director's statements increased, rather than diminished, public attention on the Russia probe, officials said.

In his Tuesday letter dismissing Comey, Trump wrote: "I greatly appreciate you informing me, on three separate occasions, that I am not under investigation." People familiar with the matter said that statement is not accurate, although they would not say how it was inaccurate. FBI officials declined to comment on the statement, and a White House official refused to discuss conversations between Trump and Comey.
The New York Times has its own behind the scenes account of the events leading up to Tuesday afternoons sudden firing:
Mr. Comey's fate was sealed by his latest testimony about the bureau's investigation into Russia's efforts to sway the 2016 election and the Clinton email inquiry. Mr. Trump burned as he watched, convinced that Mr. Comey was grandstanding. He was particularly irked when Mr. Comey said he was "mildly nauseous" to think that his handling of the email case had influenced the election, which Mr. Trump took to demean his own role in history.

At that point, Mr. Trump began talking about firing him. He and his aides thought they had an opening because Mr. Comey gave an incorrect account of how Huma Abedin, a top adviser to Mrs. Clinton, transferred emails to her husband's laptop, an account the F.B.I. later corrected.

At first, Mr. Trump, who is fond of vetting his decisions with a wide circle of staff members, advisers and friends, kept his thinking to a small circle, venting his anger to Vice President Mike Pence; the White House counsel, Donald F. McGahn II; and his son-in-law, Jared Kushner, who all told him they generally backed dismissing Mr. Comey.

Another early sounding board was Keith Schiller, Mr. Trump's longtime director of security and now a member of the White House staff, who would later be tasked with delivering the manila envelope containing Mr. Comey's letter of dismissal to F.B.I. headquarters, an indication of just how personal the matter was to the president.

The chief strategist Stephen K. Bannon, who has been sharply critical of the F.B.I., questioned whether the time was right to dismiss Mr. Comey, arguing that doing it later would lessen the backlash, and urged him to delay, according to two people familiar with his thinking. Reince Priebus, the White House chief of staff, at one point mulled similar concerns, but was supportive of the move to the president.

The Justice Department began working on Mr. Comey's dismissal. Attorney General Jeff Sessions instructed his deputies to come up with reasons to fire Mr. Comey, according to a senior American official. On Monday, Mr. Trump met with Mr. Sessions and Deputy Attorney General Rod J. Rosenstein. White House officials insisted Mr. Sessions and Mr. Rosenstein were the ones who raised concerns about Mr. Comey with the president and that he told them to put their recommendations in writing.

At the same time, he signaled his thinking on Twitter, essentially calling for the investigation into the Russian meddling to be halted. "The Russia-Trump collusion story is a total hoax, when will this taxpayer funded charade end?" he wrote on Monday afternoon.
There are more details in both reports, and both make clear that it was the Russia investigation, Trump's growing frustration over the daily reports about it, and the fact that Comey and the Bureau clearly weren't relenting in their pursuit of the investigation were the primary motivation behind the decision to fire Comey. This conclusion would seem to be further bolstered by multiple reports that, when he met with the President on Monday, Sessions was essentially tasked with the job of coming up with reasons to fire Comey, no doubt reasons that had nothing to do with the ongoing Russia investigation since explicitly citing that as a reason for firing would be politically untenable. Other reports in the past several days have cast doubt on other parts of the Administration, such as Trump's claim in his letter to Comey that Comey had told him on three separate occasions that he was not a target of an investigation. Such a conversation would, of course, be an entirely improper thing for Comey to do regardless of whether or not Trump himself were a target, and sources close to Comey have told reporters that the President's claim is nonsense. It's also being reported that Comey refused a request that he give the White House a preview of the testimony he would ultimately give when he appeared before the Senate Judiciary Committee last week, something which reportedly "infuriated" the President. Additionally, we've learned that Comey had been asking for additional resources for the Russia investigation in the days before his firing and that Trump had reportedly told Rosenstein and Sessions to come up with reasons to fire Comey. All of this lends credence to the conclusion that it was Russia, not the Clinton investigation or anything that related to it, that led to Comey's firing and that the White House's attempts to say otherwise are little more than an effort to justify the decision.  Whether this is evidence of a conscious cover-up of wrongdoing by Trump and the people around him, or simply a short-tempered President lashing out at critics and a media that isn't focusing on the things he thinks they should be focusing on is unclear at this point. What we can say, however, is that the evidence that has been made public so far makes it clear that these matters need to be investigated to the fullest extent both by law enforcement and by Congress, and that any effort by the White House to impede or short-circuit those investigations should be resisted.