Joe Scarborough: Time For GOP To Man Up And Take On Sarah Palin
Former Republican Congressman Joe Scarborough wants the GOP to stop kowtowing to Sarah Palin and her acolytes. He's right.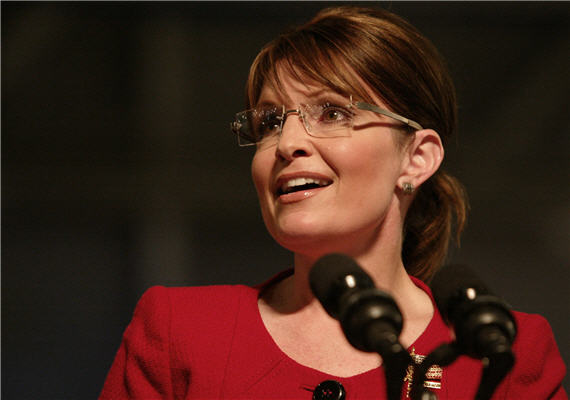 Former Congressman and current MSNBC morning host Joe Scarborough wants his fellow Republicans to stop being so afraid of taking on Sarah Palin:
Republicans have a problem. The most-talked-about figure in the GOP is a reality show star who cannot be elected. And yet the same leaders who fret that Sarah Palin could devastate their party in 2012 are too scared to say in public what they all complain about in private.

Enough. It's time for the GOP to man up.

Everybody knows that Palin is a busy woman. The former half-term governor of Alaska stays so busy these days that one wonders how this mother of five manages to juggle her new reality show, follow her eldest daughter's dancing career and launch her latest frenetic book tour while still finding the time to insult a slew of revered presidents and first ladies.

You've got to admit hers is a breathtaking high-wire act.

What man or mouse with a fully functioning human brain and a résumé as thin as Palin's would flirt with a presidential run? It makes the political biography of Barack Obama look more like Winston Churchill's, despite the fact that the 44th president breezed into the Oval Office as little more than a glorified state senator.

Still, Palin is undeterred, charging ahead maniacally while declaring her intention to run for the top office in the land if "nobody else will." Adding audacity to this dopey dream is that Palin can't stop herself from taking swings at Republican giants. In the past month alone, she has mocked Ronald Reagan's credentials, dismissed George H.W. and Barbara Bush as arrogant "blue bloods" and blamed George W. Bush for wrecking the economy.
Scarborough is especially bothered by what he perceives as Palin's attacks on Reagan and Bush 41 in her effort to try to deflect attacks on her own, rather meager, record:
When Sean Hannity asked Palin whether being in a reality show diminished her standing to be president, the former half-term governor mocked Reagan's biography, dismissing him as "an actor."

Sounding like every left-wing politician and media elitist who ridiculed Reagan for decades, Palin sneered that she could be president if the actor from "Bedtime for Bonzo" managed to do so.

(…)

The 40th president first led a major American labor union through massive upheaval, toured factories for General Electric for eight years and was California's governor for two full terms during the Golden State's most momentous times. Reagan then challenged an incumbent president from his own party and reinvented American conservatism without the help of the GOP establishment or the conservative movement.

(…)

Maybe Richards and Palin were right. Maybe poor George Herbert Walker Bush was born with a silver spoon in his mouth. Indeed, he was so pampered growing up that on his 18th birthday, the young high school graduate enlisted in the armed forces. This spoiled teenager somehow managed to be the youngest pilot in the Navy when he received his wings, flying 58 combat missions over the Pacific during World War II. On Sept. 2, 1944, "Blue Blood" Bush almost lost his life after being shot down by Japanese anti-aircraft fire.

With his engine shattered and his plane on fire, Bush still refused to turn back, completing his mission by scoring several damaging hits on enemy targets. His plane crashed in the Pacific, where he waited for four hours in enemy waters until he was finally rescued. For his bravery and service to this country, Bush was awarded the Distinguished Flying Cross, three air medals and the Presidential Unit Citation for bravery while in combat.

What a spoiled brat.

I suppose Palin's harsh dismissal of this great man is more understandable after one reads her biography and realizes that, like Bush, she accomplished a great deal in her early 20s. Who wouldn't agree that finishing third in the Miss Alaska beauty contest is every bit as treacherous as risking your life in military combat? Maybe the beauty contestant who would one day be a reality star and former governor didn't win the Distinguished Flying Cross, but the half-termer was selected as Miss Congeniality by her fellow contestants.
I said much the same thing about Palin's absurd Reagan comparison the other day, and Scarborough expanded on his comments during his show today:
Visit msnbc.com for breaking news, world news, and news about the economy
Scarborough's rhetoric is harsh, probably intentionally so, and it's likely to draw a fair bit of comment and criticism from Palin's supporters on the right. At least one conservative, though, Politics Daily's Matt Lewis, thinks that Scarbough does raise fair points about Palin, her record, and her suitability for higher office:
– In attempting to prove she was like Reagan, Palin may have instead done the opposite. Reagan, I think, would have laughed off Rove's criticism

— or (as I've argued in the past when Palin has gone on the attack) sent out a surrogate to do the attacking. He wouldn't have thought it fitting for someone of his stature to attack a staffer. Palin seems unable to ignore such criticism, and certainly is not interested in rising above the din. This was recently the case regarding comments made by Barbara Bush, who, after all, is an old woman. Others have noted that with age, we tend to lose the ability (or desire) to filter our words. Rather than fire back at the Bushes, calling them "blue bloods" (which, of course, they are), couldn't Palin have instead graciously brushed it off? Wouldn't outclassing the Bushes have been the best revenge?

– While I'm not sure Scarborough's classification of Palin's TV show is fair, and while I think the criticism over Palin comparing herself to Reagan was overblown, I do think Scarborough's main thesis — that Palin may not be ready for prime time — deserves consideration. Anyone running for president (and she is considering it) deserves such scrutiny. Is she serious enough? Does she have the intellectual heft or gravitas? These are all fair questions.
Indeed they are, and Scarborough is right to call out his fellow Republicans to take her on if they intend to oppose her in a 2012 run. Anonymous comments to the press aren't going to accomplish anything, but as I noted last month I'm not sure that there's a lot that can be done to stop a Palin juggernaut from going all the way to the Tampa Bay convention if one develops:
Aside from getting behind a single, alternative candidate early and persuading everyone else to drop out of the race, I'm not sure what it is the Establishment can do. The piece attributes to a "longtime Republican leader" the notion that "party elders hope to thwart Palin by strengthening the Republican National Committee." But it's not at all clear what good that would do. The RNC doesn't endorse, fund, or otherwise help primary candidates.

And the Republican nominating process, specifically designed to give a huge advantage to early frontrunners by awarding delegates on a winner-take-all basis, could have the perverse effect of nominating the candidate that a majority thinks would be a disaster. She could easily get a plurality in Iowa, New Hampshire, and South Carolina — especially in a crowded field.

The Establishment's best hope, aside from Palin deciding she wants to be the next Oprah rather than the next Obama, is for another candidate with strong Tea Party appeal to run and split that voting bloc. But who would that be? Mike Huckabee would seem the obvious choice — he was technically the number two finisher (by virtue of staying in to collect delegates long after the race was over, unlike Romney) in 2008, and legitimately the number three finisher. But does he have any juice left? Or has Palin supplanted him as the outsider candidate?
Scarborough's call is the right one, I think, for anyone who wants to see the GOP actually have a chance to defeat Barack Obama in 2012, as well as anyone who doesn't think that someone with a meager resume and a record of quitting her job when the going gets tough sitting anywhere near the Oval Office. Whether anyone will listen is another question.
Update: Rick Moran weighs in and points out, correctly I think, that underestimating Palin would be a mistake for the GOP:
The more the pollsters, the media, and the left ask how anyone can seriously consider Palin for the highest office in the land, the more her stock rises with ordinary voters. The more establishment Republicans tip-toe around her obvious limitations, the more she is lionized by the anti-establishment tea party types and online conservative elites who see her as something of an American savior, if not the personification of the conservative cause.

For those who say she has no chance, I have two words for you; Barack Obama. Not surprisingly, Palin has compared her own desert-like resume with Obama's puffed up qualifications and found the president's experience similar to her own. We're not going to refight that battle here, but suffice it to say both lack the kind of depth of experience Americans were used to in choosing a chief executive. If anything, President Obama is proving that being book smart is not the same as being capable of heading a smart government, or developing smart policies.

(…)

The disaster that would flow from that course of action for both the right, and the GOP would make 2008 look like a picnic. It would be irresponsible to nominate Sarah Palin (and Mike Huckabee and a few others). It would prove that the GOP and conservatives are unserious about addressing the monumental problems in America by putting forward someone who everyone but Palin disciples believe is a lightweight for the highest office in the land.

The punishment meted out by the electorate would be well deserved.
Indeed.