Conservative Pundits Finally Seeing Sarah Palin For What She Is
Conservatives finally seem to be waking up to the truth about Sarah Palin.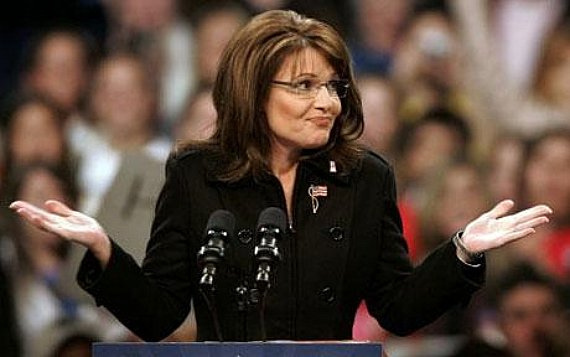 This past weekend, Congressman Steve King hosted a forum in Iowa that essentially served as the first real opportunity for Iowa Republicans to see many of the potential Republican candidates for President in one place, as well as speeches from other well-known conservatives who may or may not run for office in 2016. Among those who spoke on Saturday were Senator Ted Cruz, former Texas Governor Rick Perry, former Arkansas Governor Mike Huckabee, Carly Fiorina, New Jersey Governor Chris Christie, and Dr. Ben Carson. Joining them was Sarah Palin, who was quoted telling reporters just the day before that she was supposedly "seriously interested" in running for President, but the real news came in the speech that Palin gave, which seems to have caused many conservatives to finally come to the realization that she is an empty vessel:
DES MOINES, Iowa – Former Alaska governor Sarah Palin called President Obama "an overgrown little boy" Saturday, criticizing him for using an executive order to change immigration policy instead of waiting for the traditional legislative process.

Palin's remarks came at the Iowa Freedom Summit, part of a speech in which her barbed, broad-ranging commentary caused a buzz on social media Saturday evening.

In the speech, given before 1,200 conservative activists and broadcast nationally on C-SPAN, Palin also addressed two photographs that had received considerable national attention lately. One picture showed her at a Las Vegas gun show appearing next to a sign that used a curse word aimed at filmmaker Michael Moore; Palin said she was simply looking at the sign when a picture was taken. The other photo showed her young son standing on the family dog to reach the kitchen sink. Palin said it was better than eating dog, which, she said, Obama said he did while a boy in Indonesia.

It was her remarks about the president and immigration policy that drew the most applause.

"An impatient president doesn't just get to trample our Constitution and ignore Congress just because he doesn't get exactly what he wants every time he wants it," Palin said. "It's like an overgrown little boy who's just acting kind of spoiled. And moms, we don't put up with that, do we?"

(…)

Palin, the Republicans' 2008 vice presidential candidate, also spoke about the potential presidential candidacy of Democrat Hillary Clinton. She said that the national media somehow believes that "a pantsuit can crush patriots" and that it would "take a village" to beat Clinton in 2016.

Scott Conroy, a political reporter who co-authored a Palin biography, tweeted, "I don't say this lightly. This is the strangest speech I've ever seen Sarah Palin deliver."
Conroy's comments may have been among the more polite things I saw in regard to Palin's speech on social media Saturday night. The reaction from the left and from people who have been long time Palin critics was about what you'd expect, but what was somewhat surprising was the reaction from many on the right who looked on in seeming horror as Palin seemed to confirm every single stereotype and Saturday Night Live parody since 2008. To be fair, the number of Palin critics on the right has been steadily increasing in recent years, especially as it has become more apparent that she was more interested in promoting herself than in anything else and that her frequent flirtations with running for office were little more than blatant efforts to get her name back in the news cycle, Among serious conservative pundits, for example, Palin hasn't been anywhere near that "A List" of potential 2016 candidates for quite some time, and most of them seem to view her recent flirtations with the idea of running for President as largely meaningless. That being said, Palin's Saturday speech in Iowa has been met with a rash of criticism from the right that is crushing to say the least, and which would seem to indicate that her ability to influence Republican Party politics going forward will be basically non-existent.
Byron York fired the opening salvo in the wake of the speech at the Washington Examiner:
Palin embarked on an extended stream-of-consciousness complaint about media coverage of her decision to run in a half-marathon race in Storm Lake, Iowa in 2011. She then moved on to grumbling about coverage of a recent photo of her with a supporter who had made a sign saying "Fuc_ you Michael Moore" in reaction to the left-wing moviemaker's criticism of the film "American Sniper." Then it was on to Palin's objections about the social media ruckus over a picture of her six-year-old son Trig standing on the family's Labrador Retriever.

It was all quite petty, and yet the complaining took half of Palin's allotted time. She then proceeded to blow through her time limit with a free-association ramble on Barack Obama, Hillary Clinton, the energy industry, her daughter Bristol, Margaret Thatcher, middle-class economics — "the man can only ride ya when your back is bent" — women in politics, and much more. It would be hard to say that Palin's 35-minute talk had a theme, but she did hint that she is interested in running, although there are no indications she has taken any actual steps in that direction.

"Long and disjointed," said one social conservative activist when asked for reaction. "A weird speech," said another conservative activist. "Terrible. Didn't make any sense."

"There was a certain coarseness to her that wasn't there before," said yet another social conservative who noted that some in the crowd were uncomfortable with Palin declarations like, "Screw the left in Hollywood!" (It's not that they like the left in Hollywood — just the opposite — but the crudeness of Palin's expressions turned them off.)

"I know she is popular, but it is hard to take her seriously given that performance," said Sam Clovis, the conservative Iowa college professor, radio commentator, and sometime political candidate. "Palin was a sad story Saturday. With every speech she gives, she gets worse and worse. If one were playing a political cliche drinking game, no one would have been sober after the first 15 minutes of an interminable ramble. It was really painful."

"I think she has a role in the conservative movement and in the party," Clovis continued, "but she needs to get serious about what it is she can contribute and accomplish."

To be fair, it should be noted that Clovis ran in the 2014 Republican Senate primary against Joni Ernst — a race in which Palin endorsed Ernst. (Citizens United, a sponsor of the Freedom Summit, endorsed Clovis.) But Clovis was by no way alone in faulting Palin's performance.

"Calling Gov. Palin's remarks bizarre and disjointed would be charitable," said a well-connected Iowa Republican. "Her shelf-life, even with the most conservative voters in our party, seems to be near the end. In a day filled with strong performances from likely candidates ranging from Scott Walker to Ted Cruz, her remarks were a distraction."
National Review's Charles C.W. Cooke was equally critical in a post that went beyond just Palin's Iowa speech and got to the heart of what has ultimately been so disturbing about the unquestioning adulation that some conservatives have when it comes to Sarah Palin:
Some people contain within them a magical quality that leads their fans toward idol worship, and, for whatever reason, Palin appears to have it in spades. But, as she has discovered for herself of late, this can be a decidedly mixed blessing. On the upside, cults provide their beneficiaries with a ready-made army of apologists and sponsors — people, that is, who have primed themselves to push back hard against the most modest of slights and to exact a price from anyone who exhibits the temerity to criticize their focus. On the downside, cults can serve to inoculate their subjects from legitimate judgment and to ease their descent into inadvertent self-parody. Partly because the media has been reflexively unfair to her, and partly because they feel generally put upon by the culture at large, Palin's fans have of late provided her mostly with the latter service. Last weekend's speech was the direct result of that tendency.

Consider, if you will, what happens to a person who suggests that Sarah Palin is anything other than saintly. Right off the bat, they are accused of disliking America or Alaska or conservatives or mothers or the working class — or even women in general — and then they are informed that their "hatred" is showing. Next, their motives are questioned and their supposedly secret "agenda" is exposed for the world to see, for no right-thinking person could dislike Palin on the merits, natch. "I hope you enjoy your elite cocktail parties," the apologists will say, and then they will huffily tell you that they "hope signaling that you are 'one of them' was worth it." And finally — as is the case when one expresses disapproval of other cult figures, such as President Obama, Ron Paul, Neil DeGrasse Tyson, and Paul Krugman — it is presumed that all animadversion must be motivated by envy or by snobbery or by secret admiration, and that it can therefore be safely ignored. "What have you done," they will ask, "that compares to my paragon of virtue?" All told, it's really quite pathetic.
Meanwhile, Matt Lewis, who has often defended Palin against some of the criticism directed against her, wonders if her early critics have been vindicated:
But you could argue that the conservatives who went after Palin back in '08 have now been vindicated—regardless of their motivation. And my counterfactual (that Palin might have turned out better had everyone had cut her some slack in 2008) feels increasingly tenuous.

Is it possible that Kathleen Parker saw something I didn't when she attacked Palin? I saw it as strangling the conservative baby in the crib; Parker probably saw it as snuffing out a monster.

Such is the plight of a writer; I got some stuff right, and my position was justifiable at the time, but in hindsight I regret contributing to the premature deification of Sarah Palin.

I still say she was an incredibly talented political force, but she squandered her opportunity for greatness, and instead became a fad. And it's worth considering that maybe her early critics saw some fundamental character flaw—some harbinger of things to come—that escaped me?

It's probably time to concede that the early critics of Sarah Palin had a point, and that they shouldn't have been tarred and feathered and (in some cases) nearly purged from the conservative movement. I'm not excusing the vilest attacks, of course, but for a long time, there was close to zero tolerance of anything remotely critical of Palin (or, at least, even mild criticism would evoke stern rebukes), and that was wrong. And, as evidenced by the spate of articles coming from conservative venues this week, it's also over.
To those of us who have seen through the Palin facade from the beginning, of course, none of this is really new. For those people, it was apparent that there was far less substance to the former Alaska Governor than her boosters were claiming, and that there was something, well, quite odd about the unquestioning, cult-like adulation that she seemed to generate among conservatives for a long period of time. Yes, there was a brief time in 2008 when it seemed like there might be something to this previously unknown politician that burst onto the scene from seemingly out of nowhere when John McCain selected her as his Vice-Presidential running mate, It didn't take long, though, for the bloom to come off of that particular rose and for it to become quite apparent that, while Palin may have succeeded in the strange and isolated world of Alaska politics, she was by no means suited for national politics, not to mention national office. It wasn't just the bizarre interviews with Charlie Gibson and Katie Couric, or the folksy disjointed stump speeches, although that was certainly part of what contributed to the negative impression that Palin generated in some corners. The truth is that, to those who were not drawn into the frenzy that surrounded her candidacy back in 2008, there was always something not quite right about this Governor from Alaska, and that impression just seemed to be confirmed as time went on and Palin went from being a candidate to a reality television star to a pundit with a Fox News gig, all the time saying things that just became more and more bizarre to anyone who gave them even a moments worth of rational thought.
There's no denying that Palin did have an impact on the conservative movement, but in the end I think it's clear that this impact has been far more negative than positive. Because of her, there has been an element of anti-intellectual populism introduced into conservative politics that had seemingly been written out of the movement by William F.. Buckley Jr. and others who are credited with founding what became modern conservative politics. To no small degree, all of that became apparent in that one speech last Saturday in Iowa. In the space of some thirty-five minutes, everything that Palin's critics have been saying about her for the past six and a half years was laid bare for everyone to see, The jig is up There is no there there. It was impossible for anyone other than the most deluded Palin fanboy or fangirl to to deny that, for all that Sarah Palin might have been, it is obvious that now she's nothing more than a grifter who spews out empty slogans and tired rhetoric for people who would rather not think too hard about politics. It plays well on Fox News, but it doesn't belong on the national political stage and, apparently, many on the right are now figuring out that it doesn't belong in the conservative movement either.
Here's the speech itself: