Sarah Palin Endorses Donald Trump
Sarah Palin is back, and she's endorsing Donald Trump for the Republican nomination for President.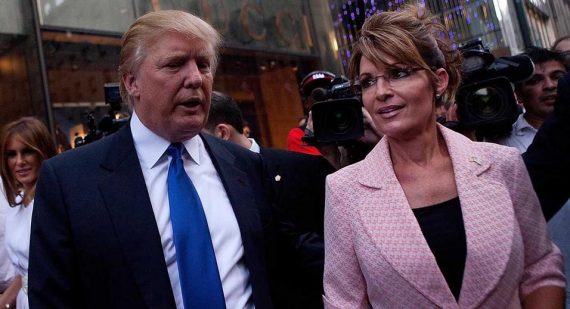 Ending a day of speculation that began last night when Donald Trump's campaign promised a "big announcement" at a campaign event in Iowa, it was announced this afternoon that former Republican Vice-Presidential nominee Sarah Palin was endorsing Donald Trump for President:
Sarah Palin, the former Alaska governor and 2008 vice-presidential nominee who became a Tea Party sensation and a favorite of grass-roots conservatives, will endorse Donald J. Trump in Iowa on Tuesday, officials with his campaign confirmed. The endorsement provides Mr. Trump with a potentially significant boost just 13 days before the state's caucuses.

"I'm proud to endorse Donald J. Trump for president," Ms. Palin said in a statement provided by his campaign.

Her support is the highest-profile backing for a Republican contender so far.

"I am greatly honored to receive Sarah's endorsement," Mr. Trump said in a statement trumpeting Mrs. Palin's decision. "She is a friend, and a high-quality person whom I have great respect for. I am proud to have her support."

Mrs. Palin, who is to appear alongside Mr. Trump at a rally on the Iowa State University campus in Ames late Tuesday afternoon, could amplify the news media-circus aspects of Mr. Trump's candidacy: Like him, she is a reality-TV star accustomed to playing to the cameras and often accused of emphasizing flash over substance.

But Mrs. Palin, who despite her waning visibility within the Republican Party retains a sizable following, provides Mr. Trump with valuable new currency at a moment when he is being attacked over his conservative bona fides by Senator Ted Cruz of Texas, with whom Mr. Trump is neck-and-neck in the Iowa polls.

As Mr. Trump fends off questions about his "New York values" from Mr. Cruz, Mrs. Palin could help vouch for Mr. Trump's credentials with skeptical conservatives.

What's more, while Mr. Trump has already shown the ability to garner wall-to-wall cable-news coverage, Mrs. Palin's active involvement in his campaign could help him deprive Mr. Cruz of vital attention in the homestretch to the Feb. 1 caucuses.

The two are not strangers. Mrs. Palin, Mr. Trump and his wife, Melania, shared a pizza in New York in June 2011, when Mrs. Palin was considering a presidential run of her own and was making a bus tour around the country. (Mr. Trump was mocked at the time for using a knife and fork on his slice.)

They also share a trusted operative: Mr. Trump's national political director, Michael Glassner, was chief of staff to Mrs. Palin's political action committee.

And like Mr. Trump, Mrs. Palin has maverick tendencies. The mantra of her final weeks of the 2008 campaign was "going rogue," as she defied instructions from aides to Senator John McCain of Arizona, the party's presidential nominee.
More from The Des Moines Register, including a preemptive response from Ted Cruz's campaign:
It's official: Sarah Palin will endorse Donald Trump for president on Tuesday.

"I'm proud to endorse Donald J. Trump for president," Palin said in a statement to The New York Times. NBC News also reported that Palin would back Trump.

Earlier this week Trump touted on Twitter that he'd be making a "big announcement" on Tuesday in Ames, Iowa. A Facebook post from Trump on Sunday indicated he would have "a very special guest in attendance."

He teased it a bit more during a rally in New Hampshire on Monday, making it clear the announcement would be an endorsement. Ahead of the event, speculation focused on Palin, the 2008 Republican vice presidential nominee and former Alaska governor, as Trump's "very special guest."

A Ted Cruz adviser even pre-emptively sought to dismiss the possible endorsement as damaging to Palin's brand.

"I think it'd be a blow to Sarah Palin, because Sarah Palin has been a champion for the conservative cause, and if she was going to endorse Donald Trump, sadly, she would be endorsing someone who's held progressive views all their life on the sanctity of life, on marriage, on partial-birth abortion," Cruz spokesman Rick Tyler said on CNN's New Day.

That didn't sit well with a certain member of the Palin family. Daughter Bristol Palin made clear on Tuesday what she hoped her mom would do in a blog post titled "Is THIS Why People Don't like Cruz?" She wrote that she liked Cruz and believed all of the candidates were better choices than Hillary Clinton. However, she added, "after hearing what Cruz is now saying about my mom, in a negative knee-jerk reaction, makes me hope my mom does endorse Trump." She also noted that her mom supported Cruz in the past and blasted him for "turning against my mom."

Bristol Palin's broadside against Cruz seemed to be based on Tyler's comments on CNN, not anything said by the Texas senator. In fact, Cruz himself was more conciliatory in a tweet Tuesday, saying he "will always be a big fan" of Sarah Palin's no matter what she decides about the 2016 race.
Since Palin has been somewhat quiet during the Presidential race so far, it's somewhat surprising to see her jump into the race in this kind of public manner, especially since she seems to have some family matters to deal with back in Alaska, but it's also not surprising that she ended up endorsing Trump over Ted Cruz, or over Marco Rubio, who she did not formally endorse in 2010 although she did have many positive things to say about him during the course of the 2010 election cycle. Just last month, Palin enthusiastically got behind Trump's call for a ban on Muslim immigration to the United States in the wake of the terrorist attacks in San Bernardino and Paris. Back during the 2012 election cycle, Palin also essentially endorsed Trump's bizarre obsession with the circumstances of President Obama's birth and his repeated insistence that Obama was not born in the United States and therefore not eligible to be President. Palin was also among the large group of Republican politicians who ventured to Trump's Manhattan office after he ended his aborted exploratory bid for the Republican nomination in 2012. More recently, Palin interviewed Trump for her now largely abandoned Internet content channel and appeared with him and Ted Cruz at a rally against the Iran nuclear deal in September.
Given the high profile nature of the endorsement announcement — it is scheduled to start at 6pm Eastern just in time for the national broadcast network news shows and the beginning of prime time coverage on cable on the East Coast and during afternoon drive on the West Coast — it's clear that the Trump campaign believes that Palin's endorsement will help Trump in some significant sense. At least in Iowa, it is obviously directed toward the conservative and evangelical voters who dominate the Republican electorate in that state and to conservatives in states such as South Carolina. Whether it will actually help Trump in either state, or in the race for the Republican nomination as a whole, is hard to say. The days when Sarah Palin was viewed wildly positively by Republicans in general and conservatives in particular are long gone, and while there remains a contingent of reflexively loyal pro-Palin sycophants the mention of her name on the right today is just as likely to elicit sighs, eyerolls, and jokes as it is to elicit the kind of effusive worship she received when she was John McCain's running mate or in the immediate aftermath of the 2008 elections and the rise of the Tea Party that she was so closely associated with. For the most part, this is due to the fact that Palin has poisoned the well with her fellow Republicans in recent years to the point where even many of her most ardent supporters in the past consider her to be largely irrelevant to the future of the GOP.
One taste of that conservative disdain for Palin can be seen in a column that National Review's Charles C.W. Cooke wrote just under a year ago:
In the Washington Examiner, Byron York treated those who missed the address to a brutal dissection. First, he recorded, Palin subjected the crowd to an "extended stream-of-consciousness complaint about media coverage of her decision to run in a half-marathon race in Storm Lake, Iowa." Next, she offered up some self-righteous "grumbling about coverage of a recent photo of her with a supporter" and a litany of "objections about the social media ruckus over a picture of her six-year-old son Trig." And, finally, she embarked upon a "free-association ramble on Barack Obama, Hillary Clinton, the energy industry, her daughter Bristol, Margaret Thatcher, middle-class economics . . . women in politics, and much more." All in all, York proposed, this did her no favors at all. Rather, the "long, rambling, and at times barely coherent speech, left some wondering what role she should play in Republican politics as the 2016 race begins."

This, I think, is a good question, and one to which I have a modest answer: How about . . . none? Instead, Palin should leave the field to those who are in possession of genuine political aspirations, and she should refrain from treating the Republican party as if it were a little more than a convenient vehicle for her private ambition. In the meantime, conservatives who are finally cottoning on to the ruse should recognize that this Iowa sojourn was not an aberration or a blip, but the foreordained culmination of a slow and unseemly descent into farce that began almost immediately after Barack Obama was elected in 2008. So Sarah Palin has become Amy Winehouse?

Of course she has. How else exactly was this going to end? "It would be hard to say," York observed drily, "that Palin's 35-minute talk had a theme." But, one might ask, "Do they ever?" For a long while now, Palin has not so much contributed arguments and ideas as she has thrown together a one-woman variety show for a band of traveling fans. One part free verse, one part Dada-laden ressentiment, and one part primal scream therapy, Palin's appearances seem to be designed less to advance the ball for the Right and more to ensure that her name remains in the news, that her business opportunities are not entirely foreclosed, and that her hand remains strong enough to justify her role as kingmaker without portfolio. Ultimately, she isn't really trying to change politics; she's trying to be politics — the system and its complexities be damned. Want to find a figure to which Palin can be reasonably compared? It's not Ronald Reagan. It's Donald Trump.
Given this, it should be hardly surprising that Palin is not only endorsing Trump but will, according to early reports, campaign for him across highway in these closing two weeks before the Iowa Caucuses. In more ways than one the absurdity that is the Donald Trump campaign is merely the logical conclusion of the movement that surrounded Palin in the wake of her selection of John McCain's running mate. It is a movement that lacks substance, that appeals to made up facts and a vision of an America that never really existed, it exploits the resentments of the populist anti-intellectual Tea Party movement against whatever "other" happens to be in the news at this time, and it is immune from refutation because it refuses to accept either logic or easily established facts as the basis for discussion. In other words, Sarah Palin and Donald Trump are perfect for each other, and the Republican Party is stuck with them.