Sarah Palin Endorses Donald Trump's Anti-Muslim Bigotry
Sarah Palin has joined such luminaries as Rush Limbaugh, Ann Coulter, Laura Ingraham, and former KKK Grand Wizard David Duke in endorsing Donald Trump's anti-Muslim immigration plan.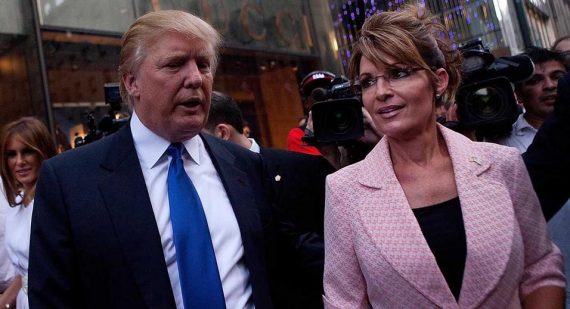 Former Alaska Governor and Republican Vice-Presidential candidate, and current gadfly trying to sell books and maintain her political relevance Sarah Palin has backed Donald Trump's call to ban Muslim immigration into the United States for some unspecified period of time:
Former Alaska Gov. Sarah Palin says she supports Republican presidential front-runner Donald Trump's call for a ban on admitting Muslims into the U.S.

"Herd mentality [is] running rampant with hypocritical and/or naïve pundits trying to crush Donald Trump because he's committed to clobbering the bad guys, and putting the good guys first," she wrote on her Facebook page.

"Trump's temporary ban proposal is in the context of doing all we can to force the Feds to acknowledge their lack of strategy to deal with terrorism," Palin continued. "A broken system allowed terrorists to come to our home and slaughter Americans. A bold, non-politician candidate calls for a pause in this flaw bureaucratic program so it can be fixed, to make sure it doesn't happen again. That's common sense, which is why the media and spineless pundits attack it."

Palin said the danger of jihadist terrorism makes Trump's proposal an attractive solution for preventing future bloodshed.

"When information shows someone comes to America after being in a radical Islamic stronghold, and embraces the death cult's ideology that mandates butchering the innocents — then we are right in calling for shucking the political correctness that is fundamentally transforming America, and finally putting the safety of Americans first," she wrote.

"They have no plan to reform our flawed immigration vetting process," Palin said of the Obama administration.

"They cannot even utter the term 'Islamic fundamentalism' [and] they will not declare war on ISIS," she added."While the media twists and turns words, conservatives who propose action to combat the real threat facing America are demonized with the namby-pamby milquetoast politicians who get a pass to go along their unaccountable merry way."

Palin called on everyday Americans to disregard the Obama administration's criticism of Trump's plan.

"Ignore the White House as it spews talking point rhetoric accusing Trump (thus suggesting all who question their wrongheadedness) of being 'un-American,' " the former Alaska governor said.
While most prominent Republicans and conservative pundits have condemned Trump's idea, Palin joins others on the right such as Rush Limbaugh, Sean Hannity, Mark Levin, Ann Coulter, and Laura Ingraham who have either wholeheartedly endorsed Trump's proposal or argued that he 'has a point' and that others on the right should not be joining Democrats and "the media" in attacking Trump. In Palin's case, it also continues a mutual admiration society that has developed between Trump and Palin in recent months, with Palin making positive comments about Trump at random times through the Facebook page that now seems to be her primary means of communicating from her Alaskan redoubt with whatever is left of her supporters while Trump openly courts those same supporters. As National Review's Jim Gerghaty pointed out, this new relationship is somewhat odd given Trump's history of making critical, often disparaging comments about Palin in the past, but given Trump's long history of inconsistency and flip-flopping I suppose it isn't entirely surprising either. Indeed, as Gerghaty noted at the time, Trump had already won over a significant portion of Palin's fan base early in this campaign, and while she has not endorsed him formally, Palin certainly seems to be giving Trump her blessing even to the point of praising an idea that is so obviously bigoted and nonsensical that practically no right-minded conservative is supporting it at this point.
It's not clear what influence Sarah Palin even has inside the Republican Party at this point, so her decision to get behind Trump like this may not end up having much of an impact at all. Unlike four years ago, there was no real effort by anyone to try to convince Palin to run for President, for example, and she never really expressed any interest in doing so. Of course, that last part isn't surprising since Palin seems to be enjoying her life as a D-List celebrity far too much to get back into the world of retail politics which requires actual work and requires one to do more than pontificate from a Facebook page while hiding out in Alaska. Perhaps these Trump comments are her effort to throw herself back into the political conversation, but I'm not sure why any sane person would support something as obviously bigoted as Trump's plan as a way of reintroducing themselves to voters. But then, Palin has always been inexplicable and irrational so I suppose it all makes sense to her somehow.
Incidentally, Sarah Palin wasn't the only former Republican candidate for office to endorse Trump's immigration plan yesterday:
A former imperial wizard of the Ku Klux Klan, who once attended a Holocaust denial conference organised by Iran's former hardline president, Mahmoud Ahmadinejad, came to Donald Trump's defence on Tuesday, saying the Republican frontrunner was under fire because his words threatened a "pro-Israel" US foreign policy
"The Jewish knives are coming out on Donald Trump," said Mr Duke, who has previously stood as a presidential candidate for both the Democratic and Republican parties and has a track record of voicing anti-Semitic views: "How come it's against American values to want to preserve the heritage of the country? We're overwhelmingly a Christian country and overwhelmingly a European country."

Such support is potentially embarrassing for Mr Trump in the run-up to a planned visit to Israel, where he expects to meet Benjamin Netanyahu, the country's prime minister, according to remarks the candidate made to a gathering of Jewish Republicans in Washington last week.
Mr Duke's expression of solidarity with Mr Trump's anti-Muslim rhetoric also jarred with his attendance in 2006 at a "scientific conference" in Tehran effectively denying the Holocaust organised by Mr Ahmadinejad, Iran's then president and a hardline Islamist who declared the murder of six million Jews by the Nazis in the Second World War "a myth".

Mr Duke accepted an invitation to attend the conference after Mr Ahmadinejad had earned international infamy over a string of hostile remarks about Israel, which he said should "vanish from the pages of time". The same comment was also translated as meaning Israel should be"wiped off the map".
Sarah Palin, Rush Limbaugh, Ann Coulter, and David Duke. Those are some great endorsements you've lined up there Mr. Trump.