Donald Trump Courting Sarah Palin's Supporters
Donald Trump's campaign seems to be making a play for whatever portion of the GOP it may be that still likes Sarah Palin.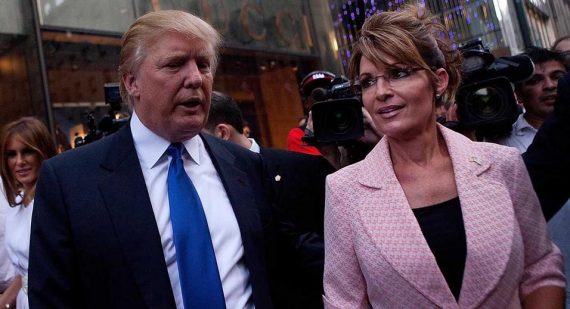 The New York Times reports that Donald Trump seems to be making a play for whatever might be left of the so-called "Palin vote":
Donald J. Trump appears to be making a serious play for the "Mama Grizzly" vote.

This week the Republican presidential candidate flattered Sarah Palin — who gave herself the bear of a nickname — calling her a "strong" and "special" person and proclaiming that he would love to have her in his cabinet if he won the White House.

On Thursday, Mr. Trump showed another sign of respect for Ms. Palin, hiring Michael Glassner to be his campaign's national political director. Mr. Glassner was chief of staff for Ms. Palin's political action committee and worked closely with her when she ran for vice president alongside Senator John McCain in 2008.

"Mr. Glassner will certainly be an asset to us as we further cement our dominance in the 2016 G.O.P. field," Mr. Trump said in a statement.

Mr. Trump's anti-establishment persona and sometimes angry rhetoric has tapped into the frustration that many Republicans feel toward centrists in the party. A comparison of Quinnipiac polls from this summer and 2011, when Ms. Palin was considering her own presidential bid before deciding against it, shows that she and Mr. Trump both have strong appeal among Catholics, evangelical Christians, lower income voters and those without a college education.

Ms. Palin's supporters have taken notice of Mr. Trump's attention, and many are hopeful it will pave the way for her return to politics. Ms. Palin's Facebook page tends to be a forum for venting against Democrats, but lately it has become a platform for pushing a Trump/Palin ticket.

"I'm hoping Sarah will run with Donald Trump when the time comes," Rose Hamilton wrote on Ms. Palin's page. "I think they will be the dynamic duo and be great for our country."

Rick Lewis of Iowa suggested that Ms. Palin would make the perfect secretary of state in a Trump administration, presumably complementing his economic expertise.

Some of Ms. Palin's supporters, however, still feel that she would be selling herself short settling for a vice presidential slot again.

"My dream ticket, however, would have Sarah at the top of the ticket!" said John Gregory, of Oregon.
Palin, of course, has largely faded from the political scene. While she did play a minor role in some of the 2014 Republican primary contests, she was not very involved in the General Election campaign and, unlike 2012, has not even hinted at the possibility that she might run for President. More recently, her contract with Fox News Channel came to an end in a manner that makes it seem as though she won't be on the network as anything other than an occasional guest in the future and her Internet subscription video channel came to an abrupt end. At the same time, though, that doesn't mean that Palin has complete disappeared. She still posts occasions rants on Facebook and, just this week, posted at piece at Breitbart that was very supportive of Donald Trump:
Days after Donald Trump talked up the idea of putting Sarah Palin in his administration, the former Republican vice presidential candidate and tea party favorite is showing she's got Trump's back.

Palin wrote Friday on the conservative Breitbart news site that Trump's candidacy will continue to appeal to "ordinary Americans" despite what she described as a bludgeon of attacks from GOP elites, pundits and the media.

Calling Trump's candidacy "a shot in the arm for ordinary Americans fed up with the predictable poll-tested blather of squishy milquetoast career politicians," Palin argued that Trump's style and message is appealing to voters and that he is tapping into "major populist grievances."

And Palin also defended Trump from criticism that is bubbling up in certain conservative circles that Trump's flip-flops on key conservative issues prove he is not a true conservative.

"'But he changed his mind on positions!'" Palin wrote, echoing recent criticisms. "Reagan had been an FDR Democrat. Should we hold that against him or be grateful he saw the light?"

Palin also defended Trump's contributions to Democratic campaign coffers, arguing in the same way Trump has that those donations are the cost of business in the largely liberal city of New York.

"If he was building it in Salt Lake City, I'm sure he would have donated to Republicans," she wrote.

Palin has yet to endorse Trump or any other candidate in the Republican primary but has been supportive of Trump's message, which appears to be resonating with Palin supporters.
On some level, of course, it's not surprising to see a potential convergence between Trump and Palin at this point in the 2016 election cycle. On some level, both politicians appeal to their supporters in the same way through the use of emotion-laden arguments that are mostly lacking in substance combined with a rhetorical style that makes the speaker sound far smarter than they actually are. Indeed, while I haven't seen any confirmation of this fact I wouldn't be surprised if there were some overlap between the people who are or have been Sarah Palin supporters in the past are now people who are rallying behind the bizarre, xenophobic candidacy of Donald Trump. This also isn't the first time that Palin has spoken positively about the real estate developer notwithstanding his history of bizarre comments. Four years ago, when Trump was in the midst of his campaign to "prove" that President Obama was not both in the United States, Palin was appearing on cable news cheering Trump on and implicitly endorsing birther position that had long before been factually discredited. During the 2012 election cycle, Palin was among the bevy of Republican politicians who came to New York City to supplicate themselves in Trump's office. Given that, and also taking into account Palin's long demonstrated need to keep herself in the news, it's not entirely surprising to see her jumping on the Trump bandwagon even just a little but, and it's even less surprising that her pro-Trump rant would appear at Breitbart News, which has become little more than a shill for the Trump campaign over the past month and a half.
The fact that Trump has hired one of Palin's closest former advisers seems to indicate that his campaign thinks that tapping into this wing of the Republican Party is a smart political move. Given their success so far, it's kind of hard to argue with the strategy, but it's difficult to see how it is viable in the long term. Even before her recent departure from Fox, Palin's influence in the GOP had declined far below what it may have been in the past, so it's unclear that appealing to her supporters is going to accomplish of anything. Additionally, the fact that Palin and Trump are two of the most disliked Republicans in the country would seem to suggest that this is an strategy that doesn't really make much sense when you think about. Then again, there's a lot about the Trump campaign that doesn't make much sense when you think about.