Steve Bannon Out At Breitbart
Steve Bannon loses his position at Breitbart after his blistering comments about the President and others in the Administration became public.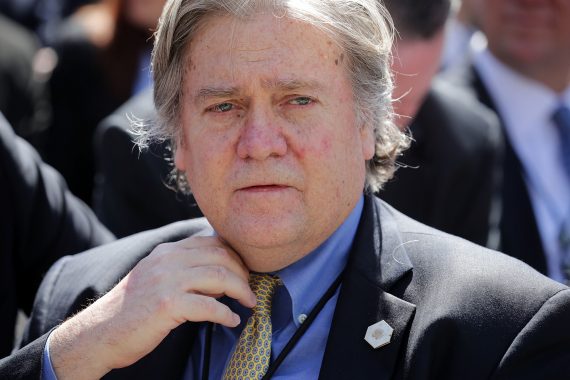 Steve Bannon, who lost his position as President Trump's chief strategist back in August after what clearly seemed like a purge orchestrated by Chief of Staff John Kelly, lost his position at far-right news outlet Breitbart yesterday in what clearly seems to have been a purge orchestrated by one of the website's top financial backers in reaction to comments made by Bannon about the President and others in Michael Wolff's explosive new book Fire and Fury:
WASHINGTON — Stephen K. Bannon stepped down on Tuesday from his post as executive chairman of Breitbart News, ostracized for now from conservative circles and the Republican Party he brazenly predicted he would remake.

Mr. Bannon's departure, which was initiated by an estranged financial patron and Breitbart investor, Rebekah Mercer, came as Mr. Bannon remained unable to quell the furor over remarks attributed to him in a new book in which he questions President Trump's mental fitness and disparages his son Donald Trump Jr.

Mr. Bannon and Breitbart will work together on a smooth transition, said a statement from the company's chief executive, Larry Solov. Separately, SiriusXM, which broadcasts a radio show on which Mr. Bannon was a host, said it was also cutting ties with him.

Mr. Bannon's exit from Breitbart, a platform for hard-edge nationalist ideas, is the latest ignominious turn in a career that was once one of the most prominent and improbable in modern American politics.

Though he was virtually unknown outside his work at Breitbart, Mr. Bannon was named chief executive of the Trump campaign two and a half months before Election Day. And he helped instill the discipline and focus that allowed Mr. Trump to narrowly prevail in the three Midwestern states that gave him victory in the Electoral College.

He accompanied Mr. Trump to the White House and became his chief strategist. With an office in the West Wing and a direct line to the Oval Office — he initially reported to no one but the president — he seemed well positioned to wreak havoc on the political institutions and leaders he railed against as corrupt and self-serving.

But after repeatedly clashing with Ivanka Trump, the president's eldest daughter, and Jared Kushner, her husband and Mr. Trump's senior adviser, Mr. Bannon was pushed out after less than eight months with the administration. Five months later, a clash with another Trump — Mr. Bannon called Donald Trump Jr.'s meeting with Russians last year at Trump Tower in Manhattan "treasonous" — cost him another job.

No one has been more closely identified with the Breitbart website or had more to do with emboldening its defiant editorial spirit than Mr. Bannon did after its namesake, Andrew Breitbart, died of a heart attack in 2012. In Washington, Mr. Bannon works and lives part time in a townhouse nicknamed the Breitbart Embassy.

In the statement announcing his move, Mr. Bannon said that he was "proud of what the Breitbart team has accomplished in so short a period of time in building out a world-class news platform."

Once outside the administration and free to pursue his political enemies, Mr. Bannon set out on an audacious mission to challenge Republican incumbents he deemed insufficiently loyal to Mr. Trump's agenda. He vowed to replace Senator Mitch McConnell, the Republican leader, and started backing far-right candidates, some with questionable backgrounds and losing track records at the polls.

His full-throated, unfailing support of Roy S. Moore in Alabama, even after allegations surfaced that the former judge preyed on girls as young as 14, ended in an embarrassing setback: The state sent a Democrat to the Senate for the first time in a generation.

Several people with knowledge of the dynamics at Breitbart said that Mr. Bannon had lost the confidence of executives and writers who had been fiercely loyal to him as he helped transform the website from a scrappy start-up to one of the biggest and most antagonistic megaphones on the right.

But that confidence faded in recent days and weeks as they came to believe he displayed serious lapses in judgment, according to interviews with half a dozen people close to the situation. Some associates and friends described Mr. Bannon as being detached from reality, unable or unwilling to grasp the severity of his falling out with the White House and its potential effect on Breitbart as a business.

His situation at Breitbart grew untenable, said one person close to the situation, in part because Ms. Mercer, whose family finances conservative causes with their hedge fund wealth, became concerned that she could face legal exposure. She feared that some of the website's cheerleading coverage of populist conservative campaigns — like the Senate race in Alabama — could be construed as corporate contributions to those candidates, which are barred under federal election law.

Numerous people who have worked with Mr. Bannon over the past few months said that his attitude lately had grown more imperious and aloof than normal. And his outward lack of any emotion about his messy public breach with the president and the Mercer family struck some not as the calloused indifference of a political operative but as nihilistic.

When Mr. Trump first denounced Mr. Bannon last week, saying, "He not only lost his job, he lost his mind," Mr. Bannon insisted to his writers and editors at Breitbart that it would all blow over. When reports began circulating that Ms. Mercer had cut him off, he denied it outright. And when friends started asking him about rumors that his job was in jeopardy, he insisted that everything was fine. "The Mercers haven't given me money in years," he told multiple people, playing down their significance in his work and insisting that an initial $10 million investment in the website was all they had provided.

In fact, recent tax filings suggest how difficult it will be for Mr. Bannon to fill the void left by the Mercers. The Mercer Family Foundation has donated more than $100 million over the past decade to mostly conservative nonprofit groups, including nearly $6 million to one that Mr. Bannon helped found, the Government Accountability Institute, which has also sought to distance itself from Mr. Bannon in recent days.

Mr. Bannon refused to admit any missteps or lapses in judgment, people close to him said.

Despite putting his name on a statement in which he expressed regret — but did not apologize — for his comments about Mr. Trump's son, he resisted uttering any words of contrition until an unusual statement on Sunday morning.

(…)

Friends of both Ms. Mercer and Mr. Bannon have described their rupture like "a bad divorce." But Ms. Mercer was just one person among a growing list of powerful onetime allies whose backing Mr. Bannon had lost in recent months. In addition to disparaging Mr. Bannon as "Sloppy Steve" and calling into question his relevance during the 2016 presidential campaign, Mr. Trump blessed moves by the White House to further ostracize Mr. Bannon. And in the words of one associate of the president's, he wanted "a scorched earth approach." Sarah Huckabee Sanders, the White House press secretary, took the unusual step last week of suggesting that Breitbart remove Mr. Bannon.
The Washington Post's Aaron Blake comments:
What's particularly remarkable about Bannon's fall is how entirely Trumpian it was. From his perch in the White House, Bannon apparently felt invincible enough to spout off to Wolff about how that meeting Donald Trump Jr. had with a Russian lawyer was "treasonous" and about how Ivanka Trump was "dumb as a brick." (Questions have been raised about some of the claims in Wolff's book, but Bannon hasn't disputed these quotes.) How he didn't realize that saying such things about Trump's family might cause a problem or two is the biggest mystery.

But it's also understandable in context, and it speaks to the prevailing chutzpah of the Trump White House. To Trump and those around him, his 2016 win has long served as vindication of their entire approach to politics. They could do no wrong because they won. The media that sought to criticize what Trump did and that said he wouldn't win was proved wrong, and Trump and Bannon were proving their superiority day in and day out.

But while that kind of ego might be sustainable in a chief executive, Bannon was always expendable to Trump. Republican after Republican has run afoul of Trump, and just about each and every time the GOP base turned on whoever wasn't on board with the president. For all Trump's political problems, the base is the one thing he's got on lock. So when Bannon alienated Trump and Trump bucked, the decision to pick a side wasn't hard for the Mercers or for Breitbart.
It was just five months ago, of course, that Bannon was forced out of his position at the White House just days after reports that he had become the target of close Trump advisers such as Chief of Staff John Kelly, Jared Kushner, and Ivanka Trump. Within hours after that happened, though, Bannon was back at his old position at Breitbart News and within weeks he was back in the political activism business. In the fall, he effectively declared war on the Republican Party's so-called "establishment," with particular attention on races at the Senate level. That became most apparent immediately in Alabama, where Bannon became a strong backer of the controversial Judge Roy Moore in the race for the Republican nomination to succeed Attorney General Jeff Sessions even while the President and most of the Republican Party in Washington were backing then-incumbent Senator Luther Strange. That support continued even after the allegations against Moore in the final months of the campaign became public and was widely reflected in the coverage that the race received at Breitbart, with many political reporters who were covering the race said that it was difficult at times to determine if the "reporters" from Breitbart were there to cover the news or to advocate and campaign for Moore. Moore, of course, ended up losing that election, leaving Bannon and Breitbart with egg on their faces and backers such as the Mercer family concerned by the legal ramifications of having the site become such a strong advocate for a political candidate.
In the end, though, it was Bannon's comments as quoted in the new Michael Wolff book that was the straw that broke the camel's back. Within hours after they became public, the White House and the President himself were throwing him under the bus, giving him the nickname "Sloppy Steve," and Press Secretary Sarah Huckabee Sanders suggesting that Breitbart may want to reevaluate its relationship with Bannon. For his part, Wolff made clear that he had recorded his conversations with Bannon and other White House insiders while writing the book, meaning that it would be impossible for Bannon to claim that he had been misquoted or that Wolff's relationship As the controversy grew, Bannon seemed to realize the position he had put himself in and tried to back away from the remarks. On the Siriux XM radio show he hosted for Breitbart and in other statements, he expressed "regret" for his remarks and attempted at one point to claim that the attacks he was quoted as making in the book regarding the June 2016 meeting between a Russian lawyer and several Trump campaign officials was directed at former Trump campaign chairman Paul Manafort rather than Donald Trump Jr. Those regrets obviously weren't enough, though, and it is apparent that the latest controversy was all the excuse that Breitbart and the Mercers needed to push Bannon out.
In the wake of Bannon's dismissal, The Washington Post is reporting that Bannon believes that he and Trump will repair their relationship at some point int the future and even seems to believe that Trump will once again come to seek his political advice in the future. Given what Bannon said about Trump's mental fitness and Trump's son, though, that seems unlikely. Bannon is also quoted as saying that he intends to continue his political activism in 2018 and go forward with plans to play a role in the GOP primary process across the nation. Without Breitbart as a vehicle, though, and without financial backing from people like the Mercers, though, it's difficult to see how he could pull that off. Bannon is independently wealthy on his own, of course, thanks to his previous career in Hollywood, but it's going to take more than just his own money for Bannon to have the kind of influence he seems to envision for himself. Additionally, it seems as though Bannon's own reputation among the Trumpidian base of the GOP has likely been seriously damaged by the quotes attributed to him in Wolff's book, especially to the extent that they are perceived as a direct attack on the President himself. It's possible, of course, that Bannon will still have some influence over the primary process, but it is likely to be far diminished from what it might have been had he remained affiliated with Breitbart.