Steve Bannon Declares War On The Senate GOP
Former Trump aide Steve Bannon is declaring war on Republicans in the Senate.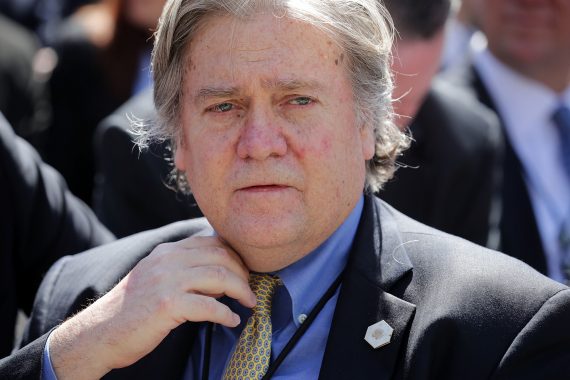 Steve Bannon, who left his position as President Trump's top political strategist back in August and returned to his previous position at Breitbart news, is vowing to take on virtually every Republican in the Senate:
Steve Bannon plans to back primary challengers to almost every Republican senator who runs for re-election next year in an effort to depose Majority Leader Mitch McConnell and streamline Senate voting procedures, three people familiar with his plans said.

Only Senator Ted Cruz of Texas is safe from the nascent political organization led by Donald Trump's former chief strategist, the people said — because Cruz is considered conservative enough and is thought to be moving toward the more populist approach Bannon favors. Bannon has held a series of meetings to plan his moves for 2018 since late September, when he backed Roy Moore, the Alabama judge who's been accused of bigotry, in a successful runoff election against Senator Luther Strange, who had support from Trump and McConnell.

Bannon plans to support as many as 15 Republican Senate candidates in 2018, including several challengers to incumbents, the people said. He'll support only candidates who agree to two conditions: They will vote against McConnell as majority leader, and they will vote to end senators' ability to block legislation by filibustering.

A spokesman for McConnell referred questions to the National Republican Senatorial Committee and to Josh Holmes, who managed McConnell's 2014 re-election campaign. Neither immediately responded to a request for comment.

Bannon looks to knock off some of McConnell's most reliable supporters in the Senate. They include Nevada's Dean Heller, Nebraska's Deb Fischer, Wyoming's John Barrasso, and Utah's Orrin Hatch, should he seek re-election. Bannon is working with Erik Prince, founder of the notorious mercenary company Blackwater, who is eyeing a run against Barrasso, the people said. The New York Times reported on Prince's interest in the race on Sunday.

In Arizona, Bannon also plans to back former state Senator Kelli Ward in a primary challenge to U.S. Senator Jeff Flake, who wrote a book critical of Trump. He also supports Arizona Representative Paul Gosar, a Tea Party Republican, to replace Senator John McCain if McCain — who is battling a brain cancer diagnosis — leaves office early.

In Tennessee, Bannon plans to back Representative Marsha Blackburn, who is running to replace Senator Bob Corker. Corker, who doesn't plan to seek re-election, engaged in a Twitter exchange with Trump Sunday. The president called Corker a coward for not seeking a third term. Corker responded by calling the White House an "adult day care center." Bannon has encouraged Trump to push back against GOP senators they view as unreliable on Trump's agenda, including Corker.

A key goal for Bannon is a long-shot bid to change Senate rules that currently require a 60-vote super-majority to end debate on most issues — a rule that can allow members to block votes by filibustering. That rule limits the power of the GOP's current 52-vote majority in the chamber; it complicated the Senate's ability to repeal Obamacare and is expected to complicate plans for tax legislation this year. Trump has repeatedly called for the Senate to change the rule.

McConnell himself won't be up for re-election until 2020, but by targeting his supporters, Bannon might be able to force him from leadership in the Senate.
Bloomberg has more details on Bannon's reported plans:
Stephen Bannon, the former White House chief strategist and current chair of the conservative website Breitbart, threatened on Monday to back primary challengers to every Republican senator who is up for re-election in 2018, save Sen. Ted Cruz (R-TX).

"That's why I left the White House—remember, I said I'm going after the Republican establishment," Bannon told Sean Hannity during an interview on Fox News. "And we're going to go after them."

Bannon has pledged to launch a self-described "war" against Republicans who aren't loyal to President Trump. And there are apparently few people off limits. The nationalist firebrand listed GOP senators all across the country—even those who have been supportive of Trump and his agenda—as targets for potential primaries, including Sens. Orrin Hatch (R-UT), Roger Wicker (R-MS), John Barrasso (R-WY), and Deb Fischer (R-NE).

"There's a coalition coming together that's going to challenge every Republican incumbent except for Ted Cruz," he said. "We are declaring war on the Republican establishment that does not back the agenda Trump ran on…. Nobody is safe. We're coming after all of them. And we're going to win."

Primary threats are not uncommon for party activists to make. It's unprecedented, however, for a person so closely associated with a sitting president to threaten to target virtually an entire political party. That Cruz is the lone exception is notable, too. The Texas Republican has always been a darling of the conservative movement. But he went hard against Trump last year in the heat of the primary campaign, and refused to explicitly endorse Trump when he had a prime speaking slot at the Republican convention.

During his conversation with Hannity, Bannon went after Sen. Bob Corker (R-TN) in particular, who is locked in a bitter feud with President Trump. While Corker is not seeking re-election next year, Bannon said the Senate Foreign Relations Committee chairman should resign if he "had any honor or decency." Once an ally of the president, Corker told The New York Times on Sunday that Trump might be setting the country "on the path to World War III."

(…)

Bannon's threats don't come without significant political risks. With only a slim majority of 52 seats in the Senate, going to war against Corker and other potentially vulnerable incumbents up for re-election next year could backfire. Just as was the case with health care, Republicans can't afford to lose more than two of their own when they begin tackling the next agenda item, tax reform, or as they consider nominees for the open slots in Trump's cabinet.
The Washington Post's  Aaron Blake discusses what all this could mean for the GOP, and the Senate:
Bannon seems to be wielding a threat: He wants McConnell out and the filibuster nuked, or else. But it also seems highly unlikely the GOP and McConnell will give him what he wants anytime soon. And that means Bannon will be put in the position of making good on these threats.

We've already seen what that can produce, with Roy Moore's virulently anti-McConnell, Bannon-backed campaign emerging victorious in Alabama. Exactly how much credit Bannon deserves for that is an open question — Moore was leading before Bannon came onboard — but the anti-McConnell message sure seemed to resonate in that race. Bannon is threatening to take that national.

And as importantly, Bannon's advocacy could help these GOP challengers clear a threshold that most of them fail to ever meet. The major hurdle to defeating Republican incumbents in recent years hasn't been in knocking them down; it's been in finding a candidate who is well-funded enough to actually make it a competitive campaign in the first place. Incumbent senators spend years banking millions of dollars, and challengers often can't even get off the ground — or don't even try. There's never been a hugely organized national effort to support these challengers, and generally only one or two a cycle even clear the threshold.
This isn't the first time that it's been reported that Bannon is "going to war" against Republicans on Capitol Hill, of course. Less than a month after he left the White House, for example, it was being reported that Bannon was getting ready to take on Republicans on Capitol Hill, especially those he deemed as being insufficiently loyal to President Trump. As I noted at the time, it was unclear exactly what Bannon meant by all of that, but now his plan seems to be becoming apparent, at least as far as the Senate is concerned. Right now, for example, he seems to be engaged in a strategy to choke off the money flowing to incumbents in general and to the SuperPACs and other entities that are part of the vast network that Senator Majority Leader Mitch McConnell and others have been able to tap into in recent years to go up against grassroots candidates who were seeking to undermine the so-called "establishment" Republican Party. While it's far too early to tell if he's going to be successful in these efforts, it seems clear that this coud be a serious problem for Republicans going forward.
These threats come Bannon aren't just empty ones, and there seems to be a real danger that the campaign he suggests he is undertaking could have a serious and negative impact on Republican hopes of holding on to the Senate in next year's election. For years now, Bannon has been close to the Mercer family, who have long been GOP megadonors and politically are considerably to the right of other big Republican donors such as Foster Friess, Sheldon Adelson, and the Koch Brothers. If the Mercers, their money, and their network of ultra-conservative donors are behind him, Bannon could end up having a real impact on primaries in several deeply red states where Republican incumbents don't face serious challenges from Democrats in a General Election, but where they could be vulnerable to a well-funded primary campaign coming against them from the right. In some of those cases at least, it's possible that this could mean that the Republicans end up with a nominee is so far to the right that Democrats end up having a chance at grasping victory out of the jaws of defeat thanks to the selection of particularly right-wing or unqualified candidates. Given the fact that Republicans are holding on to a razor-thin majority in the Senate, this could pose a problem in an election year where it already seems apparent that two Republican Senators — Jeff Flake in Arizona and Dean Heller in Nevada — are being seen as vulnerable next year, this could pose serious problems for Republicans in a year's time.
The obvious analogy for all of this, of course, is the efforts of various Tea Party groups to challenge Republican incumbents earlier this decade. In many cases, most notably involving the 2010 races in Nevada and Delaware, and the largely successful Tea Party backed effort in 2012 to challenge former Senator Richard Lugar in Indiana, these challenges seem to have quite clearly led to Democratic victories in states that a more moderate Republican would have arguably had a better chance of winning. Additionally, the threat of such primary challenges caused many incumbents to hold the line on a wide variety of issues including the 'repeal and replace' strategy on health care, budget negotiations, the debt ceiling, and the 2013 government shutdown. In several cases, this strategy caused incumbents to fall out of favor with the voting public, although to be fair it didn't really have an impact on the GOP's ultimate success in capturing the Senate in the 2014 Senate elections. Whether Bannon's threat has a positive or negative impact on Republican fortunes in the future remains to be seen, but it is likely to result in pushing Republicans further to the right in the coming years, and that will have an impact on American politics regardless of what it means for GOP fortunes in 2018, 2020, or beyond.