The Knives Are Out For Steve Bannon
White House insiders have renewed efforts to oust Presidential adviser Steve Bannon. Can they succeed?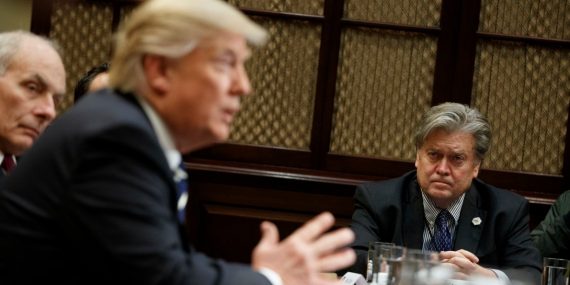 In no small part because of the national outcry over the weekend's events in Charlottesville and the President's weak and inadequate response  from a political element that is deemed nearly universally to be a part of President Trump's coalition, there are several reports out indicating that Presidential adviser Steve Bannon is under fire:
Two senior Trump advisers — one inside the White House and another who recently departed — signaled Sunday that the knives are out for Steve Bannon, President Donald Trump's controversial chief strategist.

The comments come as a source inside the White House tells CNN that White House chief of staff John Kelly has soured on Bannon, a political operative with deep ties to the 'alt-right' and the former head of the conservative news site Breitbart.

Bannon is seen as pursuing his own agenda, which does not mesh with the power structure Kelly is putting in place, the source added.

National security adviser H.R. McMaster was asked three times by NBC's Chuck Todd on Sunday whether he can work with Bannon in the White House. McMaster dodged the question each time and eventually left it an open question as to whether Bannon is motived by advancing the President's agenda.

"Can you and Steve Bannon still work together," Todd asked.

"I get to work together with a broad range of talented people," McMaster said. "It's a privilege every day to enable the national security team."
Asked again, McMaster said, "I am ready to work with anybody who will help advance the President's agenda and advance the security, prosperity of the American people."

"Do you believe that Steve Bannon does that," Todd asked.

"I believe that everyone in the White House … should be motivated by that goal," he said.

The more blunt comments came from recently ousted White House communications director Anthony Scaramucci, who told ABC that Trump needs to "move away" from Bannon and Breitbart.

"If the President really wants to execute that legislative agenda that I think is so promising for the American people … then he has to move away from that sort of Bannon-bart nonsense," Scaramucci said, using a portmanteau of Bannon and Breitbart, the outlet Bannon once said was a "platform for the alt-right."
Scaramucci, who was fired after a vulgar recording of him slamming Bannon was published by The New Yorker, would not say whether the President will fire Bannon, but did say that he spoke with Trump this week.

"I think the President knows what he's going to do with Steve Bannon," Scaramucci said. "It's his decision. But I mean at the end of the day, I think the President has a very good idea of who the leakers are inside the White House. The President has a very good idea of the people that are undermining his agenda that are serving their own interests."

A second source told CNN on Saturday that it's not only Kelly and Bannon whose relationship is on the rocks, it is also Bannon and the President.
Bannon's ouster has been rumored in the past, with tension in the White House spilling out in public on an almost weekly basis.

His job was on the line in April, according to a source close to the White House, after Trump grew frustrated with his inability to cooperate and work with others. The chilling came as Bannon fought with Jared Kushner, a top Trump aide and the President's son-in-law.

"I like Steve, but you have to remember he was not involved in my campaign until very late," Trump told the New York Post in April. "I had already beaten all the senators and all the governors, and I didn't know Steve. I'm my own strategist and it wasn't like I was going to change strategies because I was facing crooked Hillary."

Trump added: "Steve is a good guy, but I told them to straighten it out or I will."
Daily Beast reporter Aswain Suebsang reports that  the people who are eyeing to push Bannon out see newly installed White House Chief of Staff John Kelly as an ally:
Steve Bannon's enemies in the Trump administration are once again out for blood—and this time, they feel emboldened by newly installed White House Chief of Staff John Kelly, who has called for an "end to the drama," senior officials say.

Kelly, in his various conversations with other White House aides, has heard from at least three White House officials that "Bannon is a problem," according to one Bannon colleague.

Some Trump officials have been quick to blame Bannon for ongoing tensions, which often stem from heated, vocal ideological disagreements between Bannon and his fellow Trump advisers. Those same officials are all-but-openly hoping that Kelly brings the axe down on Bannon in the coming weeks, if not sooner.

"[Kelly] has made it clear to everyone he… wants an end to the drama," one senior Trump administration official told The Daily Beast, describing Kelly's desire for reining in Trump's staff. Officials spoke on the condition of anonymity because they were not cleared to discuss internal matters.

Other officials are expecting, if not an outright sacking, an "effective demotion" of Bannon, as one senior White House official characterized it. Under such a scenario, the White House chief strategist's portfolio would be reduced, though he'd remain inside the building. Multiple administration sources said that Kelly has been advised in the past week to have Bannon sever his working relationship with his own personal PR operation that functions outside the confines of the federal government.
As noted, this isn't the first time that there have been rumors about Bannon being under fire and potentially in danger of losing influence inside the White House or even losing his job entirely. In addition to the tensions with Presidential son-in-law Jared Kushner noted above, Bannon also feuded early in Trump's tenure and often with former Chief of Staff Reince  Priebus over access to the President and policy. According to reports at the time, Bannon and Priebus were both told by the President to find a way to work out their differences and somehow they managed to do so, but at the time there were at least some rumors that the feud had become so severe that either man or both could have lost their job. Additionally, the past six months have brought with them much negative coverage of Bannon, his past comments and his ties to Breitbart News, and his comments on political issues as well as rumors that Bannon himself was one of the primary sources for the numerous leaks that, even under the tenure of General Kelly, continue to flow out of this White House to a far greater extent than we've seen with virtually any other previous Administration. In recent days, those rumors about Bannon being suspected of leaking have resurfaced, no doubt as part of the campaign that appears to be going on to influence the President regarding Bannon, with some reports even saying that Trump himself suspects Bannon of being one of the chief leakers in the White House.
Despite all of these reports, so far Bannon has managed to survive notwithstanding all of the criticism, and there's very little evidence that his influence over the President has waned even under the new 'tighter ship' supposedly being presided over by new Chief of Staff John Kelly. It's been suggested in the past that Trump could be reluctant to cut Bannon loose because he fears losing the support of elements of the conservative media that have been his biggest supporters since the start of his campaign, most especially Breitbart News and Fox News Channel. That support has become even more important as the President's job approval continues to decline and issues ranging from North Korea to the Russia investigation continue to encircle the Administration and prevent it from achieving success on its signature issues. At the same time, though, the recent events in Virginia mean that Bannon's ties to the so-called alt-right are likely to become a problem for Trump as much as they were when he signed on as a campaign adviser just about a year ago. The question, then, will become whether Trump has the courage to throw the man who helped start a website that he boasted had become the primary outlet for the alt-right overboard. My guess is that, utitmately he won't. Bannon may llose some influence in a White House where John Kelly is Chief of Staff, but the odds are that he'll survive.