Donald Trump's Words On Charlottesville Were Weak, Inadequate, And Cowardly
Donald Trump has had harsher things to say about Rosie O'Donnell than he did about the people responsible for yesterday's violence. That says something about him.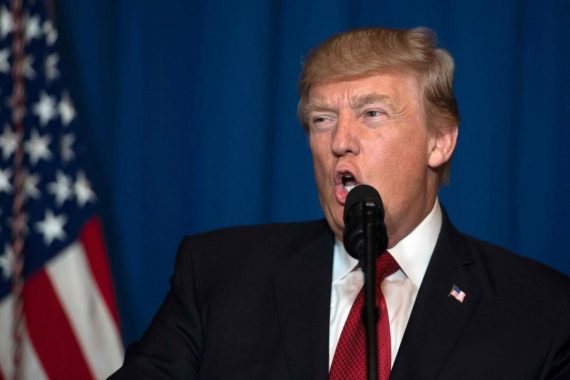 Donald Trump is facing criticism for what many have perceived to be his milquetoast and evasive statements on yesterday's violence in Charlottesville by neo-Nazi and alt-right groups protesting the removal of a Confederate statue by the city's government:
BRIDGEWATER, N.J. — President Trump is rarely reluctant to express his opinion, but he is often seized by caution when addressing the violence and vitriol of white nationalists, neo-Nazis and alt-right activists, some of whom are his supporters.

After days of genially bombastic interactions with the news media on North Korea and the shortcomings of congressional Republicans, Mr. Trump on Saturday condemned the bloody protests in Charlottesville, Va., in what critics in both parties saw as muted, equivocal terms.

During a brief and uncomfortable address to reporters at his golf resort in Bedminster, N.J., he called for an end to the violence. But he was the only national political figure to spread blame for the "hatred, bigotry and violence" that resulted in the death of one person to "many sides."

For the most part, Republican leaders and other allies have kept quiet over several months about Mr. Trump's outbursts and angry Twitter posts. But recently they have stopped averting their gazes and on Saturday a handful criticized his reaction to Charlottesville as insufficient.

"Mr. President — we must call evil by its name," tweeted Senator Cory Gardner, Republican from Colorado, who oversees the National Republican Senatorial Committee, the campaign arm of the Senate Republicans.

"These were white supremacists and this was domestic terrorism," he added, a description several of his colleagues used.

Mike Huckabee, the former Arkansas governor and the father of the White House press secretary, Sarah Huckabee Sanders, did not dispute Mr. Trump's comments directly, but he called the behavior of white nationalists in Charlottesville "evil."

Democrats have suggested that Mr. Trump is simply unwilling to alienate the segment of his white electoral base that embraces bigotry. The president has forcefully rejected any suggestion he harbors any racial or ethnic animosities, and points to his son-in-law, Jared Kushner, an observant Jew, and his daughter Ivanka, who converted to the faith, as proof of his inclusiveness.

In one Twitter post on Saturday, Mr. Trump nodded to that inclusiveness.

"We must remember this truth: No matter our color, creed, religion or political party, we are ALL AMERICANS FIRST," the president wrote, a statement that had echoes of his campaign slogan, America First.

But like several other statements Mr. Trump made on Saturday, the tweet made no mention that the violence in Charlottesville was initiated by white supremacists brandishing anti-Semitic placards, Confederate battle flags, torches and a few Trump campaign signs.

(…)

Mr. Trump, the product of a well-to-do, predominantly white Queens enclave who in 1989 paid for a full-page ad in The New York Times calling for the death penalty for five black teenagers convicted but later exonerated of raping a white woman in Central Park, flirted with racial controversy during the 2016 campaign. He repeatedly expressed outrage that anyone could suggest he was prejudiced.

When he retweeted white supremacists' accounts, he brushed aside questions about them. When he was asked about the support he had been given by David Duke, a former Ku Klux Klan leader, he chafed, insisting he didn't know Mr. Duke.

Finally, at a news conference in South Carolina, Mr. Trump said "I disavow" when pressed on Mr. Duke. He later described Mr. Duke as a "bad person."

When his social media director, Dan Scavino, posted an image on Mr. Trump's Twitter feed with a Star of David near Hillary Clinton's head, with money raining down, Mr. Trump rejected widespread criticism of the image as anti-Semitic. And after years of questioning President Barack Obama's citizenship, he blamed others for raising the issue in the first place.

In an interview that aired in September 2016, Mr. Trump said "I am the least racist person that you have ever met," a statement he repeated at a White House news conference in February.

Mr. Trump did not single out the marchers, who included the white supremacist Richard Spencer and Mr. Duke, for their ideology.

While Democrats and some Republicans faulted Mr. Trump for being too vague, Mr. Duke was among the few Trump critics who thought the president had gone too far.

"I would recommend you take a good look in the mirror & remember it was White Americans who put you in the presidency, not radical leftists," he wrote on Twitter, shortly after the president spoke.
CNN's Chris Cillizza calls Trump's statement 'unpresidential':
It's hard to imagine a less presidential statement in a time in which the country looks to its elected leader to stand up against intolerance and hatred.
Picking a "worst" from Donald Trump's statement — delivered from his Bedminster, New Jersey, golf club — isn't easy. But, the emphasis of "on many sides" — Trump repeated that phrase twice — is, I think, the low ebb.

Both sides don't scream racist and anti-Semitic things at people with whom they disagree. They don't base a belief system on the superiority of one race over others. They don't get into fistfights with people who don't see things their way. They don't create chaos and leave a trail of injured behind them.

Arguing that "both sides do it" deeply misunderstands the hate and intolerance at the core of this "Unite the Right" rally. These people are bigots. They are hate-filled. This is not just a protest where things, unfortunately, got violent. Violence sits at the heart of their warped belief system.

Trying to fit these hate-mongers into the political/ideological spectrum — which appears to be what Trump is doing — speaks to his failure to grasp what's at play here. This is not a "conservatives say this, liberals say that" sort of situation. We all should stand against this sort of violent intolerance and work to eradicate it from our society — whether Democrat, Republican, Independent or not political in the least.

What Trump failed to do is what he has always promised to do: Speak blunt truths. The people gathered in Charlottesville this weekend are white supremacists, driven by hate and intolerance. Period. There is no "other side" doing similar things here.

"Mr. President – we must call evil by its name," tweeted Sen. Cory Gardner, R-Colorado. "These were white supremacists and this was domestic terrorism." Tweeted Florida Sen. Marco Rubio, another fellow Republican: "Very important for the nation to hear @potus describe events in #Charlottesville for what they are, a terror attack by #whitesupremacists."

What Trump is doing — wittingly or unwittingly — is giving cover to the sort of beliefs (and I use that word lightly) on display in Charlottesville today.

Chalking it all up to a violent political rhetoric that occurs on both sides and has been around for a very long time contextualizes and normalizes the behavior of people who should not be normalized. It is not everyday political rhetoric to scream epithets at people who don't look like you or worship like you. Trump's right that this sort of behavior has existed on American society's fringes for a long time — but what we as a nation, led by our presidents, have always done is call it out for what it is: radical racism that has no place in our world.

(…)

There are moments where we as a country look to our president to exemplify the best in us. They don't happen every day. Sometimes they don't happen every year. But, when they do happen, we need the person we elected to lead us to, you know, lead us.

Trump did the opposite today.
As noted, Trump also came under criticism from fellow Republicans, including a significant number of elected officials in the House and Senate as well as people who ran against him for the 2016 Republican Presidential nomination. The Washington Post's Jennifer Rubin, who has been a harsh critic of Trump's for some time now, was deeply critical of the fact that Trump refused to criticize the white supremacists involved in yesterday's violence by name, and instead chose to engage in a vague condemnation of violence from "both sides" even though it was clear which side was responsible for yesterday's violence, which included an incident in which an Ohio man rammed his car into a crowd of counter-protesters, killing one person and injuring more than a dozen others. David French at National Review similarly condemned the President's failure to fully engage the source of the hatred that spilled out onto the streets of an American city yesterday. Finally, Erick Erickson called out the President in an Op-Ed appearing this morning in The New York Times:
Racial superiority is a repugnant idea and President Trump should condemn it by name. We should also note honestly that President Trump employs individuals who emboldened this movement. The president winked at and made kissy face with the alt-right as his advisers persuaded him it would be good politically. It is no coincidence that many of the men who marched in Charlottesville wore "Make America Great Again" hats. This president and his advisers made a nefarious evil feel comfortable coming out of the shadows.

The Daily Stormer, a neo-Nazi publication, noted of President Trump's post-Charlottesville news conference that, "When asked to condemn, he just walked out of the room. Really, really good. God bless him." Silence and obfuscation in the face of evil only feeds evil. Naming and exposing evil forces it back into the shadows. The president who wanted Barack Obama to name radical Islam should take his own advice and be forceful. On a day that saw one person killed during the Charlottesville violence, the president did not need to play the "both sides are culpable" game. No side would be protesting in Charlottesville had not the white supremacists decided to march.
The criticism of Trump is, of course, entirely spot-on. After remaining silent about what was happening in Charlottesville for hours yesterday, the President came out with statements that condemn "violence" without recognizing where it came from and insinuated that 'both sides' were responsible for what happened yesterday. While it is true that there were violent elements among the counter-protesters yesterday, it's clear from the evidence we all saw on our television screens, social media feeds, and Internet news sites that the primary violence came from one source and one source alone and that many of the people on that side of the incidents came to Charlottesville, mostly from outside Virginia, intent on bringing attention to their cause even if it did result in violence. For the President of the United States to fail to recognize this fact and to fail to call it out is nothing short of a profound moral failure.
It's not as if the President doesn't know how to criticize things, after all. In the past month alone, he has used his Twitter feed to harshly attack people such as Mitch McConnell, John McCain, CNN, Robert Mueller, his own Attorney General Jeff Sessions, and the so-called "Fake News" news media. As New York's, Olivia Nuzzi notes, Trump has criticized a whole host of people and has used his Twitter account to do so for a long time that predates his entry into the Presidential race or his victory last November over Hillary Clinton. Throughout that time, though, there have been a handful of people and things that he has been extremely reluctant to say anything. Among those are Vladimir Putin and white supremacists. What's even more notable is the fact that Trump spent much of the Presidential campaign criticizing former President Obama and Hillary Clinton for failing to use the term "radical Islamic terrorism." Yesterday, he was afraid to use the term "white nationalist terrorism" to name what was happening on the streets of an American city. Why that is the case is something I'll leave for the reader to judge on their own.
What happened yesterday in Charlottesville is very easy to identify, and it shouldn't take so many people to point out to this President why his words are inadequate. What happened is nothing short of a war between good and evil on the streets of an American city just a stone's throw away from the home of the person who wrote these words: "We hold these truths to be self-evident, that all men are created equal, that they are endowed by their Creator with certain unalienable Rights, that among these are Life, Liberty and the pursuit of Happiness." And yes, I am aware of Jefferson's own checked history on the issue of equality. Anyone who's read his own writings and studied the man quickly becomes aware, though, that he was well aware of that contradiction, and not entirely comfortable with it. These people are not only comfortable in their hatred, they are comfortable in the hatred that led the Nazis to send millions of people to the ovens. Given the time and the power, they would turn America into the kind of nation depicted fictionally in The Man In The High Castle. They must be condemned and fought at every turn, as should those who give them cover. That includes a President who has had harsher things to say about Rosie O'Donnell than he did yesterday about the heirs to Hitler, Goebbels and Eichmann.