Nazis, Klan Members, Alt-Right Supporters Rally In Virginia Over Removal Of Confederate Statue
Hatred and violence in Charlottesville, Virginia.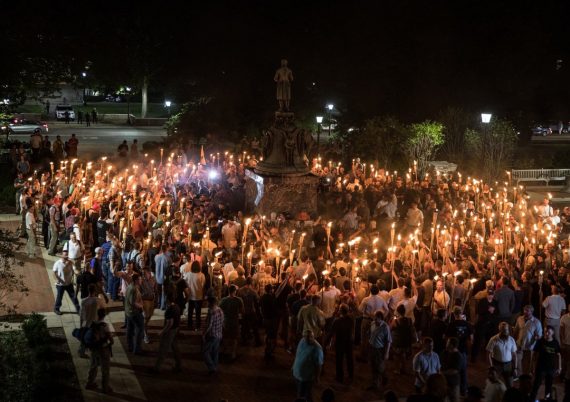 A group protesting the removal of a Confederate statue from public property in Charlottesville, Virginia staged a rally last night and is holding a protest today that has attracted people with weapons as well as members of so-called militias and the Ku Klux Klan:
CHARLOTTESVILLE, Va. — A month after a Ku Klux Klan rally here ended with the police using tear gas on protesters, Charlottesville is bracing for a weekend of white nationalist demonstrations and counterprotests, and suddenly this tranquil college town feels like a city under siege.

Thousands of people — many from out of town — are expected to descend on the city to either protest or participate in a "Unite the Right" rally on Saturday convened by white nationalists who oppose a plan to remove a statue of Robert E. Lee, the Confederate general, from a city park.

"People are angry, they're scared, they're hurt, they're confused," said the Rev. Seth Wispelwey of the local United Church of Christ. "White supremacists rallying in our town is an act of violence."

Late Friday night, several hundred torch-bearing men and women marched on the main quadrangle of the University of Virginia's grounds, shouting, "You will not replace us," and "Jew will not replace us." They walked around the Rotunda, the university's signature building, and to a statue of Thomas Jefferson, where a group of counterprotesters were gathered, and a brawl ensued. At least one person was led away in handcuffs by the police.

In a Facebook post, Charlottesville's mayor, Mike Signer, called it a "cowardly parade of hatred, bigotry, racism, and intolerance."

"I am beyond disgusted by this unsanctioned and despicable display of visual intimidation on a college campus," he added.

City officials and the police said they were prepared for possible unrest; the Virginia National Guard put out a statement saying it would "closely monitor the situation." Mayor Mike Signer said in an interview on Friday that he had been consulting with fellow mayors, seeking advice on how to "be prepared to make sure people can assemble and express themselves freely."

Religious leaders who are planning counterdemonstrations — including a sunrise prayer service featuring Cornel West, the Harvard professor and political activist — have been training in nonviolent protest.

The University of Virginia Medical Center has canceled all elective surgery — standard procedure in preparation for events that could lead to mass casualties. Around town, some businesses plan to close.

"This whole thing feels like the prep to a Wild West shootout where the businesses shutter and the women shoo their children upstairs," said Phillip Fassieux, 36, as he munched on an egg bagel at Bodo's, a few blocks from the Lee statue. "This isn't the wild, wild West. This is modern-day Charlottesville, where we're supposed to be better suited to engage with each other."

With the university, founded by Jefferson in 1819, as its centerpiece, Charlottesville is a politically progressive city; nearly 80 percent of voters here cast their ballots for Hillary Clinton in last year's presidential race.

But it is also a city steeped in Southern history, one that still wrestles with the legacy of slavery. According to Jalane Schmidt, a professor of religious studies at the university, 52 percent of the residents of Charlottesville and surrounding Albemarle County — 14,000 people in all — were enslaved during the Civil War. Jefferson, still revered here, was himself a slave owner.

Eugene Williams, 89, a former head of the local N.A.A.C.P., served sweet tea on the front porch of his house on Ridge Street one day this week and recalled the days when he was not allowed to dine at local restaurants. He favors keeping the Lee statue because he wants people to remember the Jim Crow era.

"This statue has a lesson to teach us," he said.

The debate over the statue began about a year and a half ago, when an African-American high school student here started a petition to have it removed. Wes Bellamy, the city's vice mayor and the only black member of the City Council, took up the cause, and the Council set up a commission. After public hearings, it recommended either that the statue be relocated to another park or that the city add historical context so that the monument could "transform in place."

Instead, City Council members voted 3 to 2 in April to sell the statue. The next month, a judge issued an injunction, keeping the statue in place for six months.

"Charlottesville kind of made itself a target by deciding they wanted to remove this statue, and by stringing the whole thing out," said Douglas Laycock, a University of Virginia law professor who is planning to give a talk on free speech Saturday as part of a "day of reflective conversation" organized by the university.
zLast night's rally was, as noted, a preview of the rally that was intended to take place today and, as the morning broke, there were forces gathering, and counter-protesters also arriving in what seemed from observation on television at least to be far greater numbers. Even before the rally was set to begin at noon, though, there were interactions between the two groups that quickly devolved into a brief outburst of violence. As a result, the local, county, and state police that had come out in force to ensure the peace quickly stepped in and cleared the area around the Lee statue of both groups and it's now unclear whether today's planned protest will take place or not. The protesters, meanwhile, say that they will be in the Charlottesville area all weekend so the prospect for further clashes with counter-protesters or police later today, tonight, or tomorrow remains a distinct possibility.
This being 2017, there are numerous reporters in town covering the event and posting live updates on Twitter. Here are a few examples of what they've witnessed:
Militia with semi-auto rifles surround the park (alongside cops) where the Unite the Right rally was initially scheduled #charlottesville pic.twitter.com/59FL4PfdRK

— Andy Campbell (@AndyBCampbell) August 12, 2017
These guys are so young #charlottesville pic.twitter.com/ucMt8E0Vrt

— Andy Campbell (@AndyBCampbell) August 12, 2017
Violence erupts #charlottesville pic.twitter.com/yf9qUeGzX2

— Andy Campbell (@AndyBCampbell) August 12, 2017
You heard that right. They're chanting "Fuck you faggots." 2017. #Charlottesville pic.twitter.com/pMwbSXZ3wW

— Christopher Mathias (@letsgomathias) August 12, 2017
This isn't the Republican party, but this is what the Republican party has given a home to with Trump. pic.twitter.com/gP6dTGKGjj

— Josh Jordan (@NumbersMuncher) August 12, 2017
Additionally, we've heard from several politicians, including national Republicans such as House Speaker Paul Ryan, Senate Majority Leader Mitch McConnell, RNC Chairwoman Romma Romney McDaniel, Colorado Senator Cory Gardner, Michigan Congressman Justin Amash, Virginia elected officials such as Senators Tim Kaine and Mark Warner, Republican Congresswoman Barbara Comstock, and Governor McAuliffe, and finally, after several hours of silence, the President of the United States:
We ALL must be united & condemn all that hate stands for. There is no place for this kind of violence in America. Lets come together as one!

— Donald J. Trump (@realDonaldTrump) August 12, 2017
Am in Bedminster for meetings & press conference on V.A. & all that we have done, and are doing, to make it better-but Charlottesville sad!

— Donald J. Trump (@realDonaldTrump) August 12, 2017
The truth, of course, is that Donald Trump's candidacy and Presidency have given some sense of legitimacy to what is now being called the "alt-right," but which is in reality just the modern day manifestation of the same hatred and racism represented by the Confederacy itself, by the groups such as the Ku Klux Klan, and by the neo-Nazi and other far right groups that have long lived in the shadows of American politics. To a greater degree than ever before, these groups have become more assertive and more outspoken in the years since Trump broke onto the political scene, and especially since Steve Bannon, the co-founder of Breitbart News who has stated openly in the past that he started the site with the intent that it would become a voice for the "alt-right," became one of Trump's top advisers. Even if these people don't speak for the President, and I'm going to give him the benefit of the doubt there and accept his word that they don't, the reality is that it has been his rhetoric that has given them a voice and his advisers who have welcomed them. Most recently, for example, controversial White House aide Sebastian Gorka has said that people should stop criticizing white supremacists so much:
Wednesday, Gorka appeared on Breitbart News Daily, the radio show of his former employer. Gorka responded to criticism stemming from a previous media appearance on MSNBC where he said "[t]here's no such thing as a lone wolf" attack. The concept, according to Gorka, was "invented by the last administration to make Americans stupid."

The idea of a "lone wolf attack," Gorka says, is a ruse to point blame away from al Qaeda and ISIS when "[t]here has never been a serious attack or a serious plot that was unconnected from ISIS or al Qaeda." Critics were quick to point to the example of Timothy McVeigh, who was not connected to ISIS or al Qaeda and killed 168 people when he bombed a federal building in Oklahoma City in 1995.

On Wednesday, Gorka lashed out at "at [New York Times reporter] Maggie Haberman and her acolytes in the fake news media, who immediately have a conniption fit" and brought up McVeigh. He added that "white men" and "white supremacists" are not "the problem."

It's this constant, "Oh, it's the white man. It's the white supremacists. That's the problem." No, it isn't, Maggie Haberman. Go to Sinjar. Go to the Middle East, and tell me what the real problem is today. Go to Manchester.

Gorka noted that the Oklahoma City bombing was 22 years ago, which is true. But since 9/11, right-wing extremists — almost always white men and frequently white supremacists — have been far more deadly domestically than Muslim extremists. A study found that in the first 13.5 years after 9/11, Muslim extremists were responsible for 50 deaths in the United States. Meanwhile, "right-wing extremists averaged 337 attacks per year in the decade after 9/11, causing a total of 254 fatalities."
This is the environment that is giving aid and comfort to the torch-wielding hate mob that has gathered in Charlottesville this weekend.
Update: There are now reports on Twitter and cable news that a car has hit counter-protesters in Charlottesville, but it's still unclear if this was an accident or a deliberate act:
BREAKING: Multiple injuries reported after car strikes crowd in #Charlottesville https://t.co/Qr11wH4gnz https://t.co/oKF5Im9vYd

— CNN (@CNN) August 12, 2017
Video of car hitting anti-racist protestors. Let there be no confusion: this was deliberate terrorism. My prayers with victims. Stay home. pic.twitter.com/MUOZs71Pf4

— Brennan Gilmore (@brennanmgilmore) August 12, 2017
#BREAKING: I just watched a car plow through dozens of protesters. Extremely heavy injuries #Charlottesville pic.twitter.com/rE8DWUmrfD

— Alex Rubinstein (@RealAlexRubi) August 12, 2017
Update: President Trump spoke on the Charlottesville violence just moments ago:
Trump on #Charlottesville: "No matter our color, creed, religion or political party, we are all Americans first." https://t.co/6sdtzt0RKF

— CNN (@CNN) August 12, 2017
Update: This photo speaks volumes:
Who took this photo? Should be nominated for a Pulitzer. A black police officer protecting a group of men who wish him harm. Incredible. pic.twitter.com/bONDFgr9ap

— Yashar Ali (@yashar) August 12, 2017