Trump Reopens Charlottesville Wounds By Resurrecting His 'Both Sides' Argument
Donald Trump went there again, and in the process reopened a wound that was starting to heal just a little bit.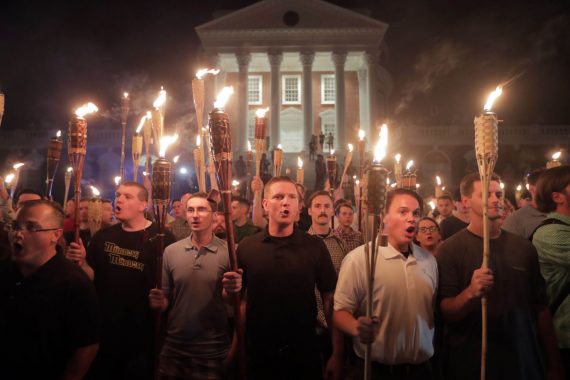 President Trump reopened the can of worms over his response to the violence in Charlottesville last month during a talk with the press on Air Force One on his way back from a trip to survey damage from Hurricane Irma:
WASHINGTON — President Trump thrust himself back into the racial storms of Charlottesville on Thursday, repeating his charge that those who resisted the neo-Nazis and white supremacists were as much to blame as the alt-right crowds who marched on the Virginia college town.

Mr. Trump was characterizing his side of a conversation on Wednesday with Senator Tim Scott of South Carolina, during which Mr. Scott, the Senate's only black Republican, confronted the president on his claim that "both sides" were responsible for the violence that followed a torchlight protest against the removal of a statue of Robert E. Lee.

"Especially in light of the advent of Antifa, if you look at what's going on there, you know, you have some pretty bad dudes on the other side also," Mr. Trump said, referring to the anti-fascist activists who clashed with the neo-Nazis and white supremacists.

"Now because of what's happened since then, with Antifa, you look at really what's happened since Charlottesville — a lot of people are saying — in fact, a lot of people have actually written, 'Gee, Trump might have a point," Mr. Trump said to reporters on Air Force One. "I said, 'You've got some very bad people on the other side,' which is true."

It was the latest shift in Mr. Trump's constantly evolving statements about Charlottesville. He has alternately condemned the hate groups and drawn a moral equivalence between them and the counterprotesters. On Thursday night, he signed a nonbinding congressional resolution urging him to condemn groups like white supremacists and the Ku Klux Klan. But earlier in the day, Mr. Trump reverted to the unapologetic stance he took in a news conference last month at Trump Tower.

Despite that, Mr. Trump said that he and Mr. Scott had a "great conversation." He described Mr. Scott as a longstanding friend whom he supported early in his career.

In his remarks to reporters after the meeting, Mr. Scott made it clear he had gone to the White House to rebut Mr. Trump's claim that "both sides" were responsible. But he also said that he did not expect to change Mr. Trump's mind — and that he had not.

"He is who he has been, and I didn't go in there to change who he was," Mr. Scott said on Thursday. "I wanted to inform and educate a different perspective. I think we accomplished that. To assume that immediately thereafter he's going to have an epiphany is just unrealistic."

Mr. Trump's latest comments were a reminder that, for all the talk of a newly disciplined White House under the management of the chief of staff, John F. Kelly, the president remains an unpredictable character, with no intention of stifling his opinions.
This is largely the same thing that Trump said in the wake of a rally that had overtones of a Nazi rally at Nuremberg in the 1930s where Nazi-era slogans like "Blood and Soil!" and "The Jews will not replace us!" were chanted by torch-bearing men and a rally the following day that resulted in violence between participants and counter-protestors that led to the death of one woman and more than a dozen injuries. In his initial response, Trump blamed 'both sides' for the violence and refused to directly condemn groups such as the Ku Klux Klan, which was present at the rally, or the broader so-called alt-right movement whose supporters made up the vast majority of the participants. The outrage over these comments was sufficiently broad, even from fellow Republicans in Washington, that the White House was compelled to have Trump deliver a follow-up comment the following Monday that was more measured and emphatic than what he had said before. Whatever damage had been repaired by that statement, though, was short-lived since less than twenty-four hours later when Trump repeated his 'both sides' argument in a press conference at Trump Tower in New York. After that press conference, the criticism of Trump became even more widespread and even members of his own Administration and the Joint Chiefs of Staff felt it necessary to publicly disassociate themselves from his remarks. In many respects, all of this was seen by many political pundits as a sign that the addition of retired General John Kelly to the White House had done little to restrain Trump from his old ways.
To some degree, the Administration had managed to put the rancor over Trump's Charlottesville remarks behind it, largely thanks to the fact that other matters pushed the story out of daily coverage by the media during what had become a rather slow news month as is typical for the month of August in Washington. Over the past three weeks or so, though, national attention has been grabbed by several major stories including North Korea's sixth nuclear test and the twin impact of Hurricane Harvey in Texas and Hurricane Irma in the Carribean and Florida. Especially with respect to the last two events, the Administration has responded rather well to the crisis created in Texas and Florida respectively by the storms, and events in North Korea have given political pundits something else to talk about it during what is otherwise a slow news month. Additionally, Trump's apparent decision to make deals with Democrats on a short-term spending bill and the DACA program have actually led some pundits to speculate that things may actually start turning positive for the Administration if they reflected a future where the President was more willing to work with Democrats to achieve his policy goals.
That respite and the talk of a "new Trump" has apparently proven to be short-lived.
These latest remarks by Trump were apparently prompted by his meeting earlier this week with South Carolina junior Senator Tim Scott, an African-American Republican who also happens to be the first African-American elected to the Senate from South Carolina in the state's history. After Trump's remarks on Charlottesville, Scott said that Trump's moral authority as President was compromised due to his failure to acknowledge the racist nature of the rally participants and the fact that the violence that day came primarily if not solely from those who were there to "protect" the monument to Robert E. Lee in the city's central square. It also came after Congress had overwhelmingly passed a resolution that clearly blames white supremacists for the violence in Charlottesville, a resolution that Trump signed just yesterday, apparently hours before he spoke to reporters on the way back from his visit to Florida. In the wake of that meeting on Wednesday, Scott talked to reporters and his comments made clear that he didn't think he'd really gotten through to the President:
After Wednesday's meeting, asked whether the President regretted his remarks blaming "both sides" for the deadly violence, Scott paused, telling reporters that Trump "certainly tried to convey what he was attempting to say."

"He was trying to convey that there was an antagonist on the other side," Scott said of Trump. "My response was, while that's true, if you look at it from a sterile perspective there was an antagonist on the other side. However, the real picture has nothing to do with who is on the other side. It has to do with the affirmation of hate groups who over three centuries of this country have made it their mission to create upheaval for minority communities."

Still, Scott said he wanted the conversation to focus on "the future" rather than the comments the President made that fueled critics on the left and right.
"The Charlottesville comments were the foundation for the conversation," Scott added, "but the discussion was about making progress in this nation."

For its part, the White House said in a statement that the conversation included discussion of the "administration's relationship with the African-American community, the bipartisan issue of improving race relations, and creating a more unified country."
In response to Trump's comments, Senator Scott's office released a statement:
Statement from our office on the President's comments this afternoon: pic.twitter.com/p6ZU9USuxy

— Tim Scott (@SenatorTimScott) September 14, 2017
As noted, Trump's resurrection of his 'both sides' argument came in response to a reporter's question regarding the meeting with Senator Scott. Given the fact that the meeting had just occurred the day before yesterday, Trump should have known that he would be asked about it and about what he might have learned after hearing Scott's perspective on his Charlottesville comments. The fact that he chose to resurrect the comments for which he had been nearly universally condemned shows that the meeting with Scott had absolutely no impact on what Trump believes about what happened in Charlottesville, or where his heart lies when it comes to condemning the blatantly racist sentiments of his supporters on the alt-right. It also another demonstration of the fact that, notwithstanding the fact that Trump has had what I suppose qualifies as a good couple of weeks in the wake of the initial shock of the Charlottesville incident, Donald Trump remains the corps of what's wrong with what's wrong with the Trump Administration, that Trump will always return to form no matter how good anyone thinks he might be doing during a particular period of time, and that Chief of Staff John Kelly still hasn't figured out how to control his boss. Unless and until that changes, the real Donald Trump will continue to emerge even after it seems like he's changed. As I've said before, Trump is more than seventy years old and he's behaving as President the same way he always has since he became a public figure. The idea that he's ever going to change is a fantasy.
Update: This post was updated to include the statement released by Senator Scott.