Donald Trump And The Art Of The Bad Deal
Donald Trump made a deal with Democrats on spending and the debt ceiling, but it was an exceedingly bad one.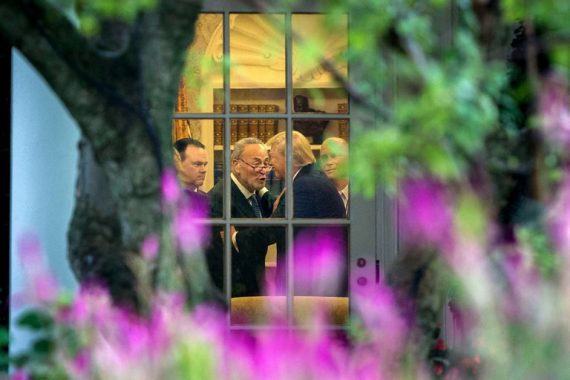 President Trump bypassed the leadership of his party on Capitol Hill, as well as Republican groups such as the Freedom Caucus, to reach a short-term budget deal with Democrats yesterday:
WASHINGTON — President Trump struck a deal with Democratic congressional leaders on Wednesday to increase the debt limit and finance the government until mid-December, blindsiding his own Republican allies as he reached across the aisle to resolve a major dispute for the first time since taking office.

The agreement would avert a fiscal showdown later this month without the bloody, partisan battle that many had anticipated by combining a debt ceiling increase and stopgap spending measure with relief aid to Texas and other areas devastated by Hurricane Harvey. But without addressing the fundamental underlying issues, it set up the prospect for an even bigger clash at the end of the year.

In embracing the three-month deal, Mr. Trump accepted a Democratic proposal that had been rejected earlier in the day by Speaker Paul D. Ryan of Wisconsin. Mr. Trump's snap decision at a White House meeting caught Republican leaders off guard and reflected friction between the president and his party. After weeks of criticizing Republican leaders for failing to pass legislation, Mr. Trump signaled that he was willing to cross party lines to score some much-desired legislative victories.

The deal to keep the government open and paying its debts until Dec. 15 represented an extraordinary public turn for the president, who has for much of his term set himself up on the right flank of the Republican Party. But it remained unclear whether Mr. Trump's collaboration with Democrats foreshadowed a more sustained shift in strategy by a president who has presented himself as a master dealmaker or amounted to just a one-time instinctual reaction of a mercurial leader momentarily eager to poke his estranged allies.

Mr. Trump not only accepted the spending-and-debt plan advanced by Senator Chuck Schumer of New York and Representative Nancy Pelosi of California, the Democratic leaders, but also aligned himself with them on immigration. A day after rescinding President Barack Obama's program protecting younger illegal immigrants on the grounds that it went beyond a president's authority, Mr. Trump said he wanted to work with Democrats to legalize the program.

"We had a very good meeting with Nancy Pelosi and Chuck Schumer," Mr. Trump told reporters after the Oval Office session without mentioning that Mr. Ryan and other Republican leaders had also attended. Regarding the immigration program, Mr. Trump said, "Chuck and Nancy would like to see something happen, and so do I."

Republican leaders looked grim but resigned afterward and attributed Mr. Trump's fiscal deal to a need for unity after Harvey struck Texas and as Hurricane Irma barreled toward Florida. "Look, the president can speak for himself, but his feeling was that we needed to come together to not create a picture of divisiveness at a time of genuine national crisis, and that was the rationale," said Senator Mitch McConnell of Kentucky, the majority leader.

Democrats were grinning at their surprise victory and happy to rub it in. "It was a really good moment of some bipartisanship," Mr. Schumer said. He added: "The bottom line is the president listened to the arguments. We think we made a very reasonable and strong argument. And to his credit, he went with the better argument."

(…)

Mr. Schumer and Ms. Pelosi pressed for a three-month deal to keep the government running and raise the debt ceiling along with the hurricane aid to give Democrats leverage later this year when other matters, including a longer-term government funding deal, could be negotiated between the two parties. By ensuring that all the pending issues converge at the end of the year, Democrats hope a longer-term agreement on fiscal matters could include immigration, health care and any number of other issues.

Assuming that he had the support of Mr. Trump, Mr. Ryan responded Wednesday morning by calling the Democrats' proposal "ridiculous and disgraceful," saying "it could put in jeopardy the kind of hurricane response we need to have."

"To play politics with the debt ceiling, like Schumer and Pelosi apparently are doing, I don't think is a good idea," Mr. Ryan said
Not surprisingly, this is causing a lot of consternation on the right:
WASHINGTON — It is the scenario that President Trump's most conservative followers considered their worst nightmare, and on Wednesday it seemed to come true: The dealmaking political novice, whose ideology and loyalty were always fungible, cut a deal with Democrats.

If Mr. Trump's agreement with the two Democratic leaders, Senator Chuck Schumer and Representative Nancy Pelosi, to increase the debt limit and finance the government for three months did not yet represent the breaking point between the president and his core, hard-right base of support, it certainly put him closer than he has ever been to tipping his fragile political coalition into open revolt.

Stunned and irate, conservative leaders denounced news that Mr. Trump had agreed to rely on Democratic votes to win congressional approval for a temporary extension of the debt ceiling and funding of the government until mid-December.

"These are the moments that can derail President Trump's presidency," said David Bozell, the president of For America and a Trump supporter, who added that the president's base would be watching the next few months very carefully. "He is not Teflon," Mr. Bozell added. "Trump spent some of his own political capital today."

Adam Brandon, the president of FreedomWorks, offered a searing judgment of the president: "Talk about burning bridges with the grass-roots."

"Meet the Swamp," read the headline on the Breitbart News site. Beneath it was a picture of Mr. Trump meeting at the White House with Ms. Pelosi, Mr. Schumer and Mitch McConnell, the Senate majority leader.

Mr. Trump's move further destabilized a volatile situation for his party, which many Republicans now believe is headed toward a reckoning it can no longer avoid. The party has, for years, been a group of political tribes gathered under one banner. And while Mr. Trump's victory and unified Republican control of Washington camouflaged longstanding differences within their ranks, it did not reconcile them.

Mr. Trump, who is more of a nominal custodian with his own set of plans than he is a devoted guardian of the party's legacy and conservative principles, has so far failed to bring the warring factions together. The result has been to harden the same battle lines that formed at the time of the Tea Party uprising of 2009: a restless activist bloc of voters and interest groups who want to supplant the party leadership versus an establishment ruling class that has mostly clung to power.

Mr. Trump was supposed to shatter their hold on power.

That was why many activists and voters swallowed their own reservations about the sincerity of his commitment to their causes, and brushed aside concerns from many fellow Republicans that they were cutting a deal with a charlatan who would inevitably sell them out. Seeing no other alternative but Hillary Clinton as president, they bought into Mr. Trump's "drain the swamp" promises to upend Washington and forged a bond over their mutual contempt with the Republican Party establishment.

But on Wednesday, prominent conservatives scoffed at the deal that Mr. Trump signed onto — announced first, no less, by congressional Democrats — as something straight from the swamp.

"I know for certain," said Jenny Beth Martin, a founder of Tea Party Patriots, that grass-roots conservatives "did not work so hard last year to elect majorities in the House and the Senate and get Trump elected in the White House to enact liberal policy priorities."

With his approval ratings languishing at historic lows, Mr. Trump can hardly afford to lose much more support. And the Republican Party, which was already anxious about losing control of the House in next year's midterm elections, cannot remain competitive against Democrats if many of its most motivated and reliable voters stay home because they believe their president has betrayed them.
On some level, of course, this move by Trump doesn't come as a huge surprise. The idea that he was ever actually committed to the conservative agenda that he adopted as a Republican candidate for President, which largely contradicted positions he had taken publicly as recently as just a few years ago, was always fanciful at best. Additionally, Trump has always made it clear that he's most interested in "making deals" rather than adhering to a committed ideology of any kind, be it conservative, liberal, or something down the middle of American politics. Additionally, Trump has spent much of his time in office venting on Twitter and in speeches about the inability of Republicans to get anything done notwithstanding the fact that they control the House, Senate, and White House. This became most apparent during the effort to 'repeal and replace' the Affordable Care Act when both the House and the Senate found it much harder to accomplish a goal that Republicans had been aiming for over the better part of seven years, with the House succeeding in passing its bill by only a handful of votes and the Senate failing to pass it all thanks to a dramatic thumbs-down no vote from an ailing Senator John McCain. This failure, along with the fact that there are no other legislative successes that the President can point to as he approaches his eighth month in office, no doubt made him eager to strike at least some kind of deal.
It's also no wonder that Republicans on Capitol Hill and conservatives outside of government are so miffed at the President right now. Essentially, he pulled the rug right out from under them by taking away their ability to reach an agreement on their own with their colleagues across the aisle at the same time that he basically contradicted everything that he and the Republican Party were running on in November. While this is likely not going to matter to Trump's hard core supporters, it leaves the rest of the GOP holding the bag and still somehow trying to find a way to get the rest of their agenda, and the Presidents, through Congress notwithstanding the fact that they already have caucuses in both chambers that are deeply divided. The House Freedom Caucus, for example, is likely to become even more intransigent in the future and less interesting in making deals, and the divide between conservatives and moderates in the Senate is likely to deepen. Additionally, the President has likely empowered outlets such as Breitbart and other activist groups and websites, who will end up aiming their fire at Capitol Hill rather than the White House in defense of Trump. To the extent the situation in Congress was already bad, Trump has likely just made it worse.
More importantly, perhaps, Trump has shown that he can be suckered into a deal just for the sake of saying he's gotten something off the table. On paper, this doesn't really sound like a very good deal at all. Rather than reaching a long-term deal on spending, or passing a bill that covers the entire Fiscal Year that begins on October 1st, the President has agreed to a deal that basically kicks the can down the road for three months. The same goes for the even more crucial vote on extending the debt ceiling, which will have to be voted on again on or before December 15th to avoid a situation where the Federal Government runs out of borrowing authority and the ability to pay debts on time. The eighteen-month extension that Republicans and Treasury Secretary Steve Mnuchin were calling for seems to me to have made much more sense from a long term point of view. By agreeing to this deal, the President has essentially handed Democrats a win that he didn't need to since the votes that will be needed in December on both the spending bill and the debt ceiling that they can use as further leverage over Republicans on Capitol Hill and over Trump himself.
So, yes the President "made a deal," but it was an exceedingly bad one from both a strategic and a tactical point of view regardless of what you think about the substance of the agreement. Kicking the can down the road three months will make it harder for Trump to get what he wants on issues such as tax reform, the potential codification of the DACA program, and a whole host of other issues, and it will make it harder for Republicans on Capitol Hill to accomplish anything this year. So much for Trump's claim to be a master dealmaker. He got taken for a sucker with a short-term solution to a long term problem, and he handed a big win to the people who are most opposed to him on Capitol Hill. It's no wonder that his companies ended up in bankruptcy so many times.
Photo via The New York Times