House GOP Passes American Health Care Act On Party Line Vote
By the barest of margins, the House passed its bill repealing and replacing the Affordable Care Act, but the future of that bill is highly uncertain.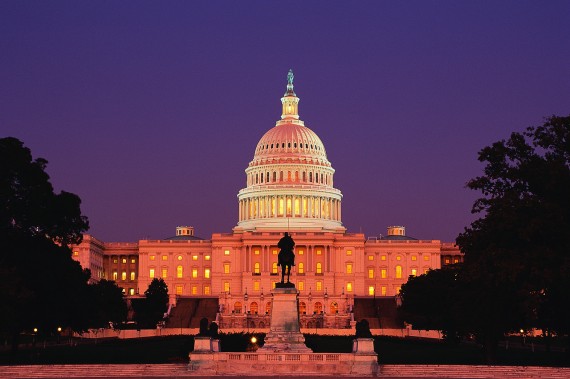 After a more than a month during which it seemed for most of the time that their efforts would end in failure, House Republicans managed to pass the American Health Care Act, which purports to repeal and replace the Affordable Care Act:
WASHINGTON — The House on Thursday narrowly approved a bill to repeal and replace major parts of the Affordable Care Act, as Republicans recovered from their earlier failures and moved a step closer to delivering their promise to reshape American health care without mandated insurance coverage.

The vote, 217-213, on President Trump's 105th day in office, keeps alive the Republican dream to unwind the signature legislative achievement of former President Barack Obama. The House measure faces profound uncertainty in the Senate, where the legislation's steep spending cuts will almost certainly be moderated. Any legislation that can get through the Senate will again have to clear the House and its conservative majority.

Just before the House vote, the Senate on Thursday gave final approval to a $1.1 trillion spending bill that will finance the government through September, and unlike the health care legislation, the spending bill had broad bi-partisan support.

Passage of the health care bill completed a remarkable act of political resuscitation, six weeks after House leaders failed to muster the votes to pass an earlier version of their bill, a blow to Mr. Trump and Speaker Paul D. Ryan of Wisconsin.

Mr. Ryan closed the debate saying that a continuation of the Affordable Care Act would be intolerable. "It means even higher premiums, even fewer choices, even more insurance companies pulling out, even more uncertainty and even more chaos," he said.

"What protection is Obamacare if there is no health care plan to purchase in your state?" Mr. Ryan asked.

Many Republicans were simply glad the fight was over — for now.

"We are all breathing a sigh of relief," Representative Chris Collins, Republican of New York, said. "We're living up to a campaign promise we made, the Senate made, the president made."

Democrats vowed to make Republicans pay a high political price for pushing such unpopular legislation. Twenty Republicans crossed the aisle vote against the bill, which, like the Affordable Care Act itself, passed without any votes from the minority party. As Republicans crossed 217 votes, Democrats heckled them with "Nah nah nah nah, hey hey hey goodbye."

"I have never seen political suicide in my life like I'm seeing today," Representative Louise M. Slaughter, Democrat of New York, said.

Representative Nancy Pelosi of California, the Democratic leader, warned moderate Republicans who supported the measure: "You have every provision of this bill tattooed on your forehead. You will glow in the dark."

The House bill would eliminate tax penalties for people who go without health insurance. It would roll back state-by-state expansions of Medicaid, which covered millions of low-income Americans.

In place of government-subsidized insurance policies offered exclusively on the Affordable Care Act's marketplaces, the bill would offer tax credits of $2,000 to $4,000 a year, depending mainly on age. A family could receive up to $14,000 a year in credits. The credits would be reduced for individuals making over $75,000 a year and families making over $150,000.

The nonpartisan Congressional Budget Office said the first version of the bill would trim the federal budget deficit considerably but would also leave 24 million more Americans without health insurance after a decade. Insurance premiums would spike next year before settling lower after a decade.

The vote on Thursday, just before House members were to leave for an 11-day recess, shifts the focus over to the Senate, where a number of Republicans have expressed significant concerns over the House plan, including how it would affect states that expanded Medicaid and whether it would drive up premiums for older people.

Republican senators are certain to face pressure from governors worried about constituents on Medicaid losing their coverage. Republican leaders changed the House bill to woo hard-line conservatives, allowing state governments to roll back required coverage for "essential" services like maternity and emergency care. States could also seek waivers that would let insurers charge higher premiums for customers with pre-existing medical conditions. Those changes could be rejected by moderate Republican senators.

And Democrats are confident that some provisions of the House bill will not comply with special budget rules that Republicans must follow in order to skirt a Senate filibuster.
As I said this morning, it was unlikely that the House leadership would have brought this bill to the floor for a vote if they didn't have a fairly solid belief that it would pass. To do otherwise and allow it to go forward and fail would have been a huge political setback for both House Republicans and the Trump Administration, one that would have put the ability to get other pieces of legislation such as tax reform or a Fiscal Year 2018 budget passed in the coming months. Given that, it's not all that surprising that the bill ended up passing in the end, although the fact that the bill passed on a party-line vote, with just one vote to spare in the final tally, is an indication of just how controversial the bill is and how big a risk the GOP is taking by getting behind it. In addition to a Democratic caucus that was united in opposition, the bill also received "No" vote from twenty Republicans from both the conservative and moderate sides of the caucus, just two votes short of the twenty-two needed to block the bill from passing. This poses potential problems for the bill in the future when it will likely need to pass the House again assuming it makes it through an anticipated House-Senate Conference Committee. That, however, is in the future. For now, Republicans will credit themselves with a win in that, after seven years, they've finally managed to pass a bill that repeals and replaces the Affordable Care Act. The big question, of course, is what happens from here.
As The New York Times makes clear, that future includes a potentially rocky road in the Senate:
WASHINGTON — As House Republicans on Thursday shoved their health care bill across the finish line, stuffing it with amendments and extra dollars to secure a hard-won majority, the lawmakers who will inherit the legislation delivered their own message from across the Capitol:

That's cute.

On the Senate side, where several Republicans have long been deeply skeptical of the House effort, the bill is expected to undergo sweeping changes that might leave it unrecognizable — perhaps stripping away some of the provisions that helped earn the support of hard-right House members and ultimately secure its passage.

The Republicans' narrow 52-member majority in the Senate leaves little room for defections, and several Republican senators have worried aloud about the House measure. Their concerns include insurance costs for poorer, older Americans and funding issues in states with high populations of hard-to-insure people.

Another chief obstacle is reconciling the reservations of Republican senators from states that expanded Medicaid under the Affordable Care Act — including Senators Rob Portman of Ohio, Lisa Murkowski of Alaska, Cory Gardner of Colorado and Shelley Moore Capito of West Virginia — whose constituents would face rollbacks under the House bill. (Aides to Mr. Portman and Ms. Capito said on Thursday that their concerns remain; the offices of Ms. Murkowski and Mr. Gardner did not immediately respond to messages.)

More immediately pressing on Thursday, it seemed, was getting senators up to speed on what, exactly, the House had voted on.

"Don't know what it's in it," Senator Lindsey Graham, Republican of South Carolina, said hours before the vote. "Waiting to see if it's a boy or a girl."

He said it appeared as though the House was "moving in a better direction," gravitating toward state control over the health care system.

"But any bill that has been posted less than 24 hours — going to be debated three or four hours, not scored — needs to be viewed with suspicion," he said, noting that the House vote came without an assessment from the Congressional Budget Office on the latest version's price and impact.

(…)

One possible roadblock is the Senate parliamentarian. Republicans have pursued a procedural tool known as reconciliation in the hopes of passing the bill with a simple majority, rather than having to clear a 60-vote threshold with Democratic assistance. Reconciliation rules allow for changes on matters of taxes and spending but not broader policy changes. Some elements of the House bill had already threatened to draw the parliamentarian's attention, and Democrats have strategized about specific components to target on these grounds.

If the threshold for passage is raised, requiring Democratic help, the minority party is unlikely to offer a lifeline.

"I hope this thing is dead on arrival, and I hope that a ton of House members lose their seat for voting for something this inhumane," Senator Chris Murphy, Democrat of Connecticut, said.
In addition to the procedural question regarding whether or not the version of the AHCA that passed the House qualifies for reconciliation, the bill also faces problems for a wide variety of other reasons. As I noted this morning, to the extent any Senators have actually commented on what's been going on in the House, and very few have actually gone on the record as of yet, there are indications that the bill faces problems from inside the GOP caucus even without regard to the anticipated united opposition of Senate Democrats. Conservatives members of the Senate GOP Caucus, for example, have suggested that the compromises that many members of the House Freedom Caucus have agreed to in this bill, such as those that apply to pre-existing conditions and other coverage mandates in the PPACA. At the same time, more moderate members of the Senate GOP have expressed concerns about some of those same issues from the other side, as well as concerns about how the bill would impact states that have accepted the expansion of Medicaid as offered by the PPACA. Almost as soon as the bill had passed the House this afternoon, for example, Ohio Republican Senator Rob Portman tweeted out a statement expressing doubts about how the House bill would impact those people in his state who have received coverage because of the expansion of Medicaid. In the statement, Portman made it clear that, because of these issues, he does not support the House bill in its current form. Similar statements have been made in anticipation of today's vote by other Republicans such as Susan Collins of Maine.  All of this means, of course, that it's highly unlikely that the bill will sail through the Senate unscathed even if it does end up qualifying for reconciliation. Instead, it's likely that the Senate will make significant changes to the bill in an effort to get it passed. At that point, the question will be whether those changes or whatever it may be that comes out of an anticipated House-Senate Conference Committee, can pass at all. Given how slow the Senate is likely to move on this, though, it is going to be months, if not longer, before we find out.