Trump the Presumptive Nominee (Some of What I got Wrong)
In case anyone noticed: I got the Trump nomination wrong.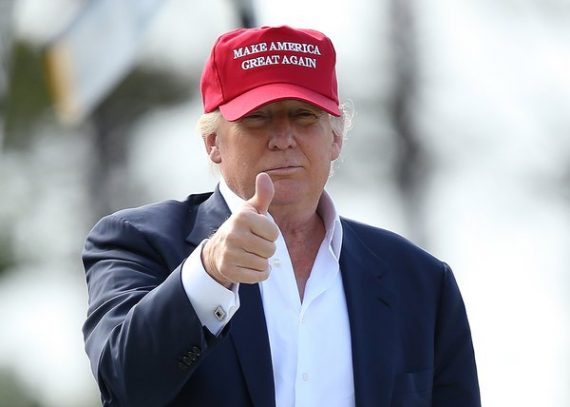 As was pointed out to me, correctly, two weeks ago in the comments section of an unrelated post, I was pretty adamant early on that Donald Trump would not get the nomination.  Further, at one point in the process I noted that if I was wrong, I would write a post to that effect.  This is that post.  I have not gotten to it primarily because I have been very busy of late* (as my general lack of blogging should underscore).  However, the entire event has clearly been on my mind and I had not forgotten that I owed a front page "I was wrong."  
I clearly thought that Trump was not a sustainable candidate.  I was, indeed, quite confident of that fact.  Well, I was also quite wrong.  Indeed, his trip through the nomination process was a reminder that it is dangerous to get overly confident about the way political phenomena will play out and is a further reminder of why social scientists usually use caveats and qualifiers when speaking about the future.
I think that there are two fundamental areas where I was wrong about his nomination:  the evangelical vote and the probability of winnowing.
First, I wholly misread the likely behavior of conservative evangelical voters.  Yes, there were initial signs that Trump was resonating more with those voters than one would have expected (I think here, for example, of his early rally in Mobile, AL).  Still, at the time I thought that was driven by his celebrity status and would fade.  I was woefully incorrect.  Given the salience of social issues such as abortion and gay rights, I found it highly unlikely that religious voters would ally themselves in large numbers with a twice-divorced, proud adulterer whose main business was casinos (and who had been on the record as pro-choice). Further, his inability to speak the evangelical language (e.g., "Two Corinthians" comes to mind) as seemed a problem.   Even now that does not strike me as an unreasonable position, but reality is what it is.  The part that I clearly missed, and I think will bear much study going forward:  the degree to which economic factors and, especially, racial identity are at work in forming that pro-Trump coalition.
Second, I really thought that the fragmented field would winnow faster than it did.  I still think there was a (missed) pivot point where if enough candidates had dropped out that a Not Trump candidate could have rallied support.  However, the field remained fragmented far too long for such an opportunity to happen.  Now, it is not unreasonable to assume that had the field held less candidates that Trump would have had a more difficult time.  If we look at two graphs from a 538 post back in April, we can see this:

Both of these graphs show that there was room for potential challengers to overtake Trump and that the fragmentation of the opposition made it impossible for it to coalesce.  Of course, it is also possible that some of the opposition support would have gone to Trump and he could have consolidated earlier.  They also show his comparative historical weakness as a candidate (which underscores he is an unusual candidates in more than one way).
In fairness, it should be pointed out that Trump has now won more raw votes than any GOP candidate (although the usefulness of raw vote totals for comparisons over time is limited).  Voter turnout is also up in the GOP contest, but it is difficult to know how much of that is Trump enthusiasm and how much of it is Trump opposition (not to mention a function of so many candidates running):
Another error, which I admitted might be in play some time ago (I know I wrote it at some point, but cannot find the reference at the moment):  I really find Trump to be an abhorrent candidate and I think that this pushed some wishful thinking/confirmation bias into my analysis.  I know that I am going to have to guard against that as I watch the general election campaign unfold. Without a doubt, as Nate Silver put it in his own Trump mea culpa, "I acted like a pundit" and wanted to make a bold stand when social science doesn't work that way.  So it goes:  live and learn, yes?
I will point out that this nomination season has helped underscore one of my favorite themes:  the rules matter.
To wit, from Daniel Nichanian at 538 in late April,  Clinton's Delegate Lead Would Triple Under GOP Rules:
Clinton's 289-delegate lead becomes a massive 977-delegate lead if we re-run the Democratic primaries using Republican rules. That's a jump from a lead of 10 percentage points to a lead of 32 percentage points.

This explains how Donald Trump has been able to seize such a commanding delegate lead despite winning a string of plurality victories, plunging the GOP into the predicament it is in now. Republican rules have a lot of quirks (winner-take-most districts, viability thresholds, winner-take-all triggers, statewide bonuses) that allow a GOP candidate to win most of a state's delegates even when that state's allocation method is ostensibly proportional. This was, in part, designed to give a candidate who is doing well early on a boost in delegate momentum for the race to wrap up quicker than it otherwise would.

You can see the effect this would have on the Democratic side: Clinton's 56 percent of the popular vote would be enough for her to win 64 percent of pledged delegates under GOP rules — just as Trump's 40 percent of the popular vote has given him about 50 percent of delegates allocated so far.
What this points out is that the degree to which Trump is not the perfect manifestation of the desire of the collective entity known as the Republican Party is questionable.  The rules are simply not designed to accomplish such a feat (the Democratic rules are closer, and that is why it is taking so long to reach a conclusion).
Conversely, the disproportional rules of the GOP versus the more proportional rules of the Democratic Party work out this way from Trump (from a mid-April 538 piece by Harry Enten:  Trump's Right That The GOP Primary Is Unfair — It Favors Him):
Overall, Trump has won 37 percent of the vote in the 35 contests, while winning 48 percent of the delegates. Even if you include the conventions, where we don't have any good measure of vote total, Trump has won 45 percent of the delegates. If Republicans were to allocate delegates the way Democrats do, Republicans would be much closer to a 1-to-1 votes-to-delegates ratio. That system would also result in Trump's having pretty much no shot at winning a majority of delegates heading into the Republican National Convention.
Any assessment of the nomination process, and of the internal divisions of the parties has to take all of these factors into account.  Trump clearly represents a sizable chunk of the GOP (and specifically of the primary electorate, which is ultimately a small number in national terms), but he is not necessarily the true preference of the majority (or the Condorcet winner, in political science terms) because the rules are not designed to produce such an outcome.  Of the many question that have yet to be answered include the degree to which Trump will reshape the party going forward.
Indeed, there is much to be learned here about the Republican Party in particular, as well as regarding the clear racial elements to the Trump campaign and his support, which has been more overt and up-front than we have seen for decades.
Any rate, this has made me a bit more circumspect going forward into the general.  At this point, I actually do think that the odds favor a Clinton win given the electoral college parameters of the race, but we shall see.  I shall refrain from bold predictions and great certainties (at least for the moment!).
——
*Not to make excuses, but to provide context:  in mid-March I was named Dean of the College of Arts and Sciences at Troy University and was doing that job alongside finishing out my teaching for the Spring and acting as Chair of Political Science until we could get an interim in place.  Plus, last weekend was the first in I don't know how long I did not either travel for soccer or have some deadline I needed to address (e.g., grading, a promised article, whatever) if not both.  Hence:  very light-to-nonexistent blogging (especially of anything that took much in the way of analysis).