Trump Sweeps Mid-Atlantic Primaries, Putting Himself One Step Closer To Victory
Another round of victories puts Donald Trump another step closer to the Republican nomination.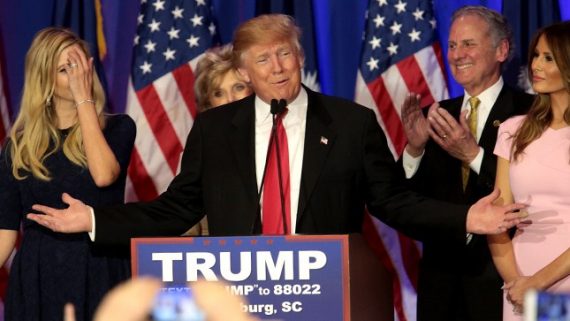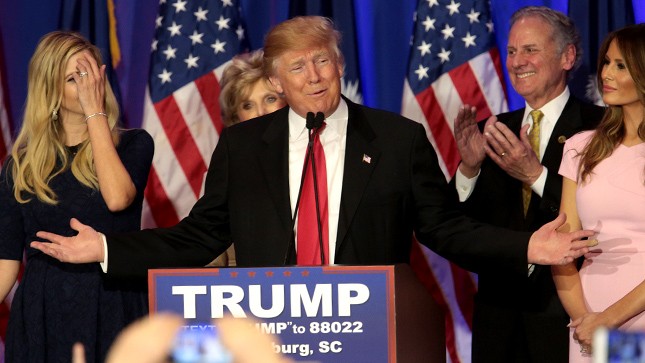 As expected, Donald Trump scored massive victories in the Mid-Atlantic primaries and, dealt the 'Stop Trump' movement another major setback, and came another step closer toward getting the majority of delegates he needs to win the GOP nomination on the first ballot:
Donald Trump rolled to crushing victories Tuesday in primaries across the Eastern Seaboard, substantially expanding the divisive mogul's delegate lead and narrowing the chances for his opponents to stop his march to the Republican presidential nomination.

Trump was projected to win all five of the states holding contests — Connecticut, Delaware, Maryland, Pennsylvania and Rhode Island — by decisive, double-digit margins.

Tuesday's rout was an embarrassing and potentially debilitating blow for Trump's nearest rival, Sen. Ted Cruz of Texas. Cruz finished a distant third in at least three of the states, behind Ohio Gov. John Kasich as well as Trump.

Now mathematically eliminated from winning the 1,237 delegates required to secure the nomination outright, Cruz and Kasich are banking on a contested party convention in Cleveland to somehow deny Trump the nomination.

But with a fresh jolt from Tuesday's resounding wins, Trump is on course to perhaps amass enough delegates by the end of primary voting in June. Heading into Tuesday's contests, Trump had 845 pledged delegates — a lead of nearly 300 over Cruz — and was poised to pull further ahead by about 100 delegates or more.

Basking in what he called his "biggest night" of the race so far, Trump declared himself the "presumptive nominee" as he claimed victory at Trump Tower in New York alongside family and friends, including New Jersey Gov. Chris Christie.

"I consider myself the presumptive nominee, absolutely," Trump said. "Honestly, Senator Cruz and Governor Kasich should really get out of the race. They have no path to victory at all. . . . We should heal the Republican Party, bring the Republican Party together. And I'm a unifier."

Tuesday's results brought into sharp relief the regional divide in the Republican race. Trump has dominated east of the Mississippi River, winning every contest — from New England to the Bible Belt, save for three: Maine, Ohio and Wisconsin. Meanwhile, Cruz's strength has been concentrated in the Plains, Midwest and Rocky Mountain West, where many contests have been caucuses that attract fewer voters than primaries and reward the best-organized campaigns.

The Northeast was long seen as friendly territory for Trump, who last week notched a blowout win in his home state of New York. Polls showed Trump with imposing leads in all five states, but Cruz and Kasich did not cede them. They campaigned in areas of Maryland and Pennsylvania especially, hoping to win delegates from targeted areas.

Trump tapped into voters' economic angst as well as their distrust and disapproval of the political establishment. He railed against what he called a "rigged" GOP nominating system — an argument that gained oxygen over the weekend when Cruz and Kasich struck an unusual nonaggression pact.

For Trump, the path ahead could be more challenging. Next Tuesday's primary in Indiana — a winner-take-all contest that will award 57 delegates — is shaping up as a major stand by Cruz and his allies, as well as by Our Principles PAC, the well-funded super PAC dedicated to stopping Trump from winning the nomination.

Addressing supporters in Knightstown, Ind., Cruz said that after Tuesday's results, "the media is going to say Donald Trump is the Republican nominee."

"But I've got good news for you," he added. "Tonight, this campaign moves back to move favorable terrain. . . . The question is: Can the state of Indiana stop the media's chosen Republican candidate?"

From there, the contest goes to Nebraska and West Virginia. The former is seen as a likely Cruz pickup considering the Texan's strength earlier in neighboring states such as Iowa and Kansas, while Trump could find strong support in coal country and other parts of West Virginia.

"Tonight's results are neither surprising nor decisive. With Kasich and Cruz showing signs of cooperation and more challenging terrain ahead for Trump, this race is going all the way to Cleveland," the leaders of Our Principles PAC said in a memo issued Tuesday night.

A total of 172 delegates were at stake in the five states voting Tuesday. In Pennsylvania, 54 of the 71 delegates will not be bound based on primary results. Many of the people running to be delegates have said they would support at July's Republican National Convention whichever candidate wins the primary in their congressional districts, but they are free to change their minds and back whomever they wish in Cleveland.

Speaking Tuesday night, Trump seemed to relish a general election battle against Democratic front-runner Hillary Clinton. Earlier in the evening, Clinton said she would campaign on the theme "love trumps hate," an unmistakable contrast with Trump's divisive rhetoric. She delivered a direct appeal to what she called "thoughtful Republicans" to cross the aisle and back her.

Trump fired back in his remarks: "I call her 'Crooked Hillary.' She's crooked. She'll be a horrible president. . . . She knows nothing about jobs, except for jobs for herself. And when it came to answering the phone at 3 o'clock in the morning, she was sleeping, with Benghazi. . . . She doesn't have the strength or the stamina to deal with China or other things."

He dismissed her qualifications for office by accusing Clinton of playing "the woman's card" and charging, "If Hillary Clinton were a man I don't think she'd get 5 percent of the vote."

Preliminary exit-poll data suggested that Trump's wins were propelled by GOP voters' desire for a political outsider to bring change to the nation's political and economic systems.

In Maryland, for example, the top issue for Republican primary voters was the economy, followed by government spending, terrorism and immigration. Nearly 4 in 10 voters said they were angry at the government, the data show.

While 35 percent of voters said sharing a candidate's values and 30 percent said bringing needed change were the top qualities they were looking for, 14 percent said beating the Democrats in November was most important, according to the preliminary exit-poll data.

In the five states that held contests Tuesday, Trump campaigned feverishly. He trumpeted the nativist, populist themes that have endeared him to supporters nationwide. He gave voice to the frustrations that have boiled in many voters for years, vowing to transform Washington and act decisively to reverse trade deals and stimulate manufacturing towns that have seen good-paying jobs disappear.

"Pennsylvania has taken more hits on trade than just about anywhere else," Trump said last week in Harrisburg. "Not good! What are you guys doing? How do you let this happen, guys?"
More from The New York Times:
Mr. Trump had the more convincing performance on Tuesday: He swept all five primaries, winning landslides of more than 30 percentage points over his rivals, Senator Ted Cruz of Texas and Gov. John Kasich of Ohio. His routs represented a breakthrough: He received more than half the vote in every state, after months of winning most primaries by only pluralities.

(…)

"When the boxer knocks out the other boxer, you don't have to wait around for a decision," he said boastfully at an election-night appearance before supporters at Trump Tower in New York. He added: "As far as I'm concerned, it's over."

Mr. Cruz and Mr. Kasich fared so poorly on Tuesday that together they were likely to win just 10 of the 118 bound delegates up for grabs. Rhode Island, Connecticut and Delaware also went for Mr. Trump, who was on track to bring his total to about 950 of the 1,237 needed to clinch the nomination outright.

Mr. Cruz is now under growing pressure to beat Mr. Trump in Indiana's primary next week, perhaps the last real chance the stop-Trump forces have to halt his march to the nomination. He and Mr. Kasich forged an alliance to thwart Mr. Trump in Indiana, but it has yet to show signs of working.

Even before polls closed in the East on Tuesday night, Mr. Cruz tried to pre-empt the rush of coverage about Mr. Trump's dominance.

"Tonight this campaign moves back to more favorable terrain," Mr. Cruz told supporters in the Knightstown, Ind., gymnasium where the high school basketball movie "Hoosiers," about underdogs who triumph over a big-city rival, was filmed.

The broad support for Mr. Trump spanned some of the dividing lines that have characterized the Republican race until now: He won among the affluent and college-educated as well as with blue-collar voters and those with no more than a high school education, according to exit polls.

But the unease about Mr. Trump's candidacy in some quarters of the party persisted, a potential warning sign if he emerges as the nominee. About a quarter of Republican primary voters in Connecticut, Maryland and Pennsylvania said they would not support him if he were the party's nominee. The resistance to Mr. Trump was greatest among Mr. Kasich's supporters, who are more moderate-leaning: Six in 10 said they would not vote for Mr. Trump in November.

Mrs. Clinton was lifted once again by strong backing from blacks and older voters, but she also ran stronger with white voters than she has in many states. In Pennsylvania, she narrowly won among whites. Her performance was even better in Maryland, where she carried white voters by 12 points.

Mr. Trump's advantage across all five states was so forbidding that Mr. Cruz abandoned the Northeast entirely on Saturday, and Mr. Kasich was left to pick up stray delegates. Mrs. Clinton and Mr. Sanders campaigned aggressively in Pennsylvania and Connecticut, but they focused largely on policy issues like fracking, gun control and Wall Street reform rather than sniping at each other as they did in a raucous televised debate in Brooklyn.

Not only did Mr. Trump have significant prospects for a substantial delegate haul Tuesday, a week after his dominating performance in New York, he also had the opportunity to send a clear message to party leaders and other Republicans that resistance to his nomination is futile.

Mr. Trump's path toward a delegate majority becomes far clearer if Mr. Cruz is unable to defeat him in Indiana. That is why Mr. Cruz left Pennsylvania on Saturday to head to Indiana, and he plans to campaign there as aggressively as he has anywhere since the Iowa caucuses, where he scored a surprise victory.

The stakes for Mr. Cruz are so high that within political circles, speculation has been swirling this week that he would try to change the subject from his latest losses and announce his pick for vice president before the primary in Indiana. Advisers to Mr. Cruz were cagey about whether he would take such an extraordinary step in an effort to win Indiana, where polls last week put Mr. Trump ahead. But the advisers did not dismiss the possibility, an indication that they were thinking about such a move, wanted to keep the speculation alive, or both.

But Mr. Trump has no intention of giving Mr. Cruz the opening in Indiana he so plainly needs. He planned a rally Wednesday night in Indianapolis with a beloved figure in the state who has also been known to speak his mind and find controversy: Bobby Knight, the former Indiana University men's basketball coach.
As with New York last week, in all five of the states holding contests yesterday Trump exceeded expectations by garnering more support from voters than the polls had been predicting. This includes winning with 58% of the vote in Pennsylvania, 56.5% of the vote in Maryland, 59% of the vote in Connecticut,  64.7% of the vote in Rhode Island,  and 62.6% of the vote in Delaware. In addition to putting the lie to the proposition that Trump had a ceiling somewhere in the region of 33% and that he would fade away once the GOP field started shrinking, results like this strongly suggest that Republicans as a whole, as opposed to just that wing of the party that had been rallying around him from the beginning, were starting to gradually accept the fact that Trump will be the eventual nominee. Signs of this acceptance can also be seen in the fact that Trump has now garnered more total popular votes since this process started than John McCain received in 2008 or Mitt Romney received in 2012 and stands to surpass the record set by George W. Bush in the 2000 Republican contests. For all the claims by the party insiders who are still insisting that they will be able to stop Trump, all of the signs are pointing toward his continuing to sail forward unhindered by any significant challenge at this point.
The most important number, of course, isn't the size of Trump's victory, or the number of popular votes he's received, but the delegate count, and last night was very good to Trump in that regard as well.
According to the most reliable calculations, Trump won at least 105  of the 172 delegates up for grabs last night, while Ted Cruz won just one delegate and John Kasich five. The majority of the as yet unaccounted for delegates from last night consist of the unbound delegates coming out of Pennsylvania, who will be free to support whomever they want on the first ballot in Cleveland. While there is some indication that at least a sizable plurality of those delegates will end up backing Trump at least initially, there's no guarantee of that happening so, for now, it's best to leave them out of any calculations about what might happen in Cleveland in July. Based on the numbers available, though, it continues to appear that Trump at least has a shot at getting to 1,237 delegates on his own before the convention begins. According to most estimates, Trump presently has 950 committed, pledged delegates, and would need another 287 to clinch a majority on the first ballot. With 565 pledged delegates left, that means Trump needs to win just over  50% of the remaining delegates to reach his goal. Ted Cruz, who was mathematically eliminated from winning on the first ballot with Trump's win last week in New York, stands at 560 delegates, some 390 delegates behind Trump. John Kasich, meanwhile, has only 153 delegates, which means he is essentially running fourth in a three man race since he continues to have fewer delegates than Marco Rubio, who dropped out of the race after losing the Florida primary.
As things stand now, then, the odds of Trump winning the nomination on the first ballot would seem to be quite high. Even without taking into account the possibility that many of the unbound Pennsylvania delegates will stand with Trump at least on the first ballot, there's absolutely nothing unrealistic about the real estate mogul winning enough delegates between now and the final primary day in June to get the 1,237 he needs to win. Most immediately, Trump remains in the lead in Indiana, which holds its primary next Tuesday and which many analysts are characterizing as likely the last stand of the "Stop Trump" movement. Beyond Indiana, Nate Cohn sees two states as being key to Trump's fate:
He has long been favored in the polls in two of the remaining primary states, New Jersey and West Virginia. That leaves Indiana and California as the crucial prizes that would put Mr. Trump over the top — and while he was once thought to be vulnerable in both states, polls have shown him with a modest lead.

Mr. Trump is by no means assured of holding his advantage, but it explains why his beleaguered rivals are now urgently coordinating to stop him in places where they believe they can beat him.

One big reason Mr. Trump's math looks so good is something he has complained mightily about: party rules. In fact, the delegate rules (mostly favoring the winner, as opposed to proportional allocation) worked in his favor on Tuesday, and those rules allowed him to amass nearly half of the pledged delegates heading into the night, despite 38 percent support in the popular vote.

He's a safe bet in New Jersey and West Virginia, though he might not win as many delegates as he hopes in West Virginia's delegate selection primary. He's nonetheless likely to win at least 70 from those two contests, and perhaps as many as 85.

He could win a further 40 delegates (or even more) from three states that award delegates proportionally: Washington, Oregon and New Mexico. He is likely to garner a healthy share of delegates in those states, whether he wins or not.

He is an underdog in three winner-take-all states in the West and the Plains: Montana, South Dakota and Nebraska.

That leaves Indiana and California, the most competitive remaining contests and also the ones with the most delegates at stake. Neither state is thought to be as strong for Mr. Trump as the five states were on Tuesday, but Mr. Trump has led in every poll conducted in the two states since March. They have a combined 229 pledged delegates, and they're awarded winner-take-all statewide and by congressional district.

If Mr. Trump wins both states, he will be favored to win the nomination. A clear win in California but a loss in Indiana would set up a contested convention where the unpledged Pennsylvania delegates could be decisive.

Mr. Trump's opponents feel a particular urgency about defeating him in Indiana, which votes next Tuesday. Many believed that Ted Cruz was well positioned in the state after his clear win in Wisconsin, but three recent polls show Mr. Trump with a lead in the mid-single digits.

(…)

If Mr. Trump wins Indiana, a merely modest win in California could be enough to give him 1,237 delegates.

Mr. Trump has led in all of the pre-election polls in California, sometimes by a double-digit margin, with around 40 percent of the vote. A modest victory could allow him to win over 100 of the state's 172 pledged delegates, and perhaps far more.

In a way, the challenge in California by Mr. Kasich and Mr. Cruz is reminiscent of their challenge nationally. Mr. Trump has been thought to be beatable in California, but neither Mr. Kasich nor Mr. Cruz seems poised to build a coalition broad enough to defeat him.
As Cohn notes, an alliance between Kasich and Cruz that lasts through the California primary could theoretically be sufficient to stop Trump from getting the majority he needs, but that alliance is already showing signs of strain and it seems unlikely that it will last for the six weeks between now and the California primary on June 7th. Indeed, as things stand, the most likely outcome seems to be that the alliance won't even make it to Indiana's primary next week before it falls apart and, if that happens, then Trump would seem to have a nearly clear path to the nomination no matter what Ted Cruz might think.