Donald Trump Wins Indiana, Becomes Presumptive Nominee, As Ted Cruz Drops Out
Donald Trump's win last night made him the presumptive Republican nominee, whether Republicans will unify around him is another question.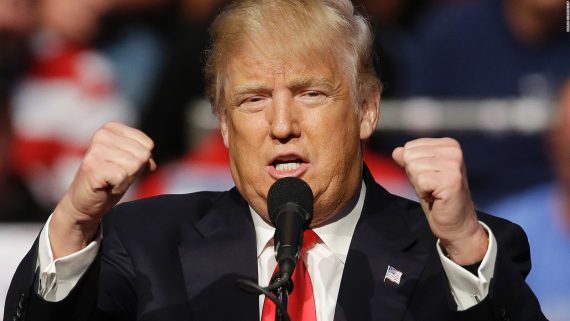 As expected, Donald Trump scored a huge and decisive win in Indiana, a move which put him one step closer to winning the 1,237 delegates needed to win the Republican nomination and caused his closest rival, Texas Senator Ted Cruz, to drop out of the race in a move that surprised many observers and which made Trump the Republican nominee in every respect but officially obtaining the votes of the delegates on the floor, which now appear as if it will be a mere formality:
Donald Trump, the celebrity mogul whose brash and un­or­tho­dox presidential bid was counted out time and again, became the de facto Republican nominee Tuesday night after a runaway victory in Indiana's primary forced his chief rival, Ted Cruz, to quit the race.

Trump overcame a spirited last stand by Cruz — and a patchwork movement of Republicans working desperately to derail him in fear that his polarizing politics could doom the party — to gallop to the nomination. Indiana's results positioned him to easily accumulate the 1,237 delegates required to avert a contested convention.

Even as Ohio Gov. John Kasich vowed to continue his long-shot campaign, Republican National Chairman Reince Priebus declared Trump the "presumptive nominee" and urged all Republicans to unite behind him.

(…)

As Trump claimed the mantle of GOP standard-bearer on Tuesday night, he was uncharacteristically measured. He remarked on his unlikely journey — "It's been some unbelievable day and evening and year . . . a beautiful thing to behold" — and promised Republicans that he would not let them down. "We're going to win big league, believe me," he said at Trump Tower in New York. "We're going after Hillary Clinton. She will not be a great president. She will not be a good president. She will be a poor president."

The Hoosier State's results capped an especially explosive day in the Republican race. In a last gasp on Tuesday morning, Cruz unloaded a litany of personal charges against Trump — a striking shift in tone that conveyed both the Texas senator's frustrations with his fading fortunes and his freedom to finally speak his mind about the rival he once praised lavishly.

But as Trump savored what his family members described as a shocking evening, he strived to be magnanimous in his remarks and singled out Cruz for praise. "Ted Cruz — I don't know if he likes me or he doesn't like me, but he is one hell of a competitor," Trump said. "He is a tough, smart guy. And he has got an amazing future."

Moments earlier, Cruz gave an emotional concession speech in Indianapolis. Flanked by his family and running mate Carly Fiorina, he said: "We left it all on the field in Indiana. We gave it everything we've got. But the voters chose another path. And so with a heavy heart but with boundless optimism for the long-term future of our nation, we are suspending our campaign."

n a GOP race that began with 17 candidates — including four sitting governors, four sitting senators and an astoundingly well-funded scion of the Bush political dynasty — it was Trump who won over the party's most restive and confrontational voters. He looks to California, which awards 172 delegates on June 7, the final day of primary voting, to make his nomination officially secure.

Trump faces an immediate challenge to unify the fractured GOP. There are already clear fissures, with Republicans Mark Salter, a former top adviser to Sen. John McCain (R-Ariz.), and Ben Howe, an editor of RedState, tweeting "I'm with her" — meaning they support Clinton.

(…)

Kasich vowed to stay in the race unless Trump clears the 1,237-delegate threshold. He held no public appearance on Tuesday night and plans to hold a news conference Wednesday morning at Washington Dulles International Airport.

Kasich's chief strategist, John Weaver, said in a statement: "Our party is facing a clear choice between positive solutions that can win in November and a darker path that will solve nothing and lead to Hillary Clinton in the White House, a Democrat Senate and a liberal Supreme Court. As long as it remains possible, Governor Kasich will fight for the higher path."

For Cruz, the last days of the race in Indiana were a painful demonstration that his time had run out. After Trump's landslide April victories in six consecutive Northeast and Mid-Atlantic primaries, Cruz saw Indiana as an essential lifeline. His political operation went into overdrive, and he barnstormed Indiana as hard as any state since the kickoff Iowa caucuses. His allied super PACs spent millions of dollars advertising in the state.

Cruz's moves over the past week signaled desperation. He struck a nonaggression pact with Kasich, who effectively pulled out of Indiana to give Cruz a one-on-one shot against Trump in exchange for Cruz ceding coming primaries in Oregon and New Mexico.

Cruz also named Fiorina as a running mate, and the two of them hurled fiery Trump insults on the stump. Cruz escalated his rhetoric at a news conference Tuesday, labeling Trump "utterly amoral," a "serial philanderer" and a "braggadocious, arrogant buffoon," among other slurs.

None of it worked. Pre-primary polls showed Trump the chief beneficiary of the Cruz-Kasich deal and pulling farther ahead.

Trump left nothing to chance. Unlike in some earlier contests, his campaign aired television ads and ran a sizable field operation while the candidate kept up a busy schedule of massive rallies. Trump toured the state with retired Indiana University basketball coach Bobby Knight.

(…)

Buoying Trump, 6 in 10 Indiana Republican voters — a larger share than in most previous contests — said they wanted the next president to come from outside the political establishment, according to preliminary exit polling reported by ABC News.

Similarly, nearly half of Indiana's Republican voters were supportive of deporting undocumented immigrants, while that figure in earlier contests averaged 41 percent, the data showed. And more Republicans said that Cruz had run the most unfair campaign than said so of Trump, according to the exit polling.
More from The New York Times:
Donald J. Trump became the presumptive Republican presidential nominee on Tuesday with a landslide win in Indiana that drove his principal opponent, Senator Ted Cruz, from the race and cleared the way for the polarizing, populist outsider to take control of the party.

After months of sneering dismissals and expensive but impotent attacks from Republicans fearful of his candidacy, Mr. Trump is now positioned to clinch the required number of delegates for the nomination by the last day of voting on June 7. Facing only a feeble challenge from Gov. John Kasich of Ohio, Mr. Trump is all but certain to roll into the Republican convention in July with the party establishment's official but uneasy embrace.

(…)

Mr. Trump's victory was an extraordinary moment in American political history: He is now on course to be the first standard-bearer of a party since Dwight D. Eisenhower, a five-star general and the commander of Allied Forces in Europe during World War II, who had not served in elected office.

Mr. Trump, a real estate tycoon turned reality television celebrity, was not a registered Republican until April 2012. He has given hundreds of thousands of dollars to Democrats, including his likely general election opponent, Mrs. Clinton. And, at various points in his life, he has held positions antithetical to Republican orthodoxy on almost every major issue in the conservative canon, including abortion, taxes, trade, and gun control.

But none of this stopped him. With his ability to speak to the anxieties of voters, and his shrewd use of celebrity and memorable put-downs, Mr. Trump systematically undercut veteran politicians in a field of candidates that many in the party had hailed as the strongest in at least three decades. He was underestimated by leading Republicans and Democrats time and again, and he succeeded while spending far less money than most of his rivals and employing only a skeletal campaign staff.

After Mr. Cruz exited the race Tuesday night, Mr. Trump appeared subdued and projected a more sober than usual mien as he absorbed the ramifications of the Indiana victory.

"It has been some unbelievable day and evening and year — never been through anything like this," Mr. Trump said. Putting aside the venom he has spewed at Mr. Cruz this year, Mr. Trump said of the senator, "He is one hell of a competitor." He even veered toward empathy for Mr. Cruz, saying he knew how "tough it is" to be brought low by a brutal defeat.

Of the 17 Republicans who ran for president this cycle, Mr. Cruz — a onetime ally of Mr. Trump's — proved to be his strongest and most tenacious rival, winning 11 primaries and caucuses. But the first-term senator's appeal among traditional conservatives was no match for Mr. Trump's fiery and uncompromising vow to fight for the interests of average Americans who have lost faith in the country's political leadership. Republican primary voters made clear that they found Mr. Trump's brand of hard-edged nationalism more attractive.

Mr. Cruz, speaking to supporters in Indianapolis, said he could not fight on without "a viable path to victory."

"Tonight I'm sorry to say it appears that path has been foreclosed," he said, as some admirers called out for him to reconsider. Without mentioning Mr. Trump by name, Mr. Cruz said: "We gave it everything we got. But the voters chose another path."

As remarkable as Mr. Trump's achievement is, his expected nomination also poses undeniable peril to the party he is poised to lead. Republican leaders, who have been reluctant to embrace his candidacy, are watching him with great trepidation, and on Tuesday night they seemed to be grappling with the implications of Mr. Trump's emergence as the new face of their party.

No candidate since the dawn of modern polling has entered the general election with the sort of toxic image Mr. Trump has in the eyes of large groups of voters. Facing a race against the country's first female major-party nominee, Mr. Trump is burdened with disapproval ratings as high as 70 percent among women, who make up a majority of voters in presidential elections.
In the end, the race in Indiana, which Senator Cruz had been characterize as a 'make or break' contest for the better part of a week wasn't even close. Donald Trump won the state by a decisive 17 point margin, vastly outperforming his polling numbers. In the process, the real estate mogul was immediately forecast to have won 51 of the 57 delegates at issue in the state, a win that put him within less than 200 delegates of clinching the nomination on the first ballot, something that seemed as though it would have been rather easy for him to do even if Senator Cruz stayed in the race. However, this apparent foreclosure of the contested convention route, which was a long shot in any case, was at least part of the reasoning behind Cruz's decision to bring his campaign to an end, something that came as something of a surprise last night only because of Cruz's tenacity and the fact that, just hours earlier, Cruz had unleashed some of his harshest rhetoric of the campaign against Trump in the wake of remarks by Trump that tied Cruz's father to photographs of Lee Harvey Oswald just prior to the Kennedy Assassination. In the end, though, it appears that the lack of a viable path to victory, along with warnings from the financial backers of the "Stop Trump" effort that they would cut off financial support to the effort if Cruz failed to win Indiana.
Whatever the reasoning behind Cruz's decision, his withdrawal means that Trump's victory is a mere formality at this point. Ohio Governor John Kasich is apparently staying in the race, but his presence will be nothing but a small nuisance to Trump over the next month as he stacks up victories on the way toward winning the nomination. It's unclear exactly what Kasich thinks he's accomplishing by staying in the race at this point, but he'll probably see his numbers rise in the polls somewhat as the people opposed to Trump rally around the last man standing against Trump, but it will be a futile effort. Kasich is too far behind, and Trump too far ahead, in the delegate count, to be stopped at this point. Based on the math, it will take until the evening of June 7th for Trump to get over the 1,237 delegate hump, presumably with a victory in the New Jersey primary early in the evening, but he will get there easily now and, once again, the dreams of so many pundits for a contested convention will go up in smoke.
Instead, we will get a seemingly standard convention where Trump will be coronated as the Republican nominee and the powers that be will try to present a united face to the nation as we enter what is likely to be one of the most unique General Election campaigns in recent memory. Beneath the surface, though, the truth is that the Republican Party will head to Cleveland deeply divided and facing the prospect of nominating a candidate that a lot of people don't like, including many Republican politicians and long time activists who have vowed that they will not support Trump even if that means guaranteeing a Hillary Clinton victory:
Now that Donald J. Trump is the presumptive presidential nominee, a parade of prominent Republican leaders is breaking with the traditions and rituals of party unity and offering him a blunt message:

Nope. Never. I can't. I won't.

In a flurry of social media posts and interviews over the last 24 hours, these Republicans raced to distance themselves from Mr. Trump, delivering a remarkable rebuke to him at precisely the moment when parties usually coalesce around a candidacy.

Mark Salter, a longtime strategist for Senator John McCain of Arizona, sounded resigned and disgusted as he said the unthinkable: He was now prepared to back Hillary Clinton.

"The GOP is going to nominate for President a guy who reads the National Enquirer and thinks it's on the level," he wrote on Twitter late Tuesday. "I'm with her."

The dissenters, who range from wizened elders to younger strategists and even elected officials, are loudly and publicly proclaiming their unwillingness to support Mr. Trump.

Many have expressed reservations about him in the past, but left open the possibility they might back him in the future. Now they are forcefully foreclosing that option.

"I think Donald Trump has proven to be unbalanced and uniquely unqualified to be president. I won't support him," Stuart Stevens, the top strategist for Mitt Romney's 2012 presidential campaign, said in an interview on Tuesday night. "Everyone has to make their own choice. I think Trump is despicable and will prove to be a disaster for the party. I'd urge everyone to continue to oppose him."

Senator Ben Sasse of Nebraska, an up-and-coming Tea Party Republican many view as a future leader of the party, wasted little time disassociating himself from the current unofficial one.

Alluding to an essay he wrote in February, in which he denounced Mr. Trump as a destructive force bent on dividing the country, Mr. Sasse answered those who asked if Mr. Trump's decisive victory in Indiana on Tuesday "changes anything for me."

"The answer is simple," he said: "No."

Perhaps the most startling sentiments belonged to Republicans who said they would cross party lines to avoid elevating Mr. Trump.

A terse Twitter message, "#ImWithHer," from Ben Howe, a contributing editor to the conservative website Redstate.com, immediately went viral. In a series of colorful follow-up posts, Mr. Howe despaired over the fate of his party with Mr. Trump as its nominee.

"Goodbye @GOP," Mr. Howe wrote, adding: "I'm drinking wine directly out of the bottle right now. #NeverTrump."

Steve Deace, a conservative radio show host in Iowa, said he would never waver from his pledge to oppose Mr. Trump to the end.

"You can sign my name in blood," he wrote on Twitter.

As Republicans raced to social media to declare their unshakable opposition to Mr. Trump, some expressed hope that a national movement might still arise to stop him; others alluded to the harsh judgments of history and said they wanted to be on the right side of it.

"I will never vote for @realDonaldTrump. Join me and add your name atNeverTrump.com," wrote Patrick Ruffini, the founder of a Washington political media firm.

It was difficult to say how many top Republicans intended to break with the party's presumptive nominee. Mr. Trump on Tuesday night extended an olive branch to his detractors and asserted, without offering any names, that many of those who had mocked him in the past were now privately pledging their support.

"They are calling now," he said, with characteristic bravado. "And they are calling to say, 'We'd love to get on the train.' The Trump train. We have a lot of people coming."
It's hard to say at this early stage how many Republicans will actually break with the party over the Trump nomination. In the end, I suspect that the movement will be far less substantial than the current rhetoric make make it seem. For one thing, sitting Republican politicians who want to continue getting the support of the party itself are going to find it hard to stand against the party if it means that there might be retaliation against them in the future, whether that's in the form of a primary challenger or a lack of financial support from top party organizations down the line. For another, when it comes down to a battle between a Republican Party led by Donald Trump and the prospect of a Hillary Clinton Presidency, the anathema that Republicans have had for Hillary Clinton going back to 1992 is likely to keep many people loyal to the party even if that means being loyal to Donald Trump. That's not to say there won't be defections, of course. I suspect we'll see former Republican leaders slide over to Hillary Clinton's camp at some point in the future, for example, and many conservative activists are likely to be attracted to the presumptive Libertarian Party nominee, former New Mexico Governor Gary Johnson if only as a vehicle for a protest vote. Whether this "Never Trump" movement will be big enough to have an impact on the race by, for example, contributing to a GOP loss in a state that a Republican candidate would ordinarily win, remains to be seen. When it combines with Trump's already high negative among important voting groups, though, it's likely to be bad news for the GOP going forward.