Does Donald Trump Really Believe Ted Cruz's Father Is Connected To JFK's Assassination?
The GOP race for President takes yet another bizarre turn.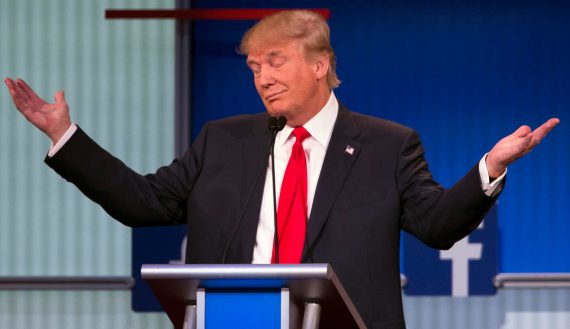 It is perhaps appropriate that as we approach what may well be the effective end of the race for the Republican nomination tonight in Indiana that things are taking one last, bizarre turn:
Donald Trump on Tuesday alleged that Ted Cruz's father was with John F. Kennedy's assassin shortly before he murdered the president, parroting a National Enquirer story claiming that Rafael Cruz was pictured with Lee Harvey Oswald handing out pro-Fidel Castro pamphlets in New Orleans in 1963.

A Cruz campaign spokesperson told the Miami Herald, which pointed out numerous flaws in the Enquirer story, that it was "another garbage story in a tabloid full of garbage."

"His father was with Lee Harvey Oswald prior to Oswald's being — you know, shot. I mean, the whole thing is ridiculous," Trump said Tuesday during a phone interview with Fox News. "What is this, right prior to his being shot, and nobody even brings it up. They don't even talk about that. That was reported, and nobody talks about it."

"I mean, what was he doing — what was he doing with Lee Harvey Oswald shortly before the death? Before the shooting?" Trump continued. "It's horrible."

Trump's tangent followed his rebuke of Rafael Cruz using the pulpit to court evangelicals for his son.

"I implore, I exhort every member of the body of Christ to vote according to the word of God and vote for the candidate that stands on the word of God and on the Constitution of the United States of America," Rafael Cruz said in a video clip aired by Fox News. "And I am convinced that man is my son, Ted Cruz. The alternative could be the destruction of America."

Asked to respond, Trump called it a disgrace. "I think it's a disgrace that he's allowed to do it. I think it's a disgrace that he's allowed to say it," he said, before touting his support from Jerry Falwell Jr. and other evangelical leaders.

"You look at so many of the ministers that are backing me, and they're backing me more so than they're backing Cruz, and I'm winning the evangelical vote," Trump continued. "It's disgraceful that his father can go out and do that. And just — and so many people are angry about it. And the evangelicals are angry about it, the way he does that."
The Miami Herald looks at the claim and cites several reasons why it's unlikely that Oswald would have had any contact at all with anyone in the Cuban community in the months before November 22, 1963, and it should be duly noted that there's apparently no evidence that Rafael Cruz Sr. was anywhere near New Orleans, where the photo was taken, in October 1963. Cruz, meanwhile, sought to dismiss the entire story as nonsense and used it to continue his attacks on Trump:
Donald Trump is a pathological liar, Ted Cruz said Tuesday in a forceful and passionate rebuke of the Republican presidential front-runner.

Phoning into Fox News on Tuesday, the real-estate mogul parroted a National Enquirer report alleging that Cruz's father, Rafael Cruz, was with John F. Kennedy's assassin, Lee Harvey Oswald, suggesting that the elder Cruz was somehow involved in JFK's murder.

"This morning, Donald Trump went on national television and attacked my father. Donald Trump alleges that my dad was involved in assassinating JFK," Cruz told reporters during a news conference in Evansville, Indiana. "Now, let's be clear, this is nuts. This is not a reasonable position. This is just kooky."

"And while I'm at it, I guess I should go ahead and admit, yes, my dad killed JFK, he is secretly Elvis and Jimmy Hoffa is buried in his backyard," Cruz continued sarcastically.

Cruz defended his father, recalling the story of how came to America with just $100, and slammed the National Enquirer as "tabloid trash" that published an "idiotic story." Cruz said the tabloid, which recently published a story alleging that the Texas senator has had multiple extramarital affairs, has become Trump's hit piece to smear his targets.

"I'm gonna tell you what I really think of Donald Trump: This man is a pathological liar," Cruz said. "He doesn't know the difference between truth and lies. He lies practically every word that comes out of his mouth, and in a pattern that I think is straight out of a psychology textbook, his response is to accuse everybody else of lying."

(…)

The billionaire issued a response Tuesday afternoon, suggesting Cruz is becoming "more unhinged" as he continues to rack up losses.

"Ted Cruz is a desperate candidate trying to save his failing campaign. It is no surprise he has resorted to his usual tactics of over-the-top rhetoric that nobody believes," Trump said in a statement. "Today's ridiculous outburst only proves what I have been saying for a long time, that Ted Cruz does not have the temperament to be President of the United States."

Before Trump spoke out again, Donald Trump Jr. credited Cruz for "an impressive meltdown." "Desperate but impressive," he tweeted. "Reminded me of my 3 year old coming off a sugar high."

Trump campaign senior adviser Barry Bennett told CNN that Cruz's explosion was "a truly sad display" coming from a campaign that knows it won't win Indiana.

"I know he's tired. I feel for he and his family, but that was reprehensible," Bennett said. "I mean, no one should do this. I don't know who thought this was a great idea. But, you know, we're watching his campaign implode. We're watching his reputation just being torn to shreds."

Cruz stressed that Trump is incapable of being honest. "But he combines it with being a narcissist, a narcissist at a level I don't think this country's ever seen," Cruz said. "Donald Trump is such a narcissist that Barack Obama looks at him and says, 'Dude, what's your problem?"'
By many accounts, Cruz's response this morning to Trump's original comments about the National Enquirer story that prompted this entire silly controversy was one that seemed over the top and angry in a way that we have seldom seen from the Texas Senator. Arguably, though, that's exactly the kind of response that Trump was hoping to provoke from Cruz on a day when people in Indiana headed to the polls and the headlines are all suggesting that Cruz is headed for a huge loss that may remove whatever remaining logic there was for continuing his campaign. To the extent any voters are going to see the response, they're likely to only see an angry Ted Cruz in a rant that could end up rubbing undecided voters the wrong way. In other words, Trump doesn't necessarily believe what he says here, or any of the other times he says something outrageous, but he knows it's likely to provoke people to overreact and that he can use that overreaction to his advantage. It's a tactic that has worked quite well for him several times in the past, and may well work for him again in Indiana.
In any case, whatever Trump's motives might be for latching on to a ridiculously contrived National Enquirer story, it is yet another example of the bizarre twists and turns that this election has taken over the past ten months, largely due to the actions or words of one Donald J. Trump. At various times, we've dealt a whole host of claims on his part about conspiracies involving Mexicans, Muslims, the Chinese, and a whole host of other groups. He's among the more prominent people to make the claim that Ted Cruz is not a 'natural born citizen,' and four years ago he was playing a prominent role in the birther movement that claimed President Obama was not born in the United States until that movement was shut down by the White House's production of the President's certified birth certificate. Is it really any surprise that he'd eventually get around to the granddaddy of all American conspiracy theories, the Kennedy Assassination, if he could somehow use it to attack his chief opponent in the race for the Republican nomination? Of course it isn't, any more than it's going to be a surprise when he starts repeating the worst of the conspiracy theories about the Clinton's during the upcoming General Election. Whitewater, Rose Law Firm billing records, claims that, as Governor, Bill Clinton looked the other way while airfields in Arkansas were used to smuggle cocaine, and Vince Foster. You can expect all of it to come up yet again. Thanks for nothing, Republicans.