Republican Delegate Battles Could Make For A Contentious Convention
If Donald Trump fails to get a majority to win the nomination on the first ballot in Cleveland, battles taking place behind the scenes now suggest that the floor fight in Cleveland could be long and contentious.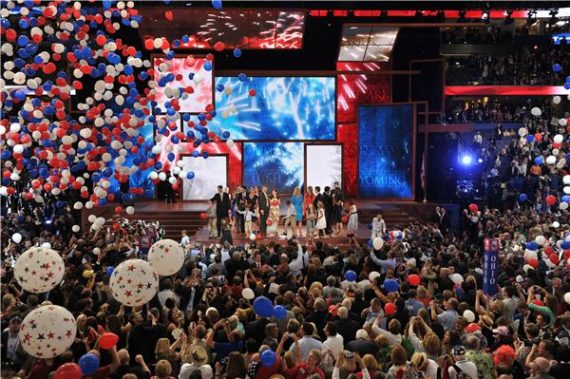 Ted Cruz appears to have out-maneuvered Donald Trump in a battle for at least some portion of the Colorado delegation to the Republican National Convention, something that could be an indication of how hard it will be for Trump to get to the delegate majority he needs to win the nomination outright:
COLORADO SPRINGS — Senator Ted Cruz captured a majority of Colorado's delegates to the Republican National Convention on Friday, outmaneuvering Donald J. Trump, whose lack of an organized national campaign once again allowed Mr. Cruz to gain at his expense.

As the fight for the Republican campaign moves into a period in which a handful of delegates could decide the nomination, Mr. Trump's losses here were a troubling sign.

Colorado awards its delegates differently from the way most states do. Instead of holding a statewide primary — the kind of contest Mr. Trump is used to commanding through his dominating and ubiquitous media presence — it is using a series of caucuses.

Before this week, registered voters selected local delegates, who tend to be more conservative party loyalists, ones Mr. Trump has had trouble winning over. Those delegates, in turn, have been voting this week on delegates to the national convention, most of whom are pledging their support to one candidate or another.

By Friday night, Mr. Cruz had taken 21 of the state's 37 national delegates. Mr. Trump and Gov. John Kasich of Ohio had none. Thirteen others will be decided on Saturday at the state convention. Mr. Cruz, who has built a statewide network of supporters that includes conservative members of Congress, state legislators and grassroots activists, is expected to do well there, too. The remaining three delegates are party leaders who are automatically appointed.

He is the only candidate scheduled to speak to the group. Mr. Trump was invited but is not planning to attend. Mr. Kasich will send a surrogate, John Sununu, the former New Hampshire governor.

Last week, Mr. Trump struggled to pick up support at the North Dakota Republican convention, a process similar to Colorado's. Mr. Cruz appeared to have at least several backers among the 28 delegates elected there. But because they are not officially committed to any candidate, no one could claim a lock on the state's delegation.

At one of the Colorado district caucuses on Friday afternoon, the strength of Mr. Cruz's organization was on full display. The campaign flew in Representative Jim Bridenstine, Republican of Oklahoma, to give the crowd a pep talk.

"Senator Ted Cruz has been in the trenches over and over and over again fighting for the conservative constitutional principles that we hold dear," he said. Delegate candidates strolled up and down the aisles holding Cruz campaign signs with their names and ballot position written in marker.

A small group of Trump volunteers wearing blue "Make America Great Again" hats aided his efforts, passing out their preferred delegate slates and cheering from the back of the ballroom.

Alan Cobb, an adviser to the Trump campaign who was in Colorado Springs on Friday to manage the delegate efforts, set expectations low. A pickup of one delegate would be worthwhile, he said, given how little effort the campaign had put into the state.

"We made the conscious decision back in October that Colorado, because of the structure, just didn't make sense for us to invest a lot of time and resources in," he said.
To be fair, the number of delegates up for grabs in Colorado was relatively small and Cruz's victory there isn't going to make it any more likely that he is going to get anywhere close to the 1,237 delegates needed to win the nomination. However, we're now at the point where the battle between Trump and the rest of the field is a state-by-state skirmish in which Trump's goal, if he wants to win, ought to be to get as many delegates as possible while his opponents merely need to stop him from significantly expanding his lead. Additionally, the more Trump's campaign seemingly ignores the need to fight in the trenches for delegates the harder they are making their job in the end. As things stand, most analysts seem to agree that it's unlikely that Trump would be able to win the nomination if he fails to win on a first ballot. This is largely because most of the delegates to the convention will be unbound, and free to vote however they wish, after the first ballot and a large segment of these delegates consist of party insiders and long time activists who may not necessarily be loyal to Trump on a second or third ballot. Where these candidates will go is anyone's guess, but my suspicion is that we'll find that many of them will end up dividing themselves between Cruz and Kasich rather than sticking with The Donald.
In addition to Colorado, there are indications of something similar happening in Indiana:
Indiana hasn't cast its ballots for president yet, but Donald Trump is already losing.

Republican Party insiders in the state will select 27 delegates to the national convention on Saturday, and Trump is assured to be nearly shut out of support, according to interviews with a dozen party leaders and officials involved in the delegate selection process. Anti-Trump sentiment runs hot among GOP leadership in Indiana, and it's driving a virulent rejection of the mogul among likely delegates.

"If Satan had the lead on him and was one delegate away from being nominated as our candidate, and Donald Trump was the alternative, I might vote for Donald Trump," said Craig Dunn, a local GOP leader who is running to represent Indiana's 4th Congressional District at the national convention in Cleveland. "I've always wanted to own a casino, but he couldn't give me a casino and have me vote for him."

Indiana GOP insiders are working to engineer slates of delegates — three from each of nine congressional districts — that will turn their backs on Trump at a contested convention in July. Another 27 will be elected at a state committee meeting next week.

Indiana's delegates will be bound to the results of the state's May 3 primary on the first vote in Cleveland, and Trump is expected to be competitive in that contest. (There is no current public polling of the state, but several GOP leaders suggested he'd be competitive in at least a couple of the state's nine Congressional districts.) But if Trump fails to clinch the nomination, they'll be free to vote their conscience — and that means a rapid rejection of Trump. The state's Republican national committeeman, John Hammond, has vocally called to reject Trump as well.

That would mark just another blow to Trump's chances, should the convention go to a second ballot as expected. Though he's won more votes and state primaries than rivals Ted Cruz and John Kasich, Trump has failed spectacularly to win separate delegate selection battles to his better-organized rivals. Though in most cases, he's lost because of Cruz's superior organization, Indiana appears to be a break from the norm. Most of the hostility to Trump there is homegrown.

"I believe we need a candidate that is likable, and I believe we need a candidate that is electable. And at this point, I have not seen any evidence for a general election that Donald Trump is electable," said Kyle Babcock, a veteran Indiana GOP insider who's on the 3rd Congressional District delegate slate. Babcock said Trump is his third choice among the three remaining candidates. He's leaning toward Kasich, he said, because he prizes electability and reclaiming the White House in November.
There are anecdotal reports that indicate that what's happening in Colorado and Indiana is being replicated elsewhere in the country, and one of the reasons it's happening appears to be because the Trump campaign has taken a somewhat lackadaisical approach toward delegate selection. Ted Cruz, on the other hand, has organized well in many of these states in an effort to ensure that the delegates that are selected have some loyalty to him in the event the convention fails to nominate a candidate on the first ballot. In addition, as I noted above, the delegate selection process remains largely under the control of party insiders who are by no means sympathetic to Donald Trump and not inclined to pick delegates that are sympathetic to him. Of course, the insiders also are unlikely to pick delegates likely to support to Ted Cruz, something that suggests that Cruz may not benefit as much from a contested convention as he seems to think and that a GOP convention that fails to pick a nominee on a first ballot will probably have to go beyond a second ballot as well absent some behind the scenes deal-making.
The most interesting scenario, of course, involves the possibility of someone other than Trump or Cruz becoming the nominee after an extended floor fight. As things stand now, the most likely person to benefit from such a scenario would be Ohio Governor John Kasich, who is mathematically eliminated from winning a majority but nonetheless remains in the race. Kasich has already made no secret of the fact that his path to victory involves winning the nomination on the convention floor, something that has not happened in either party since primaries began playing the role they do today in the selection of party nominees. In fact, that's exactly what Seth Abramson at The Huffington Post thinks will happen:
Donald Trump needs 1,237 delegates to win on the first ballot at the Republican National Convention in Cleveland, and not only will he not get to that figure prior to the Convention — he'd need to win well over 50 percent of the remaining delegates to do so, and even during his current run as front-runner he's only won 46 percent of delegates — he won't even get close enough to that mark to pass it via uncommitted delegates at the Convention

Ted Cruz and John Kasich staying in the race through Cleveland not only will ensure that Trump can't get close to 1,237 delegates via primary and caucus votes, it will also ensure that both men have a reasonable delegate total by the time they arrive at the Convention — more than enough to keep both of them in the picture in the view of Convention delegates

Republican Party elders have more than enough clout to make sure that "Rule 40(b)" gets changed prior to or at the Convention, thereby enabling Republicans like John Kasich who haven't won a majority of delegates in eight states to nevertheless be considered for the nomination

After the first ballot in Cleveland — during which no candidate will have the require delegates for nomination — most of the delegates will be free to vote for whomever they wish, and while Ted Cruz has craftily planted his supporters in many delegations, it's not nearly enough to get him to 1,237 delegates on the second ballot

Whereas Ted Cruz is loathed by the Republican Party elite, has lost to Hillary Clinton in head-to-head polls 55 percent of the time since November 2015, and has no actual accomplishments in government to point to, John Kasich hasn't lost a single head-to-head poll to Hillary Clinton in 2016, is broadly if imperfectly acceptable to both Party elites and movement conservatives, and is far and away the most accomplished Republican primary candidate left.
An unlikely scenario? Perhaps, and I have my doubts about how easy it would be for party insiders to pull this off. But, this has been a year in which the unlikely has become reality so it may be a mistake to rule anything out.