Donald Trump Scores Big Win In New York
As expected, Donald Trump scored a huge victory in his home state last night and now appears to be back on track to win the GOP nomination.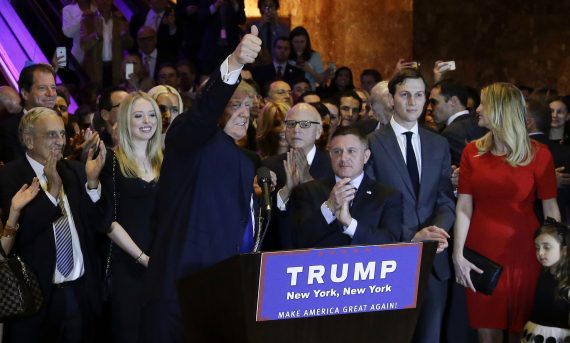 As expected, Donald Trump handily won the Republican Primary in New York yesterday, and appears to have walked away with a delegate haul that puts him back on track to win the Republican nomination outright:
NEW YORK — Donald Trump easily trounced his opponents in Tuesday's Republican presidential primary in his home state of New York, notching his biggest win yet and pulling further ahead of Ted Cruz and John Kasich in the delegate count.

Trump's blowout victory — which was propelled by voters' overwhelming desire to elect a political outsider who could bring change — positions the billionaire mogul for a hot streak in five East Coast primaries next week and brings him closer to securing the nomination with an outright majority of pledged delegates.

Near complete returns showed Trump with just over 60 percent of the vote statewide, putting him on the path to win most of New York's 95 delegates.

The victory comes at a critical time for Trump, who is trying to mature as a candidate, professionalize his campaign team and reassert his dominance in the prolonged nominating contest after a troublesome month in which Cruz and Kasich have taken surgical steps to force a contested convention.

Stepping out with his family to the brassy strains of Frank Sinatra's "New York, New York," Trump sounded like a more disciplined candidate as he claimed victory in a short statement at his Midtown Manhattan skyscraper, Trump Tower.

Gone were Trump's signature personal insults; he referred to "Senator Cruz," not "Lyin' Ted." Instead, he focused on the economic angst that has helped fuel his candidacy and that his advisers think could be a potent general election theme.

"Our jobs are being sucked out of our states, they're being taken out of our country, and we're not going to let it happen anymore. We're going to stop it," Trump said, singling out some of the business titans who were mingling with him in the building's pink-marbled lobby.

Boasting about the size of his win in New York, Trump added, "We don't have much of a race anymore, based on what I see on television. Senator Cruz is just about mathematically eliminated. . . . We're really, really rocking."

Trump's win in the state has long been anticipated. He enjoys celebrity status as a real estate developer and reality television star and thrives in New York's media culture; the tabloid newspapers have chronicled his exploits for decades.

Despite a recent winning streak in the Wisconsin primary and several state conventions, Cruz found no momentum in New York and struggled to find much support at all. The Texas senator's attack against Trump in Iowa for having "New York values" boomeranged on him here.

Cruz tried to court voters in more Republican areas upstate as well as in Democratic strongholds like New York City, where he met with black ministers in the Bronx and wooed Hasidic Jews at a matzoh bakery in Brooklyn.

Still, Cruz placed a distant third behind Kasich, who was expected to pick up three delegates. Cruz held no election night party and instead sought to turn the page. Campaigning in Philadelphia, he declared that "America is at a point of choosing."

"Join me on this journey of less talk and more action because I know you may have been knocked down, but America has always been best when she is lying down with her back on the mat and the crowd has given the final count," Cruz said. "It is time for us to get up, shake it off and be who we were destined to be."

Kasich tried to appeal to the state's more moderate voters by noting he is the only Republican who polls show would defeat the Democratic candidates — former secretary of state Hillary Clinton and Sen. Bernie Sanders (Vt.) — and arguing that he alone has the experience to create a governing consensus in Washington.

This is a point the Ohio governor hopes to carry into next Tuesday's primaries in Connecticut, Delaware, Maryland, Pennsylvania and Rhode Island — which is perhaps his most favorable turf since his home-state primary on March 15, which is his only win so far.

Kasich, who also held no event to react to the results, jabbed his Republican rivals for their low favorability ratings at a town-hall meeting in Annapolis on Tuesday afternoon.

"When you have these sky-high negatives, nobody's voting for you," Kasich said. Looking toward a contested convention, he added: "It's interesting because my positives are the highest in the field. The delegates are going to look and say, 'If we nominate someone who's going to get crushed, we lose the Supreme Court, we lose the United States Senate, we lose the majorities in the statehouses — it'll be a wipeout.' "

For Trump, the challenge in New York had been winning "big league," as he likes to say. Delegates in New York are awarded proportionally by congressional district; only if a candidate carries a district by 50 percent or more does he win all of the delegates.

Throughout the race, Trump has appealed to independent voters and disaffected Democrats, in addition to Republicans. New York's relatively restrictive voting laws posed a threat. The primary was open only to registered Republicans, and voters hoping to change their political affiliation were required to do so more than six months before Tuesday's election — a deadline missed by two of Trump's children, Ivanka and Eric.

But Trump was buoyed by a primary electorate here that was less conservative and more supportive of a political outsider than in previous states, according to early exit-poll results reported by CNN.

More than half of New York Republican voters consider themselves "somewhat" conservative, which if it stands would be the highest of any contest so far this year. Only 1 in 5 Republican voters identified as "very" conservative, which would be less than in other states, the exit polls show.

White evangelical voters — one of Cruz's core blocs — made up only about a quarter of the Republican primary electorate, fewer than in any state but Massachusetts and New Hampshire, according to the poll results.
The Queens-born, Manhattan-made Mr. Trump was poised to take most of the 95 Republican delegates at stake, substantially adding to his current lead over Senator Ted Cruz of Texas and significantly improving his chances of winning the Republican nomination. Mr. Cruz came away with no delegates, a major setback, while Gov. John Kasich of Ohio had a shot at picking up some in Manhattan and the capital region.

(…)

As he spoke in the lobby of Trump Tower, there were no freewheeling presentations of steaks and bottled water, as in the past. There was no reference to "Lyin' Ted" or "Crooked Hillary"; he called his opponent "Senator Cruz" instead, and made no mention of Mrs. Clinton. He also took no questions from the news media.

And his speech sounded more presidential than any other he has given on an election night — a focused, tightened message about trade and the economy as he prepares to campaign in states hit hard by manufacturing industry losses. The speech reflected the growing influence of Paul Manafort, whom Mr. Trump empowered to help him win the nomination and who has taken on a greater purview, including messaging.

"Our jobs are being sucked out of our states," Mr. Trump said. "One of the big problems is economy and jobs, and that is my wheelhouse." He said, twice, that he was going to get up and go back to work for the nomination on Wednesday morning, a clear message about the intensity he is bringing to the fight.

Within the Trump campaign on Tuesday night, euphoria mixed with eagerness to move onto a number of states that are likely to be friendly to Mr. Trump. There have been other pivotal points in the Trump campaign, moments when he was described as becoming newly serious. It never stuck with the famously shoot-from-the-lip candidate. But Mr. Manafort is someone whom Mr. Trump views as something of a peer.

No matter the margin of victory, New York Republicans gave Mr. Trump a restorative psychic boost after weeks when Mr. Cruz scored a big victory in the Wisconsin primary and outmaneuvered the Trump campaign in Colorado, Wyoming and elsewhere in winning and electing delegates backing his candidacy.

Mr. Trump now has clear momentum heading into the next week's primaries — so much so that he evinced fresh optimism on Tuesday about ultimately getting to the 1,237 delegates needed to capture the nomination.

"I think I'll get there," Mr. Trump said in an interview before the polls closed.
As has happened in a handful of other states over the course of the past two months, Trump's final margin of victory is actually looking as though it will be far better than even the most optimistic polls were forecasting, a sign, perhaps, that pollsters had underestimated yet again the extent to which Trump's unconventional campaign, which relies mostly on rallies and free media rather than buying television advertising time and investing in a strong ground campaign, would be able to motivate voters to get to the polls. In reality, of course, it has been obvious for some time that Trump would do well in a state like New York not only because it is his home state and a part of the country where he has been part of the economic, political, and social scene for the better part of three decades now, but also because he has been appealing to many of the same voting blocs that make up a substantial part of the New York Republican Party, especially in Upstate New York where Trump's arguments about the state of the economy and the alleged adverse impact of international trade an immigration resonated quite well.
By contrast, New York was perhaps one of the worst states for Texas Senator Ted Cruz, who had spent the last several weeks scoring significant victories in picking up delegates at the grassroots level in a manner that still threatens to undo all of Trump's work so far if Trump falls short of a majority of the delegates heading into Cleveland. For one thing, Republicans in New York tend to be far less conservative, and certainly not as religiously conservative, than Republicans in other parts of the country. This is, after all, the state where Republicans who succeed are more likely to resemble George Pataki, Rudy Giuliani, or Al D'Amato than Cruz and his fellow Tea Party backed conservatives. To that extent, it was unlikely that Cruz was ever going to do well in the Empire State. Cruz, though, made it worse during the campaign in Iowa when he attacked Trump as representative of "New York Values," an attack that both Trump and Ohio Governor turned against him over the past two weeks to apparently great effect. The result was that Cruz finished a distant third in New York, picked up no delegates at all, and put himself in a position where it is now all but impossible for Cruz to win the nomination on the first ballot.
Turning to the all important delegate count, it's clear that Trump's clear victory last night has gone a long way toward righting a ship that has been rocked by Ted Cruz's delegate hunting for the past several weeks and made it more likely that the real estate mogul could walk into Cleveland with enough delegates to win on the first ballot, or at the very least close enough to that majority that it would be next to impossible for the GOP to deny him the nomination without tearing the party apart. While votes are still being counted in some Congressional Districts, it is at least clear this morning that Trump has won at least 89 delegates compared to at least three for John Kasich and zero for Cruz, who will not win any delegates at all due to the fact that he ended up in third place in every District in the state. In any case, as things stand now there are roughly 677 delegates left to be allocated on the Republican side, while 1,795 have already been allocated. Donald Trump currently has 845 delegates and needs 392 delegates, roughly  58% of the delegates remaining, to get to a majority before Cleveland. Ted Cruz, meanwhile, is at 559 delegates and would need  678 delegates to get a majority on the first ballot, meaning that he is now mathematically eliminated from winning the nomination on the first ballot. Cruz's campaign appears to be brushing this off for now and concentrating on a forcing a second ballot in the hope that their success at the state convention level in selecting delegates will pay off. For that strategy to work, though, it seems clear that Cruz will need to end the race very close to Trump in the delegate count, with no more than 150 or so delegates separating them. In that regard, to finish the race with 1,000 delegates Cruz would need to win roughly 65% of the remaining delegates, and to get to 1,100 he'd need to win roughly 80%. As things stand, it's perhaps possible that Cruz could hit the 1,000 delegate threshold, but virtually impossible that he will hit 1,100.
Next week's Mid-Atlantic primaries are likely to add to Trump's momentum, and increase Cruz's woes. As things stand, Trump holds double digit leads in Pennsylvania, Connecticut, and Maryland, There also also indications that Trump stands to do well in Rhode Island and Delaware, although there has not been much polling in those states. More importantly, Ted Cruz is trialing in third place in each of the states up next week where polling has been done. If these numbers hold up, Trump could walk away with at least 100-1 40 more delegates while Cruz gets a mere handful. In other words, after several weeks where it appeared that his campaign on his ropes, Donald Trump is once again on course and remains the odds-on favorite to win the Republican nomination. Stopping him at this point is going to be next to impossible.