78 > 22
If we are gong to assess the significance of Trump, we need to pay attention to the numbers.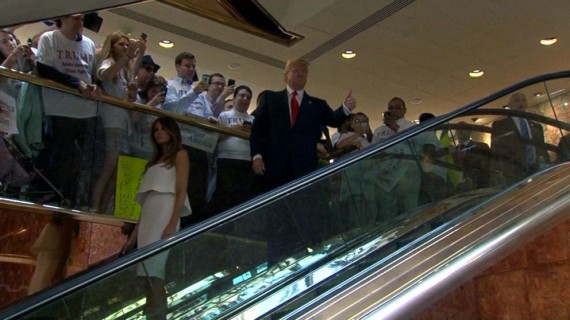 As we continue to assess the Trump candidacy I want to bring up two facts (that I have noted before in one form or another):
The first actual votes for the GOP will not be cast until February 1, 2016 (the date of the Iowa Caucuses) and the first primary votes will be cast just over a week later, February 9, in New Hampshire.
78% is bigger than 22%.
I note the first fact because five months is a rather long time in politics, especially at this stage of a campaign (and especially in light of number 2).
The second fact is the differential, based on the current RCP average, of Trump support (22%) and the support for all other GOP options (78%).
Please stop, pause, and consider these numbers:  78% is substantially more than 22% (3.55 times, in fact, for those of you keeping score at home).  Yet, we are so conditioned by the fact that a) our elections are usually won by plurality (i.e., the most votes), and b) the way the media reports on the "front-runner" that I think we often ignored basic math.   For Donald Trump to win the GOP nomination he has to be able to capture far more than 22% of support when the actual voting starts.  So, the long-term question is:  what are the second, third, fourth, etc., preferences of the voters currently backing candidates other than Trump?  Where, for example, does Ben Carson's 9+% go?  (Sorry, Ben, that support is eventually going elsewhere).
There is some polling on second choices (for example, here) but even that is only helpful to a small degree since with this much fragmentation it is difficult to really know where the 78% would distribute to if voters were asked to rank-order the candidates from top to bottom).   Recent polls show that Trump has a 57% favorability ranking among Republicans, so it is conceivably possible that Trump could climb in GOP polling, but I still have to think that a more traditional candidate (i.e., anyone in the field other than Trump and Carson) would be able to attract a substantial segment of the 78% in question once the field in winnowed. (And a favor view of a candidate does not mean that a given voter will actually support that candidate in the face of more than one choice).
The trend line also matters.  Note that Trump did steadily climb for a while there, but appears to have leveled off (and has even declined a bit of late).  If Trump was truly an unstoppable leader of the pack, the trend line would still be going upward.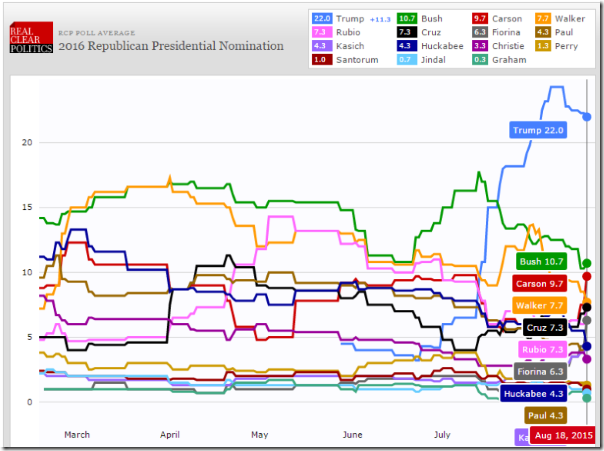 I will confess that I am surprised (to some degree) that Trump is where he is in the polls in the sense that he has captured first place and held it (it is disheartening at some level to think that more exposure for Trump has not been enough to torpedo his campaign).  It is further a comment on, among other things, candidates like Bush and Walker to some degree (note their trend lines).  However, 22% makes Trump the leader because there are so many candidates running (did someone mention fragmentation?).  Look at the Democratic side of the equation (or think back to previous nomination contests):  Bernie Sanders has 25% in the RCP average at the moment, but because there are only a handful of candidates in the field, the dynamic is much different (and note that those numbers include a non-declared candidate:  Joe Biden).  So because there is a major candidate (Hillary) and not that many other candidates running, Bernie's 25% is a distant second in that contest (even though it is bigger than Trump's 22%).  To say something that is blatantly obvious (but not if one watches cable news, it would seem):  Clinton and Trump are both front-runners for their party's nominations, but one of these things is not like the other (and that is true just in terms of the numbers regardless of anything else).  I truly get the sense, both on what little exposure I get to cable news, as well as to treatment in other media (and even in the comment sections here at OTB) that a lot of people are assessing Trump's position (both positively and negatively) without the appropriate context.
My point is this:  we cannot at this stage draw sweeping conclusions about American politics, nor even of the Republican Party, let alone about the results of the 2016 contest based on Trump's current poll position because that support only equates to 22% of one party.  Now, I think it very much matters (and is, quite frankly, disturbing) that 22% of Republicans view Trump as a possible president (and that 57% of Republicans view him favorably).  However, 22% of support from one political party is still a) less than a quarter of that party, and b) ultimately only a sliver of the US population relative to adherents to the other party as well as the 78% of Trump's own party that currently supports other candidates.  Broad generalities cannot be made from that number.   Trump is a spectacle, to be sure and he is even entertaining in a perverse way (and is especially entertaining when Berkley Breathed is writing jokes about him), but it is still premature to consider him the new face of the GOP.
Now, I will say this:  the campaign that he has run thusfar has been full of nationalism and nativism (it not downright racism) and the fact that he is the GOP front-runner (even of a very crowded field) does indict a portion of that party and should help underscore an unpleasant truth about part of the GOP coalition.   This unpleasant truth is made worse, I would note, by the fact that some of the other candidates see the need to try and match Trump's nativism to some degree.
However, more than anything I want to stress the fragementation of the field (yes, I am beating this horse a bit and I am aware of it).  There is too much support that is not migrating to Trump at this stage to pretend like we have a firm grasp on the way this race is going or to say that Trump's front-runner status is anything other than first in a very crowded field of marathon runners who have only just gotten started (if that).
I am not saying it is impossible for Trump to win the nomination (although I still think it an improbable outcome).  However, I am saying that I am having a hard time seeing him constructing the intra-party coalition needed to acquire the requisite delegates to win the nomination.   I am also saying that some of the ways in which Trump is being discussed needs to be dialed back.  He is far from the nominee at the moment and does not yet represent the party as a whole (because, well, the party is fragmented at the moment).
Trump is interesting, even outside the gawking-at-an-accident aspect of his campaign.  His campaign does tell use something about things like campaign finance (indeed, I think part of why we have the crowded, fragmented field we have is because of the aftermath of McCain-Feingold and Citizen's United and therefore a self-funded Trump can emerge as he has).  He certainly also tells us that there is still an audience for nativistic xenophobia as well as crude "tell it like it is" populism (which, weirdly enough, isn't actually telling it like is, but man do some people like a guy with an attitude who can speak to their vague uneasiness of people and circumstances they really don't understand).
Really, at the base of it, as one who looks at voting and parties globally what I want most of all is basic acknowledgement of what such a crowded field means in terms of assessing likely outcomes.  Further, this is especially true since early front-runner status is often not indicate of the outcomes (see here and here, for example) and this is especially true because the US nomination process if not one of a simple plurality vote (far from it).  There is a lengthy and complicated process yet ahead and winnowing is coming.