Are Pundits Underestimating Herman Cain?
Would Republicans really be crazy enough to nominate Herman Cain?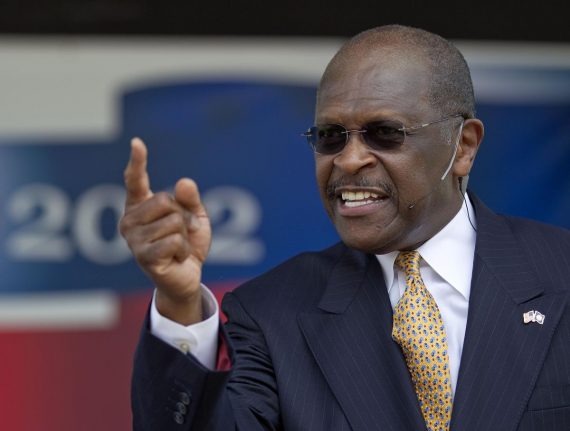 With Herman Cain continuing to post strong showings in state and national polls, and both Rick Perry and Mitt Romney going wildly off message this week for different reasons, we're starting to get the inevitable barrage of analysis pieces wondering if we've all been underestimating the Cain phenomenon. The conventional wisdom, of course, is that Cain simply cannot last, that even in the modern era failing to run a traditional on-the-ground campaign in states like Iowa is a fatal flaw. It's also generally accepted under this wisdom that, in the end, a candidate like Cain whose appeal is so clearly based on personal charisma rather than an in depth, or even cursory, understanding of the issues, will fail to grab the level of support needed to win a major party Presidential nomination. But, is it possible that the conventional wisdom is wrong?
Nate Silver got the ball rolling earlier this week in The New York Times by telling his readers that Cain is such an outlier that he's not sure it's possible to predict what :
The fact that Mr. Cain has made it this far with such apparently weak fundamentals — we're less than 10 weeks away from the Iowa caucuses — is itself remarkable. It implies that there is either something fundamentally unusual about this year's Republican nomination process, or perhaps that some sort of "new normal" has been established and that the old rules of how you win a nomination no longer carry as much weight.

Most of you, however, are interested in what will happen to Mr. Cain from here on out — can he actually win? What is an analyst to do when he encounters an outlier like this?

Well, I don't know what he should do. This gets at something of the distinction that the economist Frank H. Knight once made between risk and uncertainty. To boil Mr. Knight's complicated thesis down into a sentence: risk, essentially, is measurable whereas uncertainty is not measurable.

In Mr. Cain's case, I think we are dealing with an instance where there is considerable uncertainty. Not only do I not know how I would go about estimating the likelihood that Mr. Cain will win the Republican nomination — I'm not sure that there is a good way to do so at all.
In a follow-up post, Silver noted that dismissing the possibility that all the experts are wrong about Cain's chances would be irresponsible in itself:
In short, while I think the conventional wisdom is probably right about Mr. Cain, it is irresponsible not to account for the distinct and practical possibility (not the mere one-in-a-thousand or one-in-a-million chance) that it might be wrong. The data we have on presidential primaries is not very rich, but there is abundant evidence from other fields on the limitations of expert judgment.

In May, George F. Will said it was certain that either Tim Pawlenty or Mitch Daniels would win the Republican nomination. Mr. Will has gotten enough right over the years to have earned a mulligan or two. But experts who use terms like "never" and "certain" too often are playing Russian roulette with their reputations.
Slate's John Dickerson echos Silver in some respects, pointing out that it is Cain's status as an outsider that is sustaining him right now:
What allows Cain to sustain? (Besides easy rhymes?) He's not from Washington. It comes up time and again in conversations with his supporters. Polls show his strength is with Tea Party voters who are the most anti-Washington in the electorate.

His "outsider" status—unharmed by stints as a chairman of the Kansas City Federal Reserve or as head of the national restaurant lobby—is also shielding him from criticism. Anyone who attacks his 9-9-9 plan is part of the permanent political class—the people who got us into this mess—trying to protect their advantage. Not being a politician also gives Cain a big gaffe cushion. His "joke" about an electrified border fence, his flirtation with trading hostages for Guantanamo Bay detainees, and his momentary moderation over whether abortion is a choice do not seem to have hurt him yet. Instead, they're seen as proof that he's not a polished pro like Romney. When Romney and Perry go after each other, Cain benefits by not being a bickering politician.

That's all charming, but with a party so determined to beat President Obama, and with such good chances to do so, can this Cain flirtation blossom into something real? Won't people start to focus on electability and turn to Romney? The answer (at least as Cain's people see it): Electability may not be the liability the political elites might think. And actually, the political elites don't think Cain has an electability problem: 74 percent of Republican insiders in a recent Huffington Post poll think Cain can beat Obama. (Danger Herman: When insiders validate an outsider strategy you should be nervous.)

For some Cain supporters the electability argument actually works in Cain's favor, not for Romney. "We need an anti-Obama this time around," says Jeffrey Jorgensen, the chairman of the Pottawattamie County (Iowa) Republican Party. "Gov. Romney would be a better candidate than John McCain or Bob Dole and a better president than George Herbert Walker Bush, but we need an anti-Obama this time, and governor Romney is not that candidate."
Working even more in Cain's favor, of course, is the state of the GOP field. Romney is doing respectably in the polls but he cannot seem to break out of that 27-23% range in the national polls and isn't trusted by the conservative base. Michele Bachmann peaked over the summer but faded once Rick Perry entered the race, and then even more when she opened her mouth during the September debates. Ron Paul is simply too far out of step with the base of the Republican Party to be a realistic candidate for the base to rally around. Rick Perry has faded as people have developed the perception that there's not much there there. Newt Gingrich has gotten positive marks for his debate performances, but carries around more baggage than any candidate in recent memory. And, Rick Santorum has been so much of a non-entity that it's often easy to forget that he's still in the race. Given all of that, it's not surprising, in retrospect, that Cain has risen in the polls given the factors that Silver and Dickerson noted above.
Ace at Ace of Spades seems to admit, begrudgingly, that Cain could in fact win the nomination:
Cain could very well win the nomination, if people just want an angry old dude spouting dumbass crap as their nominee. Which is what I think the people actually want, and I'm sick of instructing them that maybe they should rest their Emotion Muscles a little bit and work out their Thinking Muscles some more.

They won't do it.

Adding to Cain's strength is that he's already fallen once before, and risen again. That means that all the crap that caused him to fall — the fact that he didn't know as much about Israel as the occasional talk-radio listener, despite having been a talk-radio host himself — has been decided by one third of the party to not matter at all. So it really doesn't matter if he continues saying dumbass crap; as we've seen before, there's a segment of the party that actually almost seems to like that, as some kind of "rebellion" against the intellectuals or something.

Point is, he can be nominated. People should start taking him very seriously — and I mean that for good and for ill. If you're inclined towards him, well, you can draw succor from the idea he should be taken seriously.

If you're inclined against him, you should take him seriously, and stop singing the song of the "experts" (who don't know what they're talking about) that he could never be nominated so why bother even thinking about it much at all?
Is it possible? Would Republicans really put their nomination in the hands of a man who has become best known for a tax plan that makes little economic sense and an appalling amount of ignorance about foreign policy? Would they really rally behind a candidate who continually gets hammered in head-to-head matchups against the President they claim they want to beat so much? As much as the amateur political analyst in me says no, I can't help forget that it wasn't all that long ago that Republicans seemed willing to rally behind Sarah Palin despite her own obvious deficiencies, record breaking unfavorability, and the fact that she too would have been trounced by President Obama in a head-to-head General Election matchup. If they were crazy enough to consider that laughable proposition, why wouldn't they be crazy enough to back Herman Cain?
Maybe this will all be academic in a month or two. Maybe Rick Perry will revive a campaign that some already seem to want to declare dead in the water. Maybe the right will finally, albeit reluctantly, make peace with Mitt Romney and move forward toward the General Election. Maybe those things will happen, but it seems nearly as likely that the Cain momentum will continue and that that GOP will find itself stuck with a candidate who is unprepared to be President as their standard bearer. It would be totally crazy, it would mean near-certain defeat in November, but given the political climate this year, it might not be entirely unlikely.