Rick Perry: The New GOP Frontrunner
Meet your new Republican frontrunner.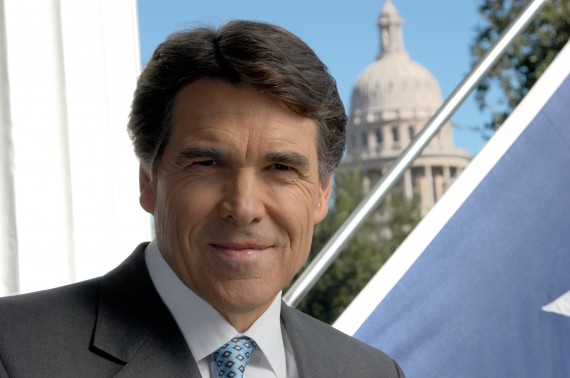 Two new polls of the national GOP field are showing evidence of a significant shakeup in the race in the wake of the Ames Straw Poll and, more importantly, Rick Perry's entrance into the race. In both cases, Perry holds the lead nationally among declared GOP candidates by an amount exceeding the poll's margin of error, while both Mitt Romney and Michele Bachmann have slipped significantly from where they were in July when a Perry candidacy was little more than a rumor. If these numbers hold up, and pending the entrance of any other major candidates into the race, we could be looking at the new normal in the GOP race, and Mitt Romney is going to actually have to start campaigning for the GOP nomination now rather than running as the presumptive nominee.
First up, we have Public Policy Polling, which shows Perry with a 13 point lead over Romney:
In PPP's first national poll since Rick Perry's official entry into the Presidential race he's jumped out to a double digit advantage. Perry's at 33% to 20% for Mitt Romney, 16% for Michele Bachmann, 8% for Newt Gingrich, 6% for Herman Cain and Ron Paul, 4% for Rick Santorum, and 3% for Jon Huntsman.

Conservative voters have been looking for a candidate that they can rally around and Perry's filling that role. Romney continues to lead with the small portion of voters describing themselves as moderates at 27% to 20% for Bachmann and 15% for Perry. But Perry gets stronger and stronger as you move across the ideological spectrum. With 'somewhat conservative' voters Perry leads by 15 points with 38% to Romney's 23% and Bachmann's 11%. And with 'very conservative' voters the advantage expands to 22 points with him at 40% to 18% for Bachmann and 14% for Romney.

Perry was at only 12% five weeks ago, so he's climbed 21 points since entering the race. The biggest losers with his entry have been Bachmann and Cain, who've each lost 5 points of support, and Paul, who's lost 3 points of support. Romney and Huntsman are both unchanged from a month ago while Gingrich has actually gained a point of support.
More interesting, perhaps, is what happens when you poll the a two or three person race with Perry, Romney, and Bachmann:
In a 3 way Perry would get 41% to 29% for Romney and 19% for Bachmann. There was some thought that Perry's entry would actually help Romney because it would lead to a split in the conservative vote between Perry and Bachmann but Perry is now winning those voters by such a wide margin that it doesn't even matter.

Perry also leads head to heads with both Romney (52-36) and Bachmann (56-26). In the match up with Romney Perry picks up Bachmann supporters (47-37), Cain supporters (61-29), Paul supporters (43-28), and Santorum supporters (68-21). Romney gets Gingrich supporters (51-35) and Huntsman supporters (76-24).

In the match up with Bachmann Perry wins Cain supporters (49-38), Gingrich supporters (52-32), Paul supporters (44-28), and Romney supporters (53-20). Huntsman supporters (24-21 for Bachmann) and Santorum supporters (44-43 for Perry) split pretty evenly.
The results are somewhat similar in a new Gallup poll, which shows Perry with a 12 point lead over Romney, with Bachmann falling to fourth place:
Shortly after announcing his official candidacy, Texas Gov. Rick Perry has emerged as rank-and-file Republicans' current favorite for their party's 2012 presidential nomination. Twenty-nine percent of Republicans and Republican-leaning independents nationwide say they are most likely to support Perry, with Mitt Romney next, at 17%.

hese results are based on an Aug. 17-21 Gallup poll, the first conducted after several important events in the Republican nomination campaign, including the second candidate debate, the Iowa Straw Poll, and Perry's official entry into the race after months of speculation.

Romney and Perry essentially tied for the lead in late July, based on re-computed preferences that include the current field of announced candidates. Gallup's official July report, based on the announced field at the time and thus excluding Perry, showed Romney with a 27% to 18% lead over Michele Bachmann. Romney enjoyed an even wider, 17-point lead in June over Herman Cain among the field of announced candidates (Gallup did not include Perry among the nominee choices before July).
If you include Sarah Palin and Rudy Giuliani  in the mix, Perry(25%) still leads Romney(14%) by 11 points, with Palin tied with Ron Paul for 3rd place at 11%. In fact, other than Perry, the only person who gets
This chart shows how the numbers have changed over time, and the real extent of the Perry surge.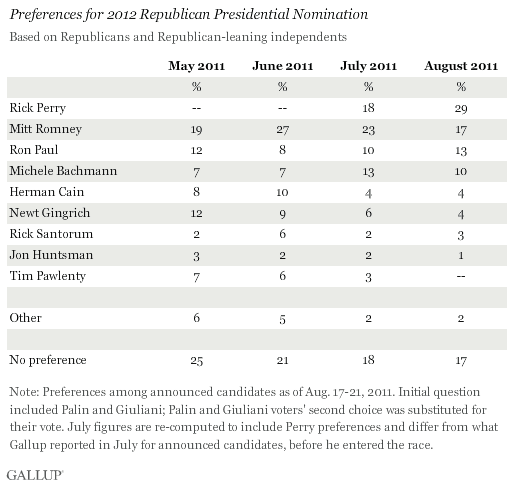 The most surprising thing from the poll may be the fact that Perry leads the field in virtually every demographic group: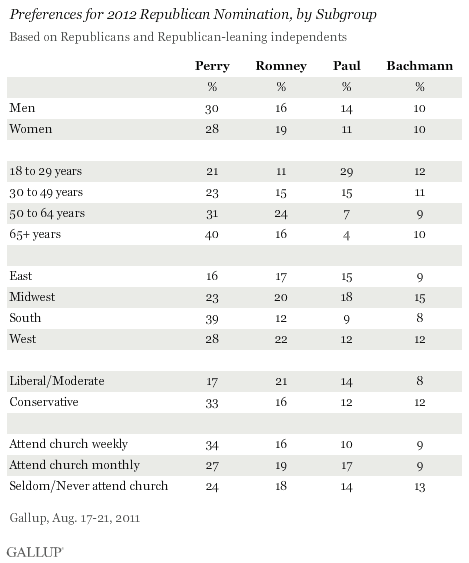 These Gallup and PPP numbers are, for the most, part consistent with the Rasmussen Poll that came out lase week showing Perry in the lead.
There was a sense before he entered the race that Perry would be a strong contender if he entered the race so it wasn't at all surprising to see him vault right into the top tier immediately. Despite his statement in April that he wasn't running, Perry's name was being mentioned continuously by conservative activists as someone that they'd like to see get into the race, and his reception at events like CPAC, or the Red State Gathering where he announced his candidacy, was just the tip of the iceberg when it comes to the high regard grass roots conservatives hold Perry in, for whatever reason. Despite this, I've got to say that the size of Perry's "entrance bounce" has been fairly astounding, and may be as much a reflection of the fact that many conservatives weren't satisfied with the potential challengers to Mitt Romney, most of whom lack any real experience in government.
If these polls aren't setting off alarm bells in the Romney camp, they certainly ought to be. After coasting along for most of 2011 as the leader of the GOP field facing a field of conservative challengers that clearly didn't have much appeal outside their own little niches of the GOP, Romney now finds himself in a real race with a candidate that is both more conservative, and more experience as an Executive at the government level, than he is. If nothing else, the fact that Rick Perry has never lost any election he's stood for should be something that has Romney thinking that he needs to step up his game. Up until now, Romney has been able to float about the GOP field and concentrate his fire on the President, an image that created an air of inevitability to his campaign. He can't do that anymore. He'll have to get back to competing against his GOP rivals, specifically against Rick Perry.
It's still very early in the game, of course. Perry hasn't even been in the race for a week yet, and he hasn't shared a debate stage with Romney and the other candidates yet. It's possible, as the race goes on, that his star will fade and that voters in Iowa, South Carolina, and elsewhere won't be quite as impressed with his Texas swagger as they seem to be. It's also possible that some of the things that have come out over the past two weeks, such as the truth about Perry's record in Texas, his advocacy of a mandatory HPV vaccine, his comments about Ben Bernanke and evolution, and his crony capitalism  will start to diminish his star somewhat. It's going to take a candidate like Romney to do that, though, and to point out the differences between him and Perry. Given that such a large segment of the GOP base has doubts about Romney to begin with, it's not going to be an easy task.
In any case, the reset button has been set just as the campaign is starting to get serious. Rick Perry is your frontrunner, Republicans. Let's see how that works out for you.