Rick Perry Announces Candidacy For Presidency
While most of the Republican field was at the Iowa State Fair, Rick Perry was in South Carolina shaking up the field.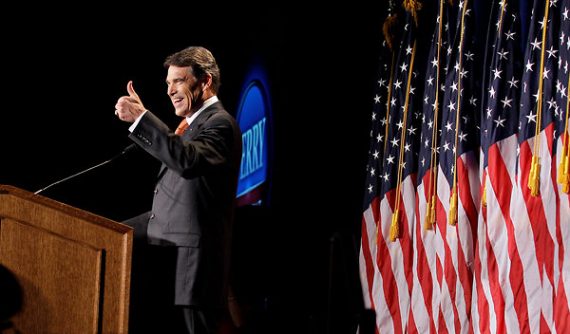 It's been telegraphed for a few weeks now, so it's not a surprise. However, Rick Perry's entry into the GOP Presidential Race today is likely to shake things up significantly:
CHARLESTON, S.C. — Gov. Rick Perry of Texas announced Saturday that he was running for president, declaring it was "time to get America working again" as he sought to offer the Republican Party a well-rounded candidate who appeals to fiscal conservatives and can also rally the evangelical base.

As many of his fellow candidates flooded Iowa over the weekend to woo voters at the Ames Straw Poll, Mr. Perry headed here to announce he was seeking the nomination at the RedState Gathering, an annual convention of conservative bloggers.

"I came to South Carolina because I will not sit back and accept the path that America is on, because a great country requires a better direction, because a renewed nation needs a new president," he said.

"With the support of my family and unwavering belief in the goodness of America, I declare to you today as a candidate for president of the United States."

And with that, Mr. Perry, 61, whose spectral presence has lingered over the Republican primary contest — he was even the topic of a question at Thursday night's Republican debate in Iowa — officially became a candidate for the Republican nomination.

Mr. Perry's entrance into an already crowded field is expected to reconfigure the dynamics of the race, offering Republicans a fiscal and social conservative who not only appeals to the party's base on social issues but also can challenge Mitt Romney, who is leading in many polls, on jobs and the economy.

His announcement reverberated 1,000 miles away in Iowa, where thousands of Republicans gathered to size up the party's candidates, who delivered speeches and asked for support at the Iowa Straw Poll. While Mr. Perry's name was not on the ballot, a group called Americans for Rick Perry urged people to list him as a write-in candidate.

In a sea of people wearing green shirts for Tim Pawlenty, orange shirts for Michele Bachmann and red shirts for Ron Paul, dozens of maroon shirts bearing Mr. Perry's name stood out in the crowd. He is set to arrive in Iowa on Sunday, where he intends to spend three days in the state as he introduces himself to voters who will open the nominating contest early next year.

"He's an attractive candidate," said Tim Gibson of Clive, Iowa, 59, who stood in line at the straw poll, waiting to cast his vote for Mr. Perry. "He brings leadership to the race. My top priority is winning the election and I want to vote for someone who can win."
(…)
Mr. Perry's entrance into the already crowded field is expected to reconfigure the dynamics of the race, offering Republicans a fiscal and social conservative who appeals not only to the party's base on social issues but also one who can challenge Mitt Romney, who is leading in many polls, over jobs and the economy.
Mr. Perry is the longest-serving governor of Texas, having been elected to three full terms and having held the position more than 10 years, and he is known as a fierce and skilled campaigner, and a prodigious fund-raiser. In his past campaigns, he has eked out victories and come from behind to win by large margins, but he also possesses uncanny luck and the ability recognize and capitalize on it.

"He becomes immediately one of the top three candidates and he fills a vacuum, of someone who is a conservative, who has credibility and can speak to the fiscal conservative, anti-big-government and anti-Washington, crowd, but he's also a social conservative," said Matthew Dowd, a former strategist for President George W. Bush. "At least in the short tem, he is a major disruption in the race."
Perry remains untested on the national stage and the next several weeks will be something of a trial by fire for him. Assuming he withstands it, however, and if the enthusiasm I have seen for his candidacy among conservatives holds true, then I think we're looking at an inevitable Romney v. Perry contest for the GOP nomination further down the line. Compared to all of the other candidates that could challenge Romney, Perry has both the resume and the conservative bona fides to serve as the rallying point for the anti-Romney people in the GOP. If that happens, then Romney's candidacy could be in serious trouble.
While he's been silent on his plans for the past several weeks, it's clear that this has been in the planning stages for some time and that Perry's campaign intends to hit the ground running. The campaign website went active before started speaking this afternoon, and the visit to South Carolina will be followed by an arrival later today in New Hampshire, followed by a trip tomorrow to Iowa. The choice of states is, I think, rather obvious.
There will be much more to say about Perry in the weeks and months to come, I'm sure, and I know I'll find something about him I don't like (I already have, actually). However, listening to his speech this afternoon I was struck with the notion that the message he was delivering was exactly the kind of thing you want to hear from a candidate if you're a supporter. There was criticism of the incumbent, for sure, but the one thing I heard from Perry that I haven't heard from many Republican candidates lately is the kind of optimism that Ronald Reagan projected in the depths of 1979 and 1980. Now, I'm not saying that Rick Perry is anywhere close to Reagan, but that message of optimism is one that goes over well on the campaign trail, and if he keeps it up it's likely to work to his benefit. If this does indeed come down to a contest between Perry and Mitt Romney, as I suspect it will, I doubt many conservatives are going to find a reason to object to Perry.
Update: Here's video of the speech:
Photo via The New York Times