CNN/Tea Party Debate: Rick Perry Gets Hit From All Sides
The Texas Governor was taking it from all sides at last night's Tea Party Debate.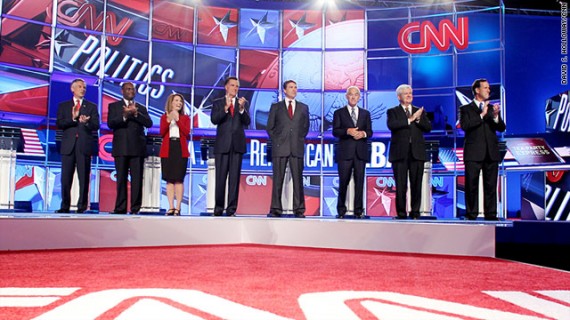 Last night's CNN/Tea Party Debate in Tampa was unlike anything we've seen so far in the Presidential cycle. For one thing, true to its name, the debate featured audience members and questions from Tea Party members at the debate site and at three other locations around the country. It started with something you've seen before in a Presidential debate, and are likely never to see again, the National Anthem. Apparently, this is quite common at Florida Tea Party gatherings, and this was definitely a Tea Party gathering. More than once, this meant questions on issues that were of more interest to the Tea Party than voters as a whole (the Federal Reserve question being the best example of this). That's not to say there weren't interesting questions asked that journalists might have missed; one woman from Virginia asked a somewhat inarticulate question about Executive Orders that touched on an issue that usually gets glossed over or totally ignored. For another, it meant that feedback from the audience was most positive when the candidates hit a Tea Party talking point, such as when Michele Bachmann once again referred to her opposition to raising the debt ceiling as if it were a good thing.
For the most part, though, the theme of last night's debate was let's hit Rick Perry, and the Texas Governor was taking it from both sides:
The Republican presidential candidates aggressively confronted Gov. Rick Perry at a debate here on Monday night, and pressed him to explain his views on Social Security and his decade-long record in Texas, including an effort to require the vaccination of schoolgirls and granting children of illegal immigrants a college tuition break.

The rapid rise of Mr. Perry, who joined the race only a month ago, made him a central target for his Republican rivals. He sought to deflect the critiques with humor and sarcasm, but he tried to clarify his position on Social Security, whose constitutionality he has questioned.

He said that he "slam-dunk guaranteed" promised benefits would be available to current retirees, but also suggested the nation should examine ideas like allowing states to opt out of Social Security and set up their own programs.

He repeatedly tangled with Mitt Romney, the former Massachusetts governor, who pushed him again and again to expound on his positions. When Mr. Perry tried to flick away the questions, Mr. Romney declared: "We're running for president."

The debate went a long way in clarifying the contours of the Republican contest, both in terms of the strength of the candidates — for the second time in a row, Mr. Romney and Mr. Perry were the main players — but also on the issues driving the race. It is rare in a presidential primary to have such a vivid difference of opinion on a critical issue, as is the case with Mr. Romney and Mr. Perry on Social Security.

The Republican presidential debate often took on the feel of a rollicking political game show, playing out before a studio audience of 1,000 Tea Party activists here at the Florida State Fairgrounds. The debate was continually interrupted by applause, but it remained an open question whether the cheers or the jeers provided an accurate reflection of how Republican voters elsewhere were judging the evening.

(…)

While it was the fifth Republican presidential debate of the year, it was only the second time that Mr. Perry has joined the candidates on stage. His views on a variety of subjects are less well known than many of his rivals, so the questions often returned to him. He said that it was time to bring American troops home from Afghanistan "as soon and as safely as we can."

Representative Ron Paul of Texas also took a shot at Mr. Perry when asked whether he deserved credit for his economic record in Texas. "I would put a little damper on this," Mr. Paul said, "but I don't want to offend the governor, because he might raise my taxes or something."

The candidates were welcomed onto the neon-lit stage by Wolf Blitzer, the CNN anchor, as though they were contestants in a lightning round, complete with nicknames, including Mrs. Bachmann, "The Firebrand"; former Speaker Newt Gingrich, "The Big Thinker"; and Mr. Santorum, "The Fighter."

CNN's decision to co-sponsor the debate with the Tea Party Express resulted in a more roiling debate than the more decorous one last week at the Ronald Reagan Presidential Library and Museum in California. The audience of about 1,000 made no secret of whom it liked and whom it did not, cheering along Mr. Perry and Herman Cain, a former business executive, and being cool to Mr. Romney.

Mr. Perry and Mr. Romney, whose lecterns were positioned side by side, quickly turned their answers into a nightlong match of one-upmanship. At one point, Mr. Perry leaned over and patted his rival on the back as the moderator asked Mr. Romney if Mr. Perry deserved any credit for job creation in Texas."If you're dealt four aces," Mr. Romney said, "that doesn't make you necessarily a great poker player."
The big issue going into the debate was, of course, Social Security. As he had in the USA Today Op-Ed I wrote about yesterday, Perry backed away from the strong rhetoric he had been using on the campaign trail and in his book, which he repeated in the last debate. Instead, he sought to assure current recipients and those near the retirement age that their benefits, but that the nation needed to deal with the fact that the Social Security system would have to be reformed before it became unable to pay benefits for younger workers. That wasn't good enough for Mitt Romney, though, who repeatedly challenged Perry on his previous statements that Social Security itself is unconstitutional and that it should be devolved to state control. Perry never answered the question directly, and has thus left himself open on this issue, which will most assuredly come up during the next debate on September 22nd, which also happens to be in Florida.
Here's the entire Social Security exchange:
As Fred Bauer put it, Perry evaded on this issue, and he guaranteed that it will come up again.
The other issue where Perry took it on the chin was, as noted above, the Gardisil debate and, while he had the audience on his side when he started by admitting he made a mistake, he quickly lost control of the issue as Bachmann and Rick Santorum stepped in with their social conservative talking points:
Finally, Perry found himself the target when the issue of immigration came up, both over his opposition to a border fence and his support for a Texas law that gave in-state tuition to the children of illegal immigrants, which some of the right have incorrectly referred to as a Texas version of the DREAM Act. Even Jon Huntsman joined in on the exchange and came across and uncharacteristically right wing:
There were exchanges on the economy, and jobs, and foreign policy too, and you basically heard the same talking points that these candidates have repeated from other debates. The real news from last night is that Perry came under attack, and he didn't come across well in his defense.  The general consensus this morning seems to be that Perry did not come across nearly as well in this debate as he did last week. Fred Barnes, for example, counts this as a clear Romney win as does The Washington Post's Chris Cillizza:
Four debates. Four times Romney has wound up in the winner's circle. It's not a coincidence. Romney proved yet again that he is the best debater in this field with another solid performance in which he effectively downplayed his liabilities on health care and accentuated his strengths on jobs and the economy. Romney played more offense than he has in previous debates, taking the fight to Texas Gov. Rick Perry on Social Security. He also got a major assist from Rep. Michele Bachmann (Minn.) and former senator Rick Santorum (Pa.), both of whom relentlessly bashed Perry. But that's how debates work. Romney also, smartly, ignored the tea party audience in the hall — who occasionally booed him — and focused his messaging on the much broader audience of people watching the debate on CNN.
I've got to mostly agree with Cillizza here. Romney may not be the sexy candidate for conservatives but he continues to do a decent job of coming across as the competent, middle-of-the-road guy who can be trusted with the reigns of government. That's the kind of thing that may not play well with the Tea Party audience, but it's likely to resonate with mainline Republican voters in states like Ohio, Pennsylvania, and Florida. More important, Perry still hasn't put the Social Security problem behind him and Romney has a credible case to make that his past statements on that issue pose a serious risk to his electability in a General Election. Even the hits that Perry took from the right will help Romney to some extent, and his campaign was all over that in the spin room last night:
"Rick Perry came into this debate with a Social Security problem and he left with a conservative problem and he had to defend himself," said senior Romney adviser Eric Fehrnstrom. "Not only on the HPV vaccine, but on the taxes he increased, the spending and the debt that went up and his decision to provide in-state benefits to illegal immigrants."

It's early still, but Perry is now facing the biggest challenge yet to his month-old campaign. He found out Monday evening how difficult it can be to run as the activist favorite with some glaring deviations from party orthodoxy. Put another way, the tiger he's been riding turned around. And that's aside from any damage inflicted by Romney's efforts to portray the Texas governor as too extreme on Social Security.
It's not all over for Perry, of course. He lost last night, but this is a marathon, not a sprint. Perry is the frontrunner because he is the most electability candidate that best reflects the attitudes and beliefs of the base of the Republican Party and because of the doubts that conservatives about Mitt Romney. The attacks from the right aren't likely to hurt him for the very simple reason that there is no other viable candidate on the right of Mitt Romney. Who else is the Tea Party going to rally behind, Bachmann, Santorum, Cain? I don't think so. Two of those three had there time in the spotlight and faded quickly when better candidates came along. We have our two frontrunners right now, and that's not likely to change any time between now and when the nomination is decided.
The other candidates had their moments, of course. Jon Huntsman continues to impress me as a candidate who is getting far less attention than he should, and who should be taken just as seriously as Romney and Perry. Gary Johnson, who wasn't even invited to the debate, used the evening as another opportunity to answer the debate questions on Twitter. Newt Gingrich is back in professorial mode, which probably means he's probably thinking about his next book. Herman Cain was virtually non-existent but combative as usual when he did speak. And, once again, Rick Santorum and Ron Paul went at it each other in an interesting, if utterly pointless, debate about military interventionism and the War on Terror:
In the end, though, these guys, and Bachmann, are just filler. In a few months, we'll be watching debates where most of them won't even be invited, although I would think that the Romney camp will be fine if Michele Bachmann and Rick Santorum continue to show up and bash Rick Perry.
I'm not sure there will be any movement in the polls from this debate. Heck, considering the fact that there was a Monday Night Football doubleheader on at the same time, I'm not sure that anyone was watching the debate. What this race is setting up as, though, is a battle between Romney and Perry over the future of the GOP. The decision that voters make could have far reaching consequences.
If you're at all inclined, you can watch the entire debate from beginning to end: