Mitt Romney "Wins" Iowa By Eight Votes, Santorum A Very Close Second
It was a photo finish in the Hawkeye State.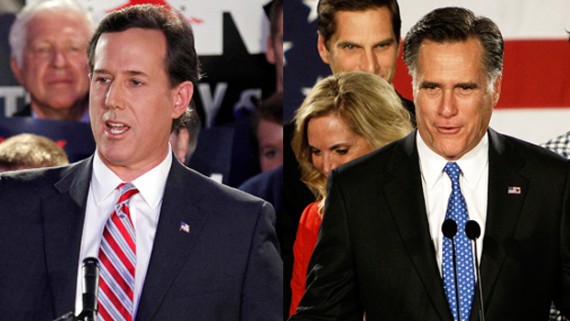 The polls were all telling us that the Iowa Caucus was going to be close. As the night wore on last night, it became very clear very early that it was going to be a long night, with the lead changing several times in the course of just an hour, but I think that few people thought that the final result would end up being as close as it turned out to be. Mitt Romney ended up getting almost the exact same number of caucus votes that he did in 2008, Rick Santorum surprised, and the outcome was decided just a handful of voters among a caucus turnout that looks to have been smaller than the one Republicans drew in the Hawkeye State four years ago:
DES MOINES — Mitt Romney's quest to swiftly lock down the Republican presidential nomination with a commanding finish in the Iowa caucuses was undercut on Tuesday night by the surging candidacy of Rick Santorum, who fought him to a draw on a shoestring budget by winning over conservatives who remain skeptical of Mr. Romney.

In the first Republican contest of the season, the two candidates were separated much of the night by only a sliver of votes, with Mr. Romney being declared the winner by eight ballots early Wednesday morning. But the outcome offered Mr. Santorum a chance to emerge as the alternative to Mr. Romney as the race moves to New Hampshire and South Carolina without Gov. Rick Perry, who announced that he was returning to Texas to assess his candidacy.

"Being here in Iowa has made me a better candidate," Mr. Santorum said, arriving at a caucus in Clive, where he urged Republicans to vote their conscience. "Don't sell America short. Don't put someone out there from Iowa who isn't capable of doing what America needs done."

The Iowa caucuses did not deliver a clean answer to what type of candidate Republicans intend to rally behind to try to defeat President Obama and win back the White House. With 99 percent of the vote counted, Mr. Santorum and Mr. Romney, whose views represent the polar sides of the party, each had 24.6 percent.

"Onto New Hampshire, let's get that job done!" Mr. Romney told supporters at a late-night rally, when he was five votes shy of Mr. Santorum. "Come visit us there, we've got some work ahead."

The last time the Iowa caucuses produced such a close outcome was in 1980, when George Bush beat Ronald Reagan by two percentage points.

Representative Ron Paul of Texas was a close third on Tuesday with 21 percent of the caucus votes.

"We will go on," he said in an upbeat speech. "There is nothing to be ashamed of."
But with a margin of only eight votes, Mitt Romney wasn't the only one with a plausible claim of victory. Rick Santorum started at the back of the pack and stayed that until almost the last minute, and his speech repeated many of the same themes he's been hitting on for the past year or more:
Though Santorum's old-fashioned, shoe-leather approach to campaigning paid off in Iowa, the question now is how far he can go from here, given his lack of resources and the need to ramp up a national organization.

In his victory speech, San­torum alluded to concerns that he was not up to a contest with Romney. "Let me tell you what wins in America are bold ideas, sharp contrasts and a plan that includes everyone," Santorum said.

Santorum also will come under the kind of scrutiny and criticism that he was spared when the other contenders did not view him as a threat.

Paul, for instance, has already branded Santorum "very liberal," and Perry has described the former senator as "addicted to earmarks."

For his part, Santorum has said Paul is "disgusting," and he blamed Paul's campaign for automated phone calls in which voters were told that the vehemently antiabortion Santorum was, instead, more supportive of abortion rights.
Newt Gingrich, meanwhile, ended on bitter note and gave a probable signal of what we can expect from him in the coming week:
There are two candidates battling for first place in Iowa tonight and only one whom Newt Gingrich admires.

Addressing his supporters after finishing a disappointing fourth place in the caucuses, Gingrich said his fight was far from over — and went out of his way to praise one of the two candidates at the top of the pack.

Rick Santorum, Gingrich said, is "somebody we admire and somebody whose family we admire."

"He waged a great, positive campaign," he continued. "I admire the courage, the discipline, the way he focused, and I also admire how positive he was."

Then this dagger, obviously directed at Mitt Romney: "I wish I could say that for all the candidates."
Michele Bachmann finished dead last among the active candidates but vowed last night to continue on even though it's unclear what plausible excuse to do so. It was Rick Perry, though, who surprised his crowd of supporters last night by making an announcement that all but said he's probably going to be out of this race soon:
After finishing fifth in the Iowa caucuses, Texas Gov. Rick Perry announced Tuesday that he would postpone plans to campaign in South Carolina and return home to reassess whether to continue his presidential bid.

"With a little prayer and a little reflection, I'm going to decide the best path forward," Perry told supporters in his concession speech in West Des Moines.

"I've decided to return to Texas," Perry continued, to "determine whether there is a path forward for myself in this race."

With 96.6 percent of precincts reporting, Perry had received just over 12,000 votes – 10.3 percent of the total.

During his speech, Perry read a letter from one of his supporters saying the Texas governor had "brought [him] to tears," using that letter to thank his many supporters and volunteers for their work.

"I just want to say thank you to everyone who's come and volunteered and made the most incredible experience for myself and for the woman that I've been so blessed to have by my side all these many years," he said, standing next to his wife Anita.
Up until he took the podium last night, Perry had been saying that he was heading from Iowa straight to South Carolina to start campaigning there. A smart move on his part, for the reasons I discussed yesterday. However those events are canceled now and it's unlikely that they'll be rescheduled. Even though he still reportedly has as much as $3 million left in the bank if not more, Perry's performance last night was a pretty good indication that this is the end of the road for him. Unlike Bachmann, Perry isn't a crusader who seems either willing or able to engage in a guerrilla campaign for a short period of time. He had his shot as a top tier candidate, if not the nearly-annointed nominee, back in September and he stumbled badly. My guess is we hear within the next 24-48 hours that he's "suspending his campaign," a move that is likely to help Rick Santorum most of all (although Perry's support in places like New Hampshire was so non-existent that it will hardly matter).
With the results this close, it's hard to really say what the outcome in Iowa actually means, or what impact it will have on the race. Notwithstanding the fact that its only an eight-vote margin, Mitt Romney has got to feel better about the fact that he came in a close first than he would have had a come in an equally close second. After all, a win is a win and Romney could still stand up last night and credibly claim that he won the Iowa Caucuses. Of course, thanks to the fact that it was only an eight vote margin, Santorum could similarly claim victory last night and, considering the fact that he had literally spent the last year of the race in last place among the active candidates, his achievement was all the more remarkable even if it was made possible mostly by the fact that all the not-Romney's that came before him flamed out way too early.
The question for Santorum now is where he goes from here. Thanks to the fact that he did so well last night, Santorum really has no choice but to go to New Hampshire and make a go of it. Barring something even more surprising than what we saw in Iowa, though, it seems unlikely that he'll be able to really make waves there. The most recent Suffolk Poll, released just yesterday, showed Romney with a 27 point lead over his nearest opponent and Santorum all the way down at 5 percent. Also, last night, CNN conducted a "Flash Poll" in New Hampshire that showed little movement and not much of an indication of a move to Santorum. New Hampshire is likely to be polled heavily over the next six days, of course, so the possibility of a movement toward Santorum still exists. Right now, though, the top three in the Granite State are Romney, Paul, and Huntsman, and indication that perhaps Santorum is not the kind of candidate New Hampshireites are looking for.
As for what all this means, it's certainly clear that we are still in that phase of the race where the GOP's ideological divide is making people reluctant to get behind Romney, even though they know that he's the one best situated to beat the President in November. How else can you explain the jump from candidate to candidate over the past six months, and now the fact that even conservatives couldn't unite behind a single candidate? If the caucus voters how had gone for Gingrich, Perry, and Bachmann, or even just a majority of them, had voted for Santorum instead, then he would have had a clear victory last night. Instead, the muddle continued and the race moves on to a phase that seems to clearly benefit Mitt Romney more than the two major rivals against him coming out of Iowa, Rick Santorum and Ron Paul , both of whom are flawed in their own way and unlikely to last very long in the end.
Philip Klein, meanwhile, looks at the Iowa results and sees something for Republicans to worry about:
Even if Romney wins the nomination, the Iowa results don't bode well for when it comes to assessing the Republican Party's chances of beating President Obama in November. Though turnout was up from the 2008 caucuses, it was only up by a few thousand votes, even as GOP voter registration grew and more candidates were contesting the state. Romney actually got six fewer votes this time than he did four years ago, but it was enough because nobody matched Mike Huckabee's appeal.

Four years ago, Democrats were frothing at the mouth to win back the White House after two terms of President Bush. Starting from Iowa, the enthusiasm they felt was palpable — and they would have been ready to fight for whoever emerged as the nominee. The night he won the caucuses, Obama addressed a crowd with thousands of supporters going wild. We haven't seen any of the GOP candidates attract that sort of affection. And the entrance polls suggest conservatives still have major doubts about Romney. Tonight's big winner may turn out to be neither Romney nor Santorum, but Obama.
This is a good point, but perhaps the reason that voters haven't coalesced around any one of the Not-Romney's for more than a few weeks at a time is because each of these candidates has been deeply flawed. Michele Bachmann was a flake. Rick Perry failed to live up to his reputation as the kind of campaigner who could take on the President of the United States. Herman Cain's campaign was a self-parody from the beginning. Newt Gingirch was, and will always be, Newt Gingrich and anyone who was surprised by his rapid rise and even more rapid fall hasn't paid attention to Gingrich's career. Now, the man wearing the "Not Romney" crown is Rick Santorum, perhaps the weakest candidate of the bunch in terms of campaign resources. Santorum is a man with his own flaws, not the least of them being a radical vision of social conservatism that will turn off independent voters in a General Election and a record in Congress that isn't exactly fiscally responsible. Does anyone really think he's going to last any longer than the others? Perhaps he will, but it seems very unlikely.
One final point. For all the campaigning, all the polling, all the caucusing, and the late night that many people had last night, guess how many Republican National Convention delegates were awarded last night? Precisely zero. In addition to the numbers we're paying attention to, last night's caucuses also elected precinct delegates to county conventions which take place on March 16th. Those county conventions will send delegates to Congressional District conventions which take place on April 21st. That Congressional District Convention will send delegates to the Iowa State GOP convention, which takes place June 16th. The Iowa State GOP convention is the body that selects the delegates to the Republican National Convention. Four years ago, Mike Huckabee won the Caucuses, but the delegates that went to the Republican National Convention were all McCain delegates. So, basically, we just wasted a year of time.