Romney Leads In New Iowa Poll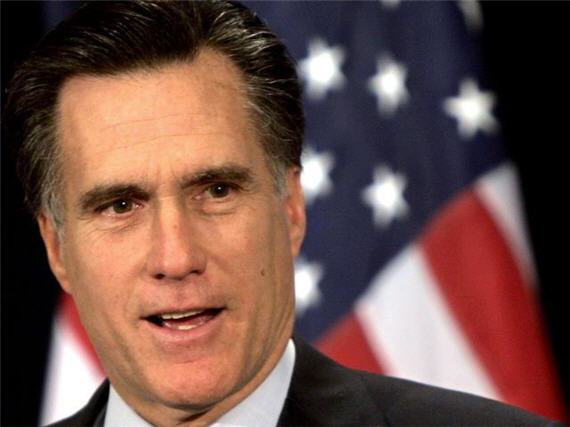 Previous polls of likely Iowa caucus goers had Michelle Bachmann, and then Rick Perry in the lead but a new poll from American Research Group has some very interesting results:
Mitt Romney — 21% (up three points from July 2011 ARG poll)
Michele Bachmann — 15% (down six points from July 2011 ARG poll)
Rick Perry — 14%
Ron Paul — 12%
Newt Gingrich — 8%
Herman Cain — 6%
Sarah Palin — 4%
All other candidates at 2% or less
Among the more interesting results from the difference in candidate support levels depending on whether the respondent is a Tea Party supporter: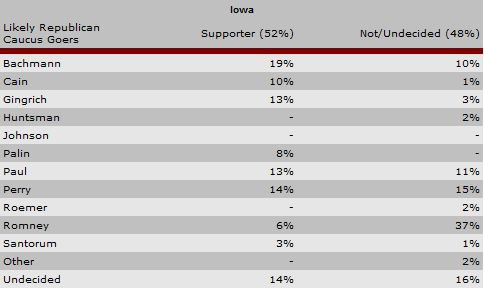 Assuming this isn't an outlier poll result, this is pretty surprising. Romney hasn't been spending nearly as much time in Iowa as Bachmann has, and one would have thought that Perry would be more palatable to the conservative GOP base in that state. Partly, the result may simply be due to the fact that Iowa voters are more familiar with Romney thanks to his run in 2008. In any case, conventional wisdom was that Romney wasn't going to expend serious resources in Iowa and let Bachmann, Perry, and the others fight it out there. Results like this may change that calculation. Moreover, if Romney somehow manages to win the Iowa Caucuses, or make a close race of it at least, and then follow that up with a win in New Hampshire, he's going get a significant boost of momentum going right out of the gate.