Rick Perry Takes The Lead In New Iowa Poll, But Warning Signs Abound For The GOP
Rick Perry is leading the GOP field in Iowa, but there are warning signs for Republicans as a whole if you look deeper.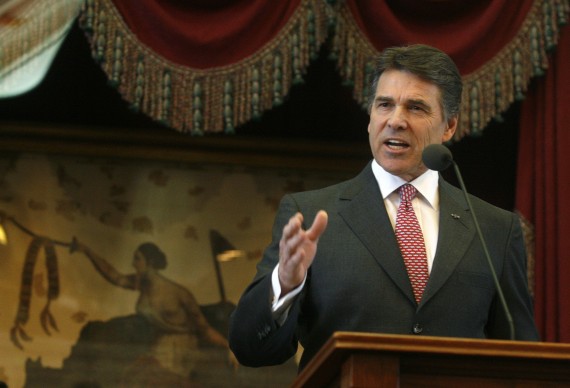 Just about ten days after entering the race in the wake of Michele Bachmann's straw poll win, Rick Perry is now at the top  in Iowa according to a new poll from Public Policy Polling:
The race is pretty close four ways in Iowa but Rick Perry is the new favorite among Republican voters in the state. Among announced candidates he's at 22% to 19% for Mitt Romney, 18% for Michele Bachmann, and 16% for Ron Paul. Further back are Herman Cain at 7%, Newt Gingrich and Rick Santorum at 5%, and Jon Huntsman at 3%.

If you throw Sarah Palin into the mix the numbers are pretty similar with Perry at 21%, Romney at 18%, Bachmann at 15%, Paul at 12%, and Palin registering at only 10%.
Not surprisingly, Perry is drawing significant support from Tea Party voters and from the evangelical social conservatives that make up such a large portion of the Iowa GOP:
Only 33% of Republican voters in Iowa identify themselves as members of the Tea Party but a broad advantage with them is driving Perry's lead. He gets 32% to 22% for Bachmann, and 19% for Paul. Romney is all the way back in 6th place with those voters at only 6%. Romney doesn't need to win Tea Party voters to win in Iowa but he needs to do a whole lot better than that. With the majority of Republicans who don't consider themselves Tea Partiers Romney actually leads Perry and Bachmann with 30% to their 16% but it's not enough to make up for his poor performance with the far right faction of the party.
And, also not surprisingly, the controversial statements that Perry has made over the past week aren't hurting him very much:
Only 35% of Iowa Republicans believe in evolution to 48% who don't. With the ones who do believe in it Perry's in 4th place at 12%, putting him behind Romney's 24%, Paul's 18%, and Bachmann's 15%. But with the evolution deniers Perry is the overwhelming favorite at 32% to Bachmann's 19%, Romney's 15%, and Paul's 13%.

It's a similar story with global warming. Only 21% of GOP voters believe in it while 66% do not. Again with the believers Romney is in a strong first place at 31% to 15% for Paul, 13% for Bachmann, 11% for Huntsman, and only 9% for Perry. But with the much more numerous group of Republicans who think global warming is a farce Perry cleans up at 28% to 20% for Bachmann, 16% for Paul, and 13% for Romney, giving him the overall lead.

There even continues to be a pretty strong birther strain in Iowa. 48% of Republican voters believe Barack Obama was born in the United States but 32% still do not. With the ones who think Obama was born in the country, Romney edges Perry 25-22. That's more than overcome by Perry's 22-10 lead with the GOP voters who don't think the President is a legitimate US citizen.
As PPP notes, the person who seems to have lost the most in Iowa based on this poll is Michele Bachmann. She remains in third place in the PPP poll, and her win in Ames didn't give her much of an immediate boost in the polls. Most significant, though, is the fact that Perry has quickly jumped into the lead against Bachmann among Tea Party and conservative voters. Additionally, Bachmann's overall favorablility in the state has declined. If that continues, Bachmann is going to have a hard time competing against Perry in the caucuses. Interestingly, Ron Paul, who finished just behind Bachmann in the straw poll, saw his poll numbers increase from 11% to 16% and his overall favorability among Republican voters increased to the point where only Rick Perry has a higher favorable/unfavorable ratio than he does. Paul may not win the nomination, but he seems to be making a positive impression among Republicans in Iowa, which could make for interesting times at the caucuses.
It's not all good news for Perry, though, because the poll also find that he trails the President in a head-to-head matchup. In fact, the only Republican candidate who comes close to Obama in such a matchup is Mitt Romney, who ties the President. All the other candidates trail the President in the Hawkeye State outside the margin of error. The main reason for Obama's lead in the state, appears to be the Hispanic vote:
One big reason Obama's doing pretty well in these match ups is the Hispanic vote. Exit polls in 2008 showed him winning it by a 36 point margin over McCain but he builds on that in all of these match ups with a 37 point advantage over Romney at 66-29, a 46 point one over Perry at 72-26, a 48 point edge over Bachmann at 74-26, a 49 point lead on Palin at 74-25, and a 53 point spread on Herman Cain at 75-22. This is a good example of what Republican strategist Mike Murphy has described as the economics vs. demographics tension for next year's election. The economy could sink Obama but at the same time an ever growing expanding Hispanic vote that he wins by a huge margin could be enough to let him eek out a second term.
It should also be a message to the GOP that they are losing the fastest growing ethnic demographic in the country, largely because of their stand on immigration-related issues, and that their electoral prospects in Iowa and around the country are only going to get worse if that continues.