Assessing Rick Perry's Vulnerabilities
Rick Perry may be much less than meets the eye.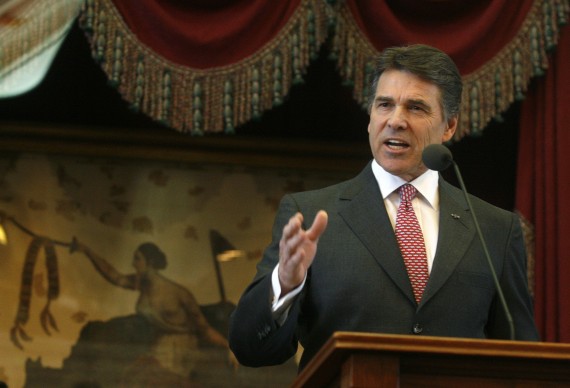 In my comments on Rick Perry's entry into the race yesterday, I noted several positive aspects about him that I thought would serve him well in the battle for the GOP nomination, especially considering who his primary opposition is likely to be. To be sure, there is much about Perry and his record that is likely to impress prospective Republican voters during the primaries and, depending on the economic conditions at the time, independent voters during a General Election against President Obama. The Texas economy has benefited from relative prosperity over the past several compared to the rest of the nation. The state's unemployment rate is lower than the nation as a whole and the state has led the nation in job growth for the past couple years. And, Perry has managed to do all this and maintain a balanced budget without a state income tax. Judged from afar, it looks pretty darn good, and Perry will no doubt make what some call the "Perry Miracle" a central part of his campaign.
It's not all sunshine and roses, though, and behind the curtain there are several stubborn facts that may cause problems for Perry in the primaries or, if he is the nominee, in a General Election race against President Obama.
For one thing, the Texas economic miracle may be much less than meets the eye:
While Texas has created more jobs than any other state in the past two years, the increase is far less than advertised. The rate of increase is not much higher than a number of other states, including former rustbelt centers like Pennsylvania or liberal sanctuaries like Vermont.

Moreover, its recent performance is a classic case of "all hat, no cattle." Texas lost 34,000 jobs in June, causing its unemployment rate to jump to 8.2 percent, which ranks it 25th among states and leaving it worse off than its immediate neighbors. Even as Texas' unemployment rate rose along the lines of the entire country, the neighboring states of Louisiana and New Mexico saw their unemployment rates fall to 7.8 percent and 6.8 percent, respectively.

Moreover, to the extent Texas has succeeded in adding jobs over the past two years, most of its good fortune rests on conditions that are not replicable elsewhere. Soaring oil prices have provided a substantial number of new jobs and tax revenue since it is the nation's leading oil- producing state, even as those $4-a-gallon gas prices drained consumers nationwide and put pressure on other states' budgets. An influx of new government defense spending has also pumped up revenue, while the state has used oil revenue to postpone a sharp cutback in state and local government employment, which is about to hit in full force.
Texas also hasn't exactly been parsimonious when it comes to going into debt, an issue that could well be an issue among Tea Party supporters when the become aware of it:
According to a recent analysis in the Ft. Worth Star-Telegram, state debt grew by 282 percent over the last decade, a slightly faster rate of increase than the ostensibly more profligate federal government. Local government debt in Texas grew by a heady 220 percent over the same period.
Additionally, another Fort Worth Star-Telegram article found that state government spending in Texas under Perry had increased significantly faster than under his recent predecessors:
When Bush was governor, total state spending rose 13.3 percent every two years on average. Adjusting the figures for population growth and inflation, that growth rate was 2.3 percent.

Perry took the reinss in December 2000. From then until 2011, spending increased an average of 16.8 percent every two years. Once adjusted for population and inflation, that rate falls to 4.2 percent. Adjusted spending figures in the just-passed 2012-13 budget are not yet available.
On the jobs front, things aren't quite as rosy as Perry makes them out to be:
Texas leads the nation in minimum-wage jobs, and many positions don't offer health benefits. Also, steep budget cuts are expected to result in the loss of more than 100,000 jobs.

Perhaps most importantly, Texas can't create jobs fast enough to keep up with its rapidly growing population. Since 2007, the state's number of working-age residents expanded by 6.6%, nearly twice the national average.

Factoring in that population growth means Texas would need to create another 629,000 jobs, or 5.6% more positions, just to reach its pre-recession employment level, according to the Economic Policy Institute.

"They have a long way to go before they get back to a positive place," said Doug Hall, director of the Economic Analysis and Research Network, an institute project.
Indeed, as noted above, while the unemployment rate in Texas is lower than the nation as a whole, it is higher than 25 other states, including such seemingly "old economy" states as New York, Pennsylvania, Wisconsin, Minnesota, and Maryland.
The Texas Republican Liberty Caucus, meanwhile, notes that there are several parts of Perry's record that limited government fiscal conservatives should be concerned about:
1. Business Slush Funds: Perry made heavy use of business incentive "slush funds" which used taxpayer dollars to subsidize selected businesses, many of them run by his major campaign contributors.  Just two of these funds, the Texas Enterprise Fund and the Texas Emerging Growth fund, spent over $700 million to subsidize businesses to move to Texas or expand operations in Texas, with little evidence that these handouts of taxpayer money produced job or revenue growth anywhere near sufficient to justify the expense.  In fact, many of these businesses eventually downsized or relocated long before they had earned the money Perry gave them, or even went bankrupt with $25 million fund dollars like Countrywide Financial. source
2. Toll Roads and Land Seizures Perry has never met a toll road project he wasn't willing to seize huge amounts of private land for and then give the exclusive management contracts to foreign corporations.  Perry's time in office has set records for eminent domain land seizures – over a million acres have been seized.  His toll road projects have confiscated family farms and torn communities apart.  Toll roads have been used as a massive off-the-books tax program, taking money from Texas drivers and feeding it to foreign financial interests and management groups which lobbied the governor for special deals which produce much higher tolls and higher profits than are typical in other states. source
3. Forced Vaccinations: In 2007 Perry issued an executive order which would have forcibly vaccinated every girl in Texas entering the sixth grade with Merck's Gardasil vaccine for Human Papilloma Virus.  This massive violation of the privacy rights of Texas teenagers and their parents would have come at a cost of $360 in taxpayer money per shot.  It would have been a huge windfall for Merck, which had paid Perry's former Chief of Staff $250,000 to lobby the governor and legislature to promote the forced vaccination program. source
4. The Job-Killing Franchise Tax: Knowing that it would be impossible to pass an income tax against popular opposition in Texas, Perry promoted the idea of a special business tax called the "Franchise Tax" which taxes businesses at different arbitrary rates set by the government.  This tax expands business taxes to types of businesses which are not taxed in most states and in many cases taxes small businesses more than large corporations they compete with.  For example it taxes small car repair shops at double the rate it taxes large dealerships for car repairs.   It's a small business and job killer. source
5. Scuttled the Anti-TSA Bill When Rep. David Simpson led the Texas legislature towards passage of an enormously popular bill (HB1938) to hold the TSA accountable for intrusive searches of airline passengers, Perry played a key role in making sure that the bill was not passed.   When the TSA and the Justice Department began pressuring him, although Perry had promised to submit the bill to the special legislative session, he delayed submitting the bill until it was so late in the session that it was virtually impossible to hold the constitutionally mandated votes necessary for passage.  That way he could score points with the public for submitting the popular bill while at the same time making sure that it wouldn't pass.  It's a classic example of Perry's insincere pandering. source
All of  this is relevant in a Republican primary, and one would expect candidates like Bachmann to capitalize them at some point in the race. Whether they work depends on whether the Tea Party/conservative base of the GOP values experience over political purity. Based on past experience, one would conclude that purity would win the day, which would seem to benefit Bachmann. However, Bachmann's own vulnerabilities and her lack of a record, something that Tim Pawlenty brought up and which other candidates will bring up in the future, strikes me as being a bigger vulnerability among Republicans who, at heart, want to defeat Obama in November 2012. On that criteria alone, Perry seems to be in a far better position to win a General Election than Michele Bachmann ever will be, this seems even more true considering there are already conservatives saying that the Republican nominee needs to be "Anyone But Bachmann."
Even if Perry wins the Republican nomination, though, Republican consultant Mike Murphy notes that there are some Republicans who worry that he would be a weak opponent in a General Election:
Anyone who watched Rick Perry destroy Sen. Kay Bailey Hutchison in the Texas gubernatorial primary last year should have no illusions; he knows how to win a GOP primary. Whether Perry can win a general election or not is another matter. Most senior GOP strategists have major concerns about running a twangy Christian conservative Texan as the party's nominee against even a weakened Barack Obama. Count me among them
The questions I noted above about the substance of the "Perry Miracle" is one of the reasons GOP insiders are likely to be concerned, another is the fact that there's plenty of other things in Perry's past that Democrats will inevitably bring up in a General Election:
Rick Perry made national headlines in 2009 when, during a speech to a Tea Party group, he floated the possibility that Texas could secede from the union. But the governor's substantive ties to the neo-Confederate movement may be deeper than previously known.
A 1998 voting guide published by a leading neo-Confederate group and obtained by Salon not only endorses Perry for lieutenant governor but also describes him as "a member of the Sons of Confederate Veterans." Perry's office did not respond to a request for comment about the governor's possible membership in the Sons of Confederate Veterans.

(…)

Perry, who in 1998 was Texas' commissioner of agriculture running in a fiercely contested lieutenant governor's race, was praised by the League of the South as a "solid, conservative candidate" who would provide a "tremendous boost" to efforts in the Legislature to proclaim April as Confederate History and Heritage Month. (A few months after the election, in April 1999, the Texas state Senate did just that, though it's not clear if Perry played any role.) On Election Day '98, Perry narrowly beat out Democrat John Sharp to become the state's first Republican lieutenant governor since Reconstruction — an outcome that positioned Perry to rise to the state's top job two years later, when George W. Bush left the governorship to become president.
Perry's office has denied that he was ever a member of the SCV, but even if this is the case Perry still has a record of promoting neo-Confederate groups and causes while holding political office:
In 2000, for instance, Bush was locked in a heated South Carolina presidential primary contest with John McCain in which the question of the Confederate flag and its presence atop the state's capitol played a prominent role. (Bush basically punted, saying it was a state issue.) At the same time, back in Texas, the NAACP demanded that two plaques bearing Confederate symbols be removed from the state Supreme Court building. The plaques were ultimately removed (sparking a decade of litigation pushed by the Sons of Confederate Veterans), but not before Lt. Gov. Perry weighed in on the side of the neo-Confederates.

According to the Washington Times (via Nexis), in March 2000 Perry fired off a letter to Denne Sweeney, Texas commander of the Sons of Confederate Veterans: "Although this is an emotional issue," he wrote, "I want you to know that I oppose efforts to remove Confederate monuments, plaques, and memorials from public property. I also believe that communities should decide whether statues or other memorials are appropriate for their community."

(…)

Fast-forward to 2007, when, after being reelected for the second time in a landslide, Perry invited right-wing rocker Ted Nugent to play at his inauguration ball. Nugent showed up in a Confederate-flag shirt (and toting a machine gun, picture here), prompting a minor outcry from black groups. But Perry's spokesman went on the record saying that Perry would have invited Nugent even if the governor had known in advance that Nugent was going to wear the flag shirt; and Nugent himself said Perry called him in the days after the event and, speaking about the controversy, encouraged Nugent to "give 'em hell."

In 2008, Perry was featured in the pages of the Confederate Veteran, the magazine of the Sons of Confederate Veterans. He is pictured presenting a state flag that had flown over the capitol to Billy Ford, a member of the Sons of Confederate Veterans camp in Corsicana, Texas. That group's mission statement says it exists "to preserve the memory of the Confederate soldier, and to help to spread the truth of the cause for which he fought."
This and other things are what the Obama campaign and its surrogates would use to make the case that Perry is a far-right kook. Would it work? It's hard to say. If the economy is still in the tank and Obama's own approval numbers continue to sink, lashing out at your opponent like this is likely to be seen as a move of desperation. Nonetheless, it could cause independents to thinks twice, and it's the independents that will decide this election.
On first glance, Rick Perry seems like the perfect conservative Republican candidate to take on President Obama. Beneath the surface, though, there's a series of vulnerabilities that both Primary and General Election opponents are likely to  exploit. Republicans ought to think twice before jumping on this ship.
Update: A further cautionary tale from today's Wall Street Journal, where Charles Dameron writes about Perry's crony capitalism:
Among the companies that the Emerging Technology Fund has invested in is Convergen LifeSciences, Inc. It received a $4.5 million grant last year—the second largest grant in the history of the fund. The founder and executive chairman of Convergen is David G. Nance.

In 2009, when Mr. Nance submitted his application for a $4.5 million Emerging Technology Fund grant for Convergen, he and his partners had invested only $1,000 of their own money into their new company, according to documentation prepared by the governor's office in February 2010. But over the years, Mr. Nance managed to invest a lot more than $1,000 in Mr. Perry. Texas Ethics Commission records show that Mr. Nance donated $75,000 to Mr. Perry's campaigns between 2001 and 2006.

The regional panel that reviewed Convergen's application turned down the company's $4.5 million request when it presented its proposal on Oct. 7, 2009. But Mr. Nance appealed that decision directly to a statewide advisory committee (of which Mr. Nance was once a member) appointed by Mr. Perry. Just eight days later, on Oct. 15, a subcommittee unanimously recommended approval by the full statewide committee. On Oct. 29, the full advisory committee unanimously recommended the approval of Convergen's application. When asked why the advisory committee felt comfortable recommending Convergen's grant, Lucy Nashed, a spokesperson for Mr. Perry, said that the committee "thoroughly vetted the company."

Starting in 2008, Mr. Perry also appropriated approximately $2 million in federal taxpayer money through the auspices of the Wagner-Peyser Act—a federal works program founded during the New Deal and overseen in Texas by Mr. Perry's office—to a nonprofit launched by Mr. Nance called Innovate Texas. The nonprofit was meant to help entrepreneurs by linking them to investors. It began receiving funding on Dec. 31, 2008, soon after Mr. Nance's previous company, Introgen Therapeutics, declared bankruptcy on Dec. 3. According to state records, Mr. Nance paid himself $250,000 for the two years he ran Innovate Texas. Innovate Texas, whose listed phone number is not a working number, could not be reached for comment. (Two phone calls left for Mr. Nance at Convergen's offices went unreturned.)

ThromboVision, Inc., a medical imaging company, was also the recipient of an award from the Emerging Technology Fund: It received $1.5 million in 2007. Charles Tate, a major Perry contributor, served as the chairman of a state committee that reviewed ThromboVision's application for state funding, and Mr. Tate voted to give ThromboVision the public money. One month after ThromboVision received notification that it would receive a $1.5 million state grant in April 2007, Mr. Tate invested his own money in ThromboVision, according to the Dallas Morning News. The Texas paper later found that by 2010 Mr. Tate owned a total of 200,000 preferred shares in ThromboVision.
Like I said, there's much less here than meets the eye.