Rick Perry Looking For The Elusive Second Act In American Politics
Rick Perry is sounding for all the world like a candidate for President, and says he's a different candidate this time, but initial perceptions are hard to overcome.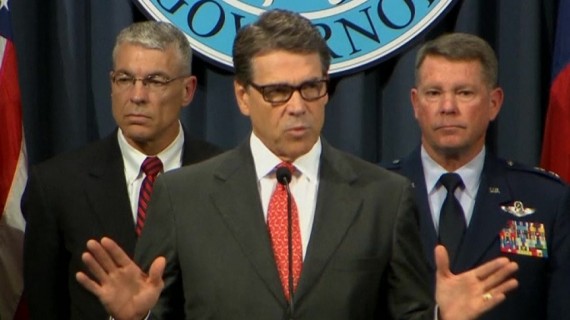 For many Americans, Texas Governor Rick Perry was defined entirely by a 2012 Presidential campaign that was as disastrous as it was brief. After entering somewhat reluctantly at the urging of conservatives looking for a viable alternative to Mitt Romney, Perry quickly vaulted to the top of the polls and found himself raising record amounts of money in a very short period of time. When it came time to, well, actually start campaigning, though, Perry began to show his faults. It wasn't so much the one-on-one campaigning that proved to be his undoing, although he didn't do nearly as much of that in places like Iowa as someone who was running for President and had entered the race exceedingly late should have been doing. as it was the many multi-candidate debates broadcast in the fall of 2011 in which the Texas Governor proceeded to dig himself into a hole that he never got back out of. It all came about, as I've noted before, thanks to verbal flubs,memory lapses, and comments that ended up alienating Republicans across the board. Perry now blames all of this on the painkillers he was on while he was recovering from back surgery, but the reason was pretty much irrelevant. Within a month, Perry was falling in the polls and never really recovered even though he stayed in the race until just before the South Carolina primary.
Now, with four more years as Texas Governor under his belt, Perry says he's a changed candidate and, though he has yet to formally announce it, he sounds for all the world like someone who is running for President:

Rick Perry is trying to show that he is not the Rick Perry you remember. Gone, it seems, is the blustery bravado, the empty rhetoric, the cowboy boots — and, yes, the "oops" moments. This Perry comes across as studious, contemplative and humble. He said he is at peace with his 2012 presidential campaign, in which his shoot-first-aim-later approach proved catastrophic, but is hungry to redeem himself.

As Perry packs his belongings at the governor's mansion after 14 years in office, he is undergoing exhaustive preparations to run again for president in 2016. He is striving to make a better second impression than his first one.

"We are a substantially different, versed candidate," he said. He noted that other politicians who endure such humiliation might "scurry off to the quietness and the comfort of some obscure place, and I wasn't interested in doing that. I think that this country is begging for leadership."

Perry sat down with The Washington Post for a wide-ranging 90-minute interview over lunch here Monday. He discussed his political rehabilitation, which this month includes day-long tutorial sessions with conservative scholars.

Perry also is hosting seven dinners at the mansion this month for about 600 potential campaign donors from around the country. At each dinner — funded by Texans for Rick Perry — he plays a three-minute, amped-upvideo promoting his economic legacy of transforming Texas into "a haven of opportunity" with "unparalleled prosperity."

Perry insists that he has not decided whether to run and said he won't announce a decision until May or June, but he nonetheless offered a rationale for his candidacy.

"You want the guy in the front left seat to be more than a low-time, private pilot," he said. "You'd like to have the person in the front left seat of your aircraft being a rather high-time, experienced aviator."

Perry, who served as an Air Force pilot before becoming the longest-serving governor in his state's history, said he sees himself as this metaphorical aviator.

"If you're looking for that steady hand that's going to make a clean break with the administration's policies that are in place today, I am a very clear and compelling individual to support," said Perry, 64.

He said he believed he could attract voters in a general election with an optimistic economic message centered on helping businesses to grow and expanding educational opportunities. He argued that President Obama won reelection in large part because Republican nominee Mitt Romney alienated voters, especially Hispanics.

"To make the statement of 'self-deportation' was very offensive to the people that we should have been reaching out to and giving reasons to be for us," Perry said.
The best indication that Perry is serious about running for President again, and about doing it right this time, can be seen in the preparations that he's already making:
Perry has entrusted his political future to Jeff Miller, a strategist from California who has moved here and taken charge of the operation. Longtime national operatives Terry Nelson, Steve Schmidt and Henry Barbour also are advising Perry, while economist Abby McCloskey is organizing his policy preparations. David Carney and Joe Allbaugh, rival strategists on Perry's 2012 campaign, are no longer in his circle, although 2012 manager Rob Johnson and longtime spokesman Mark Miner remain close.

This week, Perry began intensive news media training, as advisers staged mock on-camera interviews with hostile questioning. Perry also has been working with speech coaches at Podium Master, a GOP firm run by an alumnus of the Royal Shakespeare Company, to improve his presentation skills. Perry's advisers acknowledge that he will have little margin for error in next fall's debates. In 2011, he imploded at a debate by forgetting the three federal agencies he said he wanted to eliminate, stammering and saying, "Oops."

Experts at top think tanks have been flying to Austin to tutor the governor. On Thursday, he will sit for six hours with former Bush administration economists Greg Mankiw, Keith Hennessey, Glenn Hubbard and Diana Furchgott-Roth to discuss economic growth, labor markets, taxation and regulation.

Perry recently held freewheeling, all-day sessions on health care and income inequality, and plans more this month on energy and environment, budget and entitlements, education, immigration and financial services.

"The governor is in the top tier in terms of the amount of preparation that he's putting in," said Avik Roy, a former policy adviser to Romney, who briefed Perry on health care and has met with other 2016 hopefuls. Perry, he said, "is asking questions throughout and interjecting throughout. . . .They're absolutely not talking-point conversations."

(…)

Perry has been invited to address the World Economic Forum in January in Davos, Switzerland, but has not decided whether to make the trip. He spoke at the forum a year ago.

Perry plans to keep up his busy itinerary in Iowa, New Hampshire and South Carolina. "Those first three states require a substantial amount of personal interaction that we had not done in 2011 or 2012," he said. Since the 2012 election, Perry has held 33 events in Iowa over 15 days, more than any other 2016 hopeful, according to the Des Moines Register.

Perry also is courting funders. He knows it could cost $100 million or more to win the GOP primary, and he will be at a disadvantage relative to 2012, when he controlled the governor's office and thousands of related political appointments.

This month's donor dinners are being held under twin chandeliers in a white tent in front of the governor's mansion. Anita Perry, who advisers said is pushing her husband to run, welcomes the guests and the legacy video is played. Then the governor answers questions and visits with each table.

There is no ticket price, although the guests have been sounded out about their willingness to back Perry and fund a super PAC on his behalf. Some of the donors have loaded up their private jets with associates so they can meet Perry.

The guest lists have included Andrew Puzder, chief executive of the Carl's Jr. and Hardee's fast-food chains; Larry Paul, co-owner of the National Football League's Pittsburgh Steelers; "Papa Doug" Manchester, a San Diego real estate tycoon; and Steve Cortes, a Chicago financier.
Perry also sat down for an interview with NBC News in which he responded that the Presidency was "not an IQ test" when asked if he was "smart enough" to be President:
In addition to the other questions about this candidacy, of course, Perry also finds himself dealing with an indictment for public corruption that seems likely to go to trial some time in early 2015. As I've noted in the past, ,there is much about that indictment, which is related to Perry's threat to veto a piece of funding legislation related to the District Attorney for Austin, who is charged with investigating state agencies, that makes the charges legally dubious to say the very least. However, at least to date the charges still stand and Perry seems likely to go to trial on the matter some time early in 2015 unless they are dismissed beforehand. While Republicans nationwide seem to view the charges as politically motivated and the matter does not seem to be hurting Perry politically at the moment, that could quickly change as the case proceeds and, if he ends up getting convicted then his political ambitions would be effectively derailed. Given the rather obvious moves that Perry is making toward running, expect this case to become a much bigger national news item than it presently is at the moment.
As I've already discussed at length in the past, the question here is whether Perry can reinvent himself as a candidate sufficient to get not just the national media, but also pundits and voters to take him seriously again. It's not likely to be an easy task no matter now many coaches and policy advisers he talks to over the coming months. The fact that an NBC reporter felt the need to even ask him the question about whether he was "smart enough" to be President, for example, is a reflection of the perception that he himself created during the course of the 2012 campaign. One can legitimately ask whether it is fair for a reporter to ask such a question of  someone who has been one of the longest serving Governors in Texas history, I suppose, but the reality of American politics is that perceptions that are created early on in the course of a politicians national career are often difficult to overcome. In his post on Perry's efforts at redemption yesterday, for example, Jazz Shaw cited Dan Quayle, who generally had a good reputation as a back bench unknown member of the House and Senate before being picked as George H.W. Bush's running mate. The combination of an exceedingly bad roll out on the eve of the 1988 Republican nomination, though, and a tenure as Vice-President that was somewhat gaffe-tastic, meant that any shot at a national political career was out of the question. He declined, for example, to run for President in 1996, which would have been a natural first step for any other former Vice-President, and when he did run in 2000, he finished near the bottom of the barrel in the Ames Straw Poll and dropped out before a single vote had been cast in a primary. Sarah Palin's similarly disastrous run for the Vice-Presidency has also affixed her reputation forever in the mind of the American public. Will Perry be able to succeed where those two candidates failed? Only time will tell, but he certainly seems serious about giving it a try.